The best free productivity apps for iPhone
Our favorite free iPhone apps for being more productive with reminders, to-do lists, flash cards, timers, keyboards, conversion aids and automation.
Shortcuts
Shortcuts is Apple's redesign of the well-regarded Workflow app, which aims to streamline your day by automating common tasks.
Apps of this ilk have a history of being geeky and impenetrable, but Shortcuts is the friendly face of automation. In the Gallery view are dozens of pre-made workflows to download, which perform actions like calculating tips, figuring out how long it'll be before you're home, and logging aspects of your routine.
Actions can be added to your Home screen as pseudo-apps, and triggered from Today view or by using Siri voice commands.
For a fully custom experience, there's an editing view to dig into. You can tweak existing downloads, or start with a blank canvas, adding actions using a drag-and-drop interface. On an iPhone Plus models or iPhone XS Max, this works particularly well in landscape, with an iPad-like dual-pane interface.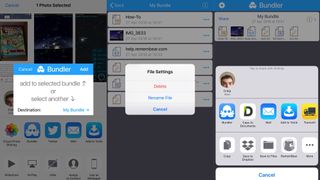 Bundler
Bundler hugely speeds up and simplifies the process of creating and sharing ZIP archives on an iPhone. As long as the apps you want to share something from support the standard iOS Share sheet, they'll work with Bundler. Select your document, tap the share button, and you can then send the file to the displayed 'bundle', or create a new one.
Open up the main Bundle app and you'll see your bundles. These can be renamed, as can individual documents within bundles. Usefully, many document types can be previewed inside of Bundle too, so you can check you've grabbed the right ones.
Once you're happy with your selection, you tap the Share button and send the bundle to an app or cloud storage as a ZIP. It's fast and far more efficient than other apps of this type.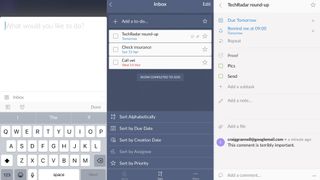 Wunderlist
Wunderlist is a hugely popular to-do list manager. It's easy to see why: the app is simple to use, and yet provides depth and advanced features for those who need them.
You start by dumping your to-dos in an inbox, at which point you can organize them into lists, add deadlines and reminders, define sub-tasks for more complex projects, attach files, and set regular tasks to repeat. Unlike Apple's Reminders app, reordering tasks (alphabetically, or by due date) is a cinch, and lists can be shared across a wide range of platforms.
All of this is entirely free (there's a paid tier, but you're unlikely to need it), so if you want a better to-do manager than Reminders but don't fancy splashing out, this is the app to go for.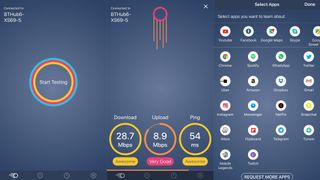 Meteor
Meteor is an internet speed tester designed for human beings. It eschews complex information – and even advertising – and instead provides you with straightforward, colorful buttons and readouts.
An inviting 'Start Testing' button kicks things off, whereupon the app sets about checking your internet connection's performance, a little meteor animating on-screen as it does so. Once the tests are done, speeds are scored, and are subsequently available from the History tab.
Meteor also attempts to estimate how well your connection would fare with popular apps and games, six of which can be added to an 'app performance' bar. These values should perhaps be taken with a pinch of salt, but this freebie nonetheless impresses for being a no-nonsense, user-friendly, ad-free way to check internet connectivity.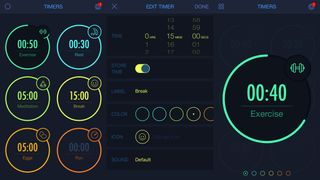 MultiTimer
Apple's pre-loaded Clock app has a perfectly serviceable timer – but you only get one countdown at any given moment. MultiTimer, as its name might suggest, gives you multiple timers that you can set going simultaneously.
On launching the app, you'll find six timers already set up. Each has a different color, name and icon. Tap a timer and it starts, tap again to pause, or double-tap to reset. Easy. Long press and you open the timer's options, so you can adjust its default time, label, color, icon and sound.
You also have plenty of preferences to delve into, including adjusting the default workspace. Should you want extra workspaces – or a custom layout – grab the $4.99/£4.99/AU$7.99 MultiTimer Pro IAP.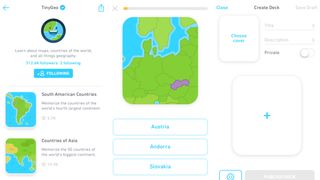 Tinycards
From the brains behind game-like language-learning app Duolingo comes Tinycards. The aim is to enable people to memorize anything by way of friendly flashcard sets.
Duolingo itself offers a number of sets based around language, history and geography. Smartly, though, anyone can create and publish a set, which has led to hundreds of decks about all kinds of subjects, from renaissance art to retro computing.
The memorizing bit is based around minutes-long drills. You're presented with cards and details to memorize, which the app then challenges you on, by way of typing in answers or answering multiple choice questions.
Some early teething problems with typos and abbreviations (for example, stating 'USA' was incorrect because 'United States of America' was the answer) have been dealt with by way of a handy 'I was right' button. Just don't press it when you don't really know the answer, OK?
Cheatsheet
The idea behind Cheatsheet is to provide fast access to tiny chunks of information you never remember but really need to: your hotel room, your car's number plate, Wi-Fi passwords, or, if you're feeling suitably retro, the Konami code.
Set-up is pleasingly straightforward. Using the app, you add 'cheats' by selecting an icon and then typing your info nugget. When you've got yourself a number of 'cheats', they can be reordered as you see fit. Once you're done, the entire lot can be displayed on the Today widget or an Apple Watch.
Cheatsheet saves some features for a $2.99/£2.99/AU$4.49 'pro' upgrade - a custom keyboard, an action extension, some of the icons, and iCloud sync. But the free version is nonetheless useful and generous, along with making really good use of the Today view on your phone.
Lrn
We keep hearing about how important coding will be to the future of everything. That's all very well, unless code makes about as much sense to you as the most exotic of foreign languages.
The idea behind Lrn is to gently ease you in. Through friendly copy and simple quizzes, you gradually gain confidence across a range of languages.
For free, you get courses on HTML and CSS, along with introductions to JavaScript, Ruby and Python. You can complete any course for $2.99/£2.99/AU$4.49; but even if you don't pay anything at all, you'll get a lot out of this app if you've an interest in coding but don't know where to start.
Dropbox
Dropbox was a big deal in the early days of iOS. When Apple refused to provide access to a file system, Dropbox became a surrogate, and was supported by a great many apps. But you might ask if it has a place now Apple offers Files.
The answer is yes. Dropbox can act as a Location within Files, which is great if you use Dropbox to share folders with people running various systems. But the standalone Dropbox app also excels: it can quickly scan receipts and whiteboards to PDF; you can use it to edit Microsoft Office documents; and it's possible to comment on files to share feedback with a team.
For free, you get 2GB of space. If you need more, Dropbox Plus gives you 1TB for $9.99/£7.99/AU$13.99 per month.
SwiftKey
SwiftKey reasons that you could – and should – be typing a lot more quickly on your iPhone's keyboard. Mostly, it achieves this by freeing you from the drudgery of having to tap individual keys or even bother stabbing at the prediction bar – instead, you just lazily swipe about in the vague direction of the keys you want.
During your early days with the app, this occasionally results in some comical typos, but pretty soon you end up swipe-typing at speeds you'd never thought possible.
And beyond the keyboard's AI smarts, there's customization to delve into, including custom themes and colors, enough emoji to choke a hippo, and some very handy bilingual support for when you need to quickly switch between languages.
Slack
The thinking behind Slack is to free teams from the drudgery of email. It's essentially a real-time messaging system, where people have group conversations based around user-defined hashtags, or send private messages to one-another.
Support for inline images, videos and Twitter-like summaries boost pasted content, and the app integrates with cloud storage from the likes of Dropbox and Google Drive.
It's worth noting that while Slack is clearly aimed at businesses, it works perfectly well as a means of communication for groups of friends who aren't thrilled about storing their personal insights and details on Facebook.
Vert S
We're told the 'S' in Vert S stands for 'speed'. This is down to the app being an efficient incarnation of the well-regarded Vert unit converter.
The older app had you browse huge category lists to pick what you need, but Vert S is keener on immediacy. There's a search, but the app's core is a Favorites page, where commonly used conversions are stored.
Tap one and you enter a basic calculator, enabling you to convert between your two chosen units, which can be quickly switched by tapping the Vert button. (Note that currencies are behind an IAP paywall — $2.99/£2.99/AU$4.49 for 'Vert Pro' — but conversions for other units are free.)