The best free iPhone sketching and design apps
Our favorite free iPhone apps for drawing, sketching, painting, layout and animation.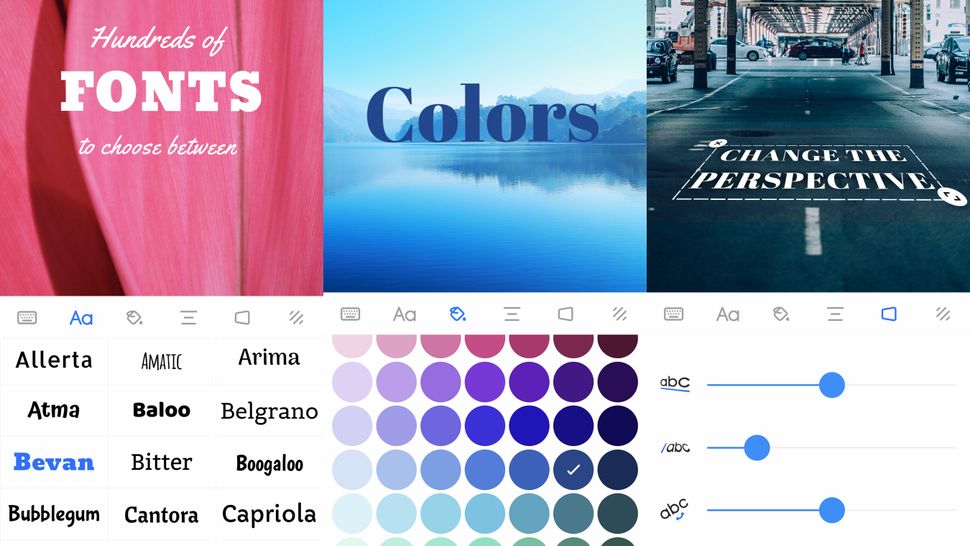 Add Text: Write On Photos
Add Text: Write On Photos (opens in new tab) has a name that tells the whole story. Actually, that's not quite true – most free apps where you slap text on images are packed full of IAP, or are plain dreadful. Add Text, though, is the real deal: a cruft/price-free app that makes it a cinch to add text to images.
Load a snap, and you can then switch between tabs to adjust font, color, alignment, perspective, and applied effects. Some of these offer a decent amount of fine-tuning, such as leading and kerning in alignment.
There's the odd niggle – the color picker is iffy, and dragging to adjust text orientation can be twitchy. But otherwise, Add Text is the sort of app that these days often comes with subscription IAP attached. So take advantage of this developer's generosity, and get Add Text on your phone.
Vectornator X
Vectornator X (opens in new tab) provides all the tools you need to work up sleek vector-based illustrations, interface design layouts, and logos on your iPhone. Tools and panels get out of your way, maximizing the screen space afforded to your work – although if you have an iPhone Plus/Max, you can flip it into landscape to see the canvas and settings simultaneously .
Even if you aren't a professional, Vectornator X is worth grabbing because it can act as a pseudo filter app, transforming a photo into vector art with just a few taps
Load a picture, tap the up arrow to access the settings panel, and unlock your photo in the Layers tab. Then select the Style (paintbrush) tab, tap the photo layer in the background, and select Auto Trace. Finally, swipe the tools away and gaze at the work of art you've created in mere seconds.
Desyne
Desyne (opens in new tab) is for creating flyers in a jiffy. You get a slew of templates, categorized into sections like posters and events, or aimed at specific social networks. Select one and you can get to work.
This app has few limitations. Although you can make quick changes to a template – for example, swapping out the background image, and a few words – there's lots of scope for creativity. You can add stickers, text, and masks to your creations, working with a straightforward but smartly designed layers system.
Naturally, there's a catch: IAP. Without a subscription, templates and tools are limited, and a watermark is enforced. But even the free version of Desyne is fun, usable, and useful. If you like it, there's a big annual discount you can make use of during your first few hours with the app.
Universe – Website Builder
Universe – Website Builder (opens in new tab) is – as its name suggests – a tool for building websites. The thought of doing this on your iPhone may make you feel queasy, but Universe works well, primarily because of the limitations it imposes.
Pages are essentially grids. You drag out a section and insert a content block. This might be an image, some text, a link, or a video. Once you're done, your efforts are uploaded to the Universe website.
The app is usable, fun, and effective. With some effort, you can fashion surprisingly smart multiple-page sites; but also, with almost no effort, you can get something online. Of course, IAP's are lurking – for $9.99/£8.99/AU$14.49 per month, you can add a domain, create a store, and view analytics. But even for free, this one's worth checking out.
Autodesk SketchBook
Autodesk SketchBook (opens in new tab) is a drawing app for iPhone. It's of course far from alone on the App Store, but what sets SketchBook apart is the sheer range of things you can do with the app.
Despite the minimal interface, there's tons to discover. There are dozens of brushes, which mimic all kinds of real-world tools. Every one of them can be tweaked. Multiple layers afford you flexibility when working on complex compositions. And transform, shape, and text tools provide scope when you're working on technically oriented illustrations rather than free-form doodling.
You'd usually expect to pay a fair amount for this kind of quality – and once, SketchBook did have a price-tag attached. But now it's free – and yet still superb – it would almost be an insult to not download it, even if you can barely scribble a stick-person.
Paper
Paper (opens in new tab) is a sketching tool based around jotting down ideas quickly. Your drawings are stored in little digital notebooks, which you can open and flip through. Tap a page and you can scribble with a finger or stylus using the app's selection of brushes.
There's a smattering of additional handy tools in the free version, most notably the ability to add text notes to any picture, and the means to export a note or book. However, some features sit behind monthly IAP, including photo import, copy/paste, and auto-correct when drawing geometric shapes and lines.
Despite these limitations – and the app rather oddly reorienting your sketches on iPhone when you return to browsing – Paper remains one of the most pleasing apps of its kind, not least if you retain a fondness for real-life versions of the little notepads the app depicts.
Canva
Canva (opens in new tab) is a graphic design tool for the rest of us. It's not going to send professionals scurrying for the shadows, but with its mix of templates, filters, and editable design elements, it gives the average iPhone owner a fighting chance of working up an invite or poster during a lunch hour.
Layouts are smartly targeted and categorized, and move beyond typical posters, greetings cards and flyers into social media territory (Twitter headers, Instagram posts and blog posts), and even business (cards, logos and presentations).
You can import photos, add text, and fiddle around with a wide range of drag-and-drop elements before sharing directly to social media, or saving your work to your iPhone.
For anyone who wants to design something for their burgeoning home business, or just for fun, Canva is a great place to start.
Brushes Redux
Back in 2009, Jorge Colombo did some deft iPhone finger painting using Brushes, and the result became a New Yorker cover.
It was a turning point for iOS and suitably handy ammunition for tech bores who'd been drearily banging on about the fact an iPhone could never be used for proper work. The app sadly stagnated, but was made open source and returned as Brushes Redux (opens in new tab).
Now free, it's still a first-rate art app, with a simple layers system, straightforward controls, and a magnificent brush editor that starts you off with a random creation and enables you to mess about with all manner of properties, from density to jitter.
Assembly
Developer Pixite is best known for its eye-popping filter apps, and so Assembly (opens in new tab) was quite the surprise. The app is all about building vector art from shapes.
Individual components are dropped on to the canvas, and can then be grouped or have styles applied. It feels a bit like the iPhone equivalent of playing with felt shapes, but you soon realise that surprisingly complex compositions are possible, not least when you view the 'inspirations' tab or start messing about with the 'remix' projects.
For free, you get loads of stuff to play with, but inexpensive IAP unlocks all kinds of bundles with new themed shape sets to explore.