The best free iPhone sketching and design apps
Our favorite free iPhone apps for drawing, sketching, painting, layout and animation.
Paper
Paper is a sketching tool based around jotting down ideas quickly. Your drawings are stored in little digital notebooks, which you can open and flip through. Tap a page and you can scribble with a finger or stylus using the app's selection of brushes.
There's a smattering of additional handy tools in the free version, most notably the ability to add text notes to any picture, and the means to export a note or book. However, some features sit behind monthly IAP, including photo import, copy/paste, and auto-correct when drawing geometric shapes and lines.
Despite these limitations – and the app rather oddly reorienting your sketches on iPhone when you return to browsing – Paper remains one of the most pleasing apps of its kind, not least if you retain a fondness for real-life versions of the little notepads the app depicts.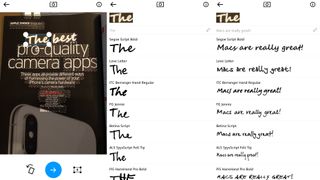 WhatTheFont
WhatTheFont is a tool for identifying typefaces, and it's extremely simple to use. You can either load an image from your iPhone or take a photo using the app. It figures out where all the words are within a few seconds, or you can drag out a selection yourself. You then tap on a selected word, and the app scoots off to find matches.
The likelihood of perfect matches is slim – it depends on having a very clear image to start with, and the font being available on the MyFonts service – but during testing, the app was bang-on several times. Even when it wasn't, it offered up something that at least captured the flavor of our original font.
Whether you're a jobbing designer or someone who puts together the odd newsletter, WhatTheFont is an excellent freebie.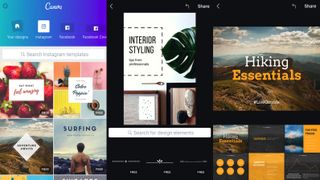 Canva
Canva is a graphic design tool for the rest of us. It's not going to send professionals scurrying for the shadows, but with its mix of templates, filters, and editable design elements, it gives the average iPhone owner a fighting chance of working up an invite or poster during a lunch hour.
Layouts are smartly targeted and categorized, and move beyond typical posters, greetings cards and flyers into social media territory (Twitter headers, Instagram posts and blog posts), and even business (cards, logos and presentations).
You can import photos, add text, and fiddle around with a wide range of drag-and-drop elements before sharing directly to social media, or saving your work to your iPhone.
For anyone who wants to design something for their burgeoning home business, or just for fun, Canva is a great place to start.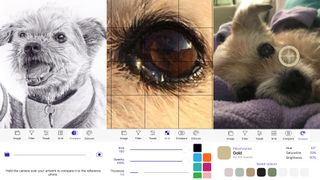 Arty
Arty initially resembles yet another filter app – and, to be fair, it does have a bunch of filters lurking that can turn a photo sepia, or make it so vibrant that your eyes hurt. But this one's mostly about its other tools, which have been carefully designed for jobbing artists working with real-world media.
There's a grid, and various image-tweaking settings to fine-tune a photo for the magic bit, which is comparing your photo with whatever's lurking under your iPhone's camera.
So if you're in the midst of making a lifelike drawing from a reference photo, your iPhone can now be a handy guide to see how you're getting on, rather than a tool primarily for procrastination.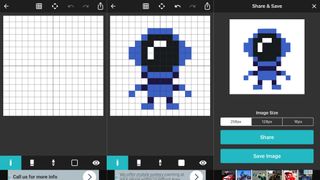 8bit Painter
With 8bit Painter, you can pretend a couple of decades of technology evolution never happened, and create digital images like it's 1984. On firing up the app, you select a canvas size – from a truly tiny 16 x 16 pixels, all the way up to a comparatively gargantuan 128 x 128. You're then faced with a grid and a small selection of tools.
There's nothing especially advanced here – this isn't Pixaki for iPhone, and it lacks that tool's layers and animation smarts. But you do get the basics – pencil; flood fill; eraser; color selection – needed for tapping out a tiny artistic masterpiece.
And, importantly, you can pinch-zoom the canvas for adding fine details, and export your image at scaled-up sizes, so it's not minuscule when viewed elsewhere. For a freebie, this one's pretty great.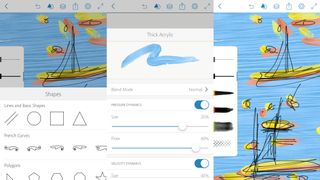 Adobe Photoshop Sketch
Adobe apparently has no interest in bringing full Photoshop to iPhone, but the brand's focused Photoshop-branded apps offer a smattering of the desktop product's power in the palm of your hand. Adobe Photoshop Sketch is a drawing and painting tool, designed for anyone who fancies dabbling in natural media.
Select a canvas and you can work with virtual pens, markers, acrylic, ink and watercolor. Acrylic is nicely gloopy, and watercolor can be realistically blended as it bleeds into the 'paper'. A layers system provides scope for complex art, and stencils enable precision when required.
For free, the app's hard to beat; and for Creative Cloud subscribers, work can be exported to layered PSD for further refinement in full-fat desktop Photoshop.
Brushes Redux
Back in 2009, Jorge Colombo did some deft iPhone finger painting using Brushes, and the result became a New Yorker cover.
It was a turning point for iOS and suitably handy ammunition for tech bores who'd been drearily banging on about the fact an iPhone could never be used for proper work. The app sadly stagnated, but was made open source and returned as Brushes Redux.
Now free, it's still a first-rate art app, with a simple layers system, straightforward controls, and a magnificent brush editor that starts you off with a random creation and enables you to mess about with all manner of properties, from density to jitter.
Assembly
Developer Pixite is best known for its eye-popping filter apps, and so Assembly was quite the surprise. The app is all about building vector art from shapes.
Individual components are dropped on to the canvas, and can then be grouped or have styles applied. It feels a bit like the iPhone equivalent of playing with felt shapes, but you soon realise that surprisingly complex compositions are possible, not least when you view the 'inspirations' tab or start messing about with the 'remix' projects.
For free, you get loads of stuff to play with, but inexpensive IAP unlocks all kinds of bundles with new themed shape sets to explore.
Marvel
It's interesting to see how far the App Store has come. Time was, Apple banned apps that gave you the chance to build prototypes. Now, Marvel is welcomed by Apple, and is entirely free.
Using the app, you can build on photographed sketches, Photoshop documents, or on-screen scribbles. Buttons can be added, and screens can be stitched together.
Once you're done, your prototype can be shared. If you're not sure where to start, check out existing prototypes made by the Marvel community.