The best free iPhone apps for kids and toddlers
Our favorite free iPhone interactive experiences and learning aids for toddlers and children.
Peek-a-Zoo
Peek-a-Zoo doesn't look like much at first, given that every scene essentially features simplistic cartoon animals atop a flat slab of color, but you soon appreciate how much imagination has gone into this basic setup when you watch a child using the app.
It's all down to the questions, which challenge a toddler to find the right animal. They'll be asked things like who's dressed up (which character has the hat), who's winking, or who's trying to hide. That last one makes brilliant use of the minimalist graphics, 'hiding' an animal by matching its body to the game's background.
It's all very sweet-natured, and has surprising range given how simple it is. That's something to appreciate – a free children's app that's free from cruft and ads.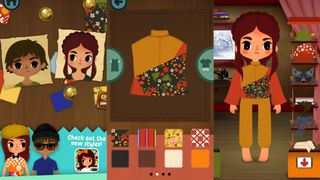 Toca Tailor Fairy Tales
Toca Tailor Fairy Tales turns your child into a designer and stylist. On selecting a character to clothe, they can then drag and swipe to give them a beautiful new outfit.
Well, 'beautiful' might be a stretch. The mix-and-match nature of the app offers equal potential for eye-searing garish fashion disasters. This is especially true when you delve into the materials section, zooming and rotating textures, or adding new ones by way of the camera.
Garments can be adjusted in other ways, too – tap to switch to a different type, or drag to change something's length. Last of all, there are accessories to give the model a perfect final touch – or a very silly hat.
Laugh & Learn™ Shapes & Colors
Laugh & Learn™ Shapes & Colors Music Show for Baby is an interactive experience designed for very young children. Level 1 should be approachable enough even for a six-month-old you're brave enough to arm with your worryingly expensive iPhone; they can tilt and tap to make shapes appear and bounce around the screen.
Level 2 is squarely designed at toddlers. The app chirps "Let's put on a show!" as shapes dance and jump about on the screen. This is augmented by jaunty earworms that will burrow into your skull, while your tiny human makes their own live remix by prodding at a colorful piano keyboard. It'll drive you bonkers, but the smile on that little face will be worth it. Probably.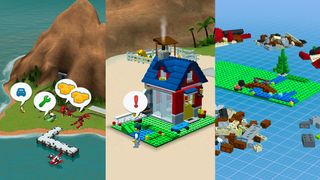 Lego Creator Islands
Lego Creator Islands might seem like an odd choice for inclusion here, since parents would most likely sooner see their children playing with plastic bricks rather than virtual ones on an iPhone. But when the real thing isn't available, this official game does the business.
It all takes place on the titular islands, which you explore to collect bricks that act as a kind of in-game currency. These can then be used to acquire Lego sets that are constructed with a few deft taps.
The selection is fairly small, but even so you can over time build a rather nice set of islands, featuring houses, roaming animals and dinosaurs, and vehicles blazing about the place. Also, there's no chance of getting a plastic brick embedded in your foot.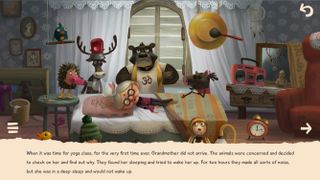 Green Riding Hood
Green Riding Hood subverts a much-loved fairy tale, re-imagining Grandma as a hip yoga teacher, and having the Big Bad Wolf gradually learn how tasty healthy food is. Which might all sound a bit like brainwashing for tiny people if the story bit wasn't so well designed.
Each little scene in the book is interactive, so you can tap animals to make them exercise, have the wolf angrily lob a bone into the forest, or – our favorite – fashion a cacophony as the animals try to wake a dozing granny with whatever objects they have to hand.
Beyond the book, you get some recipes and stickers for free. If all that takes your fancy, IAPs unlock exercise and dance routines – but, really, just the fairy tale bit alone makes this one very much worth a download.