The best free music and audio apps for iPhone
Our favorite free iPhone apps for playing songs, listening to podcasts, making music and being a virtual DJ.
Yousician
Yousician helps you to master a musical instrument or sing, but without that feeling like a chore. To that end, it often resembles a video game.
When you're learning piano, the interface depicts scores and keyboards with bright colors to help guide your eyes and finger, but the app really comes alive when you're learning guitar. It turns into something like Guitar Hero, only you're using a real guitar and the app is cunningly teaching you how to play.
Things start with the basics, but before long you're strumming and picking with the best of them. The only big limit in the free version is daily play time. Grab a subscription if you fancy learning more rapidly.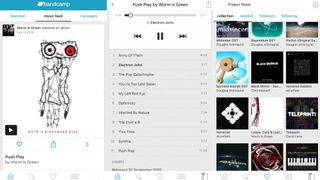 Bandcamp
Bandcamp might seem superfluous in a world of Apple Music and Spotify, but for anyone who enjoys venturing further afield to find new music, it's a must.
The service is chock full of indie artists, whose music you can delve into by way of the Bandcamp Weekly radio show, or by browsing the app's news feeds. Most albums enable you to preview a few tracks in their entirety, and some are entirely free to play, forever.
If you want to go old-school and actually buy music, the Bandcamp website is a good bet. Purchases can be downloaded in a range of formats; and when you only have your iPhone to hand, you can stream what you've bought and watch as your personal music feed fills with related tracks you might also enjoy.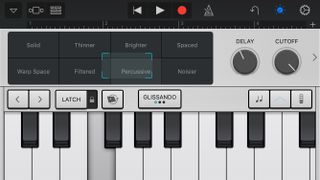 GarageBand
The iPhone version of GarageBand has always been ambitious. Aiming at newcomers and professionals alike, its feature set includes smart instruments that always keep you in key, multitrack recording/editing functionality, a loops player, and superb guitar amps.
But 2017's major update takes things much further, with new synth Alchemy improving the app's previously slightly ropey sound set. Smart piano strips have been expanded to all keyboard instruments, helping anyone to play perfect melodies.
And Audio Unit support exists to load third-party synths directly inside of GarageBand, similar to how plug-ins work on desktop music-making apps.
Because of these things, GarageBand is now even more suited to musicians of all skill levels – although be aware on smaller screens that the app can be a touch fiddly, what with there being so much going on.
Figure
Plenty of apps claim they can get you making music in seconds, but Figure really means it. The app's heritage helps, as it comes from Propellerhead Software, creators of the legendary Reason and ReBirth.
In Figure, though, working on loops and beats is stripped right back from what you'd find in those complex PC apps; instead, you tap out drums, and slide your finger around to fashion monster bass and playful leads.
Sounds can be tweaked or swapped out entirely at any point. Once you're done, finished tracks can be uploaded and shared online. For serious musicians, there's even Audiobus support.
Overcast
Sometimes with apps, it's the seemingly little things that make a big difference. With Overcast, for example, you get a perfectly decent podcast app that does everything you'd expect: podcast subscriptions; playback via downloads or streaming; a robust search for new shows.
But where Overcast excels is in attempting to save you time and improve your listening experience. Effects (which can be assigned per-podcast) provide the smartest playback speed-up we've heard, voice boost for improving the clarity of talky shows, and smart speed.
The last of those attempts to shorten silences. You won't use that setting for comedy shows, but it's superb for lengthy tech podcasts. As of version 2.0, Overcast is free, and betters all the other iOS podcast apps that also lack a price tag. (Should you wish to support the app, though, there's an entirely optional recurring patronage IAP.)
Novation Launchpad
On the iPad, Novation Launchpad is one of the best music apps suitable for absolutely anyone. You get a bunch of pads, and tap them to trigger audio loops, which always sound great regardless of the combinations used. This isn't making music per se, but you can get up a good head of steam while imagining yourself as a futuristic combination of electronic musician, DJ and mix genius.
On iPhone, it shouldn't really work, the smaller screen not being as suited to tapping away at dozens of pads. But smart design from Novation proves otherwise. 48 trigger pads are placed front and centre, and are just big enough to accurately hit unless you've the most sausagey of sausage thumbs.
Effects lurk at the foot of the screen — tap one and a performance space slides in, covering half the screen, ready for you to stutter and filter your masterpiece.
As on the iPad, you can also record a live mix, which can be played back, shared and exported. This is a really great feature, adding optional permanence to your tapping exploits.
Music Memos
Apple's Music Memos is all about getting music ideas down — fast. You launch the app, hit record, play your guitar or piano, and your riff is safely recorded, rather than vanishing from your head the moment you see something vaguely interesting outside.
Smartly, the app provides additional toys to experiment with. There's a tuner, and during playback, you can add automated electronic bass and drumming. The virtual instruments attempt to match tempo and energy with whatever you recorded (and with some success, although more complex inputs can confuse this feature to an amusing degree).
Music Memos also tries to transcribe the chords being played; its accuracy is questionable beyond the basics, but not bad as a trigger when you later want to learn how to play your own spark of inspiration.
Usefully, you can fling recordings at GarageBand and Logic (bass and drums going along for the ride as separate tracks).
Less usefully, you can sing into the app, and still add bass, drums and chord transcription, for some kind of madcap tech-based cacophony of awfulness that we felt entirely compelled to try in the name of a thorough review. Expect our effort to (not) trouble the charts shortly.