The best free movie and entertainment apps for iPhone
Our favorite free iPhone apps for having fun, whether reading, coloring or watching TV.
Sofa
Sofa is designed to help organize your downtime. More specifically, it's made to help you list amazing media you'd like to check out, and then keep track of it. In short, it's a lists app. You make lists, and then populate them with movies, TV shows, music, podcasts, books, and video games.
The approach is cruft-free, which is a good thing. Sofa is about saving you time, and won't suck you into an unnecessary social network. And for the most part, it works really well.
The one failing is books. Sofa's library is missing a lot of titles and – frustratingly – you can't add anything on an ad hoc basis. For screen-based and audio entertainment, though, it works like a charm, whether you're adding top-notch TV masterpieces or a selection of classic games you've always wanted to play.
GIFwrapped
GIFwrapped is an iPhone app for the GIF-obsessed. You can check out GIFs from a small range of broad categories, such as happy or sad; but the universal search bar enables you to drill down much more rapidly.
When you find something you like, it can be added to GIFwrapped's internal library. The app enables you to quickly make your own custom GIFs, too, albeit merely by grabbing Live or Burst photos from your iPhone – if you want to add amusing text overlays, you'll need another app for that.
Still, sharing is a breeze, GIFwrapped works seamlessly in Messages, and if you grab the subscription IAP, you can turn off adverts, bookmark searches, and remove the GIFwrapped watermark. Even for free, though, this app is a great way to GIF.
Twitterrific
Twitterrific is a Twitter client that wants you to tweet on your own terms. So rather than the locked-down and vanilla experience of the official Twitter client, Twitterrific offers a range of customization options.
Two of the three tabs at the top of the screen can be swapped out for different kinds of content, for example providing fast access to custom lists. The way the app behaves regarding inline images (by default, huge) can be adjusted. And you can also change how it looks, through choosing a different theme.
From its playful sound effects to the lovely media browser, this is an app that screams polish. And if you're happy with the unobtrusive image banner across the top of the display, the entire thing is yours to use for free.
Infuse 6
Infuse 6 is a superb, elegant video player. It makes it a cinch to stream content from computers on your network, meaning you don't have to load the videos directly on to your iPhone (although you can, due to Files integration). Assuming your files are sensibly named, Infuse 6 can pull down cover art and movie/show info, and even grab subtitles with a couple of taps.
One of the app's big plusses is that it doesn't need anything else. There's no server software to install; and it will work across devices, including natively on Apple TV. Note, though, some advanced features – library and progress sync; HD audio; streaming from cloud services – require the pro version. For that, you'll need monthly or lifetime IAP, or to grab the standalone Infuse Pro 6.
Night Sky
Night Sky initially resembles every other astronomy app. Hold your iPhone in front of your face to view celestial bodies that are in a particular place, or rather more lazily scroll about the heavens with a finger. You get chill-out music, constellation illustrations, 'time travel', and information pages.
But Night Sky differentiates itself in how you can interact with objects. Double-tap a planet and it's plucked from the sky and can be explored in isolation on your screen, or examined more closely by moving around it in AR. This works for constellations, too, enabling you to better understand the distance between component stars.
Add subscription IAP and you get an AR grand orrery, sky tours, and more; but even for free, Night Sky is an absolute must for budding astronomers.
Pocket
Pocket is a read-later system – time-shifting for the web. It's designed to stop you clicking links all day, planning to read everything later, and then realizing at some point you have dozens of unread tabs.
With Pocket, you simply share pages to it from Safari (or on a desktop browser use the Pocket bookmarklet). When you have a data connection, open Pocket and it will quickly download everything. When reading, articles are stripped of cruft, leaving a mobile-optimized, reader-centric view.
Should you not be keen on the default set-up, it can be tweaked: fonts and colors can be adjusted, and there's text-to-speech when you need to delve into articles eyes-free. Archives can be searched; and should you run out of things to read, Pocket has a Recommended tab you can check out to find something new. Perfect fodder for your daily commute.
JustWatch
JustWatch solves the problem of where to watch something. That might sound strange, but this is a common problem with modern television viewing – many shows are available on demand, but that's no good if you've no idea what service they're running on.
When searching for something specific, the app will list where it can be streamed or bought as appropriate. If you have the relevant app installed, you can head there with a tap. If you're looking for something new, Popular and Browse tabs give you plenty of options, which can be quickly filtered by various criteria, and individual items can be stashed in the WatchList until later.
Given how decentralized television has become, JustWatch feels like a must-have install – a single, coherent tool for finding content from a range of providers.
Feedly
Feedly bills itself as a smart news reader. For old hands, it's an RSS client. If you're still making a confused face, it's an app that enables you to subscribe to website news feeds, which then pipe headlines directly to your iPhone.
The net result is a kind of curated newspaper. You get content from sources you know and trust, and because stories are listed in order of publication, you're safe in the knowledge that you won't miss anything – unlike the semi-randomized avalanche of content that afflicts social media feeds.
The reading experience is clean and simple too – just text and images for sites that provide full articles within feeds, and a built-in browser for those that don't. And when you find something that's just too good to keep to yourself, there are plenty of sharing options.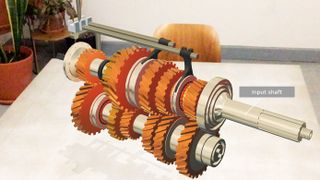 JigSpace
JigSpace is an education app that reasons we learn things better in 3D, on the basis that this is how we experience the real world. And that's a good point. It's all very well to learn how a car's transmission works by reading about it, or even pore over an exploded illustration in a book. But being able to fiddle around with a real engine is much more helpful.
This app isn't quite that level of magical, but it does use iOS's augmented reality smarts to project various objects onto a flat surface. These can then be explored and fiddled around with, in a manner that hints at the future of anything from repair manuals to textbooks.
And even though you'll perhaps exhaust the items on offer fairly quickly, JigSpace is a nicely immersive educational experience while it lasts.