The best free movie and entertainment apps for iPhone
Our favorite free iPhone apps for having fun, whether reading, coloring or watching TV.
Clarity Wallpaper
Clarity Wallpaper makes it a cinch to create beautiful wallpapers for your iPhone's Home and lock screens. The name comes from the app's tendency to output artwork that improves the legibility of content above it.
Of the available options, Gradient has you choose two colors and decide on the direction of the gradient, while Blur has you take a photo or picture and assign a blur level. Mask allows you to overlay a color-to-transparent gradient atop an image, and Frame is designed to place a framed portrait over a blurred background.
Some frame controls sit behind a $1.99/£1.99/AU$2.99 IAP, as does a 'magazine' of curated wallpapers, but even if you stick with the free version, this is our favorite app for quickly creating sleek and effective wallpaper for iPhone.
Pocket
Pocket is a read-later system – time-shifting for the web. It's designed to stop you clicking links all day, planning to read everything later, and then realizing at some point you have dozens of unread tabs.
With Pocket, you simply share pages to it from Safari (or on a desktop browser use the Pocket bookmarklet). When you have a data connection, open Pocket and it will quickly download everything. When reading, articles are stripped of cruft, leaving a mobile-optimized, reader-centric view.
Should you not be keen on the default set-up, it can be tweaked: fonts and colors can be adjusted, and there's text-to-speech when you need to delve into articles eyes-free. Archives can be searched; and should you run out of things to read, Pocket has a Recommended tab you can check out to find something new. Perfect fodder for your daily commute.
JustWatch
JustWatch solves the problem of where to watch something. That might sound strange, but this is a common problem with modern television viewing – many shows are available on demand, but that's no good if you've no idea what service they're running on.
When searching for something specific, the app will list where it can be streamed or bought as appropriate. If you have the relevant app installed, you can head there with a tap. If you're looking for something new, Popular and Browse tabs give you plenty of options, which can be quickly filtered by various criteria, and individual items can be stashed in the WatchList until later.
Given how decentralized television has become, JustWatch feels like a must-have install – a single, coherent tool for finding content from a range of providers.
Feedly
Feedly bills itself as a smart news reader. For old hands, it's an RSS client. If you're still making a confused face, it's an app that enables you to subscribe to website news feeds, which then pipe headlines directly to your iPhone.
The net result is a kind of curated newspaper. You get content from sources you know and trust, and because stories are listed in order of publication, you're safe in the knowledge that you won't miss anything – unlike the semi-randomized avalanche of content that afflicts social media feeds.
The reading experience is clean and simple too – just text and images for sites that provide full articles within feeds, and a built-in browser for those that don't. And when you find something that's just too good to keep to yourself, there are plenty of sharing options.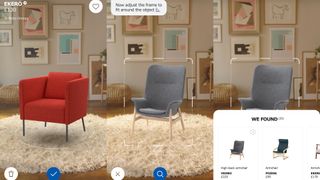 IKEA Place
IKEA Place is ultimately a virtual catalog for the chain of furniture stores with a predilection for massive blue buildings, but it also happens to be an app at the forefront of augmented reality, showcasing the future of shopping.
Select a piece of furniture and you can place it in your room. The app will also enable you to point your iPhone's camera at a product elsewhere and find something similar on the store.
This could be considered aggressive marketing, but with a little thought, you quickly realize how useful the app can be, even if you're not planning on buying anything.
If you're wondering whether a second chair or bookcase would work in your room, use this app to give you an idea rather than bringing something home and then finding that it doesn't fit.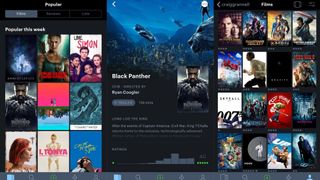 Letterboxd
Letterboxd is a social app for people who love films. Sign in and you can see what friends have been watching, bellyache about the latest Hollywood blockbuster that totally offended your viewing sensibilities, and comment on other people's reviews.
Or if that fills you with horror, you can ignore the social bit entirely, and just use Letterboxd as a really savvy movie tracker. Search for films and add them to your watch list; once you've seen one, give it a rating. That way, you won't end up 30 minutes into a cinematic disaster before realizing you'd already suffered through it before.
Two apps for the price of none, Letterboxd is pretty great whichever way you use it.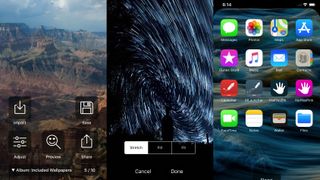 Notcho
Notcho is one of the cheekier apps on the App Store, and would have perhaps best been named "Notch? NO!" In short, it's designed to hide the divisive iPhone X notch. It does this by making clever edits to wallpaper, adding curved corners that hide the notch within a black bar.
The wallpaper creation bit is pretty good, with various fit options, and the option to stick with straight edges or less pronounced corners, if you don't want to ape the iPhone X's curves. Bizarrely, you can also add the notch back in if you want to.
Saved wallpapers do have a watermark unless you stump up for a one-off $1.99/£1.99/AU$2.99 IAP, but otherwise this is an essential app we wish could somehow extend to the rest of iOS.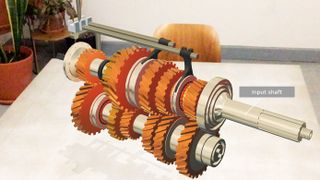 JigSpace
JigSpace is an education app that reasons we learn things better in 3D, on the basis that this is how we experience the real world. And that's a good point. It's all very well to learn how a car's transmission works by reading about it, or even pore over an exploded illustration in a book. But being able to fiddle around with a real engine is much more helpful.
This app isn't quite that level of magical, but it does use iOS's augmented reality smarts to project various objects onto a flat surface. These can then be explored and fiddled around with, in a manner that hints at the future of anything from repair manuals to textbooks.
And even though you'll perhaps exhaust the items on offer fairly quickly, JigSpace is a nicely immersive educational experience while it lasts.
WLPPR
WLPPR is a wallpaper app that's apparently not keen on vowels. But what it lacks in letters, it makes up for with beautiful satellite imagery, which you can save to Photos and later apply to your home or lock screens.
Unlike many wallpaper apps, WLPPR has been crafted with care and respect. Every image has a credit but also explanatory copy regarding what you're looking at. You can bookmark favorites for later, apply a custom blur, and download imagery in standard or 'parallax' sizes.
Neatly, there's a preview mode, too. Tap the eye icon and you can load a realistic-looking home or lock screen to see how your wallpaper would look. Not convinced? Swipe to get the next one.
Note that WLPPR is a freemium app, with IAP for extra photo sets; but for free you get dozens of high-quality pics – more than enough for most – and even more if you're happy to spam your social media feed one time.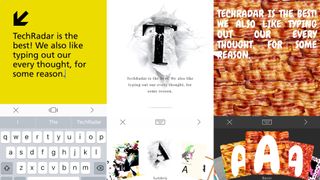 Mood
Mood wants to add some visual style to your writing. It's not about crafting a novel, but fleeting, simple thoughts, which can be assigned a dazzling layout. Think Twitter if you were armed with your own personal graphic designer.
Using the app is very straightforward. You start typing, and Mood reformats your text on the fly. Open the styles draw and you can flick between all kinds of appearances. Once you're done, your tiny literary masterpiece is rendered to an image, which can be saved to Photos or shared on a social network.
Rather nicely, your creations aren't transient, either – they're also saved in the app and can later be edited. And there's an amusing Easter egg, too – flip your iPhone upside down when in the styles section for some decidedly weirder themes (including an unnerving wall of bacon).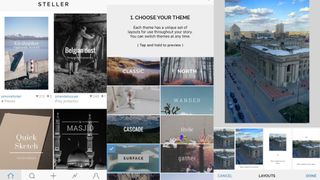 Steller
Steller is an app about stories. On first opening the app, you get a scrolling pane of photos to explore, each with a title overlaid. It kind of resembles a minimal virtual bookstore.
Tapping a picture allows you to delve into a story, which is presented as a little flick book. Depending on the author, you might just get a few pages of photos; some also add a little commentary – although text content is typically succinct in Steller stories, because pictures do the talking.
Creating a story yourself is simple, too. Pick a theme, import up to 20 photos and videos, choose a template for each page, and then share with the world. And although your output's best enjoyed within the Steller app, people can visit your creations in a desktop browser, too.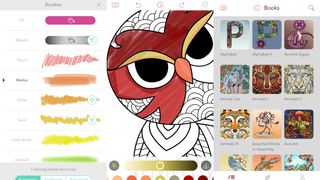 Pigment
With its large display and the Apple Pencil, the iPad seems the natural home for a coloring app like Pigment. But if you fancy doing the odd bit of coloring-in when you need to relax, Pigment's great to also have installed on the device you always have in your pocket.
Even on the smaller screen, it excels. You get quick access to a set of top-notch coloring tools, and a range of intricate illustrations to work on. Sure, buy a subscription and you gain access to a much bigger range; but for free, you still get an awful lot.
Amusingly, the app also offers options for staying inside the lines. By default, Pigment automatically detects what you're trying to color and assists accordingly – but you can go fully manual if you wish!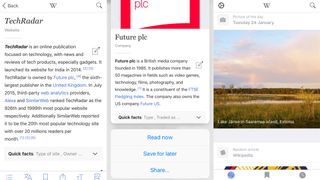 Wikipedia
Unsurprisingly, Wikipedia is an app for browsing Wikipedia, the massive online encyclopedia that makes all paper-based equivalents green with envy. It's the official app by Wikipedia and is easily the best free option, and only rivaled by one paid alternative we're aware of (the rather fine V for Wikipedia).
Wikipedia gets the basics right: an efficient, readable layout; fast access to your browsing history; a home page full of relevant and potentially new articles. But it's all the small things that really count.
Save an article for later and it's also stored offline. Finding the text a bit small? You can resize it in two taps.
Also, if you've a fairly new iPhone, 3D Touch is well-supported: home screen quick actions provide speedy access to search and random articles; and when reading in the app, the Peek gesture previews a link, and an upwards swipe displays a button you can tap to save it for later.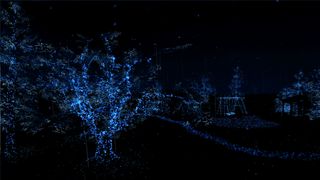 Notes on Blindness VR
An app rooted in a deeply personal story, Notes on Blindness VR is a VR experience based on the notes of John Hull, who went blind in 1983. Each of the six chapters explores a specific memory, moment and location, utilizing surround audio alongside Hull's spoken notes, and glittery visuals akin to echolocation.
Purely as a documentary watched on a standard iPhone display, Notes on Blindness VR is well worth experiencing, as Hull adjusts to his new life and experiences – objects 'disappearing' as their related sounds fade, and how rain makes the world beautiful because for Hull rainfall gives objects form.
But the full VR experience (assuming you're also using headphones) takes things further; you gain greater insight into Hull's life as your own senses are taken over, leaving you with flickers of light but a world of sound.
Onefootball
Although most fans want to cheer on their soccer team by hollering from the stands or, second best, yelling at a TV in a pub, that's not always possible. When you're otherwise busy, Onefootball is a great means of keeping track of your favorites.
The app's a cinch to set up. Choose your teams, allow Onefootball to send notifications, and then let the app work its magic. On match days, you'll be notified of every goal, which, depending on your team's fortunes, may make you thrill at or dread hearing the notification sound.
If you at any point need a little more detail, venture into the app and you'll discover everything from live tickers to customized news feeds.
eBay
eBay needs no introduction. But if you've just clambered free from a pile of boxes that fell on you in the mid–1990s, then: 1) probably tidy up a bit more often, and; 2) you can likely offload some of your junk on eBay.
Although originally designed for the desktop, eBay's a far more pleasant experience on the iPhone. You can zip through searches of its vast marketplace, and get notifications when auctions are nearly up or when you're outbid.
Selling's a breeze, too. If your item has a barcode, scan it, take a photo of the item, and you're good to go. Just be mindful that buying's even easier than selling, and so don't end up filling your home with more unnecessary tat the second you manage to offload some.