Amazon's Samsung Galaxy S8 deal is nearly half the Note 8 price
You can get a much cheaper Samsung Galaxy S8 today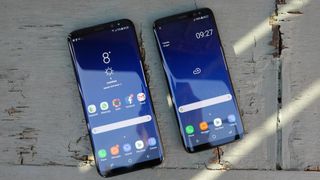 Update: The Samsung Galaxy Note 8 and Samsung Galaxy S8 price gap is still wide, but the company is now throwing in a free Gear 360 camera with the Note 8, as listed below.
Amazon has one of the best deals on the Samsung Galaxy S8 and S8 Plus right now, as a number of other sellers have ended long-running sale prices.
This summer has seen a lot of price cuts for the Galaxy S8 and S8 Plus, with one of the best being $150 off, bringing the prices to $574 for a Galaxy S8 and $674 for a Galaxy S8 Plus. Samsung and Groupon offered this deal in the past, but recently stopped.
Now Amazon has this deal going for the unlocked Midnight Black version of the 64GB Galaxy S8 and Galaxy S8 Plus. And for the Galaxy S8, that's verging on half the price of a new Galaxy Note 8, which starts at $929, and some carriers are asking for $960 for the Note 8 price, like Verizon and Sprint.
For anyone in the market for a new phone and dazzled by the Note 8 but crushed by its astronomical price tag, this Galaxy S8 deal is worth checking out.
The differences between the Note 8 and Galaxy S8 are a lot smaller than the difference in price. Both run on the same Snapdragon 835 chipset, Samsung's snazzy curved edge technology, an IP68 rating for water- and dust-resistance, and a 1440x2960 display protected by Corning Gorilla Glass 5.
The biggest things the Note 8 adds to the package are a second camera on the back, another half-inch to the screen, 2GB of extra RAM, and Samsung's built-in S Pen stylus.
The Galaxy S8 and S8 Plus are already great phones without a second camera, more RAM, and a stylus. For anyone that doesn't absolutely need those, this deal is a more affordable way to get a top-of-the-line Samsung smartphone experience.
Here's where it becomes half the Note 8 price
Anyone who wants a little more out of the deal can throw in a Samsung Fast Charge wireless charging stand for $48 more. The stand has a list price $89, so the savings add up even higher with this bundle.
The $150 Galaxy S8 and S8 Plus price cut had been popping up regularly this summer, but is no longer listed on Samsung's official site, so it might not be as easy to come across this kind of deal every day.
This deal is being phased out elsewhere, and a better one might not come along until Black Friday or Cyber Monday.
Sign up to receive daily breaking news, reviews, opinion, analysis, deals and more from the world of tech.
Over the last several years, Mark has been tasked as a writer, an editor, and a manager, interacting with published content from all angles. He is intimately familiar with the editorial process from the inception of an article idea, through the iterative process, past publishing, and down the road into performance analysis.