How to buy an air fryer
Buying an air fryer is confusing, so we're here to help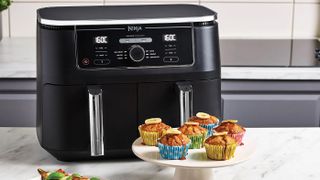 (Image credit: Ninja)
Rather than deep frying or heavily coating your favorite foods with oil to place in a frying pan, air fryers are healthier options that use fans to circulate hot air, making meals crispy and golden with minimal effort and oil. These small kitchen appliances use less electricity along with being easy to use and cooking food quicker than conventional ovens.
Air fryers come in various capacities and types, with basket and oven air fryers being the most common. Some of the best air fryers also do more than just air fry, as you'll find options that bake, broil, dehydrate, and toast as well. Finding your ideal air fryer, therefore, is a little complicated. You also need to consider when to buy an air fryer, as they go on sale at different times of the year.
Luckily, we're here to help guide you in your purchase of an air fryer.
How to choose
This is part of a regular series of articles designed to guide you through the process of buying a particular device or type of product. Read them all here.
Don't want to venture out on your own to find an air fryer? Our favorite is the Instant Vortex Plus 6-in-1 Air Fryer with ClearCook & OdourErase. With it, you get a good-sized 6-quart/5.7-liter basket and an easy-to-use touch control panel. A ClearCook viewing window is a great addition, as it lets you watch your food as it cooks without opening the basket. Meanwhile, the OdourErase feature helps to lessen the typical cooking smells that often come with the air fryer. You also aren't limited to air frying, as you can use it to bake, roast, grill, reheat, and dehydrate. But when sticking with traditional air frying, this option consistently delivered browned, crisp results whether we were cooking chicken wings or french fries.
For those looking to save on an air fryer, the Cosori Pro LE Air Fryer L501 is a solid model. It's quiet in use, features a compact design, and has a slightly smaller capacity than our top choice, but the 5-quart / 4.7-liter basket should be enough for smaller households. While air frying is the only cooking mode available, it delivers consistently succulent results. If you're looking for more functionality and features, you'll want to look elsewhere, though Cosori's offering is a great basic model.
If you want a large capacity one with an excess of cooking modes, the Ninja Double Oven is the most capable, beastly air fryer you can buy. Rather than a basket, this option has two roomy ovens that let you cook foods at different temperatures. You can even sync the ovens up to have everything ready simultaneously. Beyond air frying, these two ovens can do everything from broil and toast to whole roast and convection bake, among a plethora of other modes. Of course, it does an excellent job air frying with crispy, perfectly browned results.
If those air fryers aren't your ideal options, we go over what to look for in an air fryer and when to score deals on these handy kitchen appliances. Be sure to check out the best Black Friday air fryer deals to save money this season.
What to look for
Similar to most small kitchen appliances, air fryers have a massive price range, so determining your budget is essential before you go and seek out your ideal air fryer. Generally, basic, smaller-capacity 2- to 4-quart basket air fryers will cost around $50 / £50 to $75 / £75. If you find an air fryer below that price, and it's not during a big sale, we'd be wary of purchasing it, as that often means it's underpowered and has limited functionality.
If you want an option with a larger capacity, the price will jump slightly. 5-quart and bigger basket air fryers will run $80 / £80 to $150 / £150. In addition to the larger capacity, you'll want to seek out features like extra cooking modes, cooking presets, digital controls, and a viewing window, especially when purchasing a device at the higher end of that price range.
Generally, oven air fryers cost slightly more than their basket counterparts. But with these air fryers, you're almost guaranteed to get additional cooking modes, a viewing window, and a large capacity. That versatility may be worth the extra cost for some.
It's also important to note some brands are known for manufacturing quality air fryers, like Ninja, Cuisinart, Instant Pot, Cosori, Philips, and Bella Pro.
What features do you need?
Air fryers come in all shapes and sizes. So, you first need to determine the ideal type for your needs. The two most common types are basket and oven.
The most popular air fryers are basket air fryers. Given the name, basket options offer an easily removable deep bucket to place your food, while a fan located at the top of your air fryer blows hot air for more even cooking. However, you'll oftentimes have to shake the food part way through cooking to prevent uneven bakes. Depending on the model you choose, the actual basket capacity varies, though, for the most part, they are more compact than an oven air fryer, making them great for those low on counter space with smaller cooking needs. They require a very short preheat time if there's any at all, which is a huge plus.
You'll want to look for basket options that offer some sort of crisper tray at the bottom, so whatever you're making isn't sitting in its own juices—it also helps make things a little healthier. Many newer, higher-end basket air fryers also come with a cooking window. This way, you can see how food is coming along without removing the basket and letting hot air escape. Dual-basket options are becoming more prevalent, like the Ninja Foodi Max Dual Zone Air Fryer AF400, which lets you cook at different temperatures and settings. There are even basket options with multiple racks to layer food.
Oven air fryers, also known as toaster oven air fryers, resemble your typical toaster oven with a handy viewing window and cooking rack(s). These devices are similar in size, if not a little larger than the common household appliance. Oven air fryers are usually pricier and have a larger capacity than their basket counterparts along with multifunctionality, so beyond air frying, you'll get toasting, baking, roasting, broiling, etc. Air can also better circulate, resulting in crispier food, which is good because tossing food is more challenging than when using a basket air fryer.
Those aren't the only air fryers you can find. There are paddle air fryers that'll actually turn the food for you for more even cooking results. Pressure cooker air fryers or rotisserie air fryers add extra functionality to prevent the need for multiple appliances. You'll also see halogen air fryers that use infrared light to heat food.
Beyond the type of air fryer, the next biggest factor to consider is capacity. For smaller households of one or two people, you can get by with a 2 to 4-quart air fryer. That should be enough room to fit a few smaller pieces of meat and a side dish like veggies or potatoes. Of course, smaller-capacity air fryers are more compact and great if you're tight on counter space. For those with larger households or those who want to use the device when entertaining to make appetizers and other dishes, you'll want to grab an air fryer with a 6-quart capacity or higher. You'll even be able to cook a full chicken at that capacity.
Control type is another consideration. Do you want digital or analog? Using an LCD with buttons lets you be more precise with the cook times and temperature, and these are usually the air fryers that come with presets like chicken wings and french fries. But digital is not necessarily better and is often pricier. Dial controls are also easy enough to use, so it's really a matter of personal preference.
We've already mentioned it before, but many air fryers have more functionality than simply air frying. That means you need to decide if you want to use it for other types of cooking. Some options can bake, broil, roast, and toast, among others, and then there are the preset buttons with french fries, chicken wings, frozen foods, and reheat being the most common. However, depending on the air fryer, some features can be gimmicky or need testing and adjustments for better results. So, be sure to do some research before settling on an air fryer.
Finally, cleaning an air fryer can be a pain. Luckily, more and more options, especially basket air fryers, come with dishwasher-safe components. Even if you don't have a dishwasher, most basket options are similar to cleaning a large non-stick pot. Oven air fryers take a little more effort to clean.
Should you wait for deals?
Air fryers go on sale throughout the year, but without a doubt, the best time to purchase one is Black Friday, similar to many other smaller kitchen appliances. You'll find a 30-50% discount off of an air fryer's typical price. But like many Black Friday items, the best deals go quickly, so you'll need to act fast to get it for the best price possible. Sales usually continue throughout the rest of the November and December holiday season. So even if you miss Black Friday, there will be more savings opportunities.
You'll see deals on air fryers occasionally at other times, usually around long weekend holidays like Memorial Day or Labor Day. The discounts during this time depend on the type of air fryer you buy, but it'll be about 10-20% off the MSRP. Amazon Prime Day also gets bigger and bigger every year, with many other retailers having their own sales around July (and now October) to compete. These sales are starting to rival Black Friday and are a great time to buy outside of the holiday season.
Of course, you don't need to wait for a great sale to grab an air fryer if you need one now or you're looking for a specific model. There's no guarantee what will go on sale. Plus, newer models don't come out often and usually don't have significant differences from older ones, so deals are few and far between.
Our top picks
Best all-round
Specifications
Capacity:
6 quart / 5.7-liter
Cooking modes:
Air-fry, roast, bake, reheat, broil and dehydrate
Reasons to buy
+
Crisp, evenly browned results
+
Window let you check on food during cooking
+
Reduces cooking smells
Reasons to avoid
-
Crisper plate falls out if basket tipped up too high
-
Display suffers from fingerprint marks
Want a little bit of everything? Well, the Instant Vortex Plus 6-in-1 Air Fryer has just about all you could want in an air fryer and probably features you didn't know you wanted till now, from the ClearCook viewing window and dishwasher safe basket to multiple cooking functions and OdourErase technology—which uses built-in filters to reduce smells during cooking. This basket air fryer has a decent-sized 6 quart/5.7-liter capacity with simple-to-use touch controls, LCD, and a dial, making it easy to set the cooking temperature, time, and function. As for cooking functions, it's quite versatile, so beyond air fry, you can choose between bake, roast, grill, reheat, and dehydrate.
During our testing, the air fryer produced perfectly browned, crispy results, whether we were air-frying chicken wings or fries. And it was all with minimal-to-no oil, helping to reduce calories. The ClearCook window and oven light came in handy, as you could check on your food without opening the basket and disrupting cooking. There were even noticeably fewer odors than in your typical air fryer or oven.
Though the Instant Vortex Plus 6-in-1 Air Fryer gets a lot right, we have a few gripes, starting with the crisper plate falling out when tipping the basket too much. It seems to be an issue with many air fryers and can be a burn hazard. You don't get a cooking chart or any specific recipes either, meaning you'll need to do some experimentation to find the ideal settings, especially with frozen foods. It's also a pricier option. But given all the features, it's still a solid investment.
Read our full Instant Vortex Plus 6-in-1 with ClearCook & OdourErase review
Best budget
Specifications
Capacity:
5-quart / 4.7-liter capacity
Reasons to buy
+
Produces crisp fries and chicken wings
+
Sleek, minimalist design
+
Seven presets for dishes such as bacon and seafood
Reasons to avoid
-
Struggles with frozen foods
-
Requires some experimentation to achieve evenly browned results
If you're okay with less functionality and a more compact basket, save some money and grab the Cosori Pro LE Air Fryer L501. This option offers a 5-quart / 4.7-liter capacity, which the company claims is suitable for four people. It's ideal for those with less counter space thanks to smaller dimensions, and there are even several safety features to prevent potential injury. To make clean up afterwards easy, the basket and crisper plate are even dishwasher safe.
Rather than having the control panel at the front of the device, Cosori switches it up, placing the touch controls on top of the device for a sleeker, more minimalistic look. Beyond temperature and time adjustments, there are seven food presets that include french fries, chicken, and frozen food, while a keep warm button is great for maintaining the temperature for up to 30 minutes, and a shake reminder ensures even cooking. However, you don't get any other cooking modes besides air fry.
In our tests, we found that Cosori Pro LE Air Fryer L501 delivered french fries with a crisp exterior and soft, fluffy interior, though the browning wasn't as even as we would have liked. Chicken wings yielded crunchy skins with succulent centers. All from a whisper-quiet machine. But when testing the frozen foods preset, we had mediocre results. Still, given the price tag, these flaws can be forgiven.
Read our full Cosori Pro LE Air Fryer L501 review
Best premium
Specifications
Capacity:
11.6 qt / 11 liters (top oven), 16.5 qt / 15.6 liters (bottom oven)
Cooking modes:
Bake, broil, reheat, keep warm, bagel, and toast (top rapid oven); air fry, convection bake, pizza, air roast, whole roast, and dehydrate (bottom convection & air fry oven)
Reasons to buy
+
Double-oven setup is convenient
+
Smart Finish to synchronize cooking times
+
Cooks evenly and timely
Reasons to avoid
-
Pricey
-
Cleaning is tough
Sometimes, you want to make different dishes at the same time, and the Ninja Double Oven makes that possible thanks to, given the name, its double ovens. This toaster oven air fryer features two different compartments that let you cook foods at different temperatures and modes, even syncing the cooking times so your food will be ready simultaneously. The top compartment is more compact at 11 liters, while the bottom is 15.6 liters, both sizes aren't small when comparing them to your typical basket air fryer. Given its capacity, this option is bulky, taking up a good deal of counter space.
You aren't limited to air frying. In fact, the top and bottom ovens have different functions. The top offers broil, toast, bagel, reheat, and keep warm, while the bottom has whole roast, air roast, air fry, convection bake, pizza, and rehydrate. Each oven even has its own set of controls, making it simple for adjustments. It's also packing ample accessories, including a smart thermometer, two sheet pans, two wire racks, an air fryer basket, and a crumb tray. An extra crumb tray would've been a handy inclusion for clean up, and as a whole, this toaster oven air fryer is harder to clean than basket options.
When it came to testing the Ninja Double Oven, we were consistently happy with the results, no matter the cooking function. The food came out perfectly cooked and promptly. So, if you add up excellent performance, along with the insane amount of functionality and features, the exorbitant price tag is justified and slightly easier to digest.
Read our full Ninja Double Oven DCT451 review
Sign up for Black Friday email alerts!
Get the hottest deals available in your inbox plus news, reviews, opinion, analysis and more from the TechRadar team.
Danielle Abraham is a freelance writer based in Los Angeles who spends most of her time covering all things tech. When she's not writing, you'll probably find her obsessively reading, watching documentaries, listening to podcasts, or scouring the web for anything related to music history.