The best small air fryer 2023: for compact counter-top cooking
Best
Contributions from
published
You can always find space for a small air fryer
QUICK MENU
1. The list in brief
2. Best small air fryer
3. Best budget small air fryer
4. Best premium air fryer
5. Best for simplicity
6. Best for 1 person
7. How we choose
8. How we test
The best small air fryer would be the perfect countertop appliance for you if you're looking to make quick and healthy food on a budget.
For the past couple of years, homes across the globe have been turning to the best air fryer to make healthy, delicious meals. The beauty of an air fryer is that many require minimal, if any, preheating and they can cook foods in up to half the time as you'd expect from using a conventional oven with a smaller space to heat. Since you are heating a smaller space and the heat is circulated rather than constantly generated, an air fryer can cut down on the amount of energy you're using. Less or no oil is required when cooking most food types, too, making this type of appliance a good go-to for healthy eating.
Air fryers tend to come in a basket or oven style, but there are smaller air fryers with a capacity of 5-quart / 4.8-liter that take up less space than a four-slot toaster and are small enough to store in a cupboard when not in use. We've reviewed the top 5 we've tried below, having testest the setup, design, and cooking performance of these compact countertop appliances.
If you're still sitting on the fence about whether an air fryer uses a lot of electricity, and if it can ultimately save money then a tip would be to look for the lower wattage to keep running costs to a minimum.
Edited by
Josephine is TechRadar's Managing Editor of Lifestyle, and has spent much of the last year air frying her meals. From tofu to bacon, cookies to crumble, Josephine's air fryer obses
The quick list
Want to get straight to the best small air fryers for your needs? Use our quick round-up below to immediately find a compact air fryer that suits you – and you can read more about it by jumping to our full write-ups and explanations using the links.
Best overall
1. Cosori Lite 4.0-Quart Smart Air Fryer
A good-looking and space-saving air fryer that's quiet, easy to use, and dishwasher safe.
Best budget
Save precious pennies with this affordable, colorful model that punches above its weight.
Best premium
3. Philips Essential Airfryer HD9252/91
Sometimes, t's worth paying a little more for premium features like app support, and luxe looks.
Best simple
4. Magic Bullet Air Fryer
Simple rotary controls and easy access make this Magic Bullet dream machine a stress-free option.
Best design
5. Tower T17025 Compact 1.5L Air Fryer
This air fryer is incredibly compact and simple to use and clean; just be careful not to block the airflow.
5 of the best small air fryers 2023
Why you can trust TechRadar We spend hours testing every product or service we review, so you can be sure you're buying the best. Find out more about how we test.
The best small air fryer overall
Best air fryer for most people
Specifications
Capacity:
4.0-quart / 3.8-litre
Cooking modes:
5 pre-sets plus app recipes
Reasons to buy
+
Easy to use and clean
+
Very quiet in operation
+
Dishwasher safe parts
Reasons to avoid
-
Small cooking area is easy to overcrowd
-
Some app recipes are a bit odd
-
Hand-cut chips are a disaster
This people-pleasing, basket-based design is easy to use and won't take up too much cupboard space but is also attractive enough to grace counter-tops full-time. Speedy, quiet and consistently reliable, the pre-set functions cover all the essentials and its browning/crisping skills are impressive.
The Cosori Lite's small basket made hard work of cooking large portions of chips, but a bit of portion control will help – on both the evenness of results, and your waistline! The touch control panel is intuitive to use and it feels robustly constructed. For singletons or couples, we've not found a compact air fryer to beat the Cosori Lite.
Read our full Cosori Lite 4.0-Quart Smart Air Fryer review
The best budget small air fryer
Best budget small air fryer
Specifications
Capacity:
2 quarts / 2 liters
Cooking modes:
Air-fry, roast, bake and reheat
Reasons to buy
+
Extremely compact
+
Produces crisp, evenly browned results
+
Easy to clean
Reasons to avoid
-
Basket isn't dishwasher-safe
-
Reheat function can't replace a microwave
If you're an individual or a couple with smaller appetites, this low capacity air fryer is ideal. A more compact version of the Instant Vortex (above), turned out crisp, evenly browned fries and succulent chicken during our testing.
The Vortex Mini can air-fry, roast, bake and reheat as well, and it's easy to clean - although while the crisper plate is dishwasher safe, the basket itself can't be cleaned in a dishwasher. Due to the smaller capacity, some experimentation is required to ensure you get the perfect crunchy exterior, and the reheat function can't rival a microwave. However, considering the affordable price tag and compact size, we think it's a great buy.
Read our full Instant Vortex Mini air fryer review
The best premium small air fryer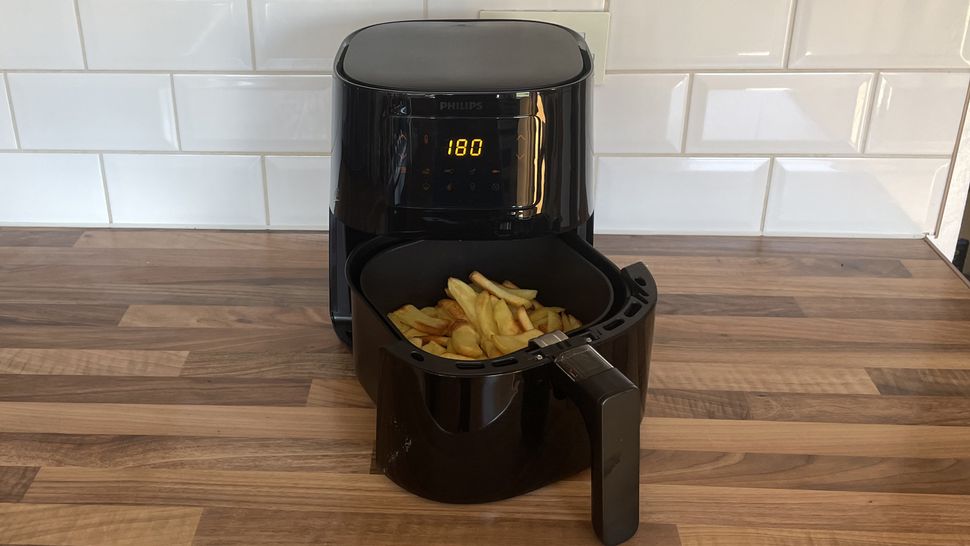 Best premium small air fryer
Specifications
Capacity:
5-quart / 4.8-liter
Cooking modes:
Air-fry, roast, bake and reheat
Reasons to buy
+
Excellent crisp results
+
Compact
+
Quiet in use
Reasons to avoid
-
Uses more oil than other air fryers
-
Expensive compared to the rest of the market
The Philips Essential Air Fryer HD9252/91 has a 5-quart / 4.8-liter capacity, which pitches it within the compact air fryer market, albeit not the smallest model in this line-up. Philips says it is sufficient for three servings, making it ideal for smaller households.
It did a solid job at crisping fries and chicken wings in our tests, however, we found it requires a little oil to cook many foods, even items such as chicken wings, which can be cooked in rival air fryers in this list without any oil. Clearly this does slightly reduce the healthiness of the meal you're cooking, but it's still preferable to deep fat frying.
As well as air-frying, the appliance, which is easy to clean as both sections of the frying basket are dishwasher-safe, can also roast, bake and reheat, too. It was also one of the quietest air fryer we've tested to date. In addition, the exterior casing remained cool to the touch throughout cooking, making it an appealing option for small families.
Read our full Philips Essential Airfryer HD9252/91 review
The best small air fryer for simplicity
Best small air fryer for simplicity
Specifications
Capacity:
2.6-quart / 2.5L
Reasons to buy
+
Uncomplicated controls
+
Automatically switches off when timer runs out
Reasons to avoid
-
Tricky to set timer and temperature dials accurately
-
Basket needs to be cleaned by hand
The Magic Bullet was the first air fryer we saw released by Nutribullet, and it's a nifty little number with plenty of capacity for a smaller household. Even crisping is its forte, and we also loved the handy 60-min timer function, which shuts the cooking down when done.
While the basket isn't dishwasher-pally, it isn't hard to clean by hand and its no-frills operation will appeal to tech phobes and anyone looking to fry up healthy meals without excessive brain-frazzle. In terms of value for money, we'd say the Magic Bullet is a very good option and will scores well on build quality, performance and style. Just don't expect anything too complicated on the cooking front.
Read our full Magic Bullet review
The best small air fryer for one person
Best small air fryer for one person
Specifications
Capacity:
1.3-quart / 1.5L
Cooking modes:
air fry, roast, grill and bake
As with any compact air fryer, the price you pay for more space on your counter-tops is the basket capacity. It will just about knock out enough chips for two but, in truth, the Tower T17025 really is best suited to solo chefs; ideally those without big appetites.
There are no bells or whistles on this pint-size fryer but, for a really reasonable price, you'll enjoy the option to air fry, roast, grill or bake at temperatures between 80-200°C, with the convenience of a 30-minute timer. Usability is hard to fault, and, while it is not the most powerful air fryer we've ever tested, this doesn't appear to negatively effect speed or performance.
Read our full Tower T17025 Compact 1.5L Air Fryer review
How to choose a compact air fryer
How to choose the best small air fryer for you
Cooking fat-free fried food that tastes exactly like real deal sounds too good to be true but, as any air fryer convert will tell you (repeatedly), the results are mind-blowingly good. But no matter how much praise is lauded on air fryers, investing will always have a detrimental impact on the available space in your kitchen. It is an additional appliance that, most likely, your kitchen layout was never designed to accommodate, and some models are bigger than a family-size microwave. This is where the Compact Air Fryer can save the day, allowing you to enjoy healthier cooking, without overloading counter-tops or crowding cupboards.
To choose the best small air fryer for you, it is essential to be realistic when it comes to portion sizes. The basket capacity specified rarely lives up to the promise, especially when it comes to chips, which need decent air flow space around to achieve an even, crisp fry. Skinny fries can sometimes yield better results but if you overcrowd the basket, you will end up with raw clumps of potato on the inside, while the outer fries will appear to have been cooked by the sun. Small air fryers are not for family use, and some are only suited to lone households; and even then you probably won't be able to fit a full meal in at once.
Beyond capacity, the buying requisites for a compact air fryer are similar to any other. Think about how many cooking functions you'd like, ease of controls, and cleaning. Not all have dishwasher-friendly components. Those with higher wattage ratings will use more energy but they will also cook faster, which usually evens things out.
Finally, check out the design and build quality. If the best small air fryer looks like a motorbike helmet that's just been in a major accident on the freeway, you may not want it gracing your counter-tops. Look for small air fryers in colors that match your existing small appliances and sleek, ergonomic designs that won't stand out.
What is the smallest size for an air fryer?
A compact air fryer with a capacity of 1.6–quart / 1.5L is about as small as you should go if you want to enjoy evenly cooked results without having to cook in multiple batches.
The downside of buying such a small air fryer is that you will usually need to power up your regular oven as well to achieve a full meal, which means you won't get to benefit from the energy savings delivered by large, family-size air fryers.
If you love fries with everything, and want the same crispness that, previously, was only achievable from a deep fat fryer, then a compact air fryer is just the ticket.
What size air fryer for 1 or 2 people?
Whether you're a student living in a studio flat, or just the only person in your family who enjoys fried foods, for single use, you could get away with a compact air fryer with a capacity of around 1.6-2.1–quart / 1.5-2 liters. Depending on the basket design, this should enable you to cook a portion of chips and perhaps a couple of chicken wings if stood upright in the basket.
For those with bigger appetites or dual use, up-size to a model with a capacity of 2.6-4.2–quart / 2.5-4 liters. A larger capacity will not only allow you to get more in, it also ensures improved evenness with regards to browning and crisping. When cooking chips, wings, chicken nuggets or anything that tends to stick together, a bigger capacity also means you won't have to shake the basket as many times during cooking.
How we test the best small air fryers
All our air fryer reviews are independently tested by our team of experts, who use them in their own homes for several weeks. When testing any air fryer, we have three standard tests – fresh 1cm-thick fries, frozen steak-cut fries and chicken wings.
When testing compact models, aimed at small families and single households, we do reduce quantities according to each model's basket capacity to provide fair and accurate feedback. The amounts of food cooked are led by individual manufacturer's guidelines. We also follow the guide times and temperature suggested in the user manuals, where applicable, to discover if the appliance can deliver on its claims.
Naturally, there is also plenty of free-style cooking going on, as our reviewers go about their daily lives and feed their partners and families. This often brings to light benefits, or flaws, that might not arise by sticking to just a few controlled tests, all of which we hope will be helpful to anyone thinking about buying a new air fryer. It also gives us a chance to check out longer term cleaning, maintenance and storage ease.
While we are not paid to test products, if returning well-used appliances is not deemed an environmentally-viable option, our reviewers may be gifted them to either keep and continue testing, or donate to charity.
Sign up for Black Friday email alerts!
Get the hottest deals available in your inbox plus news, reviews, opinion, analysis and more from the TechRadar team.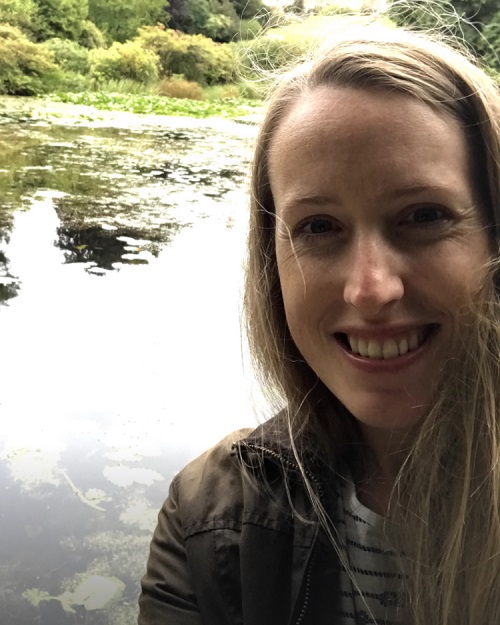 Jennifer Oksien is TechRadar's Homes Editor. Jennifer (Jenny) has over a decade of experience as a digital product writer specialising in appliances, smart tech and mattresses for some of the UKs leading retailers and magazine titles such as Real Homes, Ideal Home and Livingetc. Generally, you'll find her watching the latest Netflix series, digging around in the garden or attempting to make a cake that is edible.