The Cosori Lite 4.0-Quart Smart Air Fryer is a very compact machine, and like most compacts that means it doesn't have a lot of cooking space: if you're looking for an air fryer to make meals for a large family this isn't for you. It looks good, it's very quiet and it's easy to use and clean; it's a decent budget buy for solo or partnered people.
Pros
+

Easy to use and clean

+

Very quiet in operation

+

Dishwasher safe parts
Cons
-

Small cooking area is easy to overcrowd

-

Some app recipes are a bit odd

-

Hand-cut chips are a disaster
Why you can trust TechRadar We spend hours testing every product or service we review, so you can be sure you're buying the best. Find out more about how we test.
One-minute review
The Cosori Lite 4.0-Quart Smart Air Fryer, also known as the Cosori Lite Air Fryer 3.8L in the UK, is one of the smaller, more affordable air fryers by the brand which can be controlled by a control panel or with an app. It's certainly smart, and it was a wise choice to make it dishwasher-safe too.
Cosori sells via Amazon, and currently offers a range of smart air fryers ranging from this compact 4-quart/3.8-litre model to large, dual-basket models. The USP here is the Vesync app, which you can use to program your air fryer (but not start it, apparently due to EU legislation) and which includes a selection of recipes with pre-defined cooking temperatures and times.
It's good-looking for a counter-top appliance and feels well engineered: the basket slides into place with a solid thunk, the fan is very quiet even at full tilt and very little steam escapes when you're frying.
There are five pre-sets (chicken, fries, bacon, steak and veggies) as well as manual controls for temperature and time; the preheat and keep warm features are handy and the app contains a reasonable if fairly small selection of recipes to get you started.
This is designed for smaller kitchens and smaller households: Cosori says it'll do one to three portions, but three may be a bit optimistic. The cooking basket is quite small at 20cm wide by 20cm deep, which means there isn't a lot of capacity for food that needs to be spread across a single layer such as frozen chips. It also means you're limited to making one thing at a time, so for example if you're doing chicken breasts there's only really room for two breasts and nothing else.
Provided you don't overcrowd the basket the Cosori Air Fryer Lite it is one of the best air fryer options for small kitchens, and the fact that the basket and tray are dishwasher safe adds to the appeal.
Cosori Lite 4.0-Quart Smart Air Fryer review: Price and availability
List price: $99.99/£99.99
Available in the US and UK
Exclusive to Amazon
The Cosori Lite 4.0-Quart Smart Air Fryer has a list price of $99.99/£99.99 and is available to buy from Amazon US and Amazon UK.
Officially it's an Amazon exclusive but we found several other retailers offering the air fryer, some for slightly less money.
Value: 4/5
Cosori Air Fryer Lite 3.8L: specifications
Price: $99.99/£99.99
Capacity: 4.0-quart / 3.8-litre
Power/wattage: 1500W
No of baskets: 1
No of programmes: 5 pre-sets plus app recipes
Cable length: 1m
Dimensions: 12.8 x 10.8 x 10.8in / 32.5 x 27.5 x 27.5cm (h x w x d)
Weight: 9.75lbs/4.4kg
Cosori Lite 4.0-Quart Smart Air Fryer review: Design
Single-drawer model
Touch controls and digital display
Dishwasher safe basket and crisper tray
The Cosori Lite 4.0-Quart Smart Air Fryer is a good-looking thing. It's a basket-based design with a large glossy panel on top, touch controls and a choice of light or dark finishes. It feels solidly put together and with a weight of 9.75lbs/4.4kg it's not going to put your back out if you're taking it from a cupboard to a countertop. Color choices are Truffle Grey (the version we reviewed) and Light Peach; the Gray option is prone to finger marks but easy enough to wipe clean.
It measures 12.8 x 10.8 x 10.8in / 32.5 x 27.5 x 27.5cm (h x w x d) so it doesn't take up too much space on the counter-top, but it can equally be easily stowed away to keep the kitchen sides clear.
The basket has a non-stick inner and a removable tray so that oil falls down into the bottom of the basket. Both the basket and the tray are dishwasher safe.
The touch controls on top are simple enough: temperature, time, five pre-sets –chicken, fries, bacon, steak and veggies – a power button, a start/pause button and buttons for preheating, for setting a shake reminder and for using the keep warm function.
It also features an NTC sensor with heating elements positioned over the top of the basket and underneath it, that make real-time temperature adjustments. This (supposedly) means that your food will never be overcooked or undercooked.
Design: 4/5
Cosori Lite 4.0-Quart Smart Air Fryer review: Performance
Quick preheating and whisper-quiet cooking
Keep warm function is really useful
Home-made chips aren't great
It takes about three minutes to preheat the Cosori Lite 4.0-Quart smart air fryer to 392ºF/200ºC and can run at up to 446ºF/230ºC. The cooking area has a capacity of 4.0quart-/3.8-litre but the basket is relatively small, with a cooking area of just 20cm x 20cm: that limits your cooking for foods such as fries, which really need to be laid out in a single layer to cook consistently.
We did our usual food frying tests, and found our cupcakes (an online favourite recipe, 320ºF/160ºC for 11 minutes) to be pretty much perfect: they were gently crispy on the outside, wonderfully fluffy inside and wolfed down by the kids in a matter of minutes.
We followed the French fries recipe, which automatically increases the temperature for the final five minutes, and found it a bit optimistic with the timings; we had to run it for a bit longer and shake the basket more frequently than the recommended single shake to get everything fully cooked. Some of the fries were overly brown but everything tasted great and the recommended oil/cornflour coating made the outsides nice and crisp.
A larger cook of hand-cut wedges was disastrous: even after going 10 minutes over time we ended up with wedges that were half-burnt and half-raw. That's clearly an airflow problem: there were simply too many wedges for the air to circulate effectively. If you're making your own chips or wedges we'd recommend parboiling them first.
We abandoned the pre-sets in favour of our preferred "20ºC cooler, 20% less time" formula for frozen steak-cut chips and shook mid-cook multiple times. That was a great success, producing heavenly chips with the perfect balance of crunch and fluffiness.
This is a really good option for solo or partnered people, but the Instant Vortex Slim 6-quart air fryer, another recent visitor to our kitchen, has similar dimensions but much more capacity – 6-quart/5.7-litre compared to 4-quart/3.8-litre – thanks to a longer basket that effectively doubles your cooking area. That's definitely worth considering, especially at the moment.
The Cosori Air Fryer Lite is very quiet in operation: we measured it at a maximum 58dB, and it's not unpleasant to be in the same kitchen as it cooks.
Performance: 3/5
Cosori Lite 4.0-Quart Smart Air Fryer review: App
Gives you more control
Available on iOS and Android
Could do with some fine tuning
The Cosori Lite 4.0-Quart Smart Air Fryer can either be controlled via the control panel or the VeSync app.
This app gives you more control, enabling you to access recipes, create shopping lists and control the cooker from your phone.
However, it is limited in what it can do: while the Chicken and Fries modes have a Pro mode that ups the temperature towards the end to give crispier results, that isn't available in Manual mode. And there are two key things you can't do from the app: start the cook – you need to do that by pressing the start button on the fryer – and get a shake notification via the app. That's an audible signal from the cooker itself. The lack of a phone notification seems odd.
The app is American and while temperatures are in degrees Celsius the recipes haven't been fully localised to accommodate for its UK customers: you'll be asked to use 1 gram of a spice rather than a quarter teaspoon, to cook your French fries in grapeseed oil and to cut your potatoes into 13mm rather than half-inch chips.
Cosori advertises this air fryer as compatible with Amazon Alexa and Google Assistant. However, in the UK the Alexa skill doesn't work: try as I might, I couldn't get Alexa to discover the device. Looking through Amazon reviews this is clearly a device problem rather than a me problem.
Google Home integration was much more successful, enabling me to control the device with commands such as "Start chicken in the smart air fryer". And unlike the app, I was able to start the fryer cooking without having to physically press the air fryer's start button. The integration is limited – you can't change the temperature mid-cook without having to stop the programme and choose another – but it covers the essentials, enabling you to start and stop programmes, check the internal temperature and discover how much time is left in the current cooking programme.
App: 3 /5
Should I buy the Cosori Lite 4.0-Quart Smart Air Fryer?
Swipe to scroll horizontally
Cosori Lite 4.0-Quart Smart Air Fryer score card

| Attribute | Notes | Score |
| --- | --- | --- |
| Value | Mid-price point in the Cosori range and an exclusive to Amazon, although it can still be found cheaper on other reseller sites in the US. | 4/5 |
| Design | Good-looking, compact and neat control control panel. Available in a selection of colors. | 4/5 |
| Performance | Quiet, useful pre-heat and quick-warm function but cooking fries from frozen has mixed results. | 3/5 |
| App | App is limited, and Alexa is only an option for US customers. Google Home is much more successful for voice control. | 3/5 |
Buy it if...
You don't have much space
The Cosori Lite Air Fryer is relatively small by air fryer standards and won't take up much counter or cupboard space.
You're not cooking for a family
The small footprint means there's a relatively small cooking area: you can fit a couple of chicken breasts in there or make skinny fries for two.
You don't want to wash up
Both the basket and the crisper tray are dishwasher safe.
Don't buy it if...
You have many mouths to feed
This air fryer is great for solo or duo meals, but it isn't big enough to feed entire families.
You want to cook multiple things
This is strictly a one-basket, one-temperature air fryer for simple, straightforward frying.
You don't like fingerprints
The dark grey finish seems to be a bit of a fingerprint magnet.
Also consider
Swipe to scroll horizontally
| Header Cell - Column 0 | Magic Bullet Air Fryer | Philips Essential Airfryer HD9252/91 | Instant Vortex Mini |
| --- | --- | --- | --- |
| Price | $79.99 / £69.99/ AU$129 | $179.95 / £149.99 / AU$270) | $59.99 / £59/99 / AU$99.99 |
| Capacity | 2.5qt / 2.5L | 5qt / 4.8L | 2qt / 2L |
| Power | 1300W | 1400W | 1300W |
| No. of presets | 6 | 7 | 4 |
| Timer | 1 hour | 1 hour | 1 hour |
| Max temperature | 392ºF / 200ºC | 392ºF / 200ºC | 395ºF / 205ºC |
| Dimensions | 10.75 x 8.5 x 9 inches/ 27 x 22 x 25cm (h x w x d) | 14.17 x 10.39 x 11.61 inches / 36 x 26.4 x 29.5cm (d x w x h) | 11.7 x 9.0 x 11.3 inches / 28.6 × 22.9 × 29.8cm |
If you fancy a budget air fryer but the Cosori isn't right for you, check out these excellent alternatives: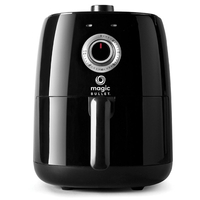 Magic Bullet Air Fryer
This 2.5-quart / 2.5-liter air fryer is cheap, cheerful and compact. With just two dials it couldn't be simpler to use, and it's ideal for 1-2 person households or cooking smaller meals.
Read our full Magic Bullet Air Fryer review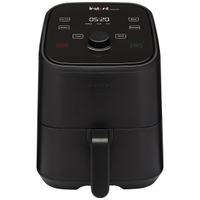 Instant Vortex Mini
The Instant Vortex Mini is a compact air fryer that cooks crisp fries and crunchy but succulent chicken wings. Its capacity is suitable for singles – or, at a push, couples with small appetites – and it's easy to use, but you'll have to experiment with cooking times.
Read our full Instant Vortex Mini review
How I tested the Cosori Lite 4.0-Quart Smart Air Fryer
I used the Cosori as my family air fryer for two weeks
I used the fries preset and some app recipes but preferred manual settings
I cooked fries, cupcakes, chicken and also reheated some takeaways
I've owned multiple air fryers over many years now and reviewed many more, and the more I air fry, the more demanding I become; my current daily driver is the Instant Pot Duo Crisp Ultimate. This Cosori air fryer arrived just as I was saying goodbye to the Instant Vortex Slim Air Fryer, which I had been testing for a few weeks for a radio programme.
As with the Instant, I packed away my usual air fryer and used it as if it were my own for two weeks. I co-parent so my cooking is half-solo, half-family, and as a result I used the air fryer for my own small meals as well as to cook for the kids. I stuck with the app rather than the voice control: the Alexa skill is US-only and Cosori doesn't work with Apple's Siri, the smart home assistant I use.
Cooking for the kids quickly exposed the biggest drawback of the Cosori Lite: its cooking basket is very small, and I felt that it wasn't big enough for three people even if two of those people are children. It doesn't take much to overcrowd the basket and prevent air from circulating effectively, and I encountered that with hand-cut and frozen fries and with reheating a takeaway, all of which required longer cooking times and a lot more shaking than the app recommended.
I did try the presets for chicken, fries and so on but found they underestimated the cooking time for both fresh and frozen food; I got the best results for foods such as frozen french fries and chunky chips with my usual 20% cooler, 20% less time formula.
Read more about how we test.
[First reviewed June 2023]
Contributor
Writer, broadcaster, musician and kitchen gadget obsessive Carrie Marshall (Twitter) has been writing about tech since 1998, contributing sage advice and odd opinions to all kinds of magazines and websites as well as writing more than a dozen books. Her memoir, Carrie Kills A Man, is on sale now. She is the singer in Glaswegian rock band HAVR.