This Relyon Bridgwater Dunlopillo Latex Mattress has the wonderful support and bounce of a reliably made pocket sprung design, with a traditionally tufted pillow top adding a touch of luxury. Those seeking a firm mattress may find the topper a little too cushiony for their liking. However, those who like a medium-firm mattress with a sumptuous and supportive feel, this quality buy provides balance and comfort in all sleep positions.
Pros
+

Breathable and doesn't sleep hot

+

Sumptuously thick and high quality

+

Great edge support

+

Excellent for all sleep positions

+

Made in the UK
Cons
-

Quite difficult to move around

-

Pillow-top too cushiony for some

-

Longer delivery times

-

Short warranty, exchange-only trial
Why you can trust TechRadar We spend hours testing every product or service we review, so you can be sure you're buying the best. Find out more about how we test.
Relyon Bridgwater mattress: Two-minute review
The Relyon Bridgwater Dunlopillo Latex Mattress is a high-quality, premium mattress with latex foam, pocket coils and a sumptuous pillow-top. Having tested it over the course of two months, I think it merits a place in the TechRadar best mattress buying guide as it ticks a lot of boxes in terms of comfort, support and breathability. It has, in fact, been one of the most comfortable mattresses I've slept on in recent years – and as a regular mattress reviewer, that's saying something.
The 30cm thick design comes packed with lots of layers that work well together to effortlessly hold your body as you sleep and ensure you're well rested in the morning. At the core of the mattress there are 1,184 individually wrapped pocket springs to keep your body suitably supported and evenly balanced. The springs are teamed with eight generous layers of Dunlopillo latex, cashmere and wool, which help give this mattress a luxurious, hotel-style finish.
I reviewed the performance of the mattress over the course of two months, rating it on pressure relief, edge support, cooling properties and motion isolation. Here's a brief overview of what I found.
Swipe to scroll horizontally
| Section | Notes | Score |
| --- | --- | --- |
| Comfort | Medium-firm feel, with cushiony pillow-top and supportive springs. Suitable for all positions. | N/A |
| Value | Premium priced, but high quality materials to match. | 4/5 |
| Design | 30cm tall hybrid with latex, other foams and pocket springs, plus pillow-top. | 4.5/5 |
| Temperature | No issues with overheating; naturally temperature-regulating materials. | 4.5/5 |
| Motion isolation | Absorbs movements well – suitable for couples sharing a bed. | 4.5/5 |
| Edge support | Excellent. Could use full sleep area, and sit on the side comfortably too. | 5/5 |
| Customer service | Excellent delivery via Dreams, but exchange-only trial and short warranty. | 3/5 |
Read on for a closer look at each of these areas, to help make it easier for you to decide whether this mattress is right for you and your setup. Here's my full Relyon Dunlopillo Latex mattress review.
Relyon Bridgwater review: Design
Hybrid mattress with latex, foam and pocket springs
Sumptuous pillow top with soft damask tufted cover
Thick and bulky, but handles help with maneuvering
Truly luxurious in its tailoring, this Relyon mattress is made up of 10 layers in total, including covers. Its mix of materials and springs are designed to be breathable and supportive from corner to corner. The mattress measures 30cm thick, which is around 5cm thicker than the standard bed-in-a-box mattresses I'd been testing so far.
At the top of the mattress is a soft damask tufted cover, which is designed to give you a cushioned finish. Beneath this are a couple of 'comfort layers', including cashmere and wool. Next up is a layer of Dunlopillo latex– a natural and sustainable material sourced from rubber trees, latex foam offers both antibacterial and antimicrobial properties. It's also pressure-relieving and elastic, so it helps the body to move with ease across the surface of the mattress.
A further three supportive layers have been included on top of a layer of 1,184 pocket springs – all individually wrapped and designed to provide further pressure relief. At the base of the mattress is another supportive pad and base cover – both of which keep the mattress in place and provide a sturdy foundation for the mattress layers.
There are two handles either side of this mattress stylishly branded with the Relyon logo. These handles are securely sewn onto the mattress and are nicely positioned so you can get a good grip of the sides to move and rotate the mattress as needed – that's useful, given how chunky it is. The cover isn't removable, but Relyon suggests using a mattress protector and cleaning any spills on the mattress straight away using warm soapy water and a cloth.
The mattress is filled with materials and structured in such a way that you won't need to flip it over, but you will need to rotate it head to toe weekly for the first three months, and then every month thereafter. It's also recommended that you pull the covers back and allow the mattress to air whenever possible to keep the materials in tip-top condition.
Design score: 4.5 out of 5
Relyon Bridgwater review: Price & value for money
Sits in the premium price bracket
High quality materials help justify the price-tag
Unlike other brands, no regular sales to take the price down
Relyon was founded in 1858 by a Somerset family of wool merchants and has since grown its reputation for making quality pocket sprung and latex mattresses in the UK. This particular Relyon mattress is only sold at Dreams.
Priced from £1,099, the Bridgwater Dunlopillo Latex Mattress is sits in the premium price bracket. That's as I would expect given the quality, number of layers and quality of materials used. Unlike your average bed-in-a-box mattress companies such as Nectar, Emma and Simba, Relyon doesn't offer regular discounts, although it might be worth checking the Dreams website at peak sale times (the Black Friday mattress deals traditionally deliver the cheapest prices, or failing that the January sales). Here's what you can expect to pay for each size:
Single: RRP £1,099
Small double: £1,299
Double: £1,299
King size: £1,399
Super king: £1,499
This is one of four Relyon hybrid models featuring latex foam at Dreams, so if this model is too expensive then it's worth checking out the others.
Value for money score: 4 out of 5
Relyon Bridgwater mattress review: Comfort & support
Medium-firm mattress
Squishy pillow-top enhances the plushness of the design
Felt great sleeping in all positions
While this Relyon mattress comes with a generous number of pocket springs to provide good pressure relief in the overall design, it also has a sumptuous pillow top to give you a comfy cloud-like experience when laying on it.
On first try of the mattress, I was delighted at how luxurious and smooth the top finish felt. I lay starshaped on the bed and enjoyed how supportive the mattress felt from my feet to my hands. It feels different to memory foam as it has a subtle bounce to it and the pillow top gives it a cosy finish. The top has great pressure relief, however, and I didn't feel like i was sinking into the mattress at all like memory foam can sometimes make me feel. While I really enjoyed the extra pillow top layer, I think that the addition of this top that adds that extra bit of squish to the overall feel may not be suitable for those who like a firm feel on a mattress.
The pressure relief on my hips and joints as I changed sleep position was excellent here – possibly helped by the pocket springs inside. I usually sleep on my side and change to my back over the course of the night, but here I found myself moving less in the night as my sleep position was comfortable from the offset. (For context, I am 5ft 2 tall and weigh 58kg).
My partner (6ft and 84kg) is a front sleeper and was instantly taken with how raised and balanced his body felt when lying on the mattress. The mattress has tufts on its top cover, partly to keep the mattress in shape. To start with, my partner found these dips took a bit of getting used to when he lay on his front, but after a while they became unnoticeable.
I also asked two friends of varying heights to lay on top of the mattress and share their thoughts. The taller of the two was pleased with just how much sleep space the mattress provided and she liked how easy she found it to get on and off at the sides. The shorter of my friends, who is 5ft 4, liked how 'light and weightless' the mattress made her body feel. She noticed how comfortably aligned her spine felt when laying on her back, in particular.
To get some measurement of how supportive this mattress is, I used an 8kg weight to mimic the feel of a person's body sinking into the bed and measured the sinkage. I placed the weight between the tuffs – where the mattress naturally dips – so I could ensure that I was measuring the correct sinkage. This came out at around 3cm, which I found to be an average sinkage measurement for a mattress with a decent amount of support and pressure relief.
Relyon Bridgwater review: Performance
Remained a comfortable temperature, even on hotter summer nights
Pillow top absorbs motion well, ideal for restless partners
Great support around the sides, felt confident getting in and out of bed
As well as assessing the general comfort and support offered by this mattress, I also tested it out on a range of other performance aspects. These were: temperature regulation ,edge support and motion isolation. Here's what I discovered...
Temperature regulation
The piece de resistance of this Relyon mattress is its layer of Dunlopillo latex that is both breathable and pressure-relieving. The mattress also includes temperature-regulating natural wool, blended with cashmere in the pillow top, which – along with the layer of pocket springs – ensures air can circulate inside and keep the mattress fresh.
While I slept on this mattress in the summer months, I had no issues with overheating or sweating. While I was expecting the pillow topper to make the mattress feel too warm, this wasn't the case. There were nights when the room temperature naturally rose and it meant I had to sleep with the covers off, but the mattress never got too hot.
Temperature regulation score: 4.5 out of 5
Motion isolation
Fidgety partner? Or perhaps you're a restless sleeper? For a better chance at getting a full night of undisturbed sleep, good motion isolation technology is important in a mattress. Over the course of the two months that I slept on this mattress with my partner, we were both impressed at how well structured the mattress felt. When one of us changed positions in the night, it went unnoticed.
To further test the motion transfer in the mattress, I used a 5kg weight and empty wine glass. To mimic someone else in the bed moving position or getting out of bed, I dropped the weight 4, 10, and 25 inches away from the wine glass. At 25 inches away the wine glass remained solidly in place. It was only at 4 inches away that it wobbled, but stayed standing, which is testament to how good the motion isolation technology is here.
Motion isolation score: 4.5 out of 5
Edge support
Good edge support can make all the difference in mattress comfort. Without good edge support you won't be able to get in and out of bed easily or lay right up to the sides of the mattress without rolling off. Good edge support also gives you maximum sleep surface too, which can make all the difference if you're sharing a bed with a partner. I was very impressed at just how robust the edges of this Relyon mattress felt. I felt that the tufting on the top pillow top helped to give the mattress balance and create an even surface from edge to edge.
I tested the edge support to its limits. I had a go at both rolling out of bed by twisting my body to the side and sitting up, and simply getting in and out of bed by swinging my legs round and sitting on the side. I sat and bounced on the edges and did the same in the corners. While the corners were not quite as strong as the sides, I can report that I was very impressed with just how robust and firm the sides felt – without instantly collapsing like some mattress edges can.
To gain further insight into how well the edges hold together, I used a weight to measure the sinkage on the sides. I placed the 8kg weight on the side and measured the sinkage at 3.5cm, which is marginally more sinkage than in the middle, but goes to show just how supportive the sides actually are.
Edge support score: 5 out of 5
Relyon Bridgwater review: Customer service
Mattress delivered flat in plastic packaging
Delivery free, but takes up to 6 weeks
100 night exchange-only trial, and warranty only 5 years
My review model came from Dreams, and the service was excellent. Once ordered online, a delivery date was given and the mattress was delivered within 6 weeks – that's a fair bit longer than most bed-in-a-box brands' delivery times, so this isn't the bed to go for if you're in a particular rush.
The day before arrival, the Dreams team called to confirm delivery and to ensure I was ready to receive the mattress. I was very impressed by the delivery team, who on the day of delivery were very polite and took off their shoes as they carried the bed up the stairs and onto my bed. They removed the plastic packaging and took it with them to recycle too.
Unlike your average bed in a box mattress which arrives rolled up and vacuum packed, this mattress arrives fully formed. This is something to bear in mind when ordering as if you have a cramped hallway, this may pose problems getting it into the house and up the stairs, for example.
Once the mattress was laid on the bed it was pretty much ready to sleep on, but I gave it a few hours for it to 'settle'. I also wanted to ensure that signs of off-gassing (which is that new factory smell you can sometimes get with a new mattress) cleared. Luckily, there was hardly any odour at all, which made setup swift and straightforward.
Dreams gives customers 100 nights to test the mattress out and ensure it suits them. This period is shorter than some online brands offer, but still plenty of time to get a good feel for the mattress. Do note that after this period, you can only exchange for another option, and there's a £49 fee to do so. Most bed brands will just let you return your purchase, and there's rarely a fee attached. However, given the breadth of options available at Dreams, you're likely to find something that suits (and you're not locked into one brand).
The warranty is disappointingly short at just 5 years. Most brands offer at least 10 years, and it's also less time than you'd expect a mattress to last – especially a high-end one like this.
Customer service score: 3 out of 5
Relyon Bridgwater mattress review: Specs
Swipe to scroll horizontally
| | |
| --- | --- |
| Height | 30cm |
| Foam | Dunlopillo latex foam, wool cushioning |
| Springs | Pocket springs |
| Cover | Tufted, not removable |
| Handles | Yes |
| Firmness (1-10) | 'Medium-firm', I rate it 7/10 |
| Trial period | 100 nights (exchange only) |
| Warranty | 5 years |
| Price bracket | Premium |
| Double price | £1,299 |
| Sizes | Single, small double, double, king, super king |
| Delivery | Free delivery within 6 weeks |
| Returns | £49 for exchanges |
Relyon Bridgwater mattress review: Other reviews
4.7* average over 111 review on Dreams website (Oct 2023)
A few subjective reviews that the mattress is too hard or soft
Positive comments on back support
Reviews on the Dreams website are limited to just over 100 entries at the time of writing, and are pulled in from the Bazaarvoice reviews website.
While there isn't a huge amount of feedback, the average customer rates this mattress highly – the quality of the product scores 4.8 out of 5, while the design has an overall 4.7 out of 5 stars, for example. There are some comments that the mattress is too hard or too soft, but the overall consensus is that this is a very comfortable mattress that feels like it is hugging you and does a great job at supporting you – particularly when sleeping on your back and sides.
Should you buy the Relyon Bridgwater mattress?
While it's an investment buy, I think the Relyon Bridgwater Dunlopillo Latex Mattress is worth it. It's designed with quality materials to stand the test of time and impressed me in all the key areas – such as edge support, motion isolation, comfort, support and pressure relief. One of the most attractive aspects of the mattress, however, is the inclusion of sustainable latex, which has lots of benefits – it's breathable, pressure relieving and supportive.
The mattress comes with a soft damask tufted cover and I feel that this much 'squish' and give may not be to everyone's tastes, however. So if you like your mattress very firm, you may want to consider a design without a pillow top.
Myself, my partner and the testers I asked to try this mattress all found the medium-firm grade very comfortable and supportive, however, in all sleeping positions. We all felt that this is a premium mattress at a great price.
Relyon Bridgwater mattress review: Also consider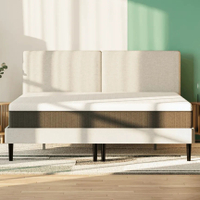 Emma NextGen Premium mattress
For a hybrid pocket sprung with supportive cushioning foam, you can also try the Emma NextGen Premium mattress. It is firmer than the Relyon's medium-grade, but like the Relyon it has excellent temperature regulation and a nice bit of bounce to it. Read our Emma NextGen Premium Mattress review.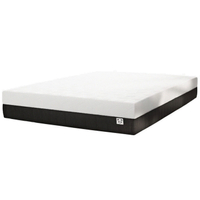 Panda London Hybrid Bamboo Mattress
If you're keen on buying a mattress that includes naturally breathable materials, consider the Panda, which includes bamboo. Bamboo is known to be naturally hypoallergenic and has temperature regulating benefits. This 27cm thick hybrid mattress – with springs and foam - has a bamboo-infused cover and foam. Read our Panda London Hybrid Bamboo Mattress review for more info.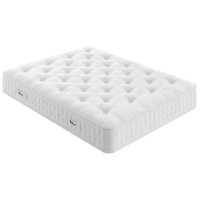 Relyon Somerton Dunlopillo Latex Mattress
If you're keen on the idea of sleeping on a latex mattress, but your budget doesn't quite stretch, consider the Relyon Somerton Dunlopillo Latex Mattress. It doesn't have as many pocket springs as the Bridgwater, but you're still getting that layer of breathable and pressure-relieving Dunlopillo latex included.
How I tested the Relyon mattress
I trialled the Relyon mattress in my home over the course of two summer months. I placed it on a wooden slatted bedframe with velvet covered headboard and covered it with Egyptian cotton sheets. I teamed it with a 4-tog duvet and pillows. I was keen to see how supportive and comfortable the mattress felt. I was also keen to see how breathable the mattress materials were and whether they could keep me at an optimum temperature at night – without overheating like some mattress materials can make you feel.
I slept on the mattress alongside my partner, and asked him to share his thoughts on how well rested the mattress made him feel. I also got a couple of friends of varying heights and weights to have a go at laying on the mattress and sharing their thoughts on design, materials and overall comfort.
First reviewed: October 2023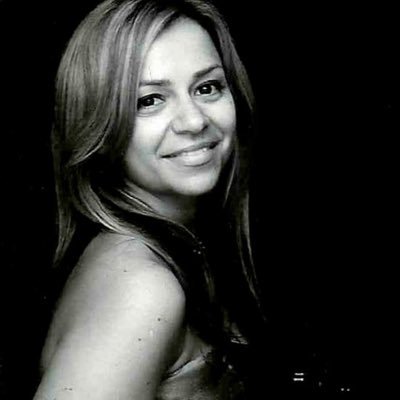 Emily is a lifestyle journalist who writes for a range of publications including TechRadar, Livingetc, Wired, Ideal Home and GQ. She writes about interior design and smart home, gardens, wellbeing, food and fitness and has tested everything from food processors to paddleboards, and bee hives to the best beds. When she's not typing away at her computer, she can be found tending to her Dorset-garden, trying the latest water sport at the beach or acting as chauffeur to her two young kids.