Right now there's a massive discount on the Apple Watch 7's LTE version – but with the Apple Watch 8 also out, is Apple's slightly older smartwatch still worth picking up?
While you might think the Watch 7 is just like the even older Apple Watch 6, there are some big changes that help to make this later model stand out. With a larger display and faster charging, these upgrades for the Watch 7 improved on what was already a great smartwatch.
When compared to the Watch 8, there are some features that you'll miss out on, such as crash detection and a temperature sensor. However, the difference in battery life and design between these two watches is negligible, plus it's likely you won't be finding the newer version at a discount like this anytime soon.
Since the Apple Watch 7's release in October 2021, this is the best discount we've seen on what we consider one of the best Apple Watches around. So, if you've been eyeballing this beautifully designed watch, we think now's a really good time to pick one up... provided you already use an iPhone.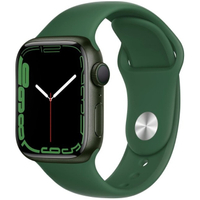 Apple Watch 7 (45mm, GPS + cellular, green) | AU$799 AU$498 at Amazon (save AU$301)
This is the lowest price we've seen on the 45mm cellular option, though it's only available in green. Coming with an IP6X water resistance rating and a vivid, crack-resistant OLED display, this price is a steal for anyone after an Apple smartwatch to pair with a data plan. The 45mm option won't suit everybody, and while the 41mm screen doesn't have as big a saving, you can still pick one up on sale for AU$539 (down from AU$749).
JB Hi-Fi has also slashed the price of the 45mm Apple Watch Series 7 down to AU$498.
The Apple Watch 7 comes with an array of features, such as an onscreen keyboard so you can type out messages if you prefer rather than using voice commands or scribbling in the Messages app. Out of the box, you'll also have access to WatchOS 9 instead of WatchOS 8 that it was originally released with, which brings along some handy upgraded fitness features including more support for Apple Fitness+.
Along with an electrocardiogram (ECG) and blood oxygen monitor, this makes the Watch 7 a great option for anyone who's after an Apple wearable to accompany them on their fitness journey – though it's important to note they're not medical grade.
Interestingly, this discount brings the Apple Watch 7's LTE option down to a lower price than the GPS-only model, which is something we rarely see. To maximise your use with this smartwatch, you can grab a plan to go with it as well.
What mobile plans can I get for the Apple Watch 7
The benefit to having a smartwatch with cellular connectivity is that you won't need to take your phone with you while you're out and about to make calls or check messages. All three of the top Aussie telcos offer plans that you can pair with the Apple Watch 7, though you'll need to already be a customer to easily take advantage of these options.
Adding your Apple Watch 7 to your existing Telstra, Optus or Vodafone plan will only set you back an additional AU$5 per month. You can click on the name of your preferred provider in the list below to find out more.
Connection to a mobile network is also pretty simple to do, as you'll just need to pair your new watch with your phone and follow the prompts on the screen or in your iPhone's Watch app.
Just note, for all three of these options, your handset will either need to be an iPhone 6 or newer, and running iOS 11 or later.
If you're not with any of the above providers, you'll have to check your current one to see if there's a plan that you can add on for your smartwatch. If not, you might have to consider switching to one of the big three.
Even with the additional ongoing cost of the plan, this discounted Apple Watch 7 is really good value for money... provided you're happy with the green colour option (you can always change up the band later) and the 45mm screen size.