Blending the nostalgic design of a mid-2000s clamshell phone with the modern-day power of a smartphone, when we spotted the Motorola Razr 2022 for under AU$1,000, we couldn't just pass it by.
At less than a year old, we haven't seen a deal like this on Motorola's answer to the Samsung Galaxy Z Flip 4 before. So if you've been holding out for a bargain price on Motorola's flippable foldable, now's a great time to buy.
Today's best Motorola Razr 2022 deal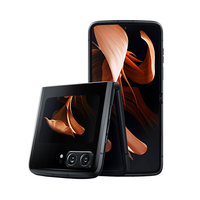 Was: AU$1,599
Now: AU$994 at Lenovo
Overview:
Key features: Android OS, Snapdragon 8+ Gen 1 chip, 50MP camera, 6.7-inch Full HD+ pOLED main display (up to 144Hz), 2.7-inch AMOLED external display (60Hz), 3,500mAh battery
Product launched: 25 October, 2022 (international)
Price History: It's rare to find a deal on the Motorola Razr 2022, especially since it's only been available internationally for 8 months. We've not caught a deal on this phone before, but have seen retailers favouring a discount on the older 2020 Motorola Razr 5G instead. Given that the 2022 model isn't even a year old yet, this discount of AU$600 is an incredible bargain.
Price comparison: Big W: AU$995 | JB Hi-Fi: AU$1,599
Reviews consensus: While the increase in size from its predecessor might not be to everyone's liking, the Motorola Razr 2022 offers one of the best displays on a flip phone to date. With a 144Hz refresh rate and a barely noticeable crease, it's a great handset for people who also like to play games or watch videos on their phone. While overall performance varies between reviews, the Snapdragon 8+ Gen 1 chip is a welcome inclusion.
Featured in guides: Best foldable phones, Best Motorola phones
Buy it if: You want a flip phone you can game or stream videos on. The Motorola Razr 2022 main display offers a 144Hz resolution and one of the most well hidden creases out of all the foldable phones currently available. This, paired with a high performing CPU makes for a compact entertainment companion.
Don't buy if: You want long-term update support. Unlike other Android handsets out there, you're only guaranteed 2 years of OS updates and 3 years of security updates. So unless you plan to upgrade to a new handset in a few years time, you might want to consider another option to stay up to date with the latest software.