With back to school sales in full swing at a number of retailers, there are some big savings available on Chromebooks. It's a good time to buy, then, if you're on the hunt for a cheap laptop that's best suited to school work and won't break the bank.
One of the best available right now is this HP Chromebook 14, at Amazon for $159.99 (was $289.99). That's a huge $130 saving on a thin and light 14-inch device that also boasts 64GB of storage, which is enough for your key files, and all-day battery life of up to 14 hours. Performance is reasonable for the cost, too, as it will handle light use and schoolwork with ease, with the added benefit of a larger display compared to most 11-inch Chromebooks in this price range.
That's the standout offer today, but we've also picked out a couple more affordable Chromebook deals available at Amazon if you want to consider some other options. These include smaller devices if you prefer portability, as well as a 2-in-1 option if you want the flexibility of a tablet in your laptop.
Today's best Chromebook deals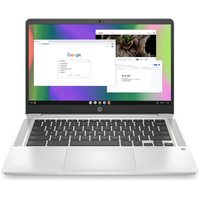 HP Chromebook 14: $289.99 $159.99 at Amazon
Save $130 – Here's a big saving on a fairly new HP Chromebook 14 that brings it down to its cheapest price yet. It's a good offer for a thin and light 14-inch device, as most laptops in this price range are usually only 11 inches. Performance is fine for basic use and school work, and the long 14-hour battery life ensures it will last a full day without the need for charging.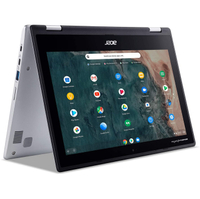 Acer Chromebook Spin 311: $249.99 $199.99 at Amazon
Save $50 – This is the lowest price ever for the Acer Chromebook Spin 311 and a terrific deal for a 2-in-1 laptop. It's a basic device, but if you only need it for light use and school work then it's up to the job. As for other benefits, it's slim, light and has a battery life of up to 10 hours, so enough for a full day without recharging. And then there's the benefit of being able to flip it into tablet mode, which can make the device easier to use for certain tasks, and is great for watching videos.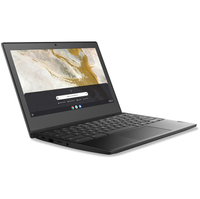 Lenovo IdeaPad 3: $219.99 $119.99 at Amazon
Save $100 – If you're after a super-budget option, Chromebooks don't get much cheaper than this Lenovo IdeaPad. It's a thin and lightweight device at just 11 inches, plus it sports a 10-hour battery life. That's great for portability, but it could be more awkward to use if you prefer a larger display and keyboard. If you don't mind those limitations, and you want to spend as little as possible on a laptop in the back to school sales, it's a good option.
A Chromebook is a smart buy if you want to get a basic device for light use at a cheap price. Performance is reasonable for school work, simple office tasks and general browsing. Plus, they often have a considerably better battery life compared to traditional Windows laptops costing $300 or less.
If you're looking for something with a bit more power you can check out our laptop deals hub, which features a wider range of machines to suit many different budgets and needs.