This can be a great time of year to be on the lookout for discounted Microsoft Surface Pro prices and bundle deals. Our price comparison tools below displays the latest buying options for you across multiple Surface devices.
Seeing as Apple has just released some new iPad Pro models, Microsoft has been keen to unleash some tempting offers lately. Now we're fully into deals season, expect to see those prices drop lower than usual.
We've tracked down the best deals on the newest 2018 Surface Pro 6 and have also provided deals on the older Surface Pro (2017) and Surface Pro 4 and Surface Pro 3 devices. Looking for something a bit smaller? Then you'll want to take a look at the cutest member of the Surface family, the Surface Go – a smaller and cheaper version of the Surface Pro tablet. Microsoft set forth to make a professional tablet so good, you'll be able to replace your laptop and we believe they've done just that with its most recent models.
If you're after something considerably cheaper, you may find it in our cheap laptop deals pages.
Important note: Most Surface Pro deals, especially the cheaper ones, do not come with the Type Cover keyboard attachment or Surface Pen. Retailer sites can be a bit misleading as they'll generally show the device with the keyboard, so be sure to check the full description. We've included a price comparison chart for the keyboard and pen below too if you need to pick them up separately. Most retailers have the option to add one to standalone deals too.
The best Surface Pro 6 prices
The newest entry in the Surface family is the Microsoft Surface Pro 6, which follows up from last year's numberless Surface Pro, which itself followed the Surface Pro 4. We know, let's just get through this. Five, Microsoft! That's the number you couldn't remember!
Available in a new black colour for the first time (or the regular silver), the Surface Pro 6 prices aren't going to be particularly cheap so soon after launch, but the older versions should drop a little now at least. The Surface Pro 6 does make some processing improvements on an already excellent line of slates as you're now getting the latest 8th-gen Kaby Lake i5 or i7 processors. There are no m3 versions available this year, cutting off the cheapest entry-level prices that we saw on earlier models. But given little else has changed this year beyond the i5/i7 generational upgrades and a new colour option, there's nothing stopping you saving a lot of money by opting for the older model below if you don't need the added processing grunt.
The best Surface Pro (2017) prices and bundles
You'd think after the Surface Pro 4 Microsoft would have gone with a Surface Pro 5? But no, just to confuse matters, and searching shoppers, the latest device is simply called Surface Pro. Thankfully, we're here to bring you the latest deals for the new version, so don't worry about our price comparison chart below showing you deals for the very first Surface Pro.
The new Surface Pro is a big improvement over previous models, perhaps justifying the reboot of the brand. The battery lasts much longer than the Pro 4 and all of the accessories (like the Surface Pen and Type Cover keyboard attachment) have also been tweaked, although we're a bit annoyed you have to buy them separately. Microsoft is closer than ever to genuinely replacing your traditional laptop for work at home, the office or on the move.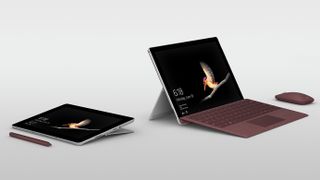 Surface Go deals
The new Microsoft Surface Go is a mini 10-inch version of the Surface Pro hybrids. It doesn't pack the same punch under the bonnet with an Intel 4415Y processor paired with either a 4GB RAM 64GB SSD combo or a meatier 8GB RAM / 128GB but it is considerably cheaper than thefull-sized Surface Pro options on this page. It was released in August 2018. The Type Cover Keyboard and Surface Go mouse are usually sold separately sadly.
Surface Pro 4 prices and bundles
With the new 2017 edition out now, the older Surface Pro 4 is ripe for some big discounts. Unlike the 2017 version, you get the Surface Pen with most models. We've even seen a few bundles that include the type cover too.
Some of the prices differences between the Surface Pro 4 and 2017 model aren't as big as we'd like to be honest, so in all honesty it might be worth spending a bit more for the newer version in some cases. At this time of year though, we can expect some discounts on the entire range.
Surface Pro 3 deals
The Surface Pro 3 is the oldest of the still reasonably available Surface Pro deals, with older models being increasingly hard to come by, not to mention sporting some rather outdated spec by now.
If you can sacrifice a bit of power and functionality over the newer models you could find yourself something of a bargain with the Surface Pro 3.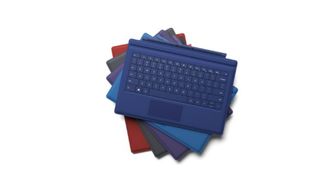 Surface Pro Type Cover deals
We can't iterate it enough, but most Surface Pro deals no not come with the Type Cover keyboard, despite most retailer images blatantly showing the Surface Pro with one attached. Always check the product description to see if you're getting one bundled in.
So chances are you're looking to buy one separately? The Type Covers in the comparison chart are compatible with all of the Surface Pro models in this article. The newer 'Signature Type' have a soft textured fabric finish around the keys and comes in muted colors, while the older versions are more brightly colored and have a more traditional plastic build.
Surface Pen deals
If you're buying a Surface Pro deal that doesn't include a Surface Pen, there's nothing stopping you from buying one separately. Take a look at our price comparison chart below for the latest prices from a wide range of retailers.