The best January sales 2023: today's top retailers for TVs, laptops, and more
Lost in this year's January sales? Here's where to save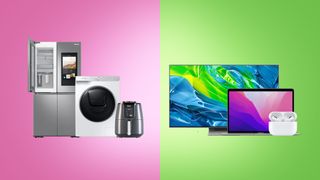 (Image credit: Future)
Looking to start the new year with some bargain hunting? We've rounded up all of this year's best January sales into one handy resource right here - including all the top online retailer's in the UK. Regardless of whether you're looking for that new TV, laptop, or just some new threads or furnishings for your home, there are a huge range of online shops selling goods at huge discounts right now.
To help you navigate this huge retail event, you'll find a handy A-Z of this year's best January sales just down below. This includes not just big tech retailers like Amazon, Currys, and John Lewis, but also smaller specialised retailers that are great if you're looking for something more specific - like appliances or mattresses, for example. Using our reference, you'll be able to quickly find the biggest discounts as well as plenty of options as we've rounded up all the big retailers alongside smaller specialist ones that you may not have heard of until now.
Overall, the January sales tend to round out a busy deals season that starts with the prior Black Friday deals in late November. While traditionally seen as a big clearance sale on furniture and home goods, it's actually just as good for finding discounts on top tech like laptops and TVs - both of which have a ton of discounted options today.
To give you a quick overview of this year's January sales - you can generally expect discounts of up to 50% on things like clothes and furniture, big clearance deals on tech and appliances, and plenty of freebies on top of discounted mattresses. Amazon, Currys, and John Lewis get our top recommendation for most categories but we'd highly recommend checking out more specialist options like Box, AO.com, and Very too as they have fantastic January sales in their own right for things like laptops and TVs.
Today's best January sales
January sales: A-Z of retailers
Here are the best retailers to shop during the January sales. We've included a mini-review of each one to let you know what's in the sale.
A
B
C
D-F
E
F
G
H
I
J-L
K
L
M-O
N
O
P-R
R