The best Boxing Day sales 2023: when they start and what to expect
Your A-Z guide for this year's Boxing Day sales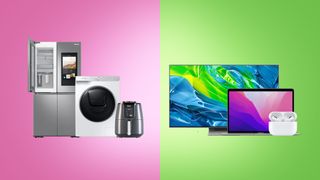 (Image credit: Future)
If you're looking to round-out your year with some bargain hunting you'll find everything you need to know about the upcoming Boxing Day sales right here on this page. We've included all the top retailers to check out, information on last year's best Boxing Day sales, and exactly the types of discounts you should expect. It's also the page we'll be using to roundup this year's top sales - when the time comes.
The bulk of this page consists of a handy A-Z of the best Boxing Day sales. This exhaustive list doesn't just include big tech retailers like Amazon, Currys, and John Lewis, but also smaller specialised retailers that are great if you're looking for something more specific - like appliances or mattresses, for example. Using our reference, you'll be able to quickly find the biggest discounts as well as plenty of options as we've rounded up all the big retailers alongside smaller specialist ones that you may not have heard of until now.
Overall, the January sales tend to round out a busy deals season that starts with the prior Black Friday deals in late November. While traditionally seen as a big clearance sale on furniture and home goods, it's actually just as good for finding discounts on top tech like laptops and TVs - both of which are almost certain to feature at various retailers this year.
Boxing Day sales 2022: everything you need to know
Boxing Day sales: when do they start?
The Boxing Day sales traditionally start on the morning of December 26th but it's not unusual for retailers, especially these days, to start their deals events much earlier. This is exactly what's happened in the past few years, with most of the big-name retailers launching their Boxing Day sales online on Christmas eve.
While it depends from retailer to retailer - a lot of shops are likely to offer extended 'December' or 'Winter' sales this year that usually start well ahead of time and carry over until January. Some retailers may keep their powder dry until the big day itself, while some may even carry over their prior Black Friday deals from last November. It depends on the retailer.
When will the Boxing Day sales end - and the January sales begin?
Again, this varies from retailer to retailer. While some switch their Boxing Day sales into early January sales from the 27 December, others extend their Boxing Day deals right to the end of the month. Overall, you'll generally find retailers offering the same offers throughout, however, just under a different promotional banner and search term.
Is Boxing Day bigger than Black Friday in the UK?
Boxing Day has always been the traditional big 'end-of-year' sale in the UK but it's definitely been eclipsed by Black Friday in recent years - particularly if you're shopping for cheap electronics. Boxing Day remains strong for furniture, appliances, and other outlet items though, and is definitely still worth a look if you've got some post-Christmas pocket money to spend.
Is it better to buy on Boxing Day or Black Friday?
Black Friday tends to be the better option for big-ticket items like laptops or TVs, simply because it's the earlier sale. Retailers are more likely to list record-breaking prices on in-demand items in November in time for Christmas deliveries. If you have your eye on popular items - like Apple products - then it's likely you'll find more in-stock items ready for a price cut.
All that said, the Boxing Day sales aren't a write-off for cheap electronics. While the majority of discounts are likely to be re-runs of Black Friday, they'll still be (or close to) record-low prices. The Boxing Day and January sales are also a chance to clear out old warehouse stock for the big retailers, so you can expect a ton of fresh deals - and not just on Boxing Day staples like furniture or appliances.
Boxing sales: A-Z of retailers
Last year's best Boxing Day sales
Here's a quick-and-dirty overview of our favourite Boxing Day sales from the previous 2023/2024 season.
Just below you can see a more in-depth A-Z review of the retailers that offered the best Boxing Day sales and January sales from the previous iteration of this page. Generally speaking, we'll be expecting the same kinds of sales for this year's upcoming retail event, but we'll of course be making additions to this page if we spot any more great sales.
A
B
C
D-F
E
F