Thanks to Amazon Prime Day, all sorts of otherwise pricey gadgets are on sale, and that includes a wide selection of Garmin smartwatches and fitness trackers. You can get around 30% off Garmin watches, with even more in some cases, and a few Garmin's car gadgets are discounted as well.
For just general fitness tracking, the Garmin Vivofit 4 offers solid performance with a color screen and a normal watch battery that can last up to a year. All of that comes at a low price made even lower by the current deal.
There's also a kids model of the Vivofit, called the Vivofit JR., which comes in smaller sizes and slightly more colorful designs. The Vivofit JR. still boasts that year-long battery though.
Golfers and fitness enthusiasts have plenty to like in the other products on discount. The golf-specific Garmin Approach X40 and Garmin Approach S20 have had their prices slashed right along with the Garmin Vivoactive HR.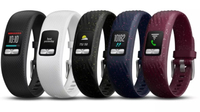 Garmin Vivofit 4| was $79 now $59 at Amazon
The Garmin Vivofit 4 is an excellent budget fitness tracker with an incredible battery life. It even has a color screen. You can keep track of the time, your steps, the weather, and see when you have incoming calls. The Vivofit 4 comes in a multiple sizes and colors, helping you get the look and fit you want. Many other Garmin devices are on sale as well.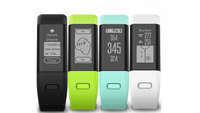 Garmin Approach X40 GPS golf band| was $249 now $199 at Amazon
Looking for a helper when you're out on the fairway? Garmin's Approach X40 will not just keep track of your steps and heart rate, but also track your golf games, give you measurements between your location and the green, and do a whole lot more. It's available in multiple sizes and colors.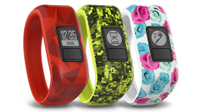 Garmin Vivofit JR.| was $79 now $49 at Amazon
For kids that want to keep track of their activity wherever they go, the Garmin Vivofit JR. is a helpful pick. It can track steps and sleep, and help make sure your kid is active for an hour every day. With water resistance up to five atmospheres and a year-long batter life, there's not much to worry about with this fitness tracker.