Click Frenzy 2023: Mayhem sale is officially over, but some of the best deals are still live
Deals
Contributions from
last updated
Discounts on iPhones, Bose headphones, Dyson vacuums and Garmin watches still up for grabs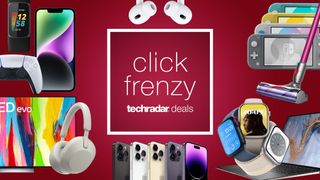 (Image credit: Future)
Click Frenzy's Mayhem sale has officially wrapped up, but you might be surprised to hear that some of the best deals are still available. So what are these savings not to be missed? There's AU$200 off the iPhone 14 at JB Hi-Fi, and an incredible AU$1,600 price cut on a Lenovo laptop fitted with an RTX 4080 graphics card.
You can also still grab 20% off Lego sets at Target, AU$450 off a Garmin running watch at Rebel Sport and discounts on Bose Bluetooth speakers that are worth checking out – all the remaining highlights from the Click Frenzy sale are below. We're not sure how much longer these deals will be available, so let's dive right in...
Which retailers do Click Frenzy deals?
Here's a list of retailers for the May 16 Mayhem event:
Click Frenzy 2023 deals
Phones
Gaming
Laptops & peripherals
Headphones
Speakers
TVs
Health & fitness
Smartwatches
Vacuums
Home appliances
Cameras & hobbies
Grooming & personal care
Click Frenzy 2023: what you need to know
What is Click Frenzy?
Click Frenzy is an online sale that brings together thousands of deals from a huge variety of Australian retailers onto one website. Inspired by Black Friday sales in the US, Click Frenzy was created in 2012 to originally be held twice a year. There was one sale in May called Click Frenzy Mayhem, and another in November (first called Click Frenzy Go Wild, but now known as The Main Event).
As its popularity grew, Click Frenzy expanded to several sale events throughout the year. There was Click Frenzy Julove in July, and Click Frenzy Travel held in September. Click Frenzy used to be a strictly 24-hour sale – starting at 7pm on one day and ending at 7pm the next – but it has since expanded significantly to 53 hours of deal hunting.
There have been some changes made for Click Frenzy in 2023 – The Main Event sale will now be held in late October instead of its usual November timeslot, and Click Frenzy's Julove sale won't be returning in July 2023.
When is Click Frenzy 2023?
The next Click Frenzy event is called Click Frenzy Mayhem, and it officially starts on Tuesday, May 16 at 7pm AEST. It'll run for a total of 53 hours, so you can shop Click Frenzy's deals until midnight on Thursday, May 18.
We've seen several retailers in the past release their discounts a few hours earlier than the official start time, so you can potentially start deal hunting before a huge amount of shoppers jump on the Click Frenzy site. As always, we'll be listing all the best tech deals right here as retailers make these available.
Below, we have a full list of dates and start times for all the Click Frenzy events this year:
• Click Frenzy Mayhem: starts on May 16, 2023 at 7pm AEST
• Click Frenzy Travel: starts on August 23, 2023 at 7pm AEST
• Click Frenzy The Main Event: starts on October 24 at 7pm AEDT
How does Click Frenzy work?
Click Frenzy collects thousands of deals from dozens of retailers onto a single website where you can easily see what's available, and you don't need to be a member to shop any of the deals.
There are benefits to being a member, however. For a start, members get exclusive access to Click Frenzy's signature 99% off deals. Lucky for us, it's free to sign up. Recently, the deals have included a PS5 for just AU$6, a Nintendo Switch for AU$5 and Apple MacBooks for just AU$19. These discounts are limited in number, with limited stock, and pop up at random times on the site for members who are ready and waiting (and signed in).
Click Frenzy members also get access to the deals via the website 30 minutes before everyone else.
Is Click Frenzy better than Black Friday?
We've been following both Click Frenzy and Black Friday sales for many years now, so we can say from our own experience that Black Friday sales are better than Click Frenzy deals. There's a few reasons for this – firstly, only select retailers participate in Click Frenzy sales, whereas almost all Aussie retailers will get in on the Black Friday shopping bandwagon.
Historically, Amazon Australia and eBay Australia do not participate in Click Frenzy sale events, and we know from experience that these two online-only stores have some of the best deals on Black Friday. Other big-name Aussie stores such as JB Hi-Fi and The Good Guys have joined the Click Frenzy sales on occasion, but they don't always participate. They do most definitely participate during Black Friday sales.
What happened in the last Click Frenzy
Best Click Frenzy deals from the previous sale