Christmas gift ideas 2022: 24 great tech gifts for every budget
Don't run out of time to get your Christmas shopping sorted with this handy guide to our favourite gift options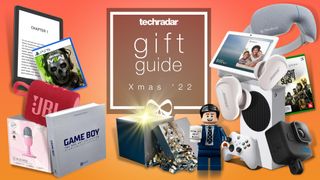 (Image credit: Future)
Last minute?
Still stuck? When in doubt, go with a voucher. Browse Prezzee right now to discover gift cards for retailers such as Amazon, Myer, JB Hi-Fi and more.
Or check out our picks for the best Last Minute Christmas ideas to save your holiday season.
You blinked and Christmas is now less than a fortnight away, meaning the time left to get your Christmas shopping sorted is fast running out. And if you've been putting it off because you've been stuck for ideas, you're in luck, as we thought we'd lend a helping hand by pulling together a list of brilliant gift ideas for this holiday season.
We've included Christmas gift ideas under AU$100, under AU$300 and under AU$500 so that every budget is covered, knowing money is tight, while you'll find a bit of everything as far as tastes are concerned too.
So if you've been unsure until now what to buy, here are our picks for our favourite gift options this Christmas.
3 gift options discounted to under AU$100
While the best bargains in December won't emerge until Boxing Day sales officially kick off, there are still some pretty handy opportunities to save on some of our picks for the best gift options right now. So below we thought we'd pick out three of our favourite Christmas gifts that you can find currently discounted to under AU$100 ahead of the holidays.
Google Nest Hub (2nd gen)
Why you can trust TechRadar We spend hours testing every product or service we review, so you can be sure you're buying the best. Find out more about how we test.
The second generation Google Nest Hub is a pretty handy addition to any aspiring smart home. That's especially true for anybody not keen on wearing a watch to bed but still looking to get some idea of how their sleep quality is tracking, something the second-gen Nest Hub can assist with.
With the addition of Soli radar technology to this generation of the device, the second-gen smart display becomes capable of tracking the slightest movements, which includes the rise and fall of your chest or tossing and turning as you're sleeping in order to determine how well (or how badly) you're sleeping.
You also get all the usual features of a smart display, too, including a digital clock or photo frame display and options to stream movies, music or whatever your heart desires. That's a lot for such a low price, so this one's quite a solid gift option based on value alone. While it has an RRP of AU$149, we've occasionally seen it drop to AU$139 or less.
Read our Google Nest Hub (2nd gen) review

Sony WF-C500 Wireless Earbuds
Most of the best wireless earbuds will find you having to fork out a decent sum, with premium features predictably coming with price tags to match. The one exception has to be the Sony WF-C500, which manages to pack in a heap of top-quality features at a budget-friendly price that is absolutely spot on for gift-giving season. In fact, if you time it well, odds are you'll find these superb earbuds with a price tag below three figures – but including an array of features worth a lot more.
Comfortable and with a generally reliable fit, the soundstage of these Sony buds punches well above its weight, though it (predictably) lacks the power of the more expensive premium earbuds. But with IPX4 water resistance and competence across the range of audio tasks anyone might throw at it, the Sony WF-C500 earbuds are a pleasant surprise as a set of earbuds that will undoubtedly delight just as much when opened under the Christmas tree.
Read our Sony WF-C500 Wireless Earbuds review

Fujifilm Instax Mini 11
If there's one thing Christmas reinforces year after year, it's the value of memories. Happy memories are made around the holidays and we want to make sure we have some way of commemorating them, lest they be lost to time as mere 'moments'. These opportunities don't begin and end with Christmas though, so having a reliable, novel way of documenting the memories we're making is worth its weight in gold. The Fujifilm Instax Mini 11 is an instant photography solution to making memories last.
Beyond its eye-catching design, the Fujifilm Instax Mini 11 is a dynamite budget-friendly camera that might be the very best instant camera money can buy, particularly when taking into consideration its price and features to determine overall value. Best of all, film for the Instax Mini 11 is relatively inexpensive compared to many other instant photography films, so maintaining the memories won't cost whoever you're buying for an arm and a leg. Make this Christmas a memorable one by gifting your loved one the ability to easily document all their favourite moments for years to come.
Read our Fujifilm Instax Mini 11 review
More gifts under AU$100
Latest video game releases
The holidays are a time to unwind and to relax, and for a lot of people that means finally dusting off their game consoles to play the latest games they haven't had a chance to boot up yet. In 2022, we didn't quite get as many quality game options as in previous years or as many as we would have liked, but that doesn't mean there aren't any quality options to choose from – especially from new releases in the year's final months.
Multi-platform titles in popular franchises like Call of Duty: Modern Warfare 2 turned in some of their best efforts in recent memory (particularly for solo campaign play), while multi-platform newcomers like Marvel: Midnight Suns have proven surprise hits worth sinking teeth into. And then there's console exclusives like the extraordinary God of War: Ragnarök which has earned deserved acclaim. We've picked out a handful of our favourite recently released games below to consider putting under the Christmas tree this year or stuff stockings with, all priced from AU$79 and can occasionally be found discounted too.
• Call of Duty: Modern Warfare 2 | PS5, Xbox and PS4 available from JB Hi-Fi, Mighty Ape and The Gamesmen
• Marvel: Midnight Suns | PS5, Xbox and PS4 available from Amazon, JB Hi-Fi and The Gamesmen, PC from Fanatical
• Callisto Protocol | PS5, Xbox and PS4 available from Amazon, JB Hi-Fi and The Gamesmen
• Bayonetta 3 (Nintendo Switch) | Available from Amazon, JB Hi-Fi and The Gamesmen
• God of War: Ragnarök (PS5) | Available from Amazon, JB Hi-Fi and The Gamesmen

Roccat Magma Membrane Switch PC Gaming Keyboard
If you're looking to turn your desktop or laptop into a gaming powerhouse, or even looking to add some lightning-fast responsiveness to your home office setup, you're going to want to get a high-quality gaming keyboard to add into the mix. And one of our picks for the best gaming keyboard, especially at its approachable price point, is the Roccat Magma. Using the keyboard is effortless, and its keys are so responsive thanks to the Magma's advanced membrane plate, which turns the keys into pressure pads that can all be used simultaneously whenever necessary (a dream for high pressure gaming moments).
The ease of using this keyboard is further elevated with the presence of the detachable palm rest, a welcome addition unsighted in even many of the Magma's more expensive competitors. And none of this is to even mention the look of this one, with 5-zone LED backlighting for every key which also offers plenty of dynamic colour options. And the Magma's greatest asset of all is its price, punching so far above its weight in terms of price point and standing out as an excellent gift option for Christmas this year. Grab this one directly via Roccat or any reliable PC peripheral retailers.
Read our Roccat Magma gaming keyboard review

Razer Seiren Mini Ultra-Compact Condenser Microphone
As so many of us are working from home, having a microphone even moderately better than that of your laptop's built-in one has fast become a necessity. Or maybe you have that one friend or family member who keeps insisting they'll start a podcast or start streaming but haven't taken the plunge. In both cases, you get a very handy answer with this Razer Seiren Mini Microphone, offering premium quality recording in a small, portable package that won't cost you an arm and a leg.
The key to the sound quality for this one is its Supercardioid pickup pattern, meaning that the pattern it uses to pick up audio is tighter and more focused. This helps eliminate potential interference from background noises while also elevating the quality of the audio. At its size, it punches well above its weight for every audio task you can think to throw at it, and it's as low-risk a gift option as you could think of.

Belkin BoostCharge Dual Wireless Charging Pads
Our smartphones have become more and more capable as we've grown increasingly glued to them, yet sadly the battery life of our devices have still struggled to keep up. Having a quick, easy and (increasingly) portable solution to juice up your devices has fast become a necessity for the majority of us, which is what makes this gift option especially attractive.
Offering wireless charging for up to two devices simultaneously, support for iOS and Android phones as well as the 2nd generation Apple AirPods and AirPods Pro (plus other devices featuring QI technology), this charging pad is a swiss army knife for those pesky battery concerns. With up to 10W power, it will work at a reliable pace charging devices while taking up very little room. While it might not come in the biggest package for sliding under the Christmas tree, this one is a gift option that manages to stand out regardless.

JBL Go 3 portable speaker
If you're buying for someone who loves to sing in the shower, this mini Bluetooth speaker is the ideal gift. Not only is the JBL Go both waterproof and durable, its humble package also includes the signature JBL Pro Sound promising crisp audio and surprising bass particularly for its size and price – something deftly carried over here in the JBL Go 3 from the previous Go 2.
The added loop attachment also means you can easily carry it around or loop it over a faucet, wherever some quality tunes might be needed. If that weren't enough, you can also find it in a variety of colours and even a slick camouflage, making gifting even easier.

HoMedics Handheld Physio Massage Gun
You really don't know what you've been missing in your life until you introduce yourself to a handheld massager like this one, especially if you're a gym regular or work at a desk for hours at a time. A lot cheaper than regular appointments with a massage therapist, handheld massage guns give you the opportunity to introduce manual therapy to your muscles whenever you want.
There's a lot of options out there as far as massage guns are concerned, with some of the best massage guns carrying a higher price and greater power than the HoMedics Handheld. But for the price point, the HoMedics Physio Massager offers great value regardless.
You'll get three interchangeable massage heads to pair with your device which offers three levels of intensity, and it all comes with an added storage bag. Charging via USB is easy, too, so integrating it into daily life is as easy as can be – and aching muscles will be grateful for it!

Lego sets under AU$100
Year after year, one constant you can rely on at Christmastime is that the gift of a Lego set will never go astray, with the brick legends maintaining an ongoing popularity at pace with their reliable output of new sets. That means that if you're looking for great Lego options below three figures, you won't have to worry about a shortage of options, as you're essentially guaranteed to find something for everyone.
This year, some of the best options are sets recreating some of 2022's hottest movie releases and some old favourites. This includes sets from the upcoming, highly anticipated Avatar sequel, sets from the recent Black Panther sequel and plenty of Disney brick favourites to choose from too. We've picked out some of our favourites below, but there really is no shortage of great options to choose from.
• Lego I Am Groot building set – AU$89.99
• Lego Black Panther Shuri's Sunbird building set – AU$79.99
• Lego Avatar Jake & Neytiri's First Banshee Flight building set – AU$89.99
• Lego Iconic Chess Set – AU$99.99
• Lego Mini Disney Haunted Mansion – AU$69.99
• Shop more Lego sets directly from Lego AU

Game Boy: The Box Art Collection book
For the gaming fan in your life, UK publisher Bitmap Books might have you covered for the most brilliant and unexpectedly ideal Christmas gift. A good coffee table book can accomplish a lot to capture both the eye and the attention, and Bitmap specialises in some of the absolute best, collecting art and exhaustive facts from video game history. Highlights of their catalogue include The Games That Weren't – a mammoth 644-page history of games and game ideas that never quite made their way to consumers – and history books covering the likes of the JRPG, FPS and CRPG genres.
But for pure nostalgic value, our pick is this 372-page hardback showcasing the history and art of some of the Nintendo Game Boy's most iconic (and obscure) game titles. The design on this one is absolutely top notch, from the textured hardback cover to the lithograph prints cover to cover within, when you're holding this one you can literally feel the quality.

Eve Energy smart plug