The Ooni Karu 12 is one of the best portable pizza offerings for anyone wanting to explore pizza-making at home. Gas or wood fuel options means it's as challenging as you want, and it's one of the lightest units on the market so you can to take it on the road. Most importantly, it's capable of making great 12-inch pizzas in minutes, and it's not prohibitively expensive – there's not much more you could want out of a first pizza oven.
Pros
+

Gas or wood fuel

+

Cooks perfect pizza in minutes

+

Portable
Cons
-

Slow for >5 pizzas

-

Gas conversion costs extra

-

Metal exterior gets hot
Why you can trust TechRadar We spend hours testing every product or service we review, so you can be sure you're buying the best. Find out more about how we test.
Ooni Karu 12: One-Minute Review
The Ooni Karu 12 is a wood/charcoal-fired pizza oven that is an affordable entry point for anyone looking to start out making pizza at home.
The Karu 12 won't lock you into a particular fuel type straightaway either, like many other budget-friendly offerings do, since Ooni has a gas conversion kit for the oven that you can buy at any time for an additional $100 / £90 / AU$189. This flexibility is critical for anyone who isn't sure if they want the ease-of-use from gas-powered pizza ovens or the traditional smoky flavor of a wood-fired offering. It also makes it easy to swap between the two for anyone who might want to try both.
The dual-fuel equation isn't the only thing this pizza oven has going for it – it's also got a sleek looking pressed metal exterior and a cordierite baking stone capable of getting above 752°F / 400°C for perfectly cooked pizza bases in minutes.
There's enough insulation to mean it's only about five minutes to reheat the stone between pizzas, but the package also only weighs 26.4lbs / 12kg, has foldable legs and a detachable chimney to make it extremely portable if you want to take it camping.
You will want to leave some room in the budget for accessories like the infrared thermometer and a pizza peel since sliding loaded pizzas and getting the correct temperature can seem impossibly difficult for novices. Even with a number of accessories tacked on, this unit is great value.
Ooni Karu 12: Price
Available since 2020
$299 / £299 / AU$649
The Ooni Karu 12 is one of the more affordable options of the Ooni range. At just $299 / £299 / AU$649, it's actually one of the best-value portable pizza ovens from any brand.
For this you get the basic Ooni Karu wood and charcoal burning pizza oven with a stone base and chimney. If you plan to leave the pizza oven in your backyard and are happy to use wood or charcoal to make all your pizzas, then this is all you'll need, but if you're new to pizza-making, it's much easier to start on gas.
For a more convenient cooking arrangement, the Karu 12 Gas attachment will set you back $100 / £90 / AU$189. If you're new to pizza ovens this is an essential feature, since it makes the unit much easier to control, but the faster and easier gas heating is convenient for frequent users too.
For portability you'll want the $40 / £40 / AU$80 Ooni Karu 12 Carry Cover, which seals the little kit up to make it easy to transport.
The units are also available to buy in bundles with things like a pizza peel, remote thermometer and official cookbook, all of which make a big difference to the quality of pizza you'll be able to make.
• Value score: 5/5
Ooni Karu 12 specs
Swipe to scroll horizontally
| | |
| --- | --- |
| Max temperature: | 950ºF / 500ºC |
| Pizza size: | 12-inch |
| Dimensions: | 31.5 x 15.7 x 30.3-inches (80 x 40 x 77cm) |
| Weight: | 12kg |
| Cook time: | 60 seconds (5-minute reheat time) |
| Initial heating time: | 15-20 minutes |
| Materials: | Light-weight insulation, brushed 430 stainless steel |
| Baking stone: | 0.6 inch (1.5cm) thick cordierite |
| Portability: | Foldable legs, detachable chimney |
Ooni Karu 12 review: Design and features
Stylish steel design
Foldable legs
Made for 12-inch pizza
There's a lot to like about the design across a bunch of available pizza ovens, so it's got some tough competition. Still, the Karu 12 is definitely one of the most stylish-looking ones around... and it's actually even more charming to look at in person. But it isn't just the sleek Airstream-like press studs and polished steel that's great about the Ooni Karu 12, it's also really cleverly designed.
The foldable legs are tall enough to keep this oven elevated off combustible surfaces without adding a heap of unnecessary bulk, and the chimney is easily detachable for compact storage and portability. The 13.2-inch cooking surface is perfect for medium sized 12-inch pizzas and the pizza stone carries enough thermal mass to cook pizza well when heated to 752°F / 400°C.
The design offers the potential to swap out the wood box for a gas attachment that connects to a standard LPG tank so you can heat the oven at the flick of a switch. While you might lose some authenticity and smokey flavor by ditching the wood, you trade this for a much faster setup and easier-to-manage temperature control. The gas heating is a massive bonus for novice pizza makers.
When using this oven as a wood or coal pizza oven, the top hatch makes it easy to add fuel and a chimney baffle gives you some control over how hot the oven gets, but it's not a perfect science, so expect to spend some time working out when to add fuel to ensure your oven is hot enough.
Ooni also has a wide range of reasonably priced accessories, many of which make the pizza-making experience significantly easier and more rewarding.
• Design score: 4.5/5
• Features score: 5/5
Ooni Karu 12 review: Performance
Easy gas-fired pizza
Cook 5 pizzas in 30 mins
Decent wood-fired capabilities
If you're new to pizza making I'd strongly recommend the gas attachment for the Karu 12. There are a number of challenges you're going to need to overcome to make great pizza, including everything from getting the dough right to making sure your raw pizza doesn't stick to the peel, so adding complexity to the cooking process is better left to when you've got a bit more experience.
Even with the Karu 12 gas cooking attachment you'll still have to ensure you wait the full 20 minutes to get your baking stone up to at least 752°F / 400°C, then turn the burner down when you insert the pizza to allow the toppings and base to cook at the same rate. It will take you a couple of attempts to get a feel for this balance but the temperature gauge means it's a manageable process for beginners to learn.
Image 1 of 7
While it definitely can cook a pizza in 60 seconds, you'll need some skill to spin it for even cooking in that timeframe. In practice, it's probably closer to two minutes for your average home cook, which really is impressive when you're first doing it. What is a bit more of an inconvenience is that it'll take at least that long and probably closer to five minutes to reheat the stone to the perfect temperature, so you're looking at an output of one pizza every 5-7 minutes. This makes it great for making up to around four or five pizzas for 4-6 people, but you'll need to look at an oven with more thermal mass if you want professional output.
For those that want to venture into the wood-fired realm, you'll need a bit more patience and skill to load the firebox up in a way to get the temperature right for each pizza. Basically this entails loading new hardwood into the box before each pizza to make the oven flash to as close to the 752°F / 400°C temperature as possible. With the coal and hardwood I was using, I was only able to get the oven to around 650°F / 350°C and it quickly drops when you have to take the front door off to spin the pizza, so it's hard to get the base cooked.
If you're a traditionalist with a bit of time and determination, then it's a capable wood-fired unit, but gas will offer much better results for anyone new to pizza making.
• Performance score: 4.5/5
Should I buy the Ooni Karu 12?
Swipe to scroll horizontally
Ooni Karu 12 score card

| Attribute | Notes | Rating |
| --- | --- | --- |
| Value | Very well priced (especially for wood option). | 5/5 |
| Design | Sleek and lightweight. | 4.5/5 |
| Features | Multi-fuel, folds away, portability. | 5/5 |
| Performance | Great for smaller volumes of pizza. | 4.5/5 |
Buy it if...
You want homemade pizza for small gatherings
This versatile unit allows you to easily swap between gas or wood-fired offerings. The conversion takes around five minutes using a single included Allen key, so you can change the setup depending on your energy levels and the fuel on hand.
You want something you can take away with you
The Karu 12 is light enough pack up easily for family holidays, which means you can make restaurant-quality pizza in the middle of nowhere when you have the time to do so.
You want an affordable entry into pizza making
The approachable price point and versatile fuel options means you can experiment without investing in something you don't want. If you do want to invest in a bigger pizza oven later you can always use this as your portable option.
Don't buy it if...
You need a pizza oven to feed 30 people
The smaller 12-inch size and 5-minute heat recharge time on the Karu 12 baking stone means you'll be better served by a bigger pizza oven with more insulation if you're looking to feed an army.
You want to make pizza indoors
Both the gas and wood-fired Karu 12 options are not suitable for indoor use. Check out the Also Consider section below for electric pizza ovens if you need something that can go in your indoor kitchen.
Also consider...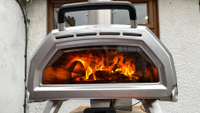 Ooni Karu 16
If you want something more substantial for bigger groups, the OOni Karu 16 offers more insulation and a bigger cooking surface area which will allow you to cook bigger pizzas faster. You will lose some of the portability, but if you have no intention of taking your oven on the road, it's a trade-off worth considering.
Read our full Ooni Karu 16 review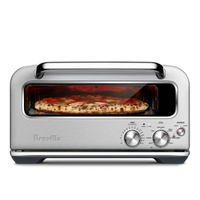 Breville Pizzaiolo
Breville's Pizzaiolo is an electric offering that includes a dual heating system that allows you to control the top and bottom heat for various pizza styles, all from the convenience of your kitchen. The oven reaches 752°F / 400°C so you can cook traditional style pizza, but it also can be set to cook a variety of other styles from deep dish to frozen pizza.
How I tested the Ooni Karu 12
Test pizzas = 20
Wood and Gas
Used a range of Ooni accessories
I used the Ooni Karu 12 over a few weeks making over 20 pizzas for friends and family. I used both the gas and wood-fired options across multiple sessions and was able to test out a wide range of Ooni accessories, from the pizza peel to the infrared thermometer.
I also packed the Karu 12 away in the waterproof carry case (sold separately) after each use to test the ease of packing for portability.
I used recipes from both the Ooni Cooking With Fire cookbook (which is good for pizza dough recipes, kneading techniques and oven tips) and other online recipes and cookbooks.
[First reviewed July 2023]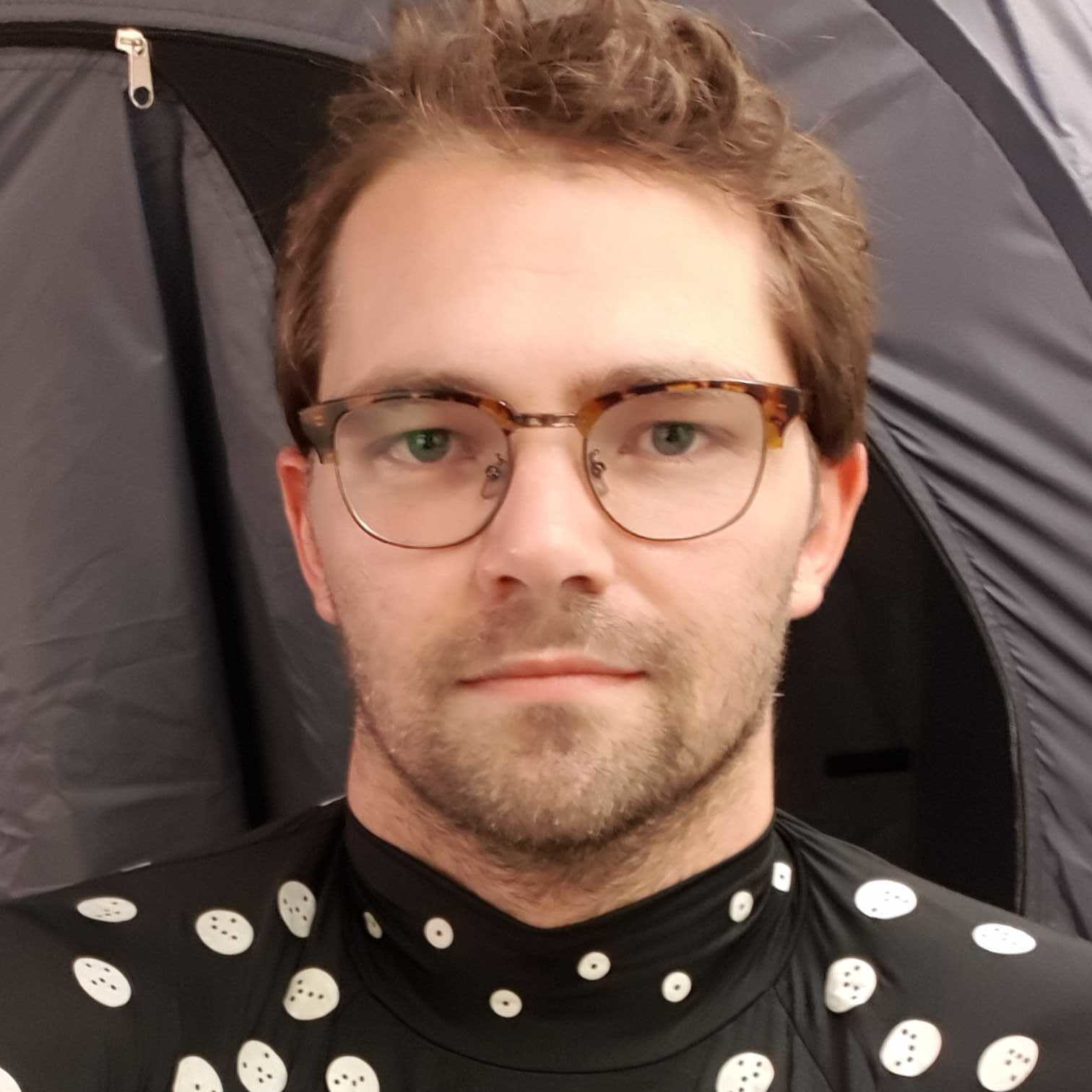 Joel has been the in-house benchmark monkey for the Australian TechRadar team and Australia's two biggest tech magazines (APC and TechLife) since 2014.