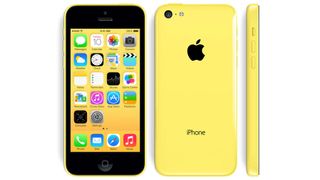 Check out our Black Friday deals page for all best deals this November!
The iPhone 5C might be in its last days as you read this. The plucky phone was launched back in September 2013 and was something of a departure for Apple. It wasn't cheap, but it was cheaper than the regular iPhone, and it cut out things like the fingerprint scanner and aluminium unibody. But the truth is, it was always an iPhone and always a good phone. The biggest problem with the 5C these days is that it's 8GB only. This makes it less than ideal for anyone wanting to use it for music, although Apple Music offers streaming now, and that could be a good alternative to storing loads of music. Prices should be low now, but do be aware that Apple will probably stop selling this phone in September and may well stop supporting it with iOS updates soon after. For now though, enjoy some of the best prices around!
More options: iPhone 5S deals | iPhone 6S Plus deals | iPhone 6S deals | iPhone 6 deals | iPhone deals
Find the best iPhone 5C deal for you:
iPhone 5C: Fact File
In terms of the tech specs under the hood the iPhone 5C rocks up with the same A6 processor and 4-inch, 1136 x 640 Retina display you'll find on the iPhone 5. You'll also get an 8MP rear facing camera with f/2.4 aperture and single LED flash, 1.9MP HD front facing snapper for Facetime as well as LTE, Wi-Fi a/b/g/n and Bluetooth 4.0 connectivity.
Battery life was given a boost over the iPhone 5 though, and it's interesting to note that the iPhone 5C supported more LTE (4G) bands than any other phone when it launched in 2013, meaning it will work on pretty much any 4G network around the world - music to the ears for users in some countries.
That also includes support for both the traditional FDD-LTE networks and the newer TD-LTE networks that are starting to appear around the world.
Battery and body
Now onto that body - oh yes so much has been said about that body. The iPhone 5C ditched the aluminium of its flagship namesake phones in favour of hard-coated polycarbonate (that's plastic to you and me).
Now before you start panicking about soft plastic Apple has revealed that hiding under the unibody plastic shell is a steel frame which also doubles as the antenna.
Measuring 124.4 x 59.2 x 8.97mm and weighing in at 132g the iPhone 5C is slightly chunkier and heavier than the iPhone 5, but to make up for the extra size Apple has managed to squeeze a larger battery into the handset.
Apple says you'll still be able to get 10 hours of 3G talktime out of the iPhone 5C, or 250 hours of standby.
Techradar's iPhone 5C review highlights:
First reviewed: September 2013
The iPhone 5C left us feeling a little puzzled. On the one hand it's a great smartphone, and being a carbon copy of the iPhone 5 in terms of performance was certainly no bad thing - although it's terribly old now and barely worth the money.
If you're looking for a cheap as chips iPhone, this MAY still be the one to go for, but you'll really have to not care about apps or anything intensive to really get on board with it.
Now that the iPhone 6 and iPhone 6 Plus are a year old, the iPhone 6S and 6S Plus are here and the 5S has dropped in price, the iPhone 5C looks to be an even tougher sell. Apple's decision to only offer the 8GB version is bizarre. I'm not convinced 16GB is always enough for a modern smartphone, so 8GB definitely isn't.
Of course there's also the spate of users transitioning over from BlackBerry, Windows Phone and Android to consider, plus those entering the smartphone game for the first time.
We liked
While many hoped to see the 'budget iPhone', it's good to see the iPhone 5C not comprising on specs and bar the lack of a metal chassis it matched the iPhone 5 every step of the way - but that was a long time ago.
The inclusion of the latest iOS version is a massive boon for the iPhone range in general. The operating system was in dire need of a reboot and iOS 7 has managed to do that with aplomb, bringing a couple of handy new features such as Control Centre to the relative simplicity and solid, fluid interface Apple has offered since its inception.
iOS 9 has refined the experience further and fixed some of the major iOS gripes previously, but it doesn't run as slickly on this ageing phone any longer.
Support for a wide range of 4G bands will be music to the ears of consumers in various countries around the world including the UK where the iPhone 5 was only supported by one network.
Superfast network speeds go hand in hand with web browsing and the iPhone 5C makes mincemeat of most desktop websites, even over Wi-Fi and 3G.
We disliked
People will be split over the polycarbonate body of the iPhone 5C. To be fair to Apple it is a solid build and seems like it could take a few knocks, but it certainly lacks that premium feeling I've become accustomed to from iPhones.
When you're shelling out as much as Apple is asking for the iPhone 5C you have to ask yourself does it feel like it's worth the money you're paying? In all honesty, no - although it's more acceptable now the price is lower.
Thanks to its bright colours the iPhone 5C looks a little like a toy phone (even if it doesn't perhaps feel it in the hand) too - and there are better choices out there for a lower cost.
We did have some other niggles with the iPhone 5C, including poor contact integration and still too much dependence on the main settings menu which just feels unintuitive - but these are problems that have dogged the iPhone range for years, and many users have comfortably negotiated around in the end.
If you're set on buying an iPhone, these minor problems are surmountable - they're just less noticeable on the competition.
Verdict
In summary the iPhone 5C is a great phone, it's just a shame it's 2012's great phone wrapped in a less appealing shiny plastic body and slapped with a still-premium price tag - and in 2015, that's getting old.
Now that the iPhone 6S and the iPhone 6S Plus have arrived prompting a price drop for the iPhone 5S, there's little reason to look at the iPhone 5C. Even the lowest-ever price tag makes it about as close as Apple will get to a budget offering, but 8GB is not enough storage.
Pricing has always been less of an issue for Apple products as people are prepared to pay a premium for what are generally excellent devices, thoughtfully put together and cleverly engineered.
The iPhone 5C is still all these things, but Apple hasn't pushed the boundaries and thus there's no real incentive for consumers to make the leap - unless they are dead set on owning an iPhone but really can't stretch that extra bit to the iPhone 5S.
If you're agnostic in the market, there are plenty of other options available for the money, and even if you want an iPhone for the first time, we'd still suggest making doubly sure that this is the phone for you, and only on a pay as you go deal.
First reviewed: September 2013