Sometimes it's hard for a VPN to stand out from the crowd. All of them claim watertight security, website unblocking skills, and an array of easy-to-use apps and clients. Some of those boasts are pretty subjective - but figuring out and ranking the fastest VPNs is way more clear cut.
And it's a very important metric for these services, too. Because VPNs work by sending all your internet traffic via your chosen provider's secure server (twice, in some cases), that's a lot of extra potential latency. Thankfully, by going for one of the best fast VPNs, you can pretty much avoid any slow down completely.
Depending on the robustness of the company's network and the number of servers it offers (with closer servers generally providing better speeds), some VPNs barely impact your connection. And we've tested all the top providers out there on their speed to make sure that you can confidently pick out a provider that won't slow you down - especially if you're using your service to unblock sites or services and perhaps stream video, where having the fast VPN speed is obviously a priority.
Today's top 3 best fast VPNs
1. NordVPN - one of the biggest names in VPN
It's no surprise that one of the most famous names in virtual private networks is also one of the fastest out there. It's the consistency from region-to-region that really impresses. And NordVPN delivers when it comes to security, usability and streaming service unblocking, too.
2. ExpressVPN - the best overall VPN out there
ExpressVPN is right at the top of our list as the overall best VPN, and a big part of that is down to the speed - and it only seems to be getting faster! In addition, it has superb 24/7 customer support, works on a wide range of devices, is easy to use, and you can currently get it with 3 months extra free.
3. ProtonVPN - rapid with and without WireGuard
One of the most improved overall services in recent times is also now one of the speediest. Turn on WireGuard for the very best performance, but even without its VPN Accelerator tech means OpenVPN performance is among the strongest around.
The fastest VPNs 2022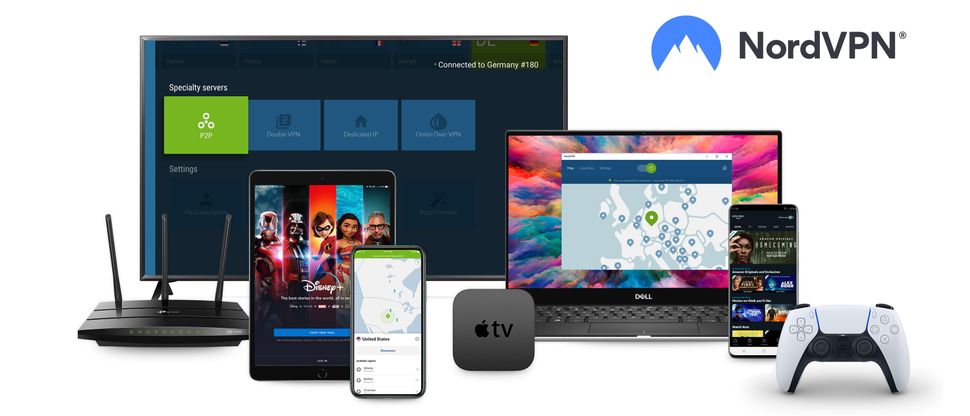 NordVPN is fast becoming one of those brand names that's just synonymous with the product itself - a bit like Hoover or Tannoy. And a good reason for its huge popularity (as well as all the advertising it does) is because of its speed.
When we tested it via US servers, we found connections speeds of up to 880Mb when you use its very own (well, WireGuard-based) NordLynx protocol. Now, there aren't too many homes around that have broadband as fast as that anyway, so don't expect your streaming or downloading speeds to suffer very much at all if you have NordVPN switched on in the background.
We also found that NordVPN has nailed things in terms of consistency on global servers, too. The UK speeds we saw, for example, were pretty much on a par with the US. That's great news for travellers or people trying to access streaming feeds from other countries.
Outside that, NordVPN really comes good in terms of security and privacy. Its no-logs policy is independently audited and it brings features like Double VPN and Onion Over technology to the table to ensure that your private details will never be leaked.
And if you've got the need for speed, we reckon it's because you're probably looking for a top streaming VPN. Nord has you covered on that front, too - it nails US Netflix, unhooks Hulu, delves into Disney+ and unblocks BBC iPlayer.
And there's some really attractive pricing options available, too - especially if you up your subscription to a multiyear plan.
---
ExpressVPN comes in just below NordVPN in our chart - although we ummed and ahhed about putting it all the way to the top.
The two factors most in Express's favor are the fact that: a) it's the very best all-round VPN we've experienced; and b) when we switched over to its proprietary Lightway protocol, we found eye-catching UK connection speeds of a monumental 580Mb. That's quite the rate, and more than fast enough to ensure that your streaming and general web surfing doesn't stutter at all when the VPN is switched on.
A nice extra touch is that ExpressVPN offers its own speed test that helps you make sure that you're connecting to the best possible server. We like that extra dedication to performance!
But ultimately, we found Nord speeds to have a better, higher consistency when we did our checking on international servers. In our latest US test, for example, Express's speeds were relatively underwhelming (although still no slouch).
Outside pure performance, ExpressVPN has really got things sewn up - from its superb array of apps and clients (it works like a dream on Windows, Mac Linux, Android, iPhone, games consoles, TV streaming devices, routers, and more) to the way it automatically connect to the optimal server so you can experience the best possible performance right from the off.
On the security front, you get a thorough choice of protocol support - including that custom-built Lightway. You get a kill switch, and private 'zero knowledge' DNS solution, among other privacy boons. And speaking of privacy, there is no logging of network traffic such as connection times or IP addresses.
If there's one disadvantage to ExpressVPN, then it's probably the price - we think 'reassuringly expensive' is probably a good way of looking at it. Still, the provider does offer a hassle-free 30-day refund and an extra freebie besides.
---
ProtonVPN has come on in leaps and bounds of late, and no more so than in the performance department.
Towards the end of 2021 it caught up with the other big players in the industry and finally rolled out the speedy WireGuard protocol across its apps. That means that in our speed testing, we were able to measure internet connection speeds of over 700Mbps with it turned on. That's pretty staggering and, in the real world, means that you're unlikely to feel any slowdown at all.
Those kind of speeds are becoming commonplace these days with WireGuard and proprietary protocols so prevalent. So it's perhaps even more impressive to look at the speeds Proton is delivering on ordinary old OpenVPN. The provider's VPN Accelerator technology (which is turned on by default) is said to improve VPN connection stability and can increase VPN speeds by over 400% in certain situations. And we certainly saw the fruits of that recording speeds of over 500Mbps - quicker than NordVPN and ExpressVPN.
Fortunately, ProtonVPN comes up trumps in several other areas, too. In a time when good Netflix VPNs are harder and harder to find, Proton has been responsible for some of the most consistent unblocking we've seen. On top of the ability to get around geo-restrictions for iPlayer, Disney+, YouTube and others, Proton is a great option for streamers who want more content but hate buffering - just make sure that you sign up for the Plus plan if that sound like you.
Proton's growing number of servers may still lag behind most of the competition but, ironically, that may be a reason why its connection speeds are so reliably fast.
---
It took a while, but IPVanish is finally able to boast to having WireGuard as an optional protocol to use. That's great news for a provider that we've lambasted in recent tests for coming up way behind the rest when it comes to pure speed. Now, it's one of the very fastest - we managed to clock it at an astonishing 900Mbps on our 1Gbps line in the UK.
This provider is an old favorite of ours. On top of the speeds displayed, it's easy-to-function software. One subscription allows you to use it across an unlimited array of devices. In fact, you can use it on as many as you like - so desktop, laptop, mobiles, TV streaming devices, routers... the lot.
Several advanced options like a kill switch and split tunneling, to name a couple, are also part of the package. The privacy policy is favorable as there is no logging of your online activities, although it's probably high time that that was independently audited like NordVPN and ExpressVPN now do.
Other areas for improvement would be when it comes to streaming. In IPVanish's defence, it doesn't make lofty claims in this department. But it would be nice to know that your VPN of choice works effectively to unblock iPlayer and Amazon Prime Video, which this one currently can not.
---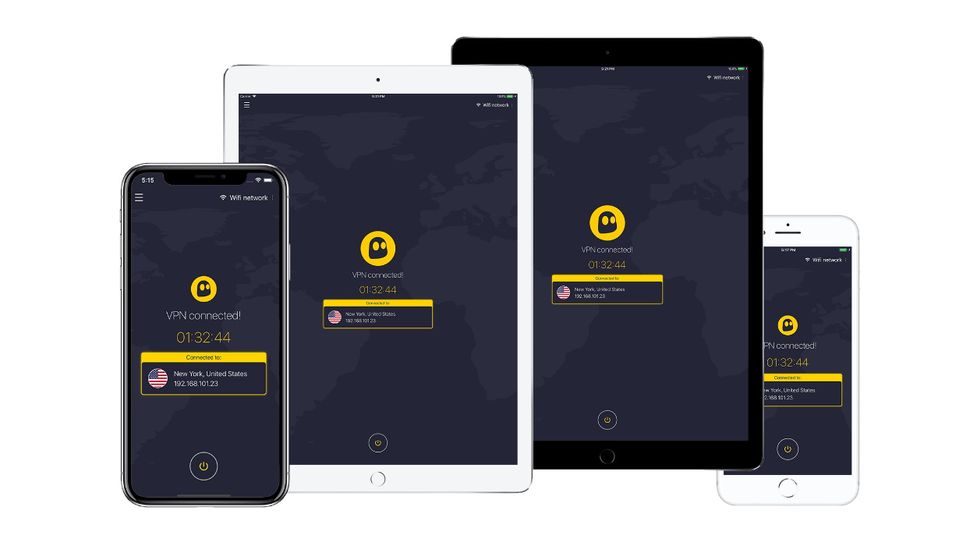 You'll often see CyberGhost pop up in our various VPN buying guides. For a while now, it has impressed with the amount of solid features you get - especially on its desktop clients. And although it isn't quite as strong as the likes of ExpressVPN and NordVPN on streaming, it's a fantastic option if that isn't your primary concern.
It wouldn't be on this list, of course, unless we'd registered some impressive server speeds in our latest testing. On regular OpenVPN we clocked top speeds of 160Mb and 210Mb respectively in the US and UK. And when we turned on the WireGuard juice, that went up again to 770Mb and 860Mb. What does that mean in real life? Well, that by having it running along in the background, you'll barely notice a jot of performance issues.
CyberGhost may have even threatened to climb higher in this chart, but it's true that the variation in the speed testing was wider than some of the competition above. For example, the lowest speeds we saw were down around the 100Mb-mark (US and UK). So that suggests that you may have times when it does cause an iota of an issue.
With a generous 45-day money back guarantee and excellent pricing on longer-term plans, CyberGhost is very much worth considering.
---
Fastest VPN FAQ
Which VPN is fastest?
In our latest round of speed testing, we saw some blistering speeds from a number of providers. But top of the pile in terms of consistently fast VPN connections in a number of different server locations is NordVPN.
Jump on to Nord's very own (WireGuard-based) NordLynx protocol when in the US, and we recorded speeds that clocked in at 880Mbps on our 1Gbps line. That's quite extraordinary, and means you can have NordVPN quietly protecting you at all times in the background, knowing that it won't cause you any lag.
Our #1 favorite service ExpressVPN, also impressed in terms of displaying excellent speeds in a range of territories and protocols. While it was the ever-reliable IPVanish that recorded the very fastest speed - 900Mbps while on WireGuard in the UK - although wasn't quite so good on OpenVPN.
How to choose the fastest VPN
A lot of VPNs claim to be the fastest around, but as you can imagine, in many cases that's an idle boast. In this article, we are going to pinpoint the providers that we've found really deliver on the performance front, going by our reviews and testing.
Of course, speed isn't the be-all-and-end-all, and we always expect solid security and privacy from any VPN. As mentioned, broad server coverage is important here in terms of getting a fast and stable connection. And user-friendly native clients never hurt.
Bear in mind that the VPN won't be the only thing affecting the performance of your internet connection, and this can vary depending on your ISP, the time of day (particularly whether it's peak traffic times), and also the status of the service or website you're using.
What is the fastest free VPN?
When it comes to getting the best performance from your VPN, both in terms of speed and other areas, we always recommend paying for your VPN. While free VPN tools are available, it's wise to err on the side of caution with many only able to maintain the infrastructure to run its VPN by logging and selling your information onto third parties. This means they're really not as secure as you'd like.
That being said, with ProtonVPN offering fantastic speeds, it may be worth trying out its free plan option before upgrading to reap the full benefits of its features and extensive list of servers.
Most other VPN services give you a courtesy window to try out the VPN with the safety blanket of an all-your-money-back-guarantee, spanning anywhere from 30 to 45 days.
Is NordVPN or ExpressVPN faster?
In our recent round of testing, NordVPN claimed the top spot as fastest VPN, with its protcol NordLynx securing speeds ranging from 480Mbps up to 880Mbps. ExpressVPN doesn't trail too far behind with its new Lightway protocol, though, reaching up to 580Mbps.
Need help deciding which to go for? Why not check out our ExpressVPN vs NordVPN comparison piece to help you choose?