Whether you're looking for a dependable budget smartphone or a flashy premium device, the best Motorola phones will provide what you need, as the company makes good-quality phones usually offered at low price points.
Motorola offers several series of phones, but most of them are affordable. The E series is super-cheap handsets while the brands's most popular line, the G family, is also pretty low-cost but sometimes with features you rarely see on budget phones.
There's also the Motorola Edge family of mid-range and, sometimes, premium phones which offer something a little bit different from the E and G lines. Finally, in 2021 the company launched its first rugged phone, which we've also included on this list.
As you can imagine, then, the brand has loads of phones to choose between, and it can get quite confusing for people trying to buy a new phone. That's where our guide to the best Motorola phones comes in: to give you an easy-to-consult list of the stand-out devices from the company's ranges, with their specs and prices attached.
We continually update this list when there's a new Motorola phone review published on TechRadar, so you can see where it slots into the hierarchy (and if it's worth buying at all). Most recently, the Moto G200 has been judged and added to the list.
Not everyone wants a Motorola phone - though it's curious that you're reading this article if that counts for you - but no worries, as we've also got lists of the best phones, best Android phones and best iPhones. You can also check out our advice in our best budget phone, best camera phone and best 5G phone guides.
Best Motorola phones 2022
The Moto G200 is in many ways a remarkable phone, packing in a whole lot of tech at a barely mid-range price. That combination is something Motorola has long been known for to some extent, but the Moto G200 takes it to a whole new level.
It has a powerful Snapdragon 888 Plus chipset, a 6.8-inch 1080 x 2460 screen with an incredibly rapid 144Hz refresh rate, a big 5,000mAh battery, a 108MP main camera and a sturdy design. Of course, it also packs 5G, making for a combination of specs that flirts with the high-end, and in the case of the refresh rate has most flagships beat.
This isn't a perfect phone – inevitably some corners were cut to achieve the relatively low price here, with the screen being LCD rather than OLED, the 33W charging being slower than some rivals, and given the size of its screen, the phone itself is inevitably on the large and cumbersome side.
But those are small complaints compared to everything the Moto G200 delivers, so if you're in the market for a great Motorola handset, or just a great phone that won't break the bank, then this is a top choice.
Read our in-depth Moto G200 review
The Motorola Defy isn't your typical Moto phone. It's actually a rugged device, which means it's designed to work well in the outdoors - it's protected against drops, has a big battery, and includes a slot for lanyards.
Moto presents the phone as designed for gig workers, like food delivery bikers or similar, and it's intended to have lots of stopping power for this kind of task.
Sure, it's not a perfect phone for every function: it's not got much processing power, so don't expect to play games at top graphics options, and its cameras leave a lot to be desired too. But we were impressed during our time with the phone and it's definitely worth looking at if you have a habit of damaging your smartphone.
Read our in-depth Motorola Defy review
Motorola's top-end phone of 2021 was the Edge 20 Pro, the top-specced and most expensive member of its second generation of Edge devices.
This isn't a truly premium phone like the Edge Plus was in 2020, with a competitive price and some mid-range specs and features to keep the price low. In particular the high screen refresh rate and long-lasting battery impressed us. It's good for a Moto phone, but not perfect.
We found the body too big to hold comfortably, especially with a side-mounted fingerprint scanner that was pretty hard to reach. Plus it was slow to charge and the camera software sometimes disappointed.
Read our in-depth Motorola Edge 20 Pro review
The Moto G100 is near the top of the company's 2021 line-up of G-series phones, but it's somewhat of a spiritual successor to the Edge 20 handsets which came out several months earlier.
This is a great budget phone: it has a snappy processor, decent cameras, a big battery and a fingerprint scanner that's pretty convenient to use.
The big problem we had with the Moto G100 is that you have to buy it alongside a dock for Ready For, a software which lets you connect your phone to a display for a range of other functions. Ready For is useful to some, but not all, so it's irritating that you have to pay extra for a stand you might not use.
Overall, though, this is a really good smartphone, and one that's worth your money, especially if you're interested in Ready For.
Read our in-depth Moto G100 review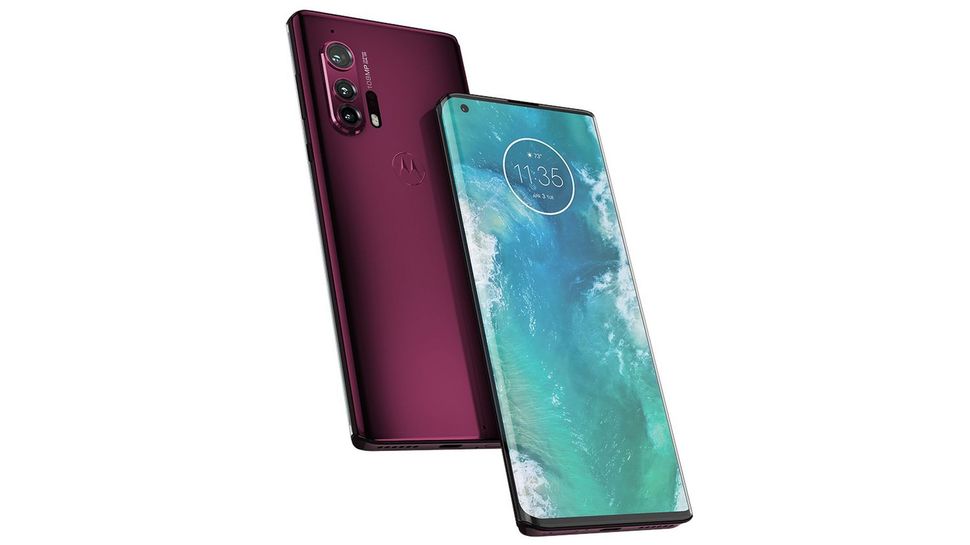 The Motorola Edge Plus is arguably the most exciting Motorola phone in years, as it's also the first true flagship from the company in years.
That means it's up against the likes of the Samsung Galaxy S20 and iPhone 11 Pro, and it certainly has the specs to compete, with a high-end Snapdragon 865 chipset, a massive 12GB of RAM, and a huge 5,000mAh battery.
Its screen is thoroughly impressive too, as it's a 6.7-inch 1080 x 2340 OLED one with a 90Hz refresh rate and HDR10+ support, it's also a 'waterfall' display, which means it's steeply curved at the sides, giving it a striking appearance.
You also get a quad-lens rear camera, with a 108MP main sensor, an 8MP telephoto one (with 3x optical zoom), a 16MP ultra-wide one, and a depth sensor.
With support for both sub-6 and mmWave 5G networks it can also make the most of the latest mobile technology, so it's no wonder we're so fond of it.
Read our in-depth Motorola Edge Plus review
One of Motorola's line of low-cost G-series phones, the Moto G30 is a great showcase as to the type of phone the company is known for. It doesn't have many bells or whistles but it doesn't cost a lot, has a sturdy design and has a big enough battery to easily see you through a day.
If you just need a smartphone as a useful pocket gadget, instead of a tool you'll be using all the time for top-end tasks and photography, this will be perfect for you.
It's a very similar phone to the Moto G10 lower down in this list, but it has a slightly better processor and a higher price. Since the cost is only a tiny bit different though, we'd recommend this handset more (which is why it's higher in the list).
Read our in-depth Moto G30 review
The lowest-end member of Motorola's 2021 series of 'top-end' phones is actually basically a Moto G phone in all but name, costing less than the G100 and coming with lots of similar specs.
The difference here is that, while the Moto G phones are solid all-rounders, the Edge 20 Lite aims to impress in a few key departments, namely cameras (with a 108MP main camera) and display (with a big, punchy OLED display).
The pitch doesn't completely pan out, and we had mixed feelings on the Edge 20 Lite. It excelled in some areas but fell behind in others, notably having a surprisingly short battery life.
It's not a bad phone, but there's a reason it's not the top phone on this list.
Read our in-depth Motorola Edge 20 Lite review
As a cheaper take on the Moto G30, the G10 has lots of the same perks, including its long-lasting battery, its hardy plastic design and its big screen.
The difference here is that it's even cheaper, but comes with slightly worse specs as a downside. We found the Snapdragon 400-series processor a little too slow for us, which is why the G10 is below the G30, but if you don't use your phone much, you won't mind.
Either way, this is the cheapest Moto G phone that's worth buying right now.
Read our in-depth Moto G10 review
The Moto G50 is a curious entry to the company's 2021 line-up, as while its title suggests it's a higher-end model than the G10 and G30, and its price is higher too, it's actually a little lower-end in terms of specs.
The phone has a weaker chipset than the G30, as well as cameras that are more in line with those on the G10.
However it has some higher-end specs which justify the cost, namely its 5G connectivity and the high refresh rate screen. So if you prefer those specs over cameras and power, the G50 is a good choice for you.
Read our in-depth Moto G50 review