The iPhone 8's reign is over. It used to be the flagship apple smartphone that everybody wanted, but somehow it now finds itself five models in the past with the iPhone XR being the most recent to usurp it. But the good news is for you, as that means iPhone 8 deals should now start to tumble - and that becomes great news when you consider that Black Friday and Cyber Monday 2018 is almost upon us.
You can compare iPhone 8 deals here (and see how much cheaper than the iPhone XR they are), and there are some ace options to consider. For example, we're still loving the excellent new 30GB tariff that we've made our new 'Editor's Pick' and Three's all-you-can-eat data plan. By the time we reach Black Friday, we reckon there will be some absolute bargains to be had.
You can save yourself lots of money now by using TechRadar's price comparison on this very page. And to make it even easier for you to get the best price on an Apple iPhone 8 deal, we've picked out specific recommendations further down the page so you can easily locate the most attractive deals at different data points, networks and budgets.
And you can save £10 on the upfront cost of any iPhone 8 deal at Mobiles.co.uk by using the voucher code 10OFF at the checkout - it's exclusive to TechRadar readers and isn't available on the newer iPhone range as yet.
Filter and compare all of the iPhone 8 deals available in the UK:
Best Black Friday deals so far:

Top 5 best iPhone 8 deals you can buy in the UK today:
When the iPhone 8 hit the shelves, we were doing everything possible to prepare people that they were going to have to spend big to get the 2017 Apple iPhone. But as you'll see, you can already get this brilliant iPhone for less than £1000 over the two years and there are some fantastic deals to be snapped up...

iPhone 8 deals: how much does the phone cost?
The RRP of the iPhone 8 on release was £799 but it seems to of dropped a whole £100 to £699 making it a pretty good saving right now. A cursory glance at our iPhone 8 SIM-free price page shows that you can now also pick it up a couple of hundred pounds cheaper than that. To get the phone on a 24 month contract you'll obviously have to pay quite a fair bit more than that, so depending on which of the many tariff works best for you you may or may not be better off buying SIM-free with your choice of our best SIM only deals.
Now let's break down the best iPhone 8 deals by network...

iPhone 8 deals: the best on EE this month
iPhone 8 deals: the best on O2 this month
iPhone 8 deals: the best on Vodafone this month
iPhone 8 deals: the best on Three this month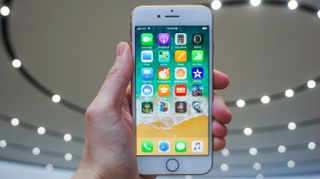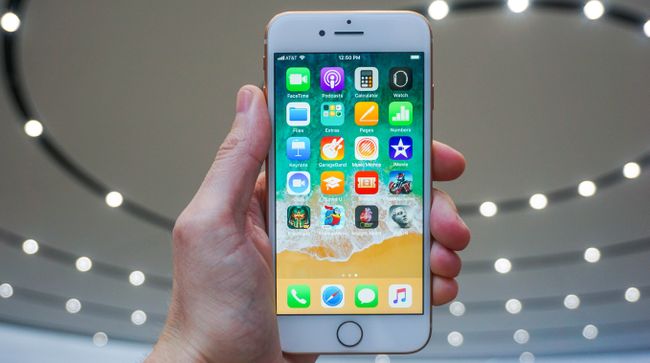 Don't expect a revolution with the iPhone 8. It's essentially a tweaked iPhone 7 with a few enhancements and one or two upgrades. For that reason we wouldn't particularly recommend this phone to anyone with an iPhone 7 - but for those with older phones this could make a timely upgrade if the price of the iPhone XS or iPhone XR makes you want to weep.
Read TechRadar's full iPhone 8 review