The best online grocery delivery services compared: which supermarket is right for you?
We round up the top food delivery services for meals and groceries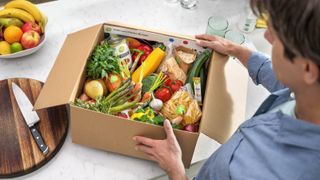 (Image credit: HelloFresh)
When it comes to online food shopping, ordering a weekly grocery delivery is a quick and convenient way to restock your home. Almost every major store now provides an online food delivery service, too, with Tesco, Morrisons and online retailers such as Ocado all offering easy ways to get the products you need.
The choice of meal delivery and food subscription services has also increased dramatically in recent years, with the likes of HelloFresh and Abel and Cole providing a great alternative for those who want to try something different.
However, since the coronavirus pandemic, it's been challenging to take advantage of these services as delivery slots became unavailable for many weeks. Thankfully, the situation has slowly improved throughout the year and has continued to do so as we progress through a second lockdown this November. It is now becoming a lot easier to order from your favourite supermarkets once again.
With so much choice available, then, it can be hard to know which is the best online grocery delivery service. To save you time (and hopefully money), we've rounded up our picks of the bunch.
The top online grocery delivery shopping sites
Why you can trust TechRadar We spend hours testing every product or service we review, so you can be sure you're buying the best. Find out more about how we test.
1. Tesco
Take the stress out of grocery shopping
Specifications
Minimum spend:
£40, but £4 charge if under
Typical first order guarantee:
N/A
Reasons to buy
+
Collect Clubcard points
+
Aldi price match
+
Website is easy to navigate
+
Delivery Saver is good value
Reasons to avoid
-
More expensive than closest rivals
With the second lockdown ongoing, Tesco has managed to remain somewhat flexible with its delivery slots; offering plenty of options depending on your location.
If you can't grab a delivery, however, there's plenty of Click & Collect days available to nab your shopping.
As the leading supermarket in the UK, it's more than likely that Tesco will deliver in your area. Food comes with a freshness guarantee, which means if you don't like the look of a particular box of blueberries you can return them to the driver and receive a refund. This service currently isn't available, however, due to the potential of cross-contamination on returned items.
Online users can also reap the benefits of Tesco's new Aldi price-match scheme – the German supermarket has grown in popularity due to its incredibly cost-conscious pricing, and Tesco is hoping to hold on to its customers and tempt people away from the discounters, by offering the same deals as Aldi on both own-brand and branded products.
Like its competitors, Tesco offers a Delivery Saver pass for regular customers (which is currently unavailable), and Tesco's has the added benefit of priority access during the busy Christmas and Easter periods. We've found Tesco to be the supermarket with the most delivery slots during the pandemic.
2. Morrisons
Get more with Morrisons
Specifications
Typical first order discount:
N/A
Reasons to buy
+
Regular choices available for weekly shop
+
Delivery pass has decent options
+
Food boxes are a useful alternative
+
Plenty of discounts and offers
Reasons to avoid
-
Food boxes are expensive
-
Not a lot of availability
Morrisons online has a wide range of products and a minimum spend of £40. The supermarket also launched a new food boxes range, which provides a box full of curated items for occasions or specific dietary needs that start from £22.
If you check for a delivery today, you won't find much availability, unfortunately. As we're now into the second coronavirus-imposed lockdown Morrisons barely has any delivery slot availability if any at all in the immediate days and weeks.
It is important to note, however, that its food box range has different availability to the full home shopping delivery, offering plenty more spaces and time slots to get your essential items delivered right to your door.
Morrisons offers a delivery pass to make it easy for you to save - if you go for the annual weekly pass (for any time delivery) it'll cost £60 annually, and £35 if you choose midweek (Tuesday to Thursday).
Morrison's Quick Shop also fills your trolley with the top things you might be wanting to buy with a single click - there are meat-free options for this too (and you can finesse what's in there afterwards).
3. Sainsbury's online
Nectar points aplenty
Specifications
Typical first order discount:
N/A
Reasons to buy
+
Collect and spend Nectar points online
+
Eco time slots
+
Regular vouchers and discounts provided
+
Buy recipe ingredients with a click
Reasons to avoid
-
Limited availabilty at the moment
With delivery from just £1 when you spend £40 or more (or free when you spend £100), Sainsbury's has shown a good amount of free delivery slots during the coronavirus pandemic.
Sainsbury's has some decent availability this week for November, depending on your area. Better yet, it has a healthy amount of Click & Collect slots to take full advantage of.
As always, this will depend on your local store. During the first lockdown, Sainsbury's was the most consistent for showing free slots out of the supermarkets we checked. Look for a delivery slot at Sainsbury's.
Sainsbury's also offers eco time slots – you can book delivery from a van that's already scheduled to be in your area, which helps reduce the carbon footprint of your delivery. Morrisons also offers this eco-friendly service.
Ordering is a simple process, too, and incredibly intuitive if you have strict dietary needs – you can create a specific dietary profile that will flag any products you should avoid, including those chocolate cupcakes that definitely contain dairy.
Nectar card users can also benefit from the offers they usually receive in-store, including money off petrol, multiple Nectar points and exclusive coupons.
4. Waitrose
No need to wait for Waitrose
Specifications
Typical first order discount:
£10 off a minimum £80 spend
Reasons to buy
+
Tempting introductory offers
+
Find hundreds of recipes
+
Excellent quality
+
Fast delivery
Reasons to avoid
-
High minimum spend
-
Limited delivery slots again
While relatively new to the online delivery game, Waitrose is serious about attracting new customers. With £30 off over your first three online grocery shops (although you need to spend a minimum of £60), there's nothing stopping you from giving its service a go.
Since the first lockdown lifted until now, we've seen more slots have started to appear for home delivery. Even so, depending on where you live it can still be tough to secure one – we'd recommend using click & collect if possible as it's more widely available and, in some cases, much more convenient.
We've been checking for delivery slots on Waitrose's website today and we can only see a few slots available this week. Depending on your location, there isn't much available for this week, with only a handful of slots available.
Waitrose generally offers more premium products, along with hundreds of enticing recipes for you to discover online. If you're tired of cooking the same shepherd's pie it's easy to find something new to whip up – quickly add the required ingredients to your basket and you're all set.
5. Asda
You could be better off at Asda
Specifications
Minimum spend:
None, but £3 charge if under £40
Typical first order discount:
N/A
Reasons to buy
+
Competitive pricing
+
Delivery Pass available
+
Great seasonal offers
+
Quality can vary
Reasons to avoid
-
Orders can often have substitutes
-
Difficult to secure a spot
Asda is widely regarded as one of the best-value supermarkets around, and its online delivery service offers the same great deals as its brick and mortar stores. The website, and mobile app, in particular, are easy to navigate, with top offers and seasonal products clearly displayed so you never miss a deal.
in lieu of frequently available delivery slots, Click & Collect is by far the best option here for anyone in desperate need of their Asda shopping fix.
Even as we moved out of the first lockdown during the summer months, deliveries might've made something of a comeback but it is still difficult even now. At the very least, Asda is now showing home delivery slots until the end of the month and beyond, a huge step up from the first lockdown where the supermarket only showed the next seven days.
A delivery pass is also available (though it's still on hold for now) for those looking to take advantage of unlimited deliveries – choose between a 6-month or 12-month pass for potential savings of between £80 and £100. If you're new to the service, you can also enjoy a one-month free trial.
At first blush, there's plenty of available slots towards the middle and end of the month, but in the immediate week beginning November 9, there's not much if you're looking for an online food order.
6. Ocado
Eco friendly and ethical
Specifications
Typical first order discount:
N/A
Reasons to buy
+
Three months free delivery with Smart Pass
+
One-hour delivery windows
+
1000s of branded products
+
Low delivery fees
You've probably spotted an Ocado van before, but what is it, exactly? The online retailer has been going for well over 10 years and delivers a large variety of items from various brands. You'll soon be able to choose products from Marks & Spencer, too, as Ocado is ending its long-running partnership with Waitrose.
Ocado is one of the few online delivery services to offer one-hour time slots, and it also endeavours to make its deliveries as environmentally-friendly as possible. Along with green delivery slots that utilise vans already scheduled to be in your area, Ocado has made great strides in minimizing food waste, with unwanted supplies being donated to food banks and local charities.
Ocado has definitely been hit hard by the huge surge in demand for home deliveries during the coronavirus pandemic. It also seems to be the case that Ocado hasn't manage to free up any extra delivery slots since the coronavirus pandemic began.
The supermarket has stopped updating its website with new delivery information and is instead contacting customers directly who sign up via email, and indeed, if you try to book a delivery through the website you'll see there's nothing available.
If you're interested in trying Ocado for the first time, you can get three months free delivery with the Smart Pass, which also gets you 10% off a range of products, priority access to Christmas deliveries, and many more benefits – oh, and if you invite a friend to sign up you can share £40 between you.
Our top food subscription services
Mindful Chef
Seriously healthy, seriously sustainable
Reasons to buy
+
UK's highest-rated recipe box
+
Nutritionist approved
+
Free nation-wide delivery
Mindful Chef provides everything you need to serve up scrumptious, healthy recipes. All of its ingredients are 100% gluten and dairy-free, with lots of vegan options available. Simply choose from 16 yummy recipes every week, and enjoy the fresh, local ingredients, which are ethically-sourced. There's no commitment necessary, and a money-back guarantee – oh, and did we mention that it has free nation-wide delivery?
Mindful Chef has also taken extensive steps to ensure that packaging and food waste is kept to a minimum. Recycled denim insulation keeps ingredients cool, and for every meal, you buy Mindful Chef will donate a school meal to a child in poverty.
This is an excellent option for you if you're looking to expand some cooking horizons while you're stuck inside during this second lockdown.
HelloFresh
Say hello to delicious dinners
Reasons to buy
+
Multiple plans available to suit your lifestyle
+
Cancel any time and skip a week (or several)
HelloFresh is a well-known name in the meal prep delivery game. The service offers enough variety to cater to dietary preferences like avoiding beef/pork/seafood, vegetarian, or even meals geared toward appealing to kids. Now with more choices every week and meals starting from just £3.44. Browse HelloFresh here.
The service provides convenient weekly deliveries of fresh ingredients so you can cook up a storm in the kitchen. Simply pick a plan that suits your needs, wait for your delivery, and follow the simple step-by-step instructions to create delicious dinners in no time.
All the ingredients are pre-measured and come complete with full nutritional information, and if you're a picky eater you can tailor your subscription boxes to avoid the foods you dislike… coriander, anyone?
HelloFresh also offers a flexible subscription, allowing you to skip a week if your pantry is still full to the brim, or cancel your plan at any time if the service isn't for you. Earlier in the year, the service was inundated with new members and requests, but this has since been brought under control and HelloFresh can continue delivering to us all during this time.
Abel & Cole
Build your own grocery box
Reasons to buy
+
Minimum order just £12
+
Recipe boxes available
From weekly essentials to pantry staples, Abel & Cole offers a selection of boxes for almost every household. You can build your own box full of your favourite ingredients, or choose between a veggie, fruit or mixed boxes.
Abel & Cole also offers recipe boxes, which include everything you'll need to create a healthy meal. Minimum orders start from just £12, and you'll never spend more than £1.25 for delivery. You can pick up a box today by using the code BOX20 at the checkout.
Even in the face of the coronavirus pandemic and, indeed, this second lockdown Abel & Cole is still available and the staff are keeping customers up to date with updates on the official website's Coronavirus FAQ.
Sign up to receive daily breaking news, reviews, opinion, analysis, deals and more from the world of tech.
Adam was formerly TRG's Hardware Editor. A law graduate with an exceptional track record in content creation and online engagement, Adam has penned scintillating copy for various technology sites and also established his very own award-nominated video games website. He's previously worked at Nintendo of Europe as a Content Marketing Editor and once played Halo 5: Guardians for over 51 hours for charity. He is now an editor at The Shortcut.