TCL launches a new flagship QD mini-LED TV that should make Samsung worried
TCL looks to go big or big home with its latest announcement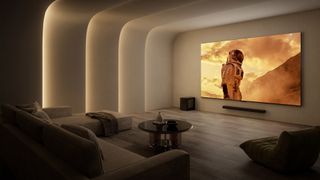 (Image credit: TCL)
TCL has officially expanded its mini-LED TV range, making it even more of a competitor to the best TVs you can buy right now. The TV maker announced several news models, all of which will be available in a gigantic 98-inch size, during its 2023 Global Flagship launch event on August 29.
Read on to find out which new models were announced.
TCL X955
TCL unveiled a new flagship model called the X955, which will be available in 85- and 98-inch sizes. But it's not the size that is eye-catching, but the number of dimming zones and nits it can achieve, as TCL says, the X955 will feature over 5,000 local dimming zones (5,148 to be precise) and an output of 5,000 nits HDR brightness.
To put that into perspective, the Samsung QN95C, one of the brightest mini-LEDs we've seen so far this year, outputs just over 2,000 nits so the X955 is over 2.5 times this. The only other TV that comes close to the X955 is the Samsung QN100B, one of Samsung's 2022 8K mini-LEDs, which is said to also reache 5,000 nits but you'll be paying a hefty price for this TV.
The X955 also comes with a 4.2.2 channel speaker system, which is made in conjunction with Onkyo, that outputs 160w of power and Dolby Atmos sound , so it seems TCL is aiming to bring enhanced picture and audio to customers. The X955 also comes with 144Hz VRR, Dolby Vision and AMD Freesync Premium Pro gaming features, something we've come to expect in the best gaming TVs.
With over 5,000 local dimming zones and 5,000 nits brightness, the TCL X955 looks to be taking the title of brightest TV once and for all over Samsung and Hisense, its biggest rivals and if these numbers are confirmed then it'll do just that.
TCL C955
The C955 is next in the lineup and although not hitting the shining levels of the X955, it still features 2,000 local dimming zones and hits a still very high 2,000 nits peak brightness, roughly the same as the QN95C mentioned above. That will also beat most other TVs like the Samsung S95C, the brightest QD-OLED screen available that outputs 1,400 nits.
In terms of sound, the C955 has a 2.2.2 speaker configuration, again powered by Onkyo, Dolby Atmos compatibility and 120w of output, which is still a respectable level of power compared to a lot of other TVs on the market. It will also carry all the same gaming features as the X955, so it's good to know that you won't be missing out if you can't stretch to the X955.
The C955 will probably be the primary choice for most people as it comes in a few more sizes than the X955, ranging from 65- to 98-inch sizes. However, despite the drop in brightness on this model, it's still nice to see you're getting a lot of great features within the TV itself which will still put it in contention with mini-LED rivals.
C755 (C805 in Europe)
Touted as the entry-level mini LED in TCL's lineup, the C755 (C805 for European readers) will be available in a wider array of sizes compared to the other two models, starting from 50- all the way up to 98-inch again.
In terms of brightness, the C755 will drop again with TCL saying it will output a peak brightness of around 1,300 nits, which in itself is again a respectable figure but doesn't hit the levels of TVs like the Samsung QN90C or even TCL's own QM8.
The inclusion of the same gaming features as the X955 and C955 is a welcome sight, meaning if you're looking for a gaming experience but can't jump to the larger size TCLs, you aren't missing out. With a wider variety of sizes, this will be a competitor within several markets but at the smaller end of the size spectrum, the TCL is going to face tough competition from the likes of the Samsung S90C.
It's also worth noting that all three of these models are IMAX Enhanced, meaning that if they're given an IMAX enhanced source, found on a lot of 4K Blu-rays and even on streaming services like Disney Plus, they will process the image at its best quality.
Analysis: TCL is the go-to company for big screens
TCL also announced the TCL P745, its incredibly affordable 98-inch TV, which is available and carries Dolby Vision IQ, Dolby Atmos and again features sound developed by Onkyo like its counterparts above.
With so many options available in both 85- and 98-inch screens, it seems that TCL aims to be the top provider of cinema-sized screens for your home theater. With affordable options like the P745 priced around $3,100 / £2,400 / AU$4,600 for its 98-inch size, all the way up to the newly announced X955 and its 5,000 dimming zones, TCL looks to change the game on what we think of as big screens.
It's nice to see that within these models we'll still be able to get all the gaming features we like along with a sound system provided by Onkyo, a known name in the audio world. Once prices and region availability are announced officially, it will be interesting to see just if TCL will be the go-to option for large screens.
You might also like
Get daily insight, inspiration and deals in your inbox
Get the hottest deals available in your inbox plus news, reviews, opinion, analysis and more from the TechRadar team.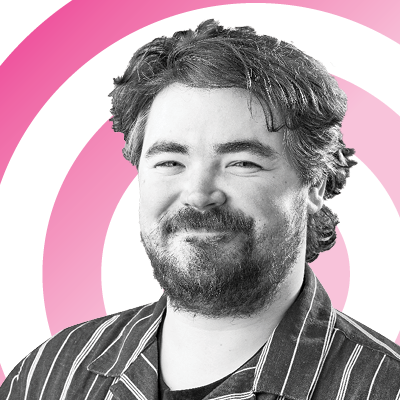 TV Hardware Staff Writer, Home Entertainment
James is the TV Hardware Staff Writer at TechRadar. Before joining the team, he worked at a major UK based AV retailer selling TV and audio equipment, where he was either telling customers the difference between OLED and QLED or being wowed by watching a PS5 run on the LG 65G2. When not writing about the latest TV tech, James can be found gaming, reading, watching rugby or coming up with another idea for a novel.