Samsung's next-best model in its Neo QLED series of TVs offers high brightness and impressive all-around video performance. And while it doesn't hit the same performance heights as the company's flagship QN95 series, it's a good deal less expensive while checking off many of the same boxes from a features standpoint. With its anti-glare screen, the QN90C is a great option for daytime sports viewing, and its comprehensive gaming support also makes it a perfect choice for console- or cloud-based gaming.
Pros
+

High brightness

+

Anti-glare screen

+

Excellent gaming features
Cons
-

Some backlight blooming

-

Complicated smart TV interface

-

Pricey compared to the competition
Why you can trust TechRadar We spend hours testing every product or service we review, so you can be sure you're buying the best. Find out more about how we test.
Samsung QN90C TV: two-minute review
Samsung's QN90C series TVs are the step-down offering in the company's 2023 Neo QLED lineup. Neo QLED TVs feature a mini-LED backlight, which allows the set to deliver high brightness along with generally more refined local dimming than what you'll get with a standard QLED model that uses a regular LED backlight.
For the QN90C, mini-LED backlighting lets it deliver peak light output approaching what Samsung's flagship QN95C Neo QLED TVs are capable of, while also delivering the deep blacks that local dimming provides. And while the QN90C doesn't quite hit the OLED-like heights of the QN95C when it comes to rendering the deepest shadows, its performance on that front is nonetheless impressive. Similar to other Samsung TVs, HDR support here extends to the HDR10+, HDR10, and HLG formats, but not Dolby Vision.
With its slim form factor, thin bezel and sturdy hexagonal plate stand, the QN90C has strong visual appeal and looks great when in Ambient Mode, which is a Samsung feature for displaying artwork and photos in a low-power mode. Its Tizen smart TV interface is somewhat more busy and complicated than what you'll see on other 4K TVs, but it provides plenty of options to customize and extend its usability, particularly when it comes to smart home tech.
Gaming is a particularly strong point for Samsung Neo QLED TVs, and the QN90C offers up four 4K 120Hz-capable HDMI 2.1 ports for connecting next-gen game consoles. Its Gaming Hub greatly expands the possibilities for gamers with cloud-based services including Xbox, Nvidia GeForce Now, Amazon Luna, Utomik and more.
The QN90C has better than average audio performance for a TV, including an Object Tracking Sound Plus feature to enhance the directionality of effects in movie soundtracks. It also supports the company's Q-Symphony feature, which lets you pair the TV with select Samsung soundbars for a more spacious and dynamic audio experience.
Samsung Neo QLED TVs tend to be pricey, and the QN90C is no exception. But you'll be able to score one for a good deal less than the company's flagship QN95C, and unless you're an ardent videophile, the differences between the two won't appear all that dramatic. There are definitely budget mini-LED alternatives from brands like TCL and Hisense that can be had for a lot less, but when it comes to features and design sophistication, they won't be able to match the QN90C .
Samsung QN90C TV review: price and release date
Release date: February 21, 2023
QN43QN90: $1,119 / £1,399 / AU$1,999
QN50QN90: $1,319 / £1,499 / AU$2,499
QN55QN90: $1,519 / £1,899 / AU$2,999
QN65QN90: $2,299 / £2,699 / AU$3,999
QN75QN90: $2,599 / £3,799 / AU$5,299
QN85QN90: $3,999 / £5,199 / AU$6,799
The QN90C series sits between Samsung's flagship QN95C and QN85C series, both of which are also mini-LED backlit QLED TVs. A main difference between the QN90C and the step-down QN85C appears to be less advanced built-in audio features in the latter, while the QN95C series has an ultra-slim, zero bezel 'Infinity One' design.
Make no mistake – these are all high-end LCD TVs, with elevated pricing to prove it. With screens ranging from 43 inches to 85 inches, there are plenty of QN90C size options to choose from based on space or budget, with the 65-inch model I tested priced just a few hundred below an LG C3 OLED TV in the same screen size.
Samsung QN90C TV review: Specs
Swipe to scroll horizontally
| | |
| --- | --- |
| Screen type: | QLED with mini-LED |
| Refresh rate: | 120Hz |
| HDR support: | HDR10+, HDR10, HLG |
| Audio support: | Dolby Atmos |
| Smart TV: | Tizen |
| HDMI ports: | 4 HDMI 2.1 |
| Built-in tuner: | ATSC 3.0 |
Samsung QN90C TV review: features
Mini-LED backlight with local dimming
Native 4K with HDR10+ dynamic range
Gaming Hub for cloud gaming
Samsung's QN90C series TVs use a QLED display panel and mini-LED backlight with full-array local dimming. A Neural Quantum Processor upscales regular HD images to 4K and a Neo Quantum HDR+ feature dynamically processes high dynamic range content. As with other Samsung TVs, HDR handling is limited to the HDR10+ format, with no Dolby Vision support. The QN90C also features an anti-glare screen coating, along with the company's Ultra Viewing Angle tech to improve picture quality at far off-center seats.
Samsung's own Tizen smart TV interface is used for streaming as well as home control via the Samsung SmartThings app. The company's Bixby tech is also onboard for voice commands, and both Alexa and Google Assistant devices are supported. An ambient mode can be activated that shows a wide range of still and animated images when the TV is not in use, and you can both customize these and upload your own images for display.
The QN90C series sports Samsung's NeoSlim Design, one that still allows room for a built-in 4.2.2-channel Dolby Atmos speaker system. Samsung's Object Tracking Sound Plus processing helps to make sounds coming from the screen more natural and believable, and there's also a Q-Symphony 3.0 feature that combines the TV's audio output with a Samsung soundbar for an enhanced presentation.
Samsung's Gaming Hub provides a central destination for gaming apps and settings, with cloud gaming services such as Xbox, Nvidia GeForce Now, Amazon Luna, Utomik, and more supported. You can set up a Bluetooth controller to use for cloud gaming and games with HDR10+ high dynamic range are supported.
All four of the TV's HDMI 2.1 inputs support 4K 120Hz input from a PS5 or Xbox Series X game console. The set also has an RF antenna input, and when a digital TV antenna is connected, its built-in ATSC 3.0 tuner will tune NextGen digital stations in the US.
Samsung QN90C TV review: picture quality
High peak brightness
Deep blacks with detailed shadows
Some backlight blooming
The 65-inch Samsung QN90C TV I tested delivered impressive peak HDR brightness, with the set measuring 1,787 nits (measured on a 10% white window test pattern) in its Movie picture mode. There is also a Filmmaker mode option, but that had lower brightness and was generally less accurate than Movie. In the TV's Standard mode, peak brightness measured 1,219 nits. To give those numbers some context, Samsung's flagship QN95C 4K mini-LED TV delivered 2,000 nits peak brightness in Movie mode when we tested it, and 2,240 nits in Standard mode.
The Samsung's full-array local dimming backlight allows it to display 0 IRE full black, resulting in "infinite" contrast. It also did a very good job fleshing out shadow detail in dark scenes. Backlight "blooming" was evident, though, with light halos appearing around white-on-black movie titles and also pinpoints of light in the Starfield motion patterns from the Spears & Munsil Ultra HD HDR test Blu-ray. But these were minimal for the most part during regular viewing, though I did see some blooming in the transitions between bright sections of images and black letterbox bars on ultra-widescreen movies.
The color balance in the Movie picture mode's default Warm color temperature setting was slightly blue-ish, with Delta E values at some brightness levels measuring in the 3-4 range (we typically look for these to dip below 3). Measurements made with Portrait's Calman color calibration software also showed coverage of DCI-P3 (the color space used for mastering 4K Blu-rays and digital cinema releases) to be 93.3%, and BT.2020 to be 73.0%. These are just average results, with sets from budget brands like TCL and Hisense delivering equivalent performance.
Samsung's anti-glare screen coating for the QN90C series proved effective at keeping screen reflections to a minimum. Between that and the TV's high brightness, the QN90C will be a great option for daytime sports viewing. The company's Ultra Viewing Angle tech also helped images retain contrast and color saturation when viewed at off-center seats – a performance aspect that gives the QN90C an advantage over budget LCD TVs, most of which start to look washed out when you move away from a center viewing position.
Starting my viewing tests out with the montage section of the Spears & Munsil Ultra HD Benchmark disc, the TV did a good job handling HDR images graded at a high brightness level. Picture detail was excellent and bright highlights had strong dynamic punch, though the backlight blooming artifacts I had seen earlier showed up on high-contrast images like a nighttime shot of a Ferris wheel.
Viewing a scene from the 2021 James Bond film No Time to Die that I use to test motion handling, a rocky hill Bond traverses as the camera tracks along looked both solid and detailed on the QN90C. Samsung TVs provide Picture Clarity settings with separate motion blur and judder adjustments that are very effective at reducing those picture effects, but in this case I found I didn't even need to use them.
Viewing another reference scene on 4K Blu-ray, this one from Dune (2021), as Paul and his mother walk through a dark, misty space following an interrogation, the QN90C's picture looked clean and crisp despite the grainy nature of the images. The set's performance here was a big improvement over last year's QN90B, which showed a high level of noise in this same scene when I did a hands-on test of it.
Black Mirror season 6 dropped on Netflix as I was testing the QN90C, and bingeing it gave me a good opportunity to watch shows produced in different styles. The high-tech sets of Joan is Awful and Beyond the Sea had a crisp, punchy look, with very good shadow detail and robust color. And scenes from Loch Henry and Beyond the Sea (again) that take place in rural environments came across with a range of subtle, natural hues. Skin tones looked accurate throughout, and there was a bright, engaging quality to the QN90C's picture that made it a great delivery vehicle for Netflix's satirical sci-fi series.
Picture quality score: 4.5/5
Samsung QN90C TV review: sound quality
4.2.2-channel Atmos speakers
Spacious sound at reasonable levels
Q-Symphony feature combines TV's audio with soundbar
The QN90C has a built-in 4.2.2-channel Dolby Atmos speaker system that creates a believable sense of spaciousness with Atmos soundtracks. This effect is helped by the TV's Object Tracking Sound Plus feature, which works to make sounds more directional and aligned with the onscreen action.
Of course, with a TV this thin, you're not going to be hearing much in the way of bass, and movies with bass-heavy soundtracks didn't sound particularly impressive when watched using the QN90C's built-in speakers. Pushing the volume to a high level also caused the sound to compress, which resulted in the spacious presentation heard at a lower level to flatten out.
For most viewing using the TV's speakers, I activated the Amplify audio setting, which made everything sound louder and clearer. QN90C series TVs also provide the company's Q-Symphony feature, which lets you combine the set's built-in audio with Samsung's Q- and S-Series soundbars for an enhanced presentation.
Samsung QN90C TV review: design
NeoSlim design
Center-mounted hexagonal plate stand
Solar-powered remote with built-in mic
The QN90C features Samsung's NeoSlim design with an aluminum, center-mounted "hexagonal" plate stand. It's a good look: the TV has a slender profile when viewed from the side, and the stand gives it a somewhat aerodynamic form while lending firm support.
Samsung's slim design necessitates an equally slim side-mounted panel for the TV's input section, which offers up 4 HDMI 2.1 ports, along with USB, optical digital audio, and RF antenna connections. I found it a bit difficult to plug in some of my HDMI cables with thicker cables and connectors, but all hook-ups were ultimately made.
The included remote control is a compact affair with small, non-backlit buttons that can be difficult to use in a dark room. Most navigation moves are carried out using a central trackpad and there's a button up top to activate voice commands via its built-in mic. Unlike most other remote controls, Samsung's doesn't require a battery. Instead, it harvests power from a solar cell located on its backside, and can also draw power from your home's broadband network if the solar cell is blocked.
Samsung QN90C TV review: smart TV & menus
Samsung Tizen interface
Bixby voice command, but works with Alexa and Google
Comprehensive, easy to navigate menus
Samsung's Tizen smart TV interface is mostly easy to deal with, which is something I can't say about all smart TV interfaces. A horizontal row of apps spans nearly the full screen width and you can add and remove apps, as well as edit the order they appear in (based on frequency of use, for example). Content recommendations and other windows are stashed below the central app row, where they can be browsed by scrolling down using the remote control or Samung's Bixby voice assistant (Alexa and Google Assistant are also supported).
There are plenty of features to explore here, including the Samsung TV Plus free streaming TV portal, Ambient Mode settings and Samsung Gaming Hub for cloud-based gaming. Samsung's Ambient Mode is particularly distinguished, with a wide array of tasteful designs available to display on the TV when it's not in use. You can edit these to modify settings such as brightness and color balance, and you can also upload your own photos to display in Ambient Mode.
Switching input sources and picture settings is fairly easy. Selecting specific icons on the left side of the smart screen triggers a transparent row of input options and picture and sound settings. You can also select an "All Settings" option that will show a more traditional onscreen settings menu. Samsung doesn't skimp on picture settings – you'll find everything you need here to painstakingly tweak the TV's picture, including separate adjustments for motion judder and blur.
Smart TV & menus score: 4.5/5
Samsung QN90C TV review: gaming
4K 120Hz with VRR and FreeSync Premium
Low 9.8 ms input lag
Samsung Gaming Hub for cloud-based gaming
With a native 120Hz refresh rate and support for 4K 120Hz signal input on all four HDMI 2.1 ports along with VRR and FreeSync Premium, the QN90C series is well-suited for gaming with next-gen consoles. With Game mode active, I measured an impressively low 9.8ms input lag using a 4K meter, which is a better result than most TVs are capable of delivering.
Samsung's Gaming Hub is the most comprehensive cloud gaming portal you'll find on any TV, with apps including Xbox, Nvidia GeForce Now, Amazon Luna, Utomik, Anstream Arcade, and Blacknut. You can easily connect Bluetooth game controllers to the TV from within Gaming Hub, and the main screen displays your recently played games and game suggestions based on your history.
Pressing the Play/Pause remote button with the TV's Game mode selected calls up a transparent game menu at the screen's lower half. From here, you can make additional Game mode settings, as well as monitor things like resolution and frames per second.
Samsung QN90C TV review: value
Significantly cheaper than Samsung's mini-LED flagship
Can buy budget mini-LED models for less
Good, not great value
At $2,299 / £2,699 / AU$3,999, the 65-inch QN90C represents a very good value when compared to Samsung's step-up QN95C, which is priced $1,000 higher in the US. That model provides a more advanced mini-LED backlight and local dimming processing, however, which we found to effectively eliminate backlight blooming when we tested it – something that, along with even higher peak brightness, could make the QN95C worth the extra money for some viewers.
Any consideration of the QN90C's value also needs to take into account less pricey mini-LED TV options such as the TCL 6-Series (2022) and Hisense U8H, both of which can hit similarly high brightness peaks and have good local dimming performance. I think that most viewers would be happy with either of those TVs, though they lack many of the advanced features found on Samsung's Neo QLED models such as Ultra Viewing Angle and Gaming Hub.
To sum up, the QN90C is a good overall value, but not a great one.
Should I buy the Samsung QN90C TV?
Swipe to scroll horizontally
Samsung QN90C TV

| Attributes | Notes | Rating |
| --- | --- | --- |
| Features | A great mix of features, though Dolby Vision HDR is lacking | 4.5/5 |
| Picture quality | Very good all-around performance with a few caveats | 4.5/5 |
| Sound quality | Spacious and detailed sound, but lacking in bass | 4/5 |
| Design | A very appealing design with a solar-powered remote control | 4.5/5 |
| Smart TV and menus | Very good smart interface with comprehensive menus | 4.5/5 |
| Gaming | Excellent gaming features with deep cloud-gaming options | 5/5 |
| Value | A good overall value, though cheaper options exist | 4/5 |
Buy it if...
You want a great TV for daytime viewing
With its high brightness and anti-glare screen coating, Samsung's QN90C looks good even when viewed in well-lit rooms during daytime hours. This makes it a perfect choice for sports fans.
You want a great TV for gaming
The QN90C's four HDMI 2.1 ports support 4K 120Hz input from a PS5 or Xbox Series X and there's also VRR and FreeSync Premium support. Add to that the TV's extensive cloud-based gaming options and you have a great TV for gaming.
You want to use a Samsung soundbar
While this TV's built-in audio is above-average, you'll want to add a soundbar, and the QN90C's Q-Symphony feature lets you combine its audio output with a select Samsung soundbar for an enhanced experience.
Don't buy it if…
You want the best TV, cost no object
While the QN90C has impressive all-around performance, Samsung's flagship QN95C series Neo QLED model bests it when it comes to brightness, black depth, and shadow detail.
Your budget is limited
The QN90C is relatively pricey compared to some of its mini-LED competitors. You can expect nearly as good brightness from either a TCL or Hisense model, though they won't provide the same extensive feature set as the Samsung.
You want a basic TV
Not everyone wants to navigate the complicated smart menus and extensive settings premium TVs like Samsung's QN90C provide. If that sounds like you, then a budget set with a Roku or Google TV interface will be a better choice.
Also consider...
Swipe to scroll horizontally
Comparison: 65-inch TVs

| | Samsung QN90C | TCL 6-Series | LG C3 | Samsung QN95C |
| --- | --- | --- | --- | --- |
| Price (65-inch): | $2,299 | $999 | $2,600 | $3,299 |
| Screen type | QLED with mini-LED | QLED with mini-LED | OLED | QLED with mini-LED |
| Refresh rate | 120Hz | 120Hz | 120Hz | 120Hz |
| HDR support | HDR10+, HDR10, HLG | Dolby Vision, HDR10, HDR10+, HLG | Dolby Vision, HDR10, HLG | HDR10+, HDR10, HLG |
| Smart TV | Tizen | Google TV, Roku TV | webOS 23 | Tizen |
| HDMI ports: | 4 HDMI 2.1 | 4 HDMI 2.1 | 4 HDMI 2.1 | 4 HDMI 2.1 |
| Built-in tuner | ATSC 3.0 | ATSC 1.0 | ATSC 1.0 | ATSC 3.0 |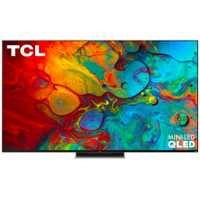 TCL 6-Series mini-LED
TCL's 6-Series TVs are a great budget alternative to Samsung's Neo QLED models since they also feature a mini-LED backlight for high brightness. The 6-Series is also a very good option for gaming with next-gen gaming features like 4K 120Hz input support and VRR. Read our TCL 6-Series TV review.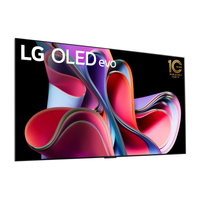 LG C3 OLED
Spending a bit more will get you this mid-range LG OLED TV, which provides all-around excellent picture quality, but lower peak brightness than the Samsung. It's also a great option for gaming, with similarly low input lag and 4K 120Hz, VRR, FreeSync Premium Pro, and Nvidia G-Sync support.
Read our LG C3 OLED TV review.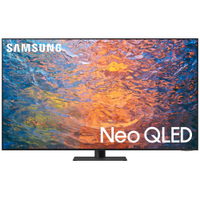 Samsung QN95C mini-LED
Samsung's flagship Neo QLED model is pricier than the QN90C, but it offers higher peak brightness and more refined local dimming, with near OLED-like blacks. It also has all of the features found in the step-down model such as Gaming Hub, Ambient Mode, and an anti-glare screen.
Read our Samsung QN95C mini-LED TV review.
How I tested the Samsung QN90C TV
I spent about 15 hours in total measuring and evaluating
Measurements were made using Calman color calibration software
A full calibration of the TV was made before proceeding with subjective tests
When I test TVs, my first step is to spend a few days using it for casual viewing for break-in and to assess the out-of-box picture presets. The next step is to select the most accurate-looking preset (typically labeled Movie or Cinema) and measure the white balance (grayscale), gamma, and color point accuracy using Portrait Displays' Calman color calibration software. The resulting measurements provide Delta-E values (the margin of error between the test pattern source and what's shown on-screen) for each category, and they allow for an assessment of the TV's overall accuracy.
Along with those tests, I make measurements of peak light output (recorded in nits) for both standard high-definition and 4K high dynamic range using 10% and 100% white window patterns. Coverage of DCI-P3 and BT.2020 color space is also measured, with the results providing a sense of how faithfully the TV can render the extended color range in ultra high-definition sources.
For the Samsung QN90C, I used the Calman ISF workflow, along with the TV's advanced picture menu settings, to calibrate the image for best accuracy with SDR and HDR sources. Once done, I watched a range of reference scenes on 4K Blu-ray discs that I've gathered after years of TV and projector testing to assess the TV's performance, as well as new Dolby Vision-encoded material streamed from sources like Netflix and HBO Max.
First reviewed: June 24, 2023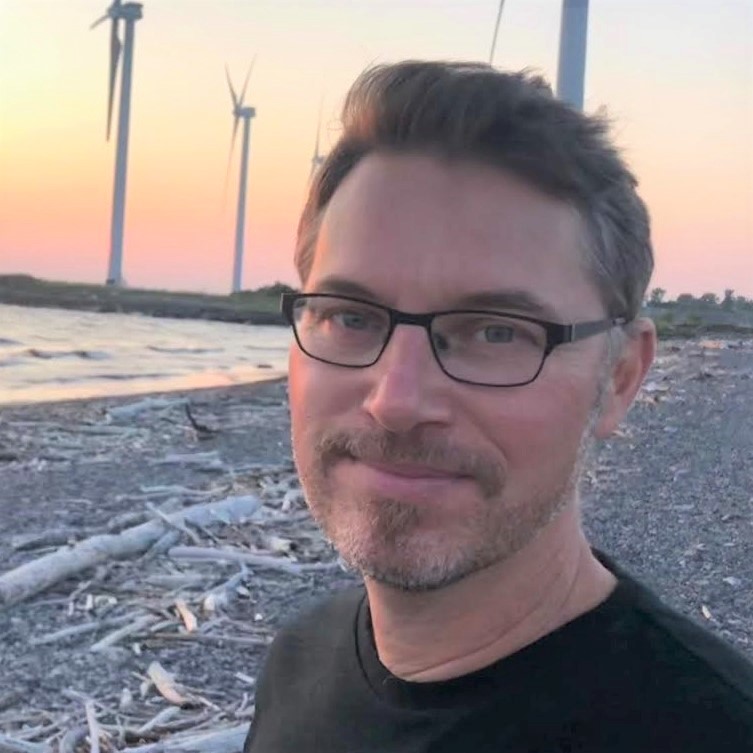 Senior Editor Home Entertainment, US
Al Griffin has been writing about and reviewing A/V tech since the days LaserDiscs roamed the earth, and was previously the editor of Sound & Vision magazine.
When not reviewing the latest and greatest gear or watching movies at home, he can usually be found out and about on a bike.