Editor's Note: March 2023
Our guide to the best TVs for sport covers the full range of brands and tech that contribute to making watching sports at home a fantastic experience.

Whether it's the LG C2, a model that offers better brightness than previous generations of OLED TVs, or a mini-LED-backlit set like Samsung's QN85B, there's sure to be a TV in this list that will help you get your game on.

Al Griffin, Senior Editor – Home Entertainment
The best TVs for sport combine an excellent picture, a great design, and good value for money. If you're buying a TV you'll primarily be using to watch sporting events, whether that's football games, racing, athletics or anything else, there are several important things you'll need to consider.
In this list you'll see that the best TVs for sport aren't all the most high-end, premium displays that would make our best TVs guide. Instead, they offer a great overall experience then do several things well. Your prime consideration should be motion. Whether you enjoy watching football (either type), baseball, cricket or curling, on-screen images are constantly moving, which means that the more detail you can see when there's motion, the better. Otherwise you'll be watching lots of blurs dart across the screen.
Some TVs are better at scanning the picture and adding detail back into blurred motion than others. But it's not solely about the motion control, you should also consider brightness and reflections.
If you're watching sport during the day, you'll also need to make sure you can see what's going on. For that, you'll need a bright TV that can cut through any reflections from natural light. Some TVs that are fantastic for watching movies—especially cheaper OLED TVs—are at their best when you can control the level of lighting, but we'll assume that with sports, you won't always want to do that.
Below you'll find our selection of the best TVs for sports. We've reviewed many of the best TVs over the years, which means we know what to look for when it comes to TVs designed for sports that handle all-important motion and reflections well. In our list, you'll find some of the best TVs and best gaming TVs too.
The best TVs for sport for 2023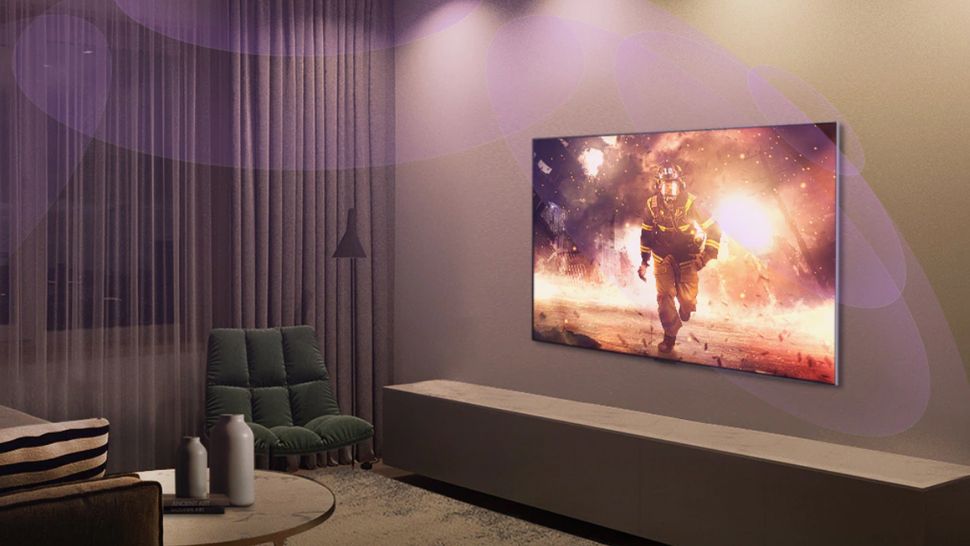 The LG C2 OLED is a fantastic TV that showcases the best features of OLED tech, including high contrast, gorgeous colors and excellent brightness, making it a great OLED option for watching sports.
It might be similar to the C1 which came before it, but there are some incremental improvements here, like new LG Evo panels in larger models, which deliver more brightness and better color saturation. This is a welcome change because relatively low brightness was the only real downside of the LG C1 and it enables the C2 to take the top spot in our best TVs for sport list.
During our testing, we found that sound is very good for a flatscreen TV, and you won't be disappointed by the clarity and volume. Although you will get the best experience from a soundbar. There's wealth of HDMI ports on the C2 OLED, which also means hooking up a sound system should be a piece of cake.
It's worth mentioning that the LG C2 is also an excellent choice for gamers thanks to HDMI 2.1 on all four HDMI ports with support for 4K 120Hz gaming. FreeSync, G-Sync and plain old VRR. And it's fantastic for movies, too.
As an all-rounder, it's nearly impossible to beat for the price. But the range of features do make it our top pick for sports.
Read our full LG C1 OLED review
Sony is famous for having some of the best image processing in the world in its TVs, especially when it comes to handling motion and upscaling from HD to 4K. Given that a lot of people still watch sport in HD rather than 4K, that makes it perfect for us—especially for such a good price.
It also features an excellent direct-lit LED panel, making it impressively bright, and its colors are vibrant and packed with HDR punch. During our testing though we found it was a little reflective, and those viewing from way off-axis may find that contrast and colors suffer more than with some TVs here.
One of our favorite things about it is that, while it's great value at all sizes, the 75-inch version is incredibly well-priced compared to rivals from the likes of Samsung. You could save hundreds here against a direct competitor, so if you want to go big screen for the big game, it's ideal.
It's also excellent for gaming, thanks to a 120Hz panel with 4K resolution and two full-spec HDMI 2.1 ports for your Xbox Series X and PS5, with VRR (variable refresh rate) and ALLM (auto low latency mode, for sub-10ms lag) to really up your gaming experience.
Read our full Sony X90J 4K TV review
The Hisense U6G is the best budget TV option for sports lovers in the US, thanks to its combination of a bright LED panel that can cut through reflections, great image processing that makes motion look smooth and clear during fast action, and an extremely low price these days.
At this price, you do get some trade-offs. You can see get some slight blooming of the backlight from light areas into dark areas, and a slight lack of consistency in the backlight overall, but that's nothing unusual for a low-priced TV, and actually isn't the kind of thing you notice very much in sport anyway.
The sound also suffers a little. Ideally, you'll want a soundbar to pair with it. But that's fine, because this is so much cheaper than a lot of its rivals that you can afford one!
It features Android TV as its smart TV platform, which means it's packed with streaming services and apps too, so it's not hard to find what you want to watch. In our testing, we found the vibrancy and motion of this TV to be seriously impressive, and at these prices, it's excellent for sport lovers.
Read our full Hisense U6G review
The Samsung AU9000 is one of the best TV from Samsung's range last year that doesn't include its QLED tech—something that jacks the price up instantly. The result is a great-looking set with sharp 4K detail and good handling of motion, for a super-low price. If you want to be able to get a nice big set (or a more compact one) with image quality good enough that you won't notice imperfections if you get a huge screen, this is ideal.
In our tests, we noted that it's not the brightest in the bunch, but it's still pretty visible in daylight, and offers great viewing angles, so a whole room of people can enjoy the game. Samsung's Tizen smart platform is good too—it's easy to navigate, and offers all the key streaming services and apps.
As with most budget TVs, the audio quality is pretty weedy, so for the full stadium experience, you should consider a soundbar. But when it comes to visual bang for your buck, it's great—and it's pretty good for gaming thanks to low input lag and VRR support.
Read our full Samsung AU9000 review
One problem with some of the best TVs is that daytime sporting events really need a bright panel. During our testing we found that's really not a problem here. The exceptionally bright mini-LED panel delivers OLED-quality colours that punch, even in brightly lit rooms. Combine that with wide viewing angles and superb processing and you've got a TV that's perfect for watching sports with friends or family.
When we say this TV is bright we really mean it: some of Samsung's default presets are so ludicrously bright that you'll be scrambling for your sunglasses. But it's easy to adjust everything to get something more sensible, and when you're not enjoying sports there's a particularly good Movie mode. That's similar to the (also included) Filmmaker mode that displays films the way the director and cinematographer intended, but it also delivers some subtle improvements that make good use of the panel's impressive brightness. There's a good Object Tracking sound system that makes sound appear to come from on-screen objects' locations, and one of Samsung's best soundbars can add extra punch and bass without losing that directional audio.
We didn't like the fairly reflective coating on the display, especially considering many people will be looking at mini-LED because they want to watch in brightly lit rooms, that reflectivity may be an issue depending on where you plan to put your TV.
Read our full Samsung QN85B review
The Sony A80K offers all the best things you expect from an OLED TV such as detailed blacks and well-saturated color, plus features like 4K 120Hz support for gaming and Sony's Acoustic Surface Audio+ tech.
This is a compelling, high-performance, though not bank-breaking, OLED TV option. It's not quite as bright as the very best OLED TVs but it's still very good, and its high-performance panel along with Sony's ever-excellent motion and image processing means it's a fast, fluid display for even the most fast-moving sports.
Sony's 2022 OLEDs include the company's XR OLED Contrast Pro and Cognitive Processor XR features to improve picture quality, mainly by boosting peak brightness in highlights and deepening blacks on an automated, scene-by-scene basis. A wide color gamut panel also combines with Sony's XR Triluminos Pro feature and Cognitive processor XR to provide full DCI-P3 (the color space used for mastering movies destined for a digital cinema release and for Ultra HD Blu-ray disc) coverage.
The main rival to this Sony is the LG C2 OLED TV at the top of our list, and the price difference depends both on where you are and what size of screen you want. The 65- and 77-inch A80K sets cost slightly less than the C2 at the same sizes in the US, while the 55-inch version is priced slightly higher than LG's same-size C2. In the UK, the Sony is higher-priced at all sizes.
If you're in the US, the A80K has another useful feature: a built-in ATSC 3.0 tuner. This lets viewers watch free over-the-air digital TV from stations broadcasting in the latest format, which is capable of delivering 4K resolution video with Dolby Atmos audio.
Read our full Sony A80K OLED TV review
Sony's excellent Cognitive XR processor has joined forces with new Quantum Dot OLED screen technology to deliver arguably the most flat-out beautiful images we've seen from a consumer television. If you want the peak of what the world's best OLED TVs have to offer, then here it is.
It's not hard to see why this excellent picture quality bagged the Sony A95K OLED Series a place in our best TVs for sports guide. What's more important for sporting events than a truly stunning picture?
It sounds pretty great too. Like previous Sony OLED TVs it has Acoustic Surface Technology, where actuators behind the screen deliver audio that appears to be coming from the on-screen source. It's impressive, although we'd still recommend pairing it with a full Dolby Atmos soundbar system.
There are fewer models to choose from compared to standard OLEDs, because at the moment QD-OLED only comes in 55 and 65-inch panels. That also means they're relatively expensive, with the smaller A95K coming in at around £2,399 in the UK and $3K in the US.
We think you'll find it's money well spent, however. The Sony delivers arguably the best all-round picture picture quality we've ever seen from a consumer television. Which suddenly casts its 'robust' price in a whole new 'if you want the best, you have to pay for it' light.
Read our full Sony A95K QD-OLED TV review

The Samsung Q80B is a good value mid-range 4k QLED screen that's well suited for everyday TV viewing, gaming and sports thanks to its fast panel and impressive brightness. It's positioned just below the brand's Mini LED Neo QLED models, offering a more conventional full array backlight instead. This means it doesn't offer the black level performance or the HDR precision of its more expensive stablemates, but unless you're a serious movie buff you probably won't mind.
There's an above-average Dolby Atmos sound system to really put you in the centre of the action, four HFR (high frame rate) compatible HDMI inputs, useful Game Bar user interface and a polished smart home interface.
Once you turn off the Picture Clarity settings from Auto to Custom (to get rid of the Soap Opera effect that makes people look a bit odd), this is a very impressive performer for sporting action: the image interpolation is fast and slick, with few obvious artefacts even in the most intense action. And that impressive QLED brightness means it's a good choice for daytime sports viewing in brightly lit spaces, so it's a good choice if you like your sports viewing to be social.
Read our full Samsung QN80B QLED TV review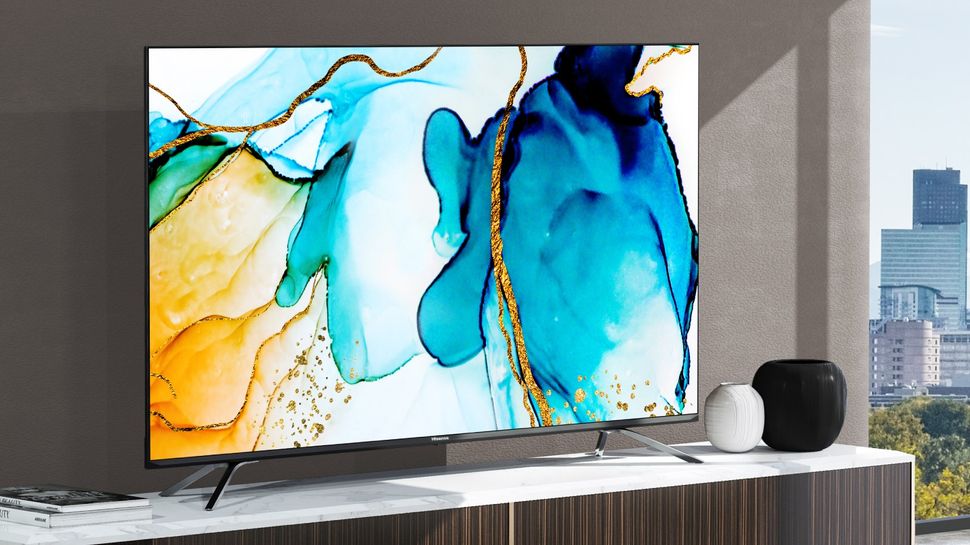 The Hisense H8G Quantum Series is a great choice for those looking to spend little and get a lot from their smart TV.
At just $700 for the 65-inch version of the Hisense H8G—after a massive price drop from its original RRP—it's outstanding value. You're not having to make do with a sub-standard set, though, as the apps are easy to find and use, Google Assistant support is well-implemented, and the technical specs rival much pricier models.
Motion is brilliantly smooth, too, with great performance across HD and 4K video. This is thanks to MotionRate 240 , an industry term that improves on the 60 Hz refresh rate. Technically, the refresh rate is still 60 Hz, so it's not as smooth as native 120 Hz panels, but for the most part picture is ultra-smooth, which is why this TV is our top budget pick if you're looking for a new TV for sports.
You won't get quite the quality experience of many others in this list, and the design of this set isn't very inspiring. For the price, though, the Hisense H8G Quantum Series certainly delivers.
Read our full Hisense H8G Quantum Series review
The best TVs for sport: FAQs
How do you choose the best TV for sports?
There are a number of factors to consider when you're looking for the best TV for sports.
The first is the picture quality on offer. All TVs need a decent picture, but it's paramount if you're going to be watching sports as detail, clarity and brightness could make all the difference as to whether you see a football, tennis ball or car whizz across your screen or not.
On that point, motion handling is also vital. You need to be sure the TV you're considering handles moving objects well. This will make the TV a solid choice for both gaming and sport. Looking out for the refresh rate as a good indicator here. Many TVs these days have a 60Hz or 120Hz refresh rate, 120Hz tends to be better, but a range of factors determine motion handling performance.
Will you be using a soundbar? If not, you'll need to make sure the TV has decent audio performance, too. You may not think sound is as important as what you can see in sports, but it can be vital and adds to the atmosphere, too.
Considering where you'll be putting the TV is important too. You'll need to ensure you not only have enough space to hang it on a wall or place it on a shelf, but that you'll have room to view it from a good distance, too. This is especially important if you plan on having people over to watch the big game. Many manufacturers recommend sitting between 1.5 and 2.5 times the TV's diagonal screen size to find your perfect viewing spot.
What should you look for in a sports-centric TV?
If you're buying a TV and you know you'll be watching a lot of sport, there are a few key things to consider. For starters, there are many different aspects of picture performance to bear in mind, including detail retrieval, color fidelity, and edge definition. Of course, these are all the hallmarks of a good TV, but a great TV for sport needs some extras.
We'd expect slow camera pans to follow faster movement, abrupt changes of direction, movement in the opposite direction the way the camera is moving, and great big swathes of uniform color with smaller elements of different color in constant motion. You get the idea. The way a TV handles motion is extremely important.
How efficient a TV is at handling motion comes down to how well it implements different refresh rates. You don't need to get caught up in the technicalities here, but it's worth considering that UK broadcasts are almost always at 50Hz (or 50fps).
This means there are 50 images broadcast per second, which is what makes still pictures look like they're moving. Therefore, how well a TV can handle this rate of transmission will determine how smooth and convincing the on-screen motion is going to look.
Bear in mind that there isn't a TV out there with a refresh rate of less than 50Hz. So in theory, one TV should be very much like another when it comes to taking those 50 images per second from the broadcaster and delivering them at a rate of 50 per second on the screen.
How we test
How we tested the best TVs for sport
Why you can trust TechRadar Our expert reviewers spend hours testing and comparing products and services so you can choose the best for you. Find out more about how we test.
When we tested the best TVs for sport, we had a few key things on our 'must-have' list to determine which displays were included.
The first is picture quality. Not all of the best TVs for sport need to be premium displays. But the detail, clarity and brightness on offer needs to be good – otherwise you're not going to see the athletics, football or racing play out in a satisfying way. We tested the TVs in a range of environments and at different times of day to ensure that all of the picture quality specs matched up in the real world.
Next up, motion. If you're watching sport, on-screen images are constantly moving so you need a TV that handles motion well and doesn't make every player or ball or car look like a blur. We tested each of the TVs in our guide above with a range of content to make sure motion handling was top notch.
Most people pair their TVs with soundbars nowadays, but we did want to listen out for a solid audio performance, just in case you do want to use your TV straight out of the box.
We also took into account a range of considerations we always need to see in any TV we recommend, like a decent user experience for setting up the TV, all major smart apps that work well and any added features that make the TV truly shine.
We've tested a huge range of TVs over the years, so we know what separates a decent performance from a fantastic one. We bring this breadth of knowledge to every guide we write so you know you're not getting a copy and paste of the specs here, you're getting hands-on experience informed by years of reviewing insights.