The Panasonic MZ2000 offers incredible picture quality, superb sound and excellent gaming performance, but clunky smart TV software and a big price tag in comparison to rivals hold it back from being the best OLED TV of the year. But make no mistake; this is still an outstanding TV.
Pros
+

Sensational black levels

+

Vibrant colours

+

Rich, immersive built-in sound
Cons
-

Clunky smart TV platform

-

Pricey compared to competition

-

Only two HDMI 2.1 ports
Why you can trust TechRadar We spend hours testing every product or service we review, so you can be sure you're buying the best. Find out more about how we test.
Panasonic MZ2000 review: Two minute review
The Panasonic MZ2000 is the flagship OLED in Panasonic's 2023 TV lineup. With Micro Lens Array (MLA) and heat-sink technology plus an OLED EX panel to improve brightness, the MZ2000 additionally features a comprehensive built-in sound system, making it a complete, all-in-one TV package.
Price-wise, the MZ2000 is more expensive than the average 55-inch OLED on the market. It's also significantly higher-priced than its flagship OLED competitors, the LG G3 and Samsung S95C. Although cheaper than the Sony A95L, another flagship OLED, the Panasonic MZ2000 is definitely on the more expensive side in all three of its available sizes; 55, 65 and 77-inch.
Picture quality on the Panasonic MZ2000 is nothing short of outstanding. With a contrast-rich image, stunningly deep black levels and punchy, vibrant colours, the MZ2000 really excels with any source thrown at it. Whilst having this dynamic flair to its picture, it also has a natural feel, with characters' skin tones and texture looking particularly lifelike. The MZ2000 really does have a picture that rivals and even beats some of the best TVs around.
Another highlight of the MZ2000 is its sound quality. With a 5.1.2-channel speaker configuration, the sound of the MZ2000 is powerful and direct whilst also maintaining a nuanced and refined touch. The built-in sound also feels immersive and its processing of Dolby Atmos is clear and effective. The MZ2000 is unquestionably one of the best TVs for sound.
The MZ2000 has plenty of gaming features for gamers to get on board with, including the usual suite of 4K 120Hz and VRR. Dolby Vision gaming is supported, but sadly only at 60Hz as opposed to 120Hz, and there are only two HDMI 2.1 ports unlike rivals from LG and Samsung which usually come fully kitted out with four HDMI 2.1 ports. Still, the Panasonic MZ2000 is a great gaming TV thanks to its performance, features and integrated Game Mode and menus.
As it has such a comprehensive speaker configuration to house, the MZ2000 is bulkier than other rivals and the back of the set even looks a little dated. Thankfully, its bezel and screen trim are sleek, meaning the wonderful picture takes up the whole screen. The stand provided is reassuringly weighty and attractive, but it's a shame the same can't be said about the cheap looking and feeling remote.
Unfortunately, not all is perfect for the Panasonic MZ2000. Its smart TV platform, my Home Screen8.0, provides plenty of settings and options to tweak, but the software itself is clunky and slow and navigating menus often feels clumsy and a bit awkward.
Value is another minus in the MZ2000's score. Although it is a sensational TV and as such you expect to pay a big price for it, it is far pricier than a lot of other OLED TVs available on the market, including its rivals the LG G3 and Samsung S95C. With up to a £1,100 difference over the S95C at the time of writing, people could factor one of the best soundbars into their budget, several of which would beat the Panasonic's built-in sound.
Despite a couple of negatives, it is hard to argue with just how amazing the Panasonic MZ2000 is. It delivers sensational pictures, best-in-class built-in sound and brilliant gaming performance and features. It may be at the pricier end of the OLED market, but if you pay this you are rewarded with a fabulous TV. If the annoying and problematic smart TV platform was sorted and the price lowered, the Panasonic MZ2000 would arguably be the perfect TV.
For this review, we tested the 55-inch version of the Panasonic MZ2000. It is worth noting that while the 65-inch uses the same panel, the 77-inch does not feature the same MLA technology found in the other two sizes so is likely to be dimmer.
Panasonic MZ2000 review: Prices and release date
Released in August 2023
Prices range from £2,699 for the 55-inch
Up to £4,499 for the 77-inch
The MZ2000 is Panasonic's flagship OLED TV for 2023. At the time of its release in August 2023, the MZ2000 was priced at £2,699 for the 55-inch, £3,599 for the 65-inch and £4,499 for the 77-inch. This is a more premium price than its closest rivals, the LG G3 and Samsung S95C, but it is cheaper than Sony's flagship QD-OLED, the A95L.
At the time of writing in late October, prices have actually remained generally unchanged since across all retailers in the UK. The LG G3 on the other hand is priced roughly at £1,899 and the Samsung S95C is priced even cheaper at £1,599, which is a significant difference in cost that enables people to add one of the best Dolby Atmos soundbars into their budgets
Panasonic MZ2000 review: Specs
Swipe to scroll horizontally
| | |
| --- | --- |
| Screen type: | OLED (Micro Lens Array) |
| Refresh rate: | 120Hz |
| HDR support | Dolby Vision IQ, HDR10+ Adaptive, HDR10, HLG |
| Audio support: | Dolby Atmos |
| Smart TV: | my Home Screen8.0 |
| HDMI ports | 4 (2x HDMI 2.1) |
Panasonic MZ2000 review: Features
OLED panel with MLA technology for increased brightness
5.1.2 speaker configuration, including front 'soundbar'
Dolby Vision IQ and HDR10+ Adaptive support
The Panasonic MZ2000 is part of Panasonic's 'Master OLED' series and features an OLED EX panel, micro-lens array (MLA) and heat-sink technologies to add extra brightness to the picture as OLED continues to evolve. MLA technology means a layer of microscopic lenses sit above the OLED panel, enabling more light to reach your eyes, and it has worked - the MZ2000 is not only one of Panasonic's brightest sets ever, but also one of the brightest TVs on the market.
It's worth noting however that the 'full' OLED panel with MLA, heat-sink and EX is only in the 55-inch and 65-inch sizes and not the 77-inch.
In terms of gaming features, the MZ2000 is well-stocked. It has 4K 120Hz, VRR, ALLM, AMD FreeSync Premium, Nvidia G-sync and Dolby Vision gaming capabilities across its two HDMI 2.1 ports. There's also a Game Mode that enables you to tweak gaming settings while you're mid-game with a bright, easy-to-read game bar that appears at the bottom of the screen. Although this is an extensive collection of gaming features, it's a shame that the MZ2000 only has two HDMI 2.1 ports compared to the four found on the LG G3 and Samsung S95C.
Sound is an area Panasonic has really focused on with the MZ2000. Following on from its flagship predecessor, the LZ2000, the MZ2000 features a 5.1.2 Dolby Atmos speaker configuration, totaling 150W of power and includes two upward-firing speakers to enhance Atmos effects. There's also a mode called Space Tune, where you can calibrate the sound to your room using the remote as a microphone, which will further enhance sound quality.
The MZ2000 comes loaded with Panasonic's own my Home Screen8.0 smart TV platform, which offers customization of what apps appear at the bottom of the screen as opposed to a conventional 'home page'. There are plenty of settings to tweak, including ones for picture and sound, to tailor the experience to whatever you're looking for. The MZ2000 also supports all the apps you expect including Netflix, Prime Video and Disney Plus along with Freeview apps such as BBC iPlayer, ITVX, Channel 4 and more.
Panasonic MZ2000 review: Picture quality
Incredible black levels
Punchy, crisp colours
Both SDR and HDR picture look phenomenal
The Panasonic MZ2000 comes with an OLED EX panel, along with heat-sink and MLA technology to improve brightness compared to standard W-OLED panels found in TVs like the Sony A80L. Panasonic is clearly trying to provide one of the best pictures on the market and in nearly every area it succeeds with the MZ2000.
It's worth repeating that I used the 55-inch version of the MZ2000 for this review, which features all the OLED/MLA technology listed above, whereas the 77-inch version of the MZ200 does not feature the full technologies found in both the 55-inch and 65-inch versions. During testing, the MZ2000 was subject to particularly harsh lighting conditions with bright overhead lights, which it generally handled well, with only the occasional reflection occurring.
After cycling through several different picture presets, the MZ2000's Filmmaker mode was the most accurate, although even Standard mode and the True Cinema mode looked good as well. First viewing TV shows in SDR through both live TV and streaming, I was blown away by how good HD content looked on the MZ2000. The upscaled image on display was incredibly detailed, with the 1980's Adventures of Sherlock Holmes series starring Jeremy Brett looking particularly stunning. Characters' skin tones and textures were incredibly true-to-life and seemed to jump from the screen.
Even low-resolution SDR TV shows looked good, with upscaling improving the colours and overall quality of the picture. There was some fuzziness to the image, but this was expected for a low-res SDR picture through the antenna and even then it was minimal.
Moving on to HDR from 4K UHD Blu-rays and streaming, the overall picture was stunning in almost every aspect. Measuring DCI-P3 colour gamut coverage (the colour space used to master 4K movies and digital cinema releases) in Filmmaker mode (the MZ2000's most accurate picture setting), it yielded a result of 99.45% and a BT.2020 coverage result of 75.49%. These are excellent results and fully explain the quality of the MZ2000's picture in terms of colour.
Firstly though, I tested the MZ2000's black and contrast levels whilst watching The Batman. In the opening subway fight scene, shadow detail and black levels were deep and detailed, capturing the dark, gritty tone of the movie perfectly. Contrast was also fantastic, with the flashes of bright lights on the subway platform standing out amongst the darkened shadows. When measuring the Delta-E values (the margin for error between a test pattern and what's show on screen) for the MZ2000's grayscale, the result was 1.4. As we consider anything below 3 to be a good result, the MZ2000's 1.4 score is superb and showcases its handling of black levels and contrast.
Next, I used demo footage from the Spears & Munsil UHD Benchmark 4K Blu-ray to test multiple aspects of the MZ2000's picture, including contrast, colours, black levels and so on. Almost any footage displayed on the MZ2000 looked crisp, dynamic and beautiful. During snowy scenes, whites were vibrant and fresh without being too garish and sunset scenes showcased the excellent contrast between the darkened lakes and bright sun. Even during night sequences filmed of a city, the night sky looked truly black with all the pulsing, colourful lights standing out.
Testing the peak HDR brightness levels of the Panasonic MZ2000 using Portrait Displays' Calman calibration software, the results were 1,480 nits in Filmmaker mode and 1,366 nits in Standard picture mode. This makes the Panasonic MZ2000 one of the brightest TVs on the market and certainly one of the brightest OLEDs ever, putting it above even the LG G3 and Samsung S95C.
To test the Dolby Vision picture, I tried a couple of scenes from both Star Wars: The Force Awakens and Star Wars: Rise of Skywalker. In fight sequences in both movies, the colours of the lightsabers popped from the screen with a vibrant and dynamic punch, again thanks to the MZ2000's brilliant black levels. During a day sequence in Star Wars: ROS, a festival occurs in a desert and despite the bright, sandy landscape, yellow and green powder exploded in the sky with a lush quality. Again, skin tones and textures of characters' skin looked accurate and natural with fantastic depth and detail, picking out every microscopic wrinkle.
Finally, I tested motion handling on the MZ2000 using scenes from Top Gun: Maverick. In both the training and final missions, the Panasonic MZ2000 handled the fast-paced, intense scenes with ease. As the jets executed barrel rolls and plunging dives through the air, motion was fluid and smooth in Filmmaker mode, with no motion processing settings enabled. With the MZ2000's excellent motion processing, Top Gun: Maverick was incredibly immersive, with every jet sequence feeling both natural and exhilarating at the same time.
Picture quality score: 5/5
Panasonic MZ2000 review: Sound quality
5.1.2 Dolby Atmos speaker configuration
Immersive, full sound experience
Dolby Atmos effects are clear
The Panasonic MZ2000 comes equipped with a 5.1.2 Dolby Atmos speaker configuration, including a full external bar at the bottom of the TV's frame to serve as the front left, right and centre channels. Many TVs on the market nowadays have very average, even poor sound quality. This is not a problem for the MZ2000, which comes with phenomenal built-in sound.
Packing with plenty of modes and settings, the Panasonic MZ2000 enables you to really tailor the sound to suit you. Out-of-the-box, I started with the basic Standard mode. There is also the option to change the 'sound creation' setting within the overall sound mode, Standard, itself. The two main options I tried were Standard with Standard sound creation and then Standard with Theatre sound creation to start with.
Firstly, I used the Batmobile chase scene in The Batman to test the MZ2000's sound quality. In Standard/standard mode, I was a little surprised to find that when volume levels were pushed, several aspects of the audio, including the horns within the score, became brash. The bass was undeniably powerful, if not a little too powerful, but the trebles and mid range were clean and clear.
When I changed sound creation to Theatre (so it became Standard/Theatre), the sound became more refined. The harshness from before had been reigned in, the mix had become more delicate, but kept its wide soundstage with clearly defined channels for bass, treble, mids and speech.
The MZ2000 comes equipped with a feature called 'Space Tune'. This enables you to calibrate each speaker within the set itself to suit your environment. It's a 2-3 minute process where you hold the remote from your seating position and use it as a microphone to tune the speakers. After I had done this, I could immediately tell the difference when returning to The Batman. If you do this, you'll get a warning message, and it's worth noting that it is a very loud process!
With Space Tune having been done, The Batman sounded even more refined. Each channel was clearly defined, with the deep rumble from the Batmobile's engine feeling powerful, but nuanced. The screech of tyres, speech, the pounding rain and blaring horns of traffic – all were crystal clear and perfectly placed. Even when the volume was pushed higher, there was none of the distortion or harshness that I'd found in the Standard/Standard sound mode.
The MZ2000 also supports Dolby Atmos and its two built-in, upward-firing speakers do a brilliant job of rendering Dolby Atmos effects within the audio mix. Rain frequently features in The Batman, and this came across clear in any scene without overshadowing any other channels. In Top Gun: Maverick, as jets and missiles cascaded through the air, the sound followed the fast flowing action on screen and came from all directions. With the right settings, the built-in sound on the Panasonic MZ2000 is simply superb.
Panasonic MZ2000 review: Design
Slim bezel design
Deeper than other TVs to accommodate speakers
Solid and sturdy metal stand with swivel
Considering the MZ2000 has to incorporate a fairly substantial speaker system, Panasonic has done a good job of giving it an attractive look. Admittedly, it doesn't quite hold a candle to the delightfully slim Samsung S90C and S95C, which also both have fantastic sound quality, or even the LG G3, but the MZ2000 does what it can with what it's given.
The bezel around the TV itself is still miniscule in size, meaning there is almost no bordering around the fantastic picture. As you move towards the back of the TV, it does get bulkier due to that mammoth built-in audio system, which makes it look a little dated, but it's a sacrifice that I think many people would be willing to make for better built-in sound.
The stand provided with the MZ2000 is a solid and sturdy black metal that's oval in design. It feels reassuringly weighty, expensive and even has the ability to swivel so you can easily adjust the angle for corner placement in a room. The stand is however quite deep compared to other rival OLEDs, so a slimmer or square designed stand may have been more welcome, but it's a minor inconvenience overall.
Unfortunately, one design flaw for the Panasonic MZ2000 is the supplied remote. Not only is it almost comically large, it feels very light and cheap. There are plenty of buttons to press to get to the most popular apps such as Netflix, Disney Plus and even Freeview Play, but overall it feels disappointing for a remote supplied with a TV valued at over £2,500.
Panasonic MZ2000 review: Smart TV and menus
Customization options for apps
Lots of settings to tweak
Clunky, awkward smart TV platform
The Panasonic MZ2000 comes installed with the latest iteration of Panasonic's own smart TV software, my Home Screen8.0. One thing that is noticeable is there is no dedicated 'home page', but rather an apps page with all the apps downloaded. The other option is to pin your favourite apps to the bottom of the screen so when you press the home button, these apps appear there. This stripped back approach may suit some people as it doesn't interrupt the action, but it could feel a bit bare to others.
As for the smart TV software itself, I personally found this to be a real issue. For a flagship OLED, the my Home Screen8.0 software felt dated, slow and clunky. Often when trying to switch between menus and adjust any settings, there was a time delay between the input on the remote and what happened on screen. There were times as well where the TV would pause and stutter to the point where it was downright irritating. Compared to smart TV platforms from rivals such as LG and Samsung, my Home Screen8.0 feels like a real backwards step.
One thing that my Home Screen8.0 does well though is offer a wealth of settings including, picture, sound, gaming and accessibility options to tailor the MZ2000 experience to taste. There is something for everyone from the casual viewer who wants a great experience out of the box, all the way to the movie buff who wants to meticulously adjust the colour space, gamma and any other setting they can think of. There are plenty of picture and sound preset modes (possibly even too many), but that's a nice option to have.
Smart TV and menus score: 3/5
Panasonic MZ2000 review: Gaming
4K 120Hz support
Game Mode with plenty of settings to fine-tune
Only two HDMI 2.1 ports
When it comes to gaming, the Panasonic MZ2000 is a well-featured set, with 4K 120Hz, VRR, ALLM, AMD FreeSync Premium and Nvidia G-Sync capabilities all supported. It also supports Dolby Vision gaming, although only at 60Hz and not 120Hz, and is supplied with only two HDMI 2.1 ports as opposed to the four you can find on the LG G3 and Samsung S90C and S95C.
Playing Battlefield V on Xbox Series X, the outstanding picture quality for movies translated across to gaming as well. During a night mission in snow-capped mountains, black levels were deep and contrast was rich and detailed, with the pure white of the snow balancing the black of the sky perfectly.
When it came to the performance side, 120Hz gaming felt as fast, furious and as intense as I could've hoped for. Battle sequences with explosions and gunfire in Battlefield V felt suitably stressful and exciting. Switching between targets was smooth and easy and even during these intense moments, the MZ2000 managed to maintain its natural and detailed image. Admittedly, it didn't feel as smooth as gaming on the LG G3 and B3 OLEDs I'd tested, but was still a great performer.
Using the Leo Bodnar 4K HDMI input lag tester, input lag measured 15.2ms at 4K/60Hz. This is a little higher than I expected, with input lag on the LG OLEDs having measured at 9.2ms, but although there was a difference, it didn't feel as substantial as these numbers suggest.
The MZ2000 also comes with a Game Mode that allows for customization and quick changes to settings to tailor the gaming to suit the user's needs. This includes adjusting VRR, Dark Visibility Enhancer and picture mode. There are four Dolby Vision picture modes available, although for gaming, Dolby Vision Game was the best when playing Battlefield V. To access this Game Mode menu easily, you have to find it in apps and pin it to the home menu, which is recommended if you want to make those quick, easy changes.
Panasonic MZ2000 review: Value
Well featured and great performing TV overall
Much pricier than main rivals
Still at the premium end of the OLED market
The Panasonic MZ2000 is no doubt a fantastic TV with plenty of features to suit everyone, with the real highlight being its exceptional picture quality and powerful built-in sound. In terms of what it offers, you do expect more towards the premium end of price for a flagship OLED with this quality.
However, with a price of £2,699 for the 55-inch model, the MZ2000 is significantly more expensive than its closest rivals. At the time of writing, the LG G3 is priced at roughly £1,899 and the Samsung S95C is even cheaper at £1,599. Despite the Panasonic MZ2000's fantastic built-in sound, with a £1,100 difference between it and the Samsung S95C, people can factor in one of the best soundbars into their budget for this, including arguably the best soundbar on the planet, the Samsung HW-Q990C. A lot of soundbars will top the Panasonic MZ2000's built-in speaker system because as brilliant as it is, a soundbar with separate subwoofer will always create a more dynamic sound.
Although the premium price tag is expected for a TV such as the MZ2000, we haven't seen any discounts in the several weeks since its release and are unlikely to for a while as Panasonic prices tend to stay towards the higher end until the very end of their life. On the other hand, prices on the rivals mentioned above are likely to continue to drop.
Should I buy the Panasonic MZ2000?
Swipe to scroll horizontally
Panasonic MZ2000

| | | |
| --- | --- | --- |
| Features | Packed with plenty of picture and gaming enhancements for movies and video games | 4.5/5 |
| Picture quality | Contrast-rich with vibrant colours and stunning black levels | 5/5 |
| Sound quality | Powerful, immersive and best-in-class built-in sound | 5/5 |
| Design | Slim bezel and expensive looking stand, but slightly chunkier than other OLED TVs | 4/5 |
| Smart TVs and menus | Plenty of settings to tweak, but software is clunky and awkward | 3/5 |
| Gaming | Great performance and a host of features available | 4.5/5 |
| Value | A premium, excellent OLED but pricier than the competition | 3.5/5 |
Buy it if...
You want outstanding picture quality
With deep black levels, radiant colours and beautiful contrast, the MZ2000 has one of the best OLED pictures available
You need good built-in sound
If you're looking to avoid a soundbar, you'll be pleased to hear that the MZ2000's built-in sound is rich, immersive and detailed
You want a great TV for gaming
With plenty of gaming features including 4K, 120Hz, VRR and more coupled with a stunning picture, the MZ2000 is a seriously good gaming TV
Don't buy it if...
You want an intuitive smart TV platform
Although there are plenty of settings to tweak for picture, the my Home Screen8.0 software is clunky and awkward to navigate
You are on a budget
Although a premium OLED brings a premium price tag, the MZ2000 is noticeably more expensive than rival OLEDs such as the LG G3 and Samsung S95C
You need multiple HDMI 2.1 ports for gaming
Despite excellent gaming features, the MZ2000 does only have two HDMI 2.1 ports, whereas rival models from LG and Samsung have the full four
Also consider...
Swipe to scroll horizontally
| | | | |
| --- | --- | --- | --- |
| Row 0 - Cell 0 | Samsung S95C | LG G3 | Sony A95L |
| Price (55-inch) | £1,599 | £1,899 | £2,999 |
| Screen type | QD-OLED | OLED (MLA) | QD-OLED |
| Refresh rate | 144Hz | 120Hz | 120Hz |
| HDR support | HDR10+, HDR10, HLG | Dolby Vision, HDR10, HLG | Dolby Vision, HDR10, HLG |
| Smart TV | Tizen | webOS 23 | Google TV |
| HDMI | 4 x HDMI 2.1 | 4x HDMI 2.1 | 4 (2x HDMI 2.1) |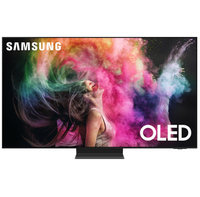 Samsung S95C
The Samsung S95C is one of the MZ2000's closest rivals, with a similarly excellent picture that's bright, vivid and colourful with deep blacks. They're essentially the same peak HDR brightness (the MZ2000 is brighter), but the S95C has an external connections box for tidiness and is significantly cheaper. Here's our full Samsung S95C review.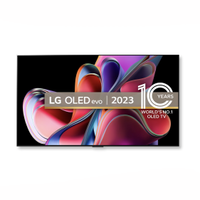 LG G3
The LG G3 has incredible picture quality, similar in calibre to the Panasonic MZ2000 and although the G3's sound quality isn't as good as on the MZ2000, it's slightly better for gaming and is quite a bit cheaper in every size. Here's our full LG G3 review.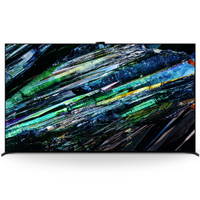 Sony A95L
In our hands-on review, we noted that the Sony A95L, which comes with a QD-OLED panel, offers impressive brightness levels, black depth and offers solid gaming options with its new Game Menu. It's likely to have great sound too, but is actually even pricier than the Panasonic MZ2000. Here's our Sony A95L hands-on review.
How I tested the Panasonic MZ2000
Tested in our lab room with varying conditions
Measurements taken using Portrait Displays' Calman software
Picture tested through various SDR and HDR sources
After first running-in the Panasonic MZ2000 for a couple of days, I then tested the out-of-the-box preset picture modes through SDR and HDR sources, including 4K Blu-ray, streaming and live TV via antenna.
After assessing the picture modes and choosing the most accurate, in this case Filmmaker mode, I then used reference SDR and HDR scenes to test black levels, upscaling, colour, Dolby Vision (although this doesn't work in Filmmaker mode) and motion. To do this, I used a mixture of 4K Blu-rays, streaming for both SDR and HDR from ITVX and Disney Plus and I then finally tested gaming performance on the MZ2000 using the TV's game mode and an Xbox Series X.
After this, the next step was to take measurements of the MZ2000 using Portrait Displays' Calman calibration software. I measured peak brightness levels using both SDR and HDR patterns on 10% and 100% windows. I then measured grayscale, gamma and color accuracy, again using Calman, to provide average Delta-E values (which demonstrates the margin of error between the test pattern and what is displayed) for each of these categories. I also measured color space looking at DCI-P3 and BT.2020 coverage. For all these tests, I used the Murideo Seven 8K test pattern generator to create the patterns being measured.
Finally, to test the input lag of the MZ2000 I used the Leo Bodnar HDMI input lag tester, measuring at 4K 60Hz.
First reviewed: October 2023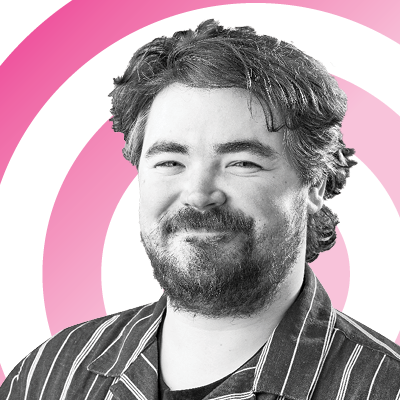 TV Hardware Staff Writer, Home Entertainment
James is the TV Hardware Staff Writer at TechRadar. Before joining the team, he worked at a major UK based AV retailer selling TV and audio equipment, where he was either telling customers the difference between OLED and QLED or being wowed by watching a PS5 run on the LG 65G2. When not writing about the latest TV tech, James can be found gaming, reading, watching rugby or coming up with another idea for a novel.