When it was originally launched back in 2015, no one expected the Surface Book's sequel to make the the MacBook Pro look cheap in comparison. But it's true in more ways than you'd think. The Microsoft Surface Book 2 is pricey, sure, but when you look at everything it's capable of, it kind of needs to be. Instead of being just one device that flips inside out, like many of the best 2-in-1 laptops, the Surface Book 2 really is two devices in one.
The Surface Book 2 is far more protected than the original Surface Book, especially now that Intel has released patches with Microsoft through the Windows 10 update tool that makes the Surface Book 2 much more resilient to the Spectre and Meltdown CPU exploits.
The Surface Book 2 is more than sleek security features, though. It takes the pristine design of the original Surface Book and modernizes it ever so slightly to make the critics happy. Fir instance, the hinge is much more sturdy. Then, you have the classic and compact 13.5-inch design on top of this 15-inch Surface Book 2. They'd both like to take over as your primary device, but is the new 15-inch model worth it?
The short answer is yes, but at a cost that will send fledgling creative types reeling.
Spec Sheet
Here is the configuration for the Microsoft Surface Book 2 (15-inch) configuration sent to TechRadar for review:
CPU: 1.9GHz Intel Core i7-8650U (quad-core, 8MB cache, up to 4.2GHz with Turbo Boost)
Graphics: Intel UHD Graphics 620; Nvidia GeForce GTX 1060 (6GB GDDR5 VRAM)
RAM: 16GB LPDDR3 (1866Mhz)
Screen: 15-inch, 3,240 x 2,160 (260 ppi) PixelSense display (3:2 aspect ratio; 1600:1 contrast ratio)
Storage: 1TB PCIe 3.0 SSD
Ports: 2 x USB 3.1, 1 x USB 3.1 Type-C, 2 x Surface Connect, SD card reader, 3.5mm audio jack
Connectivity: 802.11ac 2 x 2 MIMO Wi-Fi, Bluetooth 4.1, Xbox Wireless
Camera: Windows 8MP rear-facing autofocus camera (1080p), 5MP front-facing Hello face-authentication camera (1080p HD)
Weight: 4.2 pounds (1.9kg) with keyboard base
Size: 13.5 x 9.87 x 0.568 ~ 0.90 inches (343 x 251 x 15 ~ 23mm; W x D x H)
Price and availability
Surprising no one, the 15-inch Surface Book 2 is a hugely expensive laptop, with the configuration we've tested coming in at a crazy $3,299 in the US. Naturally, this is the highest end that the Surface Book 2 gets, with the entry-level model starting at a still-steep $2,499 (£2,349, AU$3,649) – its only difference being a much smaller 256GB solid-state drive (SSD) inside.
In the UK, the larger Surface Book 2 can be configured with twice the storage of the 256GB model for £2,749, or with a 1TB SSD for £3,149. Meanwhile, in Australia, the 512GB Surface Book 2 is $4,249, whereas the 1TB version sells for $4,849 including GST.
The 13.5-inch Surface Book 2, on the other hand, now starts at a rather economical $1,199 (around £850, AU$1,500) in the US, with other countries likely to follow in the footsteps of this surprising price cut. It unfortunately doesn't come without compromise either, as this cheapest flavor of the Surface Book 2 you can buy is limited to just 128GB of storage space, alongside a dual-core Intel Core i5 processor and 8GB of RAM.
Keep in mind, that while these prices are indeed high, they still don't include Microsoft's $99 (£99, AU$139) Surface Pen. And yes, we're going to keep calling Microsoft out on this until it begins bundling this nigh-crucial accessory in with the price of its Surface devices again.
For comparison's sake, Apple's 15-inch MacBook Pro with Touch Bar starts at $2,399 (£2,349, AU$3,499) for a 7th-generation Intel Core i7 processor, an AMD Radeon Pro 555 graphics chip with 2GB of VRAM, 16GB of memory and a 256GB SSD – all powering a 2,880 x 1,800-pixel 15.4-inch display at 220 pixels per inch as well as an OLED Touch Bar.
For another 100 bucks, you're getting a more up-to-date processor and far stronger graphics powering a sharper display with touch control that detaches and acts as a tablet. Not accounting for personal taste, it's tough to dispute that the Surface Book 2 is the better value here.
Design
When it comes to the look and feel perspective, it's an understatement to say that Microsoft took the original Surface Book and blew it up in every way to make the Surface Book 2 a 15-inch Device in all its brushed aluminum splendor. While Microsoft definitely put a ton of effort in vastly increasing the Surface Book 2's power profile and screen technology, this is, in many ways, simply a larger Surface Book.
That's not necessarily a bad thing, though. Microsoft has obviously taken lessons learned from the Surface Book i7 and went to town with the sequel, crafting the Surface Book 2 into a power-packed laptops that's rather light. What's better, when detached from its base, this is the lightest feeling 15-inch tablet we've ever used – to the point that it feels deceptively small in our hands.
That said, the Surface Book 2's fulcrum hinge does make for a laptop that's a little more unwieldy to cram into a backpack than most, and it's now more pronounced than ever. Worse still, Microsoft didn't do much design-wise with the extra space that 15 inches affords you.
The Surface Book 2's glass trackpad, for instance, isn't quite as wide or deep as, say, the 15-inch MacBook Pro when it very well could have been, given the ample space beneath the keyboard. The lack of up-firing stereo speakers in the base is also a glaring omission, with plenty of room on all three remaining sides of the keyboard for extra audio chambers.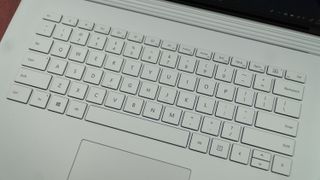 Instead, we're stuck with rather tinny, albeit front-firing, speakers on the tablet portion of the device. The bigger keyboard base should offer us bigger everything, frankly, not just bigger graphics. Worse yet is that the audio jack is still in the same weird, upper-right-edge position it's always been, dangling over our hands and distracting us while typing.
Speaking of which, typing on the Surface Book 2 is a pleasure, with a brightly backlit keyboard that demonstrates deep-enough travel and punchy feedback. However, in our view, the feedback could stand to be a touch more forceful – but that could be down to personal taste.
All told, we like the Surface Book 2 (15-inch) design quite a bit – even its 1080p webcam and rear camera should impress at the next meeting or in your Instagram feed. But, we can't ignore the missed opportunities to refine the product that much further and make the experience that much bigger when it comes to how it feels, looks and sounds.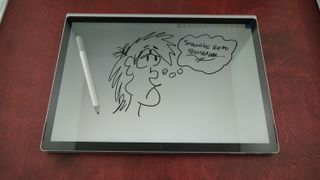 Display and Surface Pen
Of course, we're just as in love with the Surface Book 2 (15-inch) display as we were with the previous two models. Text looks crisp on the screen as do photos and video, even if the 3:2 aspect ratio makes for some awfully thick black bars during the latter.
The display's resolution is nigh-unmatched short of 4K laptops, and Apple's MacBook displays can't hold a candle to it pixel for pixel. While Apple's P3 color gamut might tower over Microsoft's panel in the eyes of art and media pros, we don't see much difference between the two in regards to color reproduction.
We're told that Microsoft devoted quite a bit of effort to improving the touch response in its latest PixelSense display for the Surface Book 2, and it shows in testing. If any lag between drawing on the screen with the Surface Pen and its appearance on the screen was there before, it's certainly imperceptible now.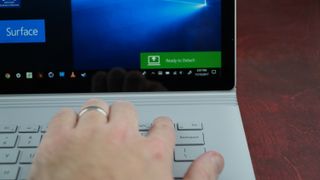 In fact, if you scribble on a sticky note and run the Surface Pen off of the note window – you'll see traces of ink appear on whatever is there, though it will almost immediately disappear. That's a special processor rendering the ink before even Windows 10 does, we're told, which should speak to the absence of latency in the touchscreen.
Plus, attaching and detaching the display from the keyboard base is as speedy as you'd expect from a wildly expensive computing device. Whether it's going into tablet mode or back into a laptop, it's less than a second before you're successfully tapping or typing away.
At any rate, the Surface Book 2 screen goes to show that Microsoft can craft displays worthy of comparison against the technology world's greatest in basically every metric.