The Google Glass camera shoots 5-megapixel photos equivalent to that of the iPhone 4 camera and each picture has a 2528 x 1856 resolution. To Google's credit, it took last-generation specs and made them useful again thanks to the camera's distinctive hands-free interface and, given the right lighting, terrific image quality.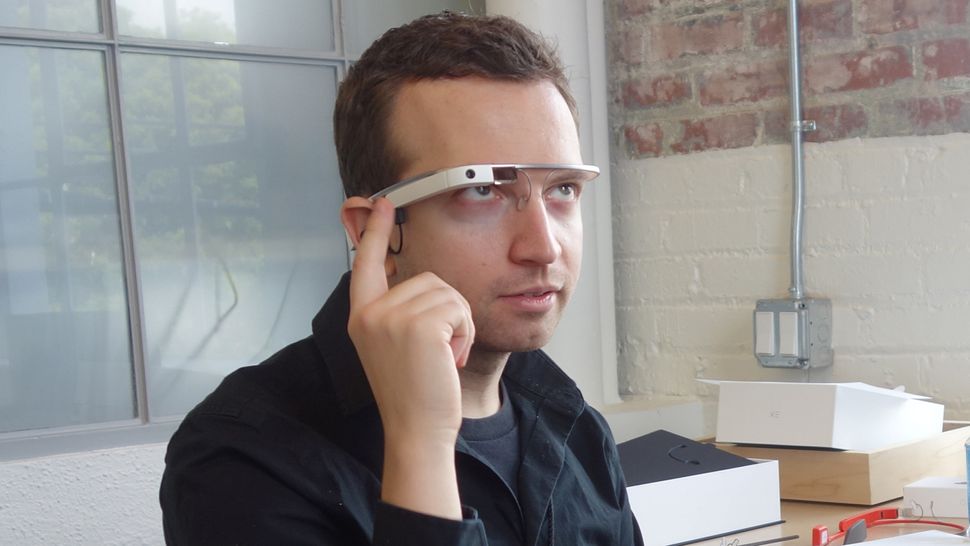 There are three ways to take photos when that 21st-century Kodak moment strikes and your quickest method of capturing it is Google Glass. Precisely saying "Okay Glass, take a picture" (not "take a photo") snaps an image within the blink of an eye.
Believe it or not, the second way is by actually blinking your right eye. This recently added Wink feature is deemed as experimental by Google, so it also picks up your eye-shutting big yawns and sneezes for awkward, unexpected photos.
The third way to take a picture is by pressing the physical camera button at the top of the hardware. It's not as forward-thinking as talking to Google Glass, but it's ideal for noisy environments in which the otherwise strong microphone isn't a viable option.
All three methods allow you to bring up the viewfinder beforehand thanks to the update that arrived just prior Google IO 2014. Saying "OK Glass, show the viewfinder" brings up the four L-shaped corners and makes lining up the perfect shot even easier. Before this update, it was trial-and-error guess work.
Photos are saved to an internal 16GB flash drive of which 12GB is actually useable memory. The operating system controls the rest. This space doesn't fill up easily, as images are 1MB on average and are routinely synced with Google's cloud storage.
Syncing photos to a smartphone through the MyGlass app is also helpful, especially when you want to edit them before posting. As of September, even iOS users are in on the Photo Sync feature. Deleting photos en masse, however, doesn't work without plugging Glass into a computer via its USB cable. It's a feature I'd like to see in the future.
Best Google Glass photos
Sunsets, friends' portraits and first-person snaps of everyday life offer the best photo results and make the camera the most rewarding Google Glass feature. Each one comes with a laundry list of caveats, though. Sunsets need to be bright, but not so bright that direct sunlight whites out the entire image.
Portraits need to be well-lit and your antsy friends can't be moving - at all. "Everyday life photos" should be read literally with an emphasis on day, and the subject needs to be close because there's no zoom function or cropping tool.
Google Glass' inability to crop and zoom either when the picture is taken or post-snap is one of the biggest disadvantages to its 100% hands-off approach to photography. I didn't miss the opportunity to take a photo of an abnormally large dog on the sidewalk thanks to Glass, but I conversely couldn't put it into a better perspective before sharing it to Facebook sans a cropping tool. That large, distracting electrical box in the periphery remains.
Most #throughglass photos are admirably untouched, a rarity in the age of Instagram. Still, basic editing functionality by beaming a photo over to a smartphone or tablet before uploading it to the world would have been valued. Google+ does a nice job with Auto Enhanced photos with a few tricks.
An LED flash and better low-light performance is another obvious Google Glass feature that's sorely missing from the prototype. Taking photos and video in dimly lit environments is almost a non-starter, cutting down on the fun you can have with it in conjunction with nightlife scenarios.
More sophisticated camera software could improve Glass in the future, but given the Nexus 5 camera problems, it might not be high on the Google's priority list when it should be No. 1.
Google Glass video
Google Glass also takes high-resolution video with all footage at a fairly steady 720p resolution. The camera's video performance mirrors its still image quality: it lives and dies by lighting and, if the right conditions are in place, provides a unique window to explore your everyday life.
This is exactly what happened when I filmed my too-often-repeated airport security line routine through the first-person perspective. Ever wonder what it's like to go through a luggage X-ray machine? Glass shed some light on the not-too-crazy-looking experience #throughglass. It also proved that airport security is way too frantic of an operation and that an indoor, well-lit airport environment is the best format for a Google Glass video.
The quality took a hit when I attempted to film rides at Disneyland. Without proper illumination on rides, it failed to capture the excitement of the theme park indoors and as soon as the sun set, the outdoor video and photo quality took a major dive along with the, by then, exhausted battery.
Google Glass filming privacy
The Google Glass POV camera perspective is the most fulfilling feature, but it's also the reason the wearable is seen as being so invasive. It's always pointing forward at people and it often elicits a half-joking, half serious, "Are you filming me right now?"
Privacy concerned individuals are usually overreacting. Still, it's an accusation every Glass user has to expect. Casinos, clubs, and a handful of restaurants and bar have unceremoniously banned the prototype even before it's readily available. Google went as far as posting nine tips on how not to be a Glasshole.
Google+ Auto Backup, effects
Google+ automatically saves photos and video through the social network's Auto Backup feature. It syncs to a private online album when Google Glass is plugged into a charger and it's within WiFi range. It's essential to meet these two conditions if Auto Backup isn't working, a complaint echoed through Google's private forums for Glass users. When it does function properly, it has some extra surprises that are worth checking out.
Select pictures are automatically enhanced with Google+ photo editing software, panoramas are stitched together right away and animated GIFs are already moving about before you say action. During the holidays, twinkle and snow effects were routinely added to photos - although it didn't look right in a lot of cases. Luckily, all Google+ enhancements are saved as a copy of the original photo in the Auto Backup folder and never shared without your permission.