iPhone 15 Pro Max may finally convince me to buy a big iPhone
The combo of a 6x zoom, action button and titanium frame could make the iPhone 15 Pro Max the phone of the fall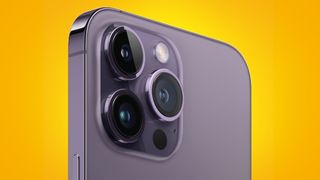 (Image credit: Future / Apple)
Big iPhones have never impressed me much. For one, the combination of the design and display size never felt as well put together as the biggest models among the best Android phones, such as the Pixel 7 Pro or Samsung Galaxy S23 Ultra. But it was also that the 6.1-inch display of the iPhone 13 Pro and iPhone 14 Pro seemed just perfect for the feature set and design language of Apple's smartphones.
Yet despite all that, the rumored iPhone 15 Pro Max is the next-generation iPhone I'm most excited about.
That's in part due to the standard iPhone 15 and iPhone 15 Plus looking like decidedly dull smartphones. Sure, they're set to get the Dynamic Island display and a 48MP main camera. But the former has yet to gain widespread app support and the latter is nothing hugely special, given we've seen Apple put a 48MP camera in action before.
Equally, the iPhone 15 Pro might be getting a boost in specs and some design tweaks. But, if the rumors are on the money, then I don't feel the smaller Pro phone will do enough to win me over.
The iPhone 15 Pro Max, on the other, does look to be the sum of its parts - and in a good way.
The biggest appeal to me is the rumored new periscope telephoto camera that will enable a 6x optical zoom. It won't be the most powerful telephoto smartphone camera, with the likes of the Galaxy S23 Utra offering a 10x optical zoom. But having used the latter, as well as phones with 5x telephone cameras, I feel 6x could be the sweet spot for someone who enjoys zooming photography.
I'm also quietly confident that whatever AI and neural-processing smarts the so-called A17 Bionic chip brings to the table will also have an impact of the iPhone 15 Pro Max's telephoto camera. I'm predicting sharp, clear and well-balanced zoomed shots with smartly selected focal points, resulting in photographs you'd not be ashamed to have blown up on a canvas.
I also suspect such a telephoto camera will be used to nearly stitch together images captured by the main and wide-angle cameras to deliver more detailed photos, especially when punching into a scene.
Ready for action
This then leads me to the new action button tipped for the iPhone 15 Pro and Pro Max. While I think it would be good on the former, when combined with the new camera it could be best employed on the latter phone.
For example, imagine using the action button to quickly switch between photo modes while pointing the iPhone 15 Pro Max at a subject. You could bounce between filters, zoom points, macro modes and more without needing to tap at the display and thus lose the image you've perfectly framed.
Plus, being able to do this on a large phone, without needing to directly interact with the screen, is likely to be much less unwieldy – there have been plenty of times when I've tried to tweak a camera parameter on my Pixel 7 Pro, with the subsequent finger gymnastics resulting in me nearly dropping the phone.
More than an edge case
Speaking of dropping phones, such butter-fingered fumbling could be mitigated somewhat by the tipped titanium edges that the iPhone 15 Pro Max, and its smaller sibling, are expected to get.
While the stainless steel of my iPhone 13 Pro has withstood a myriad of bumps and knocks, with only a real ding or two marring the shiny frame, titanium is stronger than steel. This should make for an iPhone Pro Max that's more durable than its predecessor.
It's also lighter, which should reduce the heft of Apple's largest phone, making it nicer to hold and carry. Plus, less weight means the phone should be easier to use one-handed and perhaps less prone to being dropped; the caveat emptor is that people are just naturally clumsy and will drop even the smallest and lightest of devices.
The combination of these three features, and what I predict could be the synergy between them, now has me more excited to see a Pro Max phone than ever before.
A potential wrinkle could be the rumored iPhone 15 Pro Max price hike, which could put it at a level above what I can justify. I'm crossing my fingers that this won't be the case, and that Apple will be conservative with pricing, especially since rumors around a Samsung Galaxy S24 are already swirling.
We should find out one way or the other pretty soon, with the next Apple September event likely to take place in the next two to three weeks. Here's hoping it lives up to my expectations.
More iPhone 15 stories
Sign up for Black Friday email alerts!
Get the hottest deals available in your inbox plus news, reviews, opinion, analysis and more from the TechRadar team.
Managing Editor, Mobile Computing
Roland Moore-Colyer a Managing Editor at TechRadar with a focus on phones and tablets, but a general interest in all things tech, especially things with a good story behind them. He can also be found writing about games, computers, and cars when the occasion arrives. And he also supports with the day-to-day running of TechRadar. When not at his desk Roland can be found wandering around London, often with a look of curiosity on his face and a nose for food markets.