The best free streaming software is great for content creators just starting out or when you're working to a budget. They can help set you apart from the competition with pro-quality tools from custom logos to audio editors and high-res video streams.
But it's not easy to know which streaming software is best for you. The streaming market is growing massively, which means there are some great choices out there - all promising easier access, better performance, and faster setup times.
So, when you're choosing the best free software for streaming, there are a few key factors to consider.
Focus on what you're going to stream. A lot of streaming software (including screen recorders and free screen recorders) are tailor-made for gamers. But if you're not planning on making a game-stream, there are still options.
Hardware-wise, think about which devices and operating systems you need to stream from and choice of input sources.
Make sure you check out supported games on your preferred tool - some of the best streaming apps let you record anything, while others make you choose from a list.
We've reviewed the best free streaming software tools - seeing how accessible they are, how they perform, and making sure they're genuinely free for users. No hidden charges or secret subscriptions.
The best free streaming software 2023
Why you can trust TechRadar We spend hours testing every product or service we review, so you can be sure you're buying the best. Find out more about how we test.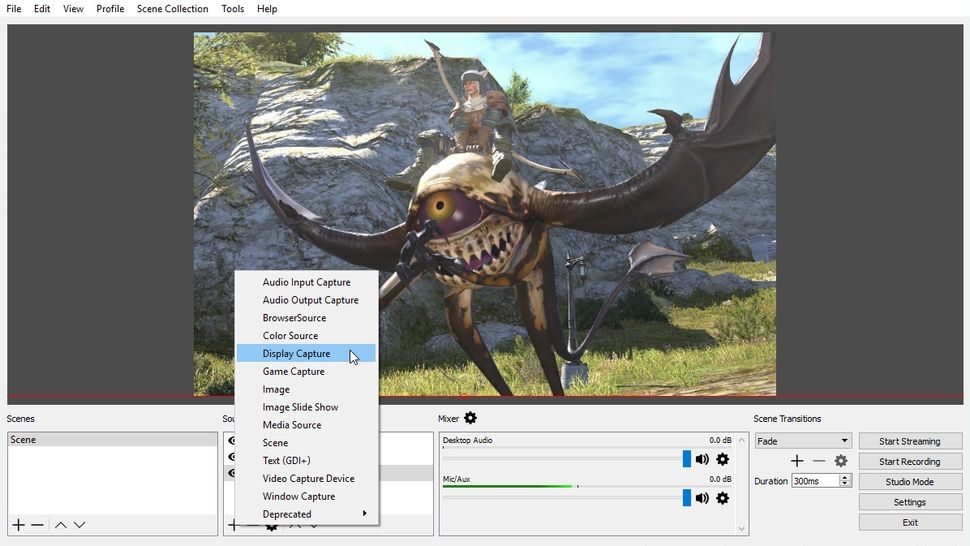 OBS Studio is a free open source streaming application that works on Windows, Macs and Linux. It brings many tools to the table, to help you create a great experience for your viewers, whether you broadcast live or record for later publishing.
It's designed around scenes which you populate with various input sources (such as a microphone, webcam, watermarks, images, videos, etc). You can easily switch from one scene to the other with ease, and even apply transitions automatically when doing so.
There's a lot of great flexibility, but it isn't the most user friendly piece of software. In an earlier review, we hailed it as "the most powerful free screen recorder and streaming tool available for gamers, with everything you need to achieve professional results. It might take a little while to familiarize yourself with its interface, but the effort will pay off."
And not much has altered since to change our minds. When we recently returned to OBS Studio, we still felt it was a great streaming tool, but hampered by glitches and an interface that's overwhelming to newcomers. On the other hand, we thought it "possesses many tools to help you create great content."
At least OBS Studio is free, making it worth consideration when setting up your streaming studio. You may well find that you love what you can do with it.


Read our full OBS Studio review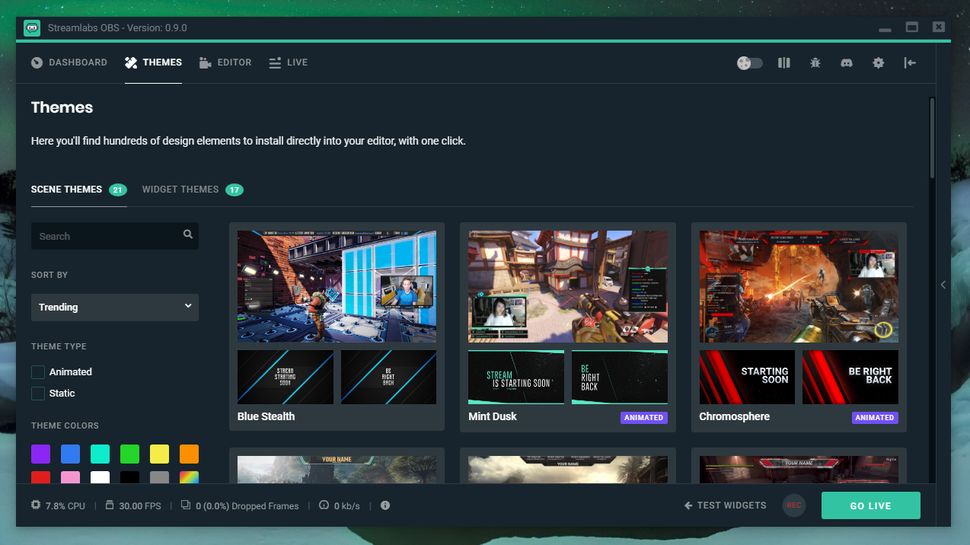 Streamlabs OBS is one of the top OBS Studio alternatives, since it's built the same foundation as the best free streaming software itself. Only, it comes with a more user-friendly mask over the still-powerful tool.
Like its more advanced counterpart, the program is completely free and open-source. That means plenty of community contributions, but no real support.
Streamlabs offers claims to offer improved performance via automatic optimization, though the difference in our tests was negligible.
With a cleaner interface than OBS Studio, Streamlabs is a good choice for beginners and first-time streamers. However, if you're already happy using OBS Studio, there's little advantage in switching.
As the streaming tool continues to evolve, it'll be interesting to see how it diverges further from OBS Studio in the future. But for the moment there's little difference between the two.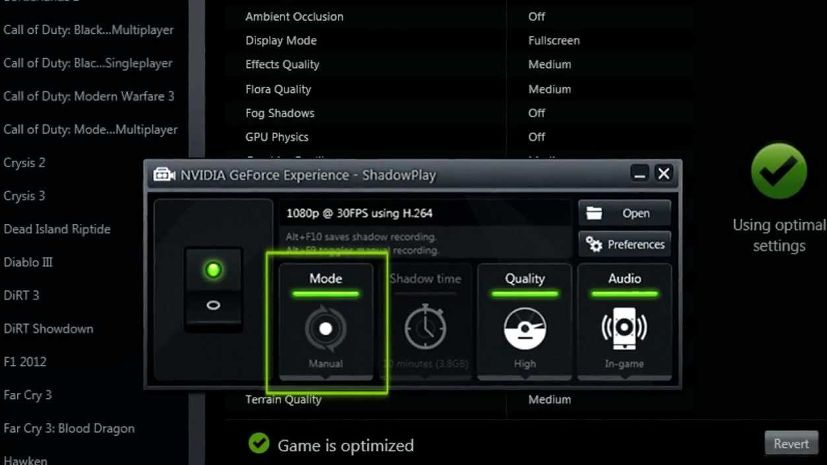 If you just want to play games, Nvidia Shadowplay is one of the best free streaming software tools for you.
You may have already come across it, since it's bundled with GeForce graphics cards. And it has a major advantage over most streaming software: it encodes in the GPU rather than the CPU, meaning it has negligible impact on performance,
However, Shadowplay far less flexible than OBS Studio. There are no overlays or multi-sources scenes – just the game itself.
That makes it perfect for those only streaming gameplay - it certainly gets the job done. If you want to create something more sophisticated then you'll be better off with OBS Studio – particularly since you can set the top streaming app to use Nvidia's NVENC encoding.
Shadowplay's video recording and screengrab tools are excellent, but streaming isn't its strongest suit.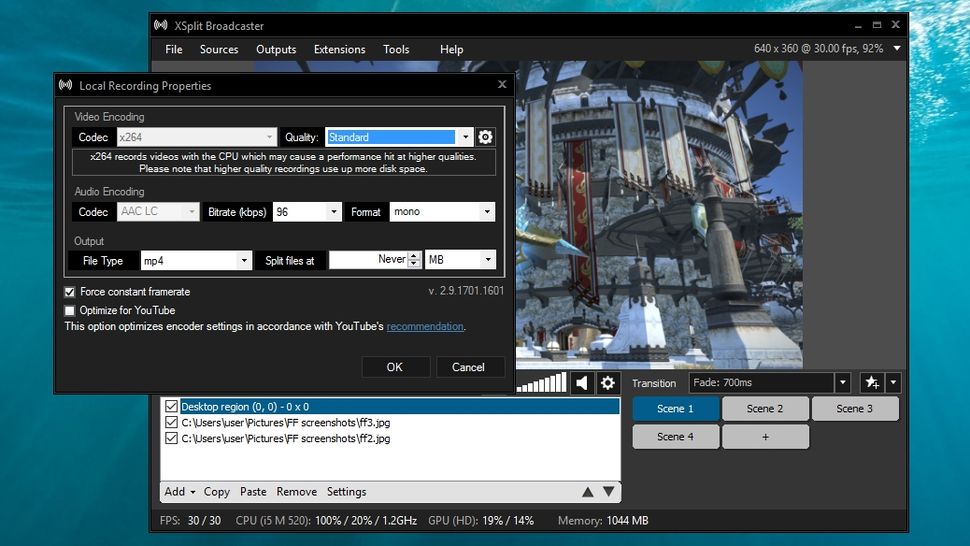 Xsplit Gamecaster isn't like other free streaming software. It's a free, cut-down version of the premium Xsplit Broadcaster.
And that gives Gamecaster a sleeker look, while benefitting from premium support online. As a trade-off, several features are locked behind a paywall. So, it's good free streaming software for basic streams, but that 'free' carries some limitations.
Unlike Xsplit's paid-for alternative, Gamecaster offers a more streamlined interface. It supports streaming to Twitch, Mixer, YouTube and Facebook, and we found it incredibly easy to use. Just start your game and hit a keyboard shortcut to bring up the overlay and begin streaming.
The biggest drawback is that streams at 720p or higher will carry an Xsplit watermark. Not ideal if you want your stream to look professional.
Despite being found in many of the best free streaming software programs, you'll have to pay for more advanced tools, like chromakeying (green screen), in-game Twitch chat, console support via a capture card, and custom logos.
Commercial use also requires a separate license.
How to choose the best free streaming software for you
When deciding which free streaming software is best for you, start with what you're going to stream. Streaming games is massively popular, so many of the top streaming apps, like OBS Studio, Xsplit Gamecaster, and Nvidia Shadowplay, are centered around gamers.
Next, choose what level of production you want. Shadowplay is great for just getting your gamestream up and running, but lacks a lot of other features. While OBS Studio offers professional results, but comes with a steeper learning curve. If you want flashy, eye-catching streams, you'll swiftly outgrow more basic streaming software.
Be honest about your experience level. If you've never tried free streaming software before, first try a simple tool like Streamlabs OBS. It offers a good entry into streaming and covers the basics, letting you master more advanced tools.
Finally, be subjective. Select the streaming app that feels right for you - the one that matches your own unique, creative flow.
How we test the best free streaming software
Just like our readers, we want to know which streaming software is best - so we put each one through its paces, judged against the same criteria that really matters to users.
Free should mean free - no hidden costs or credit card details required. It's the first factor we review. All of the best free streaming software in our round-up won't cost a penny.
The best free streaming software should be easy to use. The interface should be clean, intuitive, simple to navigate. Even more advanced streaming apps, like OBS Studio, should be accessible and clear how to master the tool.
Performance matters, and we want to see streaming tools that work well across a range of devices, without stuttering or otherwise interfering with the capture.
User intent is important. Streaming tools are built for lots of different audiences and uses, and we check to see how well it meets the expectations and needs of its target market. For example, the Streamlabs OBS streaming software is great for beginners, but unfit for high-end, professional productions. But both are excellent in their own way.