The best cheap phone in the UAE is continually shifting, and finding the top models is becoming more important as smartphone prices continue to skyrocket. People just don't want to pay over 3,000 Dirhams for a phone.
But there's good news: finding an affordable phone below AED 1,500 is definitely possible in 2018, whether you want an iPhone or an Android. It's not the easiest task to find quality devices at such low prices, as there are hundreds of duds out there.
But not all low-priced smartphones should automatically be dismissed. There are cheap phones at nearly every price level, as OnePlus, Huawei and Samsung have all taught us over the last few years.
Trying to find a cheap phone that's actually one we could recommend used to be like finding a needle in a haystack. But thankfully, more and more manufacturers are targeting the low-end market.
In fact, every cheap phone here should be just fine for anyone looking to save several hundred dollars on a discounted iOS 12 or Android Pie device. Here are our top recommendations.
1. Honor 8X
Solid performance, versatile camera and metal and glass build
Weight: 175g | Dimensions: 160.4 x 76.6 x 7.8mm | OS: Android Oreo / EMUI 8.1 | Screen size: 6.5-inch | Resolution: 2,340 x 1,080 | CPU: Kirin 710 | RAM: 4GB | Storage: 128GB w/ microSD | Battery: 3,750mAh | Rear camera: 20MP + 2MP | Front camera: 16MP | Fingerprint Sensor: Yes
Modern looking
Good performance
Flaky camera
Older Micro USB charging
The Honor 8X is the kind of phone you might buy if you want one that looks new, with all the latest design cues, but don't want to spend a huge amount of money. The almost all screen front is Honor 8X's star feature and it looks similar to a more expensive phone. It has a very good Full HD-grade screen, a 20MP and 2MP dual-lens rear camera and a 16MP front camera.
Read the full review: Honor 8X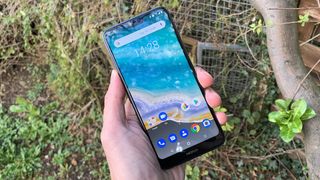 2. Nokia 7.1 (2018)
A real winner in the mid-range phone market
Weight: 160g | Dimensions: 149.7 x 71.2 x 8mm | OS: Android 9.0 | Screen size: 5.84-inch | Resolution: 1080 x 2280 | CPU: Snapdragon 636 | RAM: 4GB | Storage: 64GB w/ microSD | Battery: 3,060mAh | Rear camera: 12MP + 5MP | Front camera: 8MP
Large, bright LCD display
Great camera
Runs Android 9
Average battery
Occasional lag
Deceptively affordable for a phone that looks and feels premium, the Nokia 7.1 brings terrific specs, a striking HDR display and stylish design to the mid-range market and manages to do so for just AED 949.
A phone that punches well above its weight, the Nokia 7.1 boasts a Snapdragon 636 chipset inside, 3/4GB of RAM and 32/64GB of internal storage (of course, you can expand that with a microSD card).
As part of the Android One program, the Nokia 7.1 runs a near stock version of Google's mobile OS, with two years of updates and three years of security patches guaranteed.
Plenty has been said about HMD's PureDisplay screen technology on the Nokia 7.1, and what it ultimately adds up to is a gorgeous display that supports HDR10 video content (that includes Netflix and Amazon Prime Video).
What's also impressive is that this mid-ranger also sports a great dual camera setup (12MP + 5MP) on its rear, allowing users to take take brilliant depth-of-field shots with very little effort. On the front, you also get an 8MP snapper for selfies.
Add to this a USB Type-C fast charging port, and what you have is the current high watermark for phones under the AED 1,000 price point.
Read the full review: Nokia 7.1 (2018)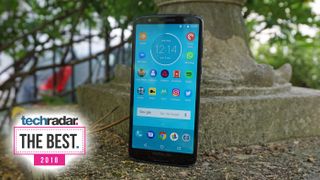 3. Moto G6
This budget phone wears a flagship design
Weight: 167g | Dimensions: 153.8 x 72.3 x 8.3mm | OS: Android Oreo | Screen size: 5.7-inch | Resolution: 1080p | Chipset: Snapdragon 450 | RAM: 3GB | Storage: 32GB w/ microSD support | Battery: 3,000mAh | Rear camera: 12MP +5MP lenses | Front camera: 8MP
Looks and feels like a top-tier phone
Bright, clear display
Slow camera
Not waterproof
The Moto G6 had a tough act to follow: itself, really, with the 2017 Moto G5 Plus. Thankfully, the latest budget smartphone from Motorola fully delivers on the hype.
When it comes to the flagship-level specs and features to be found here, this model touts an all-glass design, dual-lens rear cameras, an 18:9 aspect ratio display, headphone jack, USB-C charging and the very latest Android Oreo update.
Launching at AED 1,049, this phone is an unbeatable value. It provides decent specs with clean Android software, making this the best choice out there if you're looking for a new phone, but don't have loads of cash on-hand.
Read the full review: Moto G6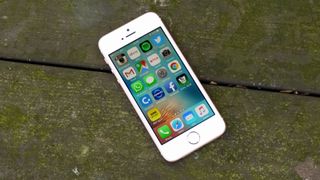 4. iPhone SE
iOS on an incredible budget
Weight: 113g | Dimensions: 123.8 x 58.6 x 7.6mm | OS: iOS 11 | Screen size: 4-inch | Resolution: 1,136 x 640 | Chipset: A9 processor | RAM: 2GB | Storage: 32/1128GB | Battery: 1,624mAh | Rear camera: 12MP | Front camera: 1.2MP | Fingerprint Sensor: Yes
Unrivaled build quality
Impressively powerful for the price
Might be too small for some
Apple's return to the four-inch form factor is a successor to the iPhone 5S, but packs a serious punch in the performance department, bringing specs that put in on par with the iPhone 6S.
The fact that you can usually get this smartphone for under AED 1,500 makes it an absolute steal if you're a loyal iOS user. Sure, it doesn't come with all of the bells and whistles of a brand new iPhone 8 or iPhone X, but complete with iOS 11, it still holds up well.
Read the full review: iPhone SE

5. Nokia 6.1
A startlingly good successor to last year's Nokia 6
Dimensions: 148.8 x 75.8 x 8.15mm | OS: Android One (Android P incoming) | Screen size: 5.5-inch | Resolution: 1,920 x 1,080 | CPU: Snapdragon 630 | RAM: 4GB | Storage: 64GB w/ microSD | Battery: 3.000mAh | Rear camera: 16MP | Front camera: 8MP
Durable, attractive design
Generous 1080p screen
Stock Android with fast updates
Speaker performance is middling
Available at AED 899 which is even less than the top-ranked Moto G6 costs, the Nokia 6.1 is a phenomenal choice if you're looking for a phone with solid specs and a high-quality build.
There are certain elements where the Nokia 6.1 falls below the Moto G6, particularly its single rear camera to Moto's two but in a lot of other ways, the Nokia 6.1 handily bests the Moto G6.
It's more powerful, with a faster chipset, more RAM and internal storage space, and if you enjoy stock Android, this is the choice to make.
Read the full review: Nokia 6.1