Update: New Samsung Galaxy S9 benchmarks give us a better idea of what to expect from the phone. Below, we've added comparisons between our confirmed Snapdragon 845 chipset numbers and the newly leaked Exnynos chip test.
The Samsung Galaxy S9 launch date on February 25 is less than two weeks away, and we're already getting an idea of its performance prowess.
It'll be up to 30% faster than the Samsung Galaxy S8, the current best phone, if it includes Qualcomm's Snapdragon 845 chipset – which it almost certainly will in the US. It's the natural sequel to the Snapdragon 835 chip used in last year's phone and we predict that Samsung will want to get ahead of the competition.
We were able to benchmark the new Snapdragon 845 in a Qualcomm reference device ahead of the Galaxy S9 launch, and we saw a marked improvement in its Geekbench and Antutu scores, tests that push the chip cores to their limit.
What does that mean for Samsung and its impending Galaxy S9 and Galaxy S9 Plus phones? How does it compare to the Huawei Mate 10 Pro, iPhone X and the Samsung Exynos 9810 chipsets?
Here are six takeaways from our experience with the Snapdragon 845 chipset.
1. It's 30% faster than S8: the fastest Android chip so far
The Snapdragon 845 is the fastest chip we've ever tested in an Android phone, and that bodes well for the Samsung Galaxy S9 performance and any 845-touting phone thereafter.
Geekbench 4.0 (multi-core score – high is better)
Snapdragon 845 (likely Samsung Galaxy S9): 8,427 (best)
Kirin 970 (Huawei Mate 10 Pro): 6,630 (27.1% slower)
Snapdragon 835 (Samsung Galaxy Note 8) 6,524 (29.17% slower)
Geekbench 4.0 (single-core score – high is better)
Snapdragon 845 (likely Samsung Galaxy S9): 2,465 (best)
Kirin 970 (Huawei Mate 10 Pro): 1,903 (29.5% slower)
Snapdragon 835 (Samsung Galaxy Note 8) 1,869 (32% slower)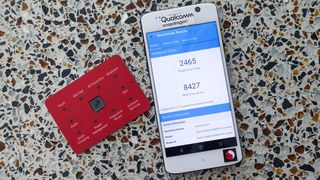 A faster chipset opens up the possibilities of more hardware-intensive 3D, VR and AR applications. It also gives Android users a fighting chance when it comes to real multitasking from a phone and using the Samsung Dex workstation. Turning your smartphone into a desktop computer requires a lot of processing power.
Of course, not all performance gains are perceivable with the naked eye. Constantly uploading and downloading from the cloud on the Samsung Galaxy S9 will be one of them. It'll be less of a hassle with the Snapdragon 845's embedded X20 cellular modem that has 1.2Gbps peak download speeds (and 150Mbps peak upload speeds).
Loading photos and videos between your handset and the cloud should become seamless in the not-so-distant future, as if everything were in your internal storage. We're not there yet today, but this chip should put us one step closer to a phone with 'unlimited' storage.
2. Better long-term performance
Our best phone buying advice is to not buy the phone that you want right now, but to buy the phone you'll still be happy with two or three years from now. During the last six months before you upgrade, you should never have to say the words: "I can't wait to get rid of this smartphone." That's torture.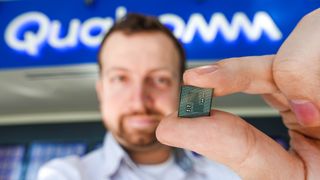 A phone with faster chipset, like the one we expect from the Galaxy S9, extends the life of your smartphone. As new, more advanced apps will take hold in the coming months and years, it's likely that you won't feel like your device has aged all that much.
You'll find tempting Galaxy S8 and S7 discounts as soon as the S9 launches, but the Snapdragon 835 and 820 chips will feel especially slow two years from now (they'll be based on three- or four-year-old technology by then).
3. Improved battery life at a crucial time
At a time when those once-whacky-sounding iPhone slowdown theories have been proven true, it's more important than ever to have efficient battery life.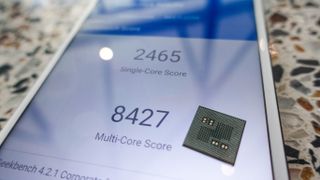 We saw a side-by-side comparison of the power consumption of an 845 chip and the 835 chip in Qualcomm's labs, and it showed about a 30% savings in battery performance. We're eager to do our own battery tests in 845-equipped phones.
This is doubly important for the Galaxy S9. It'll have the same battery capacity as last year's phones, according to leaks, with a 3,000mAh battery. The S9 Plus is in the same boat with a leaked 3,500mAh battery. Anyone who reads Samsung's official specs sheet during its February 25 launch event won't see an obvious battery improvement, but there will be more efficiency behind the curtains, as we may all read about in the final reviews.
4. Two versions of the Galaxy S9 chip
The Snapdragon 845 is the most powerful Android chip we've tested yet, but its performance may be tied with the forthcoming Exynos 9 Series 9810. This is Samsung's chip that's almost certainly going into the Galaxy S9 and S9 Plus everywhere but the US and China.
Samsung's Exynos and Qualcomm's Snapdragon chips are typically on par with each other, though Samsung usually has a small but meaningful performance boost. That appears to be the case again, according to Dutch site Techtastic.
Geekbench 4.0 (multi-core score – high is better)
Snapdragon 845: 8,427
Exynos 9 Series 9810 (leaked): 8,894
Geekbench 4.0 (single-core score – high is better)
Snapdragon 845: 2,465
Exynos 9 Series 9810 (leaked): 3,648
The leaked Exynos Geekbench scores are unconfirmed (and therefore we can't declare it the fastest Android chip without our own testing). But the speed boost isn't surprising given what we've seen happen between the chips in past years. The Samsung Galaxy S9 may be slightly faster outside of the US and China again.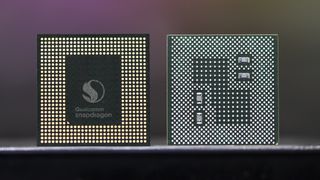 Why two versions? While they have feature and (for the most part) performance parity, the Qualcomm chip can connect to both GSM and CDMA networks. In the US, carriers like Verizon and Sprint still require phones with CDMA antennas, and Qualcomm is the only major chip maker with CDMA radios in their chips.
This is why Apple still uses Qualcomm modem chips in all Verizon and Sprint iPhone X, 8 and 8 Plus phones, despite also suing Qualcomm. While Apple designs its own chipset, it relies on Qualcomm for the specialized GSM+CDMA modem in the US and China, with Intel supplying the GSM-only modem chip.
For better or worse, you won't be able to pick between the Snapdragon 845 and the Exynos 9810 chip. It'll be determined by region again.
5. Apple's iPhone X is still faster in key tests
Take note of that qualifier: the Snapdragon 845 is the fastest Android chip we've tested so far. Apple's iPhone X, iPhone 8 and iPhone 8 Plus contain Apple's A11 Bionic chip that's proven faster in the most reliable benchmarking test.
Geekbench 4.0 (multi-core score – high is better)
Apple A11 Bionic (iPhone X): 10,249 (best)
Snapdragon 845 (Galaxy S9): 8,427 (22% slower)
The iPhone X (and its 8-series home button-equipped button brethren) is therefore 22% faster when it comes to processing power. And this is going to be five-month-old technology by the time of the Galaxy S9 release date in mid-March. It's also important to keep in mind that a faster iPhone X2 will likely come out before the last Snapdragon 845 phone launches, the Google Pixel 3.
But Geekbench is only one benchmark test. We found that the Snapdragon 845 to best every phone, including the iPhone X, in the Antutu benchmarking app.
Antutu score (higher is better)
Apple A11 Bionic (iPhone X): 228,360 (12% slower)
Snapdragon 845 (Galaxy S9): 256,206 (best)
The Samsung Galaxy S9 (and any Snapdragon 845 phone) would be 12% faster than the iPhone X, according to this particular test. However, we've found that the Antutu less than reliable in the past, so take these numbers with a grain of salt. What's the difference? Antutu lumps together more components: the CPU GPU, RAM, UX and IO (storage). Geekbench focuses on processing power.
This appears to be good news for the souped-up Samsung Galaxy S9 graphics chip compared to Apple's iPhone X GPU.
Real-world performance will be where the Galaxy S9 proves whether or not it's faster than a new iPhone. We'll find out where it stands at the end of this month, but the numbers so far sound promising.
6. HDR video will catch your eye
Samsung is already hyping the Galaxy S9 camera, with a 12MP rear sensor that has a variable aperture of f/1.5 (great for low light) to f/2.4 (ideal for improved depth of field). The S9 Plus may have a dual-lens camera, too.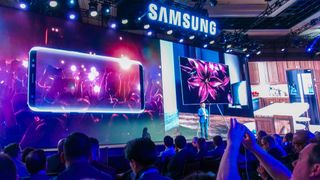 The Snapdragon 845's ability to capture HDR video recording is going to be the standout feature for anyone who captures footage on their smartphone. It'll be able to soak up 64 times the color data compared to standard sensors.
Samsung has always had excellent smartphone cameras (second to only the Google Pixel 2 and Pixel 2 XL on our best camera phone list). But the next big advancement beyond 4K video is going to be vivid color and increased contrast care of HDR video recording.
More Galaxy S9 hints to come
The Snapdragon 845 chip gives us a small 10nm-sized window into the forthcoming Samsung Galaxy S9 news ahead of MWC 2018. Its performance, so far, bests every Android phone we've tested so far.
The S9 is set up to be 30% faster than last year's phones based on our tests of Qualcomm's reference phone, and its specs tell us what benchmarking apps cannot: it'll likely yield better battery life and be able to capture HDR video, if Samsung makes full use of the chip's capabilities.
We'll know if that happens on February 25, when the first phone expected to get Qualcomm's Snapdragon 845 chip gets revealed to the world.