If you've had an eye on one of Purple's range of mattresses as your next bed, you may well be waiting for the Memorial Day mattress sales to make your move. That's very wise, because Purple mattress sales don't run every day of the year, and big sales events such as Memorial Day are usually the best time to get the lowest prices across the Purple range.
However this year there's a slight problem if you already had your perfect Purple mattress all picked out and ready to buy in the Memorial Day sales: Purple has launched its sale, but it's also shaken up its range with nine new mattresses, which means the model you're after might not be there any more.
So, what's the deal with the new mattress? Basically Purple has replaced its entire Premium and Luxe ranges with new models; the Essential collection, consisting of the NewDay, Purple and Purple Plus mattresses remains the same.
There are technically six new mattresses in the Purple Premium collection, but in actual fact it's three new models with two firmness options. The Purple Hybrid, Hybrid Premier 3 and Hybrid Premier 4 have been replaced by the Purple Restore, RestorePlus and RestorePremier, all in soft and firm options.
We've done a little cross-checking and it seems to us that each of the new mattresses are upgrades to the previous hybrids, with improvements including enhanced edge support and an antimicrobial finish, plus of course a completely revamped outer cover.
The same seems to be true of its Luxe collection; replacing the Supreme, Deluxe and Grand, there's the Purple Rejuvenate, RejuvenatePlus and RejuvenatePremier. The Luxe collection is a relatively new range that's only just become available to buy online, with prices starting at $4,495 for the Rejuvenate in a twin size (and going up to $8,995 for a king size RejuvenatePremier. These super deep beds feature Purple's most advanced GelFlex grid, the 2.5-inch GelFlex Grid Plus, as well as a Euro-top quilted cover, multiple comfort and support layers and a coil core, as well as redesigned covers.
In the Purple Memorial Day sale there are discounts across the entire range. In the Essential collection there's $100 off the Purple NewDay and $200 off the Purple and Purple Plus mattresses. In the Premium collection you'll get $200 off the Purple Restore, and $300 off the Purple RestorePlus and RestorePremier. And if you can stretch to the Luxe collection, there's $500 off all three options. There's also $500 off the Ascent adjustable base, $300 off the Sleep Genius adjustable base, as well as 25% off bedding bundles. In short, this is an excellent opportunity to save at one of the best mattress brands; here are three of our top picks right now: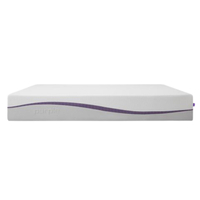 Purple Plus mattress: was $1,495 now from $1,295 at Purple
Our top Purple mattress pick for most people is the Purple Plus, as it's a great one-size-fits-all option. Its Gel-Flex provides just the right mix of pressure relief and comfort, and it'll suit pretty much all sleeping styles (although it's not supportive enough for sleepers over 230lbs). Our Purple Plus mattress guide can tell you more, and right now there's $200 off, getting you a queen size for $1,695.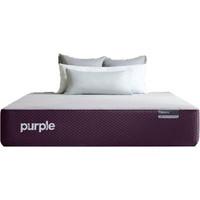 Purple Restore mattress: was $1,845 now from $1,645 at Purple
The Purple Restore is an updated version of the Purple Hybrid mattress, with a new antimicrobial cover and enhanced edge support among its improvements over the older model, and it's available in soft and firm version. Despite just going on sale it's included in the Purple Memorial Day mattress sale, with $200 off all sizes, which means you can buy a queen for $2,095.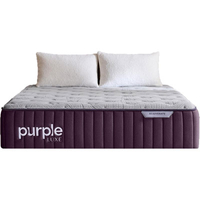 Purple Rejuvenate mattress: was $5,495 now from $4,995 at Purple
The most affordable option in Purple's Luxe range of high-end mattresses is the Rejuvenate, a 15.5-inch firm mattress with a quilted Euro top and a 2.5-inch GelFlex Grid Plus, as well as multiple foam layers and three-zone coil core. It looks like a great choice if you want to splurge on a luxury mattress, and the entire Luxe range has $500 off in the Purple Memorial Day sale, which means you can buy a queen size Rejuvenate for $4,995.
Oh, yes, we mentioned that old mattresses may not be there any more; at the time of writing the previous Luxe models seem to be gone, with their URLs redirecting to the new models. However it still appears to be possible to buy the old Purple Hybrid, Purple Hybrid Premier 3 and Purple Hybrid Premier 4. But should you?
We suggest not; pretty much all of the new Premium models are cheaper than the old ones, and we're talking MSRP as well as sale price. As far as we can see there's one price exception: the Premier Hybrid 3 is cheaper in a full size than the equivalent RestorePlus. But even then we'd still opt for the RestorePlus, simply because of the improved features, especially the enhanced edge support.