Purple mattress deals for December: last chance for big discounts in the extended Black Friday sale
Deals
Contributions from
last updated
Purple's (very) extended Black Friday sale is still live, but surely not for much longer? Here are the best mattress deals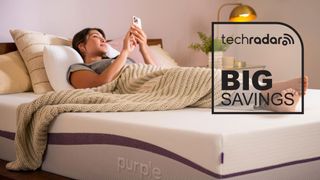 (Image credit: Purple / Future)
If you're on the hunt for a Purple mattress sale or deal, we have good news: the Black Friday sale is still available, with discounts across the full Purple range. The big day was a while ago now, so we're expecting these offers to expire any day now. You'll find savings on all models, with up to $500 off (or more, if you bundle with a bed frame). Purple doesn't always have a sale on, and it's particularly rare to see the full range on sale at once.
We rate Purple as one of the best mattress brands on the market, and you'll find its beds in our best mattress for side sleepers and best cooling mattress guides. The USP here is a bouncy, stretchy gel grid layer that melds to your shape to provide custom support, without trapping heat like memory foams can. What mattress works best for you is a subjective matter, but Purple gives you a 100-night trial on all its beds with the option to return your mattress if you don't get on with it. There's also a 10-year warranty as standard. Scroll down for a closer look at the best deals in this month's Purple mattress sale.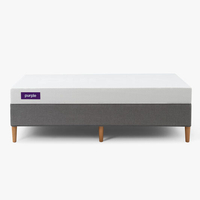 Purple mattress: was $799 now from $599 at Purple
$200 off! Part of the Essential collection, the Purple mattress has a 2-inch grid and offers a medium-firm, stable sleep surface (for something more cushioned, opt to the Purple Plus). It's not as advanced as the pricier models in the range, but still offers excellent pressure relief. It's more cushioned and thicker than the cheaper NewDay. We also rate it amongst the best cooling mattresses around. The current deal knocks $200 off all sizes, with a queen coming in at $1,199. This is an offer that's cropped up a few times in 2023, but we've never seen it cheaper.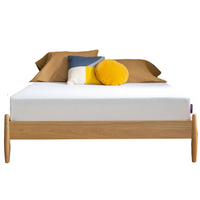 Purple NewDay mattress: was $695 now from $495 at Purple
Up to $300 off! The NewDay is Purple's most budget-friendly mattress. The two-layer design is the firmest of the non-hybrids and still has that GelFlex Grid for pressure relief, so it might be good for stomach or back sleepers who stuffer from sore joints but still need good spinal support. At 8" tall it's not the most luxurious, so perhaps a good choice for a spare room. The current sale knocks up to $300 off, but only the twin and queen are discounted.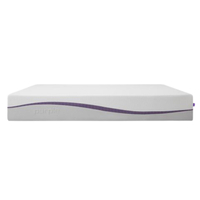 Purple Plus mattress: was $1,495 now from $1,195 at Purple
$300 off all sizes! The Purple Plus adds an extra foam layer to make it more cushioned than the Original, and to amp up the pressure relief. This one has a medium sleep feel. Elsewhere, you've still got the same 2" Purple Grid. The Hybrids are more advanced, but more expensive. The current Purple sale takes $300 off all sizes, with a queen coming in at $1,595. That's not quite the best price we've seen – a $400 off deal crops up a few times each year, typically after major sales events.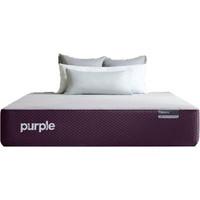 Purple Restore mattress: was $1,845 now from $1,545 at Purple
The Purple Restore is an updated version of the Purple Hybrid mattress, with a new antimicrobial cover and enhanced edge support among its improvements over the older model, and it's available in soft and firm version. In the Purple mattress sale there's $300 off all sizes, which means you can buy a queen for $1,995. Alternatively see the RestorePlus and RestorePremier in the same range, which also have $300 off.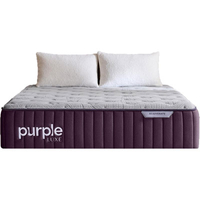 Purple Rejuvenate mattress: was $4,495 now from $3,995 at Purple
The most affordable option in Purple's Luxe range of high-end mattresses is the Rejuvenate, a 15.5-inch firm mattress with a quilted Euro top and a 2.5-inch GelFlex Grid Plus, as well as multiple foam layers and three-zone coil core. It looks like a great choice if you want to splurge on a luxury mattress, and the entire Luxe range has $500 off in the Purple sale, which means you can buy a queen size Rejuvenate for $4,995, or you could instead check out the RejuvenatePlus and RejuvenatePremier.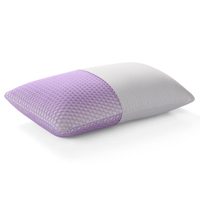 Purple mattress bedding sale: get up to 25% off pillows, sheets and bundles Purple
Looking to upgrade your pillows or bed sheets for less? The current Purple mattress sale takes up to 25% off pillows, sheets and bedding bundles – which is great opportunity to pick up the Purple Harmony Pillow, one of the best pillows around, with a sheet set included.
Which Purple mattress should you choose?
This depends on why you're buying a new mattress, and how much budget you have to spend. All Purple mattresses contain the company's patented GelFlex Grid; a breathable layer of gel – either two, three or four inches thick – that instantly adapts to your sleeping position and springs back into place as you readjust throughout the night. Beyond that, there are a few notable differences between the six mattresses Purple makes.
If you're on a budget, the Purple NewDay is the company's cheapest offering. It features a two-inch GelFlex grid over a durable base foam and it's one of Purple's firmest options, and while at eight inches deep it's not especially luxurious, it's a good choice for a spare bed, with prices starting at $695.
Next up is the Purple Original, which contains the same GelFlex Grid technology as the brand's more expensive hybrids, and is ideal for reducing pressure points on your hips, shoulders and back as you sleep. It also excels when it comes to temperature regulation, earning it a spot in our best cooling mattress ranking. It's hypoallergenic, non-toxic and covered by a 10-year warranty. For a top-rated alternative in either all-foam or hybrid design, also consider the Casper Original, where a queen is normally priced from $1,195 in the Casper mattress sale (but currently undercuts Purple's price by $300).
For a magic combination of firmness where you need more support and softness where you need to be cradled, consider the Purple Plus mattress instead, priced from $1,495 and with a queen costing $1,895. It has an extra layer of premium foam, dishing out higher levels of comfort and responsiveness; find out more about it in our guide: Should I buy the Purple Plus mattress? It's still breathable, but if you sleep very hot look at the Purple hybrids. For a cheaper alternative, consider the Cocoon by Sealy Chill cooling mattress, on sale for $799 for a queen size in the latest Cocoon by Sealy mattress sale.
Next up is Purple's Premium Collection, consisting of the Restore, RestorePlus and RestorePremier mattresses. These hybrids feature GelFlex Grids, foam and edge-to-edge coils, with more luxurious builds in the more expensive models. Prices start at $1,545 for the Restore, while the premium RestorePremier starts at $3,045.
And at the top of the range is the Purple Luxe Collection. This one's made up of the Rejuvenate, RejuvenatePlus and RejuvenatePremier, and they feature extra cushioning up top for ultimate comfort. The Rejuvenate starts at $4,495, and the RejuvenatePremier is available from $6,495.
Purple also makes the Purple Kids Mattress for children aged up to 14, and priced $699 when not on sale. It has a softer feel than the twin size Purple Original, and uses the brand's No-Pressure Support to respond to their changing sleep positions and keep them cool.
Purple also makes a range of bedding, including pillows, sheets, and one of our top choices for the best mattress protectors with great waterproofing. It doesn't make a mattress topper just yet, but we'll let you know if that changes.
More of the best Purple mattress deals and prices
1. Purple Mattress deals
Purple's original mattress is still as popular as ever
Sizes: Twin, Twin XL, Full, Queen, King, California King, Split King | Depth: 9.25 inches | Turn: No | materials: SoftFlex Cover, Purple GelFlex Grid, Comfort Foam | Firmness: Medium-firm | Trial: 100 nights | Warranty: 10 years | MSRP: $799 – $1,998
Purple's cheapest mattress
Good pressure relief
Cooling feel
Thinner than average
The Original Purple Mattress is the cheapest option in the main range and makes use of the brand's award-winning GelFlex Grid technology at a lower price point. This medium-firm bed-in-a-box strikes a good balance between comfort and support, and is made using two-inches of Purple GelFlexGrid, plus two layers of Comfort Foam to help you sink into a soothing slumber.
Like all Purple mattresses the Original is hypoallergenic and non-toxic. The only downside is that it's slightly thinner than average mattresses at 9.5 inches, but you're still getting a lot of mattress tech for the money here.
The best sale offer we've seen on the Original this year is $600 off in its June sale, reducing the price of a queen size to $995 (was $1,399). Right now there aren't any discounts available, so we'd suggest hanging on until Presidents' Day.
2. Purple Plus Mattress deals
The best Purple mattress for a balance of support and softness
Sizes: Twin, Twin XL, Full, Queen, King, California King, Split King | Depth: 11 inches | Turn: No | Materials: SoftFlex Cover, Purple GelFlex Grid, Premium Comfort Foam, Original Comfort Foam | Firmness: Medium | Trial: 100 nights | Warranty: 10 years | MSRP: $1,199 – $2,898
More responsive than the Original
Firmer lumbar support
Cradles the shoulders during sleep
Edge support could be better