There's a big Purple mattress sale on right now, with discounts between $200 and $300 (opens in new tab) available on most of its mattresses, as well as $500 off Purple's Ascent Adjustable Base. So if you're looking to buy an entire bed rather than just a mattress, you could save $800 when you buy, and no Purple mattress promo code required.
If you're familiar with Purple, you'll know that it's not one of those mattress brands that has sales on throughout the year. At best you'll maybe find one or two of its mattresses discounted, which makes its current Spring Sale worth noticing, as most of its mattresses have money off right now. The Purple NewDay Mattress has $100 off, there's $200 Purple Mattress and Purple Plus Mattress, and its premium hybrid mattresses are all reduced by $300. The only mattresses not discounted are the Kid's Purple Mattress and Purple's Luxe Collection of super high-end beds (although if you're shopping for one of those, a few hundred dollars off isn't really going to make much difference).
We're big fans of Purple's mattresses; you'll find them among our rankings of the best mattress for side sleepers and best cooling mattresses, not to mention our general best mattress guide. But because there's a lot of subjectivity in mattress preference, you'll be pleased to know that Purple gives you 100 nights to try your new mattress at home and return it for free if it's not right for you. Purple mattresses also come with a 10-year warranty as standard.
Scroll down for a closer look at this month's Purple mattress sale – or, if you want to see what other discounts are available, see our general guide to the best mattress sales and deals.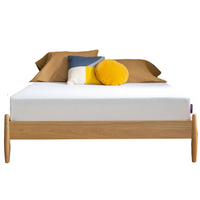 (opens in new tab)
Purple NewDay mattress: was $995 now from $895 at Purple (opens in new tab)
Added to the lineup in fall 2022, the NewDay is Purple's most budget-friendly mattress. The two-layer design is the firmest of the non-hybrids and still has that GelFlex Grid for pressure relief, so it might be good for stomach or back sleepers who stuffer from sore joints but still need good spinal support. At 8" tall it's not the most luxurious, so perhaps a good choice for a spare room (note there's no twin option). The current sale knocks $100 off all sizes, with a queen dropping to $995.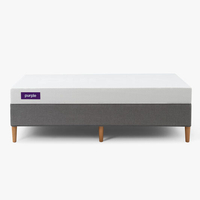 (opens in new tab)
Purple mattress: was $799 now from $599 at Purple (opens in new tab)
Part of the Original collection, the Purple mattress has a 2-inch grid and offers a medium-firm, stable sleep surface (for something more cushioned, opt to the Purple Plus). It's not as advanced as the pricier models in the range, but still offers excellent pressure relief. It's more cushioned and thicker than the cheaper NewDay. We also rate it amongst the best cooling mattresses around. With the current deal, there's $200 off all sizes, with a queen coming in at $1,199.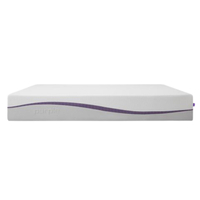 (opens in new tab)
Purple Plus mattress: was $1,499 now from $1,299 at Purple (opens in new tab)
The Purple Plus adds an extra foam layer to make it more cushioned than the Original, and amp up the pressure relief. This one has a medium sleep feel. Elsewhere, you've still got the same 2" Purple Grid. The Hybrids are more advanced, but more expensive. The current offer takes $200 off all sizes, with a queen coming in at $1,699.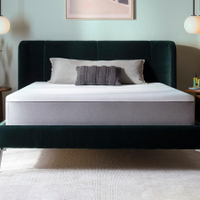 (opens in new tab)
Purple Hybrid Mattress: was $1,899 now from $1,599 at Purple (opens in new tab)
This is the cheapest of the Hybrids, which combine the iconic Purple Grid with a coil layer to make these mattresses easier to move about on. It's the firmest option, so choose the Hybrid 3 or 4 if you want less support and more pressure relief. There's $300 off this line, and a queen has dropped in price to $2,099.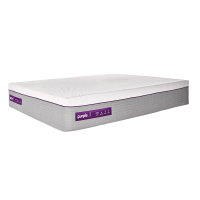 (opens in new tab)
Purple Hybrid Premier 3: was $2,499 now from $2,199 at Purple (opens in new tab)
The Premier 3 sits in the middle of Purple's hybrid range in terms of firmness – this one delivers a medium-soft feel with a balance of support, pressure relief and cooling. It comes with a 3-inch GelFlex Grid. In the current Purple sale, you'll score $300 off, with the queen dropping to $2,699.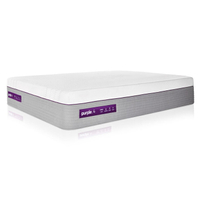 (opens in new tab)
Purple Hybrid Premier 4: was $3,199 now from $2,899 at Purple (opens in new tab)
The Premier 4 is the softest hybrid option, with a 4-inch grid offering unbeaten pressure relief and cushioning, as well as improved airflow. It's the priciest of Purple's mattress, but has attracted the biggest discount, with $300 off all sizes. A queen is $3,499 with this offer.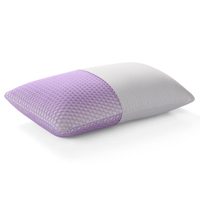 (opens in new tab)
Purple mattress bedding sale: get 25% off sleep bundles at Purple (opens in new tab)
Looking to upgrade your pillows or bed sheets for less? The current Purple mattress sale takes 25% off various bedding bundles – which is great opportunity to pick up the Purple Harmony Pillow, one of our top picks of this year's best pillows, with sheets or a mattress protector.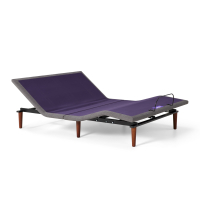 (opens in new tab)
Purple Ascent Adjustable Base sale: was $1,399 now from $899 at Purple (opens in new tab)
Save $500 - An adjustable bed can really boost your sleep comfort and open you up to a new world of sleep and relaxation positions, including zero gravity - the best position to reduce all pressure on your body and to create a sense of weightlessness as you rest. We also love the anti-snore preset, which raises your head slightly to reduce snoring. The Purple Ascent Adjustable Base comes in five sizes, with a queen discounted to $999 (was $1,499). Combine the base with the Purple Plus Mattress right now and you can save as much as $800.
Is Black Friday the best time to buy a Purple mattress?
Short answer: it depends. Taken individually, there we have seen lower prices on certain models and sizes – for instance, in October 2022, the Purple Plus got a blanket $400 off discount, whereas the Black Friday offer only took $200 off. Sometimes, discounts will be tiered, so you'd be getting a better price on a larger mattress but a worse price on a smaller one.
Another thing to note is that Black Friday is a relatively rare instance of the brand discounting all of its mattresses at once (it also happens on other shopping event days; the next big opportunity to save is likely to be Memorial Day in a couple of months). Unlike other bed brands, Purple doesn't always have a sale on, so you might need to hang around several months to see a deal on the model you've got your eye on. Shopping on Black Friday, you've got discounts across the board.
Which Purple mattress should you choose?
This depends on why you're buying a new mattress, and how much budget you have to spend. All Purple mattresses contain the company's patented GelFlex Grid; a breathable layer of gel – either two, three or four inches thick – that instantly adapts to your sleeping position and springs back into place as you readjust throughout the night. Beyond that, there are a few notable differences between the six mattresses Purple makes.
If you want the cheapest Purple mattress then look at the Purple Original. It contains the same GelFlex Grid technology as the brand's more expensive hybrids, and is ideal for reducing pressure points on your hips, shoulders and back as you sleep. It also excels when it comes to temperature regulation, earning it a spot in our best cooling mattress ranking. It's hypoallergenic, non-toxic and covered by a 10-year warranty. For a top-rated alternative in either all-foam or hybrid design, also consider the Casper Original, where a queen is normally priced from $1,195 in the Casper mattress sale (but currently undercuts Purple's price by $300).
For a magic combination of firmness where you need more support and softness where you need to be cradled, consider the Purple Plus mattress instead, priced from $1,199 and with a queen costing $1,899. It has an extra layer of premium foam, dishing out higher levels of comfort and responsiveness; find out more about it in our guide: Should I buy the Purple Plus mattress? It's still breathable, but if you sleep very hot look at the Purple hybrids. For a cheaper alternative, consider the Cocoon by Sealy Chill cooling mattress, on sale for $799 for a queen size in the latest Cocoon by Sealy mattress sale.
There are three in total, starting with the Purple Hybrid mattress (normally priced from $1,899 when not on sale), followed by the Purple Hybrid Premier 3 mattress (normally priced from $2,499) and the Hybrid Premier 4 (priced from $3,199 when not discounted). They each offer more pressure relief and cooling compared to the Purple Original and Purple Plus, but at more premium prices. And if you're on a budget or in search for a mattress for your spare room, the Purple NewDay is now the company's cheapest offering. All come on a 100-night risk-free trial, with free shipping and returns.
Purple also makes the Purple Kids Mattress for children aged up to 14, and priced $699 when not on sale. It has a softer feel than the twin size Purple Original, and uses the brand's No-Pressure Support to respond to their changing sleep positions and keep them cool.
If you're looking for significantly more support, as well as slightly better air circulation, go for the Purple Hybrid Mattress, whose combination of foam and coil springs delivers a premium slumber – albeit at a more premium price.
Purple also makes a range of bedding, including pillows, sheets, and one of our top choices for the best mattress protectors with great waterproofing. It doesn't make a mattress topper just yet, but we'll let you know if that changes.
More of the best Purple mattress deals and prices
The Original Purple Mattress is the cheapest option in the main range and makes use of the brand's award-winning GelFlex Grid technology at a lower price point. This medium-firm bed-in-a-box strikes a good balance between comfort and support, and is made using two-inches of Purple GelFlexGrid, plus two layers of Comfort Foam to help you sink into a soothing slumber.
Like all Purple mattresses the Original is hypoallergenic and non-toxic. The only downside is that it's slightly thinner than average mattresses at 9.5 inches, but you're still getting a lot of mattress tech for the money here.
The best sale offer we've seen on the Original this year is $600 off in its June sale, reducing the price of a queen size to $995 (was $1,399). Right now there aren't any discounts available, so we'd suggest hanging on until Presidents' Day.
The Purple Plus Mattress is a comfort upgrade on the Original and boasts two layers of toxin-free Original Comfort Foam augmented by a layer of Premium Comfort Foam. As well as making the mattress slightly softer and cradling around the shoulders, the Purple Plus delivers firmer lumbar support and a higher level of pressure relief all over.
A queen size Purple Plus mattress normally costs $1,899 when not on sale, but we've seen discounts ranging from $150 to $200 on this one in the past, and right now you can get $400 off all sizes, which is a deal you don't want to miss. We'd recommend buying the Purple Plus if you want better lower back support, but enjoy a cradling sensation around your shoulders. In other words, it delivers a surprising combination of softness where you want it, and firmness where you need it.
The Purple Plus is the second-cheapest option in the brand's range and when discounted it's a more affordable alternative to the Saatva Classic, our top-rated hybrid mattress (see our Saatva Classic mattress review for more), normally priced $1,695 for a queen when not in the Saatva mattress sale. The Purple Plus is a big jump in price compared to the Original, costing $1,899 for a queen when not on sale, but there are extra helpings of premium materials at play here so we'd expect the higher price tag.
As the name suggests, the Purple Hybrid Mattress differs from the Original and the Purple Plus in that it features foam (transition foam) and individually wrapped stainless steel coils. Together, these create a firmer, more supportive and bouncier mattress The Purple Hybrid also contains a two-inch GelFlex Grid, again there to ensure good pressure relief on your major impact points when you lie down.

The Purple Hybrid Mattress normally costs from $1,899 when not on sale, with a queen size priced $2,399. Although that's a considerable outlay, it's well worth spending the money if you require additional support when you sleep. It's still cheaper than luxury rivals such as the GhostBed Luxe and the Nolah Evolution 15, priced from $1,599 when not featured in the Nolah mattress sales and deals.
The Purple Hybrid is also covered by a 10-year warranty and comes on a 100-night sleep trial, with free returns if you change your mind.
The latest addition to the Purple mattress range, the NewDay arrived in fall 2022 and is the company's most budget-friendly mattress. It's not the most luxurious option, as you might expect; while it does feature the trademark GelFlex Grid for pressure relief, there's just a single layer of foam beneath it.
At just eight inches deep it feels like more of a mattress for your spare room than one you'd want to sleep on every night, but if you're on a budget it could still be the right option for you, especially if you value a mattress with a firm feel. And if you're picky about mattress size, the lack of options with the NewDay may be a turn-off for you as it's only available in Full, Queen and King sizes.
That said, it comes at a great price: $995 for a Full, $1,095 for a Queen and $1,395 for a King size mattress. And like Purple's more premium mattresses, the NewDay comes with a 100-night sleep trial with free returns, and a 10-year warranty.
Do you need a Purple mattress promo code?
In most cases you don't need to input a Purple promo code to save on its mattresses. Simply choose the model you want and the sale price will be automatically displayed if the bed is on sale. If it's a different type of deal, such as free bedding, that will be displayed too and you'll see at a glance how much your free bedding is worth.
As for third-party Purple mattress discount codes, these can be used but they can't be stacked with one of Purple's own deals. So make sure you pick the one that gives you the biggest saving and doesn't make you ineligible for the brand's risk-free trial period.
Purple Black Friday and Cyber Monday mattress deal: is it any good?
Purple kicked off its Black Friday 2022 sale in the second week of November, with discounts across the full range. There was $100 off all sizes of the Purple NewDay (a budget-friendly option that joined the range in fall 2022) and the Original, $200 off all sizes of the Purple Plus and Purple Hybrid, and $300 off the Hybrid Premier 3 and 4. Here's the pricing for the Purple and Purple Plus from Black Friday 2022:
Twin: Purple $699 (was $799); Plus $1,299 (was $1,499)
Full: Purple $1,099 (was $1,199); Plus $1,549 (was $1,749)
Queen: Purple $1,299 (was $1,399); Plus $1,699 (was $1,899)
King: Purple $1,699 (was $1,799); Plus $2,099 (was $2,299)
This is a very similar approach to what we saw in 2021, although then the discounts were tiered based on size. Last year, there was up to $100 off a Purple or Purple Plus Mattress, or $300 when bundled with a Purple bed base. The Purple Hybrid Mattress went up to $200, or $400 if you bought the bed base as well. Those Purple mattress deals didn't include any free gifts.
Generally, it's safe to expect the biggest discounts on the pricier Purple Hybrid range, with smaller deals on the cheaper original line. Taking each mattress individually, we've seen better price drops than that over 2022.
Read more: