The Lumia 810 will be exclusive to T-Mobile's network in the U.S. The carrier hasn't yet started talking about release date or price, but has released the full hardware specs for the phone.
RIM demoes BB10, says to expect it Q1 2013
RIM CIO Robin Bienfait and Jeff Gadway, senior brand and marketing communications manager at RIM, talked up the company's upcoming OS, pointing to how it will revolutionize not just devices and OS's, but how users interact with their mobile machines.
It's inching closer to completion and final functionality, so look for it early next year.
Hands-on with the LG Optimus L9
On the show floor, LG unveiled the latest addition to its L-series of smartphones, the LG Optimus L9. This 4G capable phone will launch exclusively with T-Mobile.
The LG Optimus L9 packs a 1GHz dual-core processor and 1GB of RAM. Those specs put it heads and tails above its predecessor, the LG Optimus L7.
Hands-on with the HTC One VX
After the release of the awesome HTC One X, HTC is already refreshing its smartphone lineup. We got our hands on the HTC One VX, the budget minded but peppy handset with a 4.5 inch screen.
In the US, HTC's new line of mobile phones will be exclusive to AT&T. That's not just the One X+ and One VX, but also the Windows Phone 8X. They're all stylish devices with impressive specs.
Verizon coming up on big 4G LTE milestone
Oct. 18 is a day of celebration for Verizon as it rolls out its 400th (and then some) 4G LTE market, the carrier announced at MobileCon 2012 Tuesday.
Expect to see AWS devices and Voice over LTE in the coming year, too, while 4G LTE looks to take up as much spectrum space as 3G, the company's CTO said.
Sprint announces quartet of 4G LTE devices
Sprint came out swinging during the first official day of MobileCON 2012, revealing it will add four new devices to its lineup.
Among the gadgets are the Samsung Galaxy Tab 2 10.1 and LG Optimus G, plus a nifty Tri-Mode USB and the QWERTY-carrying LG Mach.
Before the kickoff of MobileCon 2012, TechRadar created a list of products and news that we hoped to see at the CTIA-powered conference. Take a look at the 10 things we wanted to see at MobileCon.
1. Keeping up with the iPhone 5
The elephant on the exhibit floor and in the conference rooms will be how to compete with the iPhone 5. Apple, which won't be at MobileCon 2012, released the phone of the year (at least from a consumer perspective) and companies at this conference, like RIM, LG, Motorola, and HTC, need to lay the groundwork for a fruitful future moving forward.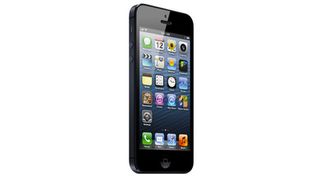 Will introducing devices with features like NFC (which the iPhone 5 lacks), better maps (for which iOS 6 have been universally panned), and better coverage (we'll get to 4G LTE later on) be the ways these manufacturers at least stay in the same waters as Apple's latest offering?
We'll keep our eyes peeled for how carriers who don't have the iPhone 5 (here's looking at you, T-Mobile and Boost Mobile) and makers who don't produce iPhones can keep up with the hottest device to land in a very long time.
2. The future of NFC
The iPhone 5 is here, sans NFC. A bit of a surprise, considering those early reports that swore up and down that the chip had been spotted in Apple's new baby. It's even more surprising since iOS 6 introduced Passbook, an app that seemed perfect for near field communication. Perhaps Apple's distribution of the new OS to so many old iDevices made reliance on NFC impossible?
Does Apple's choice not to embrace NFC spell trouble for the technology, or does it create an opportunity for its competitors? With Google Wallet, Android may have the chance to lay down an infrastructure before its Cupertino competitors. With the show's focus on enterprise-level mobile solutions, MobileCon 2012 could be the place to unveil the beginnings of such an ecosystem.