For those of you looking for a new fibre broadband deal, we might have found exactly what you're after.
Right now you can get Virgin Media's M125 Full Fibre broadband for just £26.50 a month. This package offers impressive 132Mbps average download speeds and it doesn't have any setup fees. Plus, when you sign up for an 18-month contract, you can get £50 of bill credit included.
With this speedy fibre internet, the unlimited data and Virgin's dependable connectivity, even the busiest of households will be able to stream in UHD, game online, browse and download, all from multiple devices at once. To add to this, any existing O2 customers will also be able to benefit from extra perks and experiences via O2 Priority.
When the 18-month contract comes to an end, the monthly cost goes up to £44 a month, but it might be the case you can agree a new deal before this time. That said, if you think this might be a little beyond your budget, or you want a different download speed, check out our best broadband deals guide to see what else is available right now.
OUR VIRGIN MEDIA BROADBAND DEAL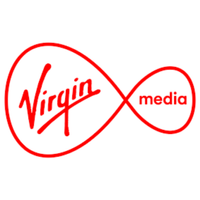 Virgin Media M125 Fibre Broadband | £26.50 per month | 132Mbps | 18-month contract | No upfront fees | Unlimited data | +£50 bill credit
This deal will see you get Virgin Media's fast M125 Fibre Broadband that gives average download speeds of 132Mbps for just £26.50 with no upfront fees. You also get unlimited data, Virgin's class-leading WiFi Hub and £50 in bill credit when you sign up for it. The deal is on an 18-month contract and can be a top choice for pretty much any size of household where multiple devices are used. As an added bonus, O2 customers can also get extra perks with O2 Priority. Eligibility for this deal is subject to your property's access to Virgin Media's cable network.
Why choose Virgin Media?
Virgin Media is one of the country's best broadband providers, with millions of satisfied customers - and this is largely thanks to the wealth of excellent packages and its top tech and quality services.
Alongside the example in our above deal, Virgin has a wide range of different fibre broadband speeds, which it provides through its own cable network. It doesn't offer an ADSL speed and its slowest tariff is its M50 (54Mbps) option. This then goes up through several options to its top ultrafast Gig1 - a package that gives speeds in excess of 1130Mbps, and one which Virgin claims is the fastest from a major UK broadband provider.
Virgin generally scores well for customer services and often gets praised for its array of tech. This includes the WiFi Hub we mentioned above, which has 'intelligent WiFi' that optimises a customer's broadband connection automatically to boost performance.
Virgin Media is also a rival for the likes of Sky and BT when it comes to broadband and TV bundles, as it offers its own channel packages that can be tailored to suit different viewing needs.
Despite all of this, Virgin can still be beyond the budgets of some consumers, plus you can only get its broadband if its cable network is rolled out in your area. So if you are looking for something a bit cheaper, or you know you can't access its broadband, simply enter your postcode into our widget below and we'll show you what you will be able to get in your location.
Loading...