Full list of Xbox One launch games: what to play on day one
Plenty of Xbox launch day goodness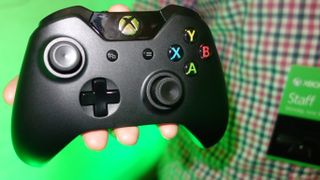 The PS4 hit shelves last week, and now that the Xbox One is out, the next generation of video games is really here.
You have to be a pretty big Microsoft fan to wait the extra week and pay $100 extra for the Xbox One - or you just really like the new Kinect sensor's voice commands.
Either way, you've got plenty of games to play on Xbox One today.
The new Microsoft console's day one slate is just as good as the PS4's, with less indie games but more exclusive triple-A titles.
Whether racers, action games, shooters, or punching your friends in the face is your thing, the Xbox One has something for you on day one. Here's a full list of everything that's available, and don't forget to say, "Xbox, record that!"
Xbox One day one games
Ryse: Son of Rome
For some people this ancient Rome-set action game will be the quintessential Xbox One exclusive, with its gorgeous graphics, brutal violence and overall high production value. Read some reviews first, though, because they're definitely coming in mixed.
Dead Rising 3
Dead Rising 3 impresses immensely with its huge numbers of zombies and its seemingly endless weapon combinations. If you've ever wanted to combine a chainsaw with a sledgehammer this is the game for you - and it's an Xbox One exclusive.
Killer Instinct
A revival of a classic fighting game series, the new Killer Instinct is a deep and challenging game found only on Xbox One. It's too about about all the microtransactions, but there's a good fighting game in there anyway.
LocoCycle
LocoCycle is an arcadey action game in which a sentient motorcycle drags a poor mechanic along the pavement mile after mile. It's almost worth it for the intro video alone. Almost.
Kinect Sports Rivals Preseason
This is part demo and part episodic game; it's only got one mini game until the full game launches next year, but it will have monthly challenges until then. And it's free!
LEGO Marvel Super Heroes
Combining LEGOs and Marvel super heroes - what's not to like? It includes over 100 Marvel characters.
Crimson Dragon
Crimson Dragon is a linear on-rails dragon-riding game from the maker of the original Panzer Dragoon series. For fans of Star Fox 64, and another Xbox One exclusive.
Need for Speed Rivals
The new Need for Speed is available on both next-gen platforms (as well as the current ones) and it doesn't feature Aaron Paul, but on Xbox One it does support the controller's fun new impulse triggers. They vibrate!
Powerstar Golf
Another Xbox One exclusive, for fans of Hot Shots Golf and other arcadey golf games.
Xbox Fitness
Microsoft promises that Xbox Fitness will let you "work out smarter with famous trainers" and that it's "the future of fitness." We don't know about that, but we do know that it tracks your progress using Kinect, which is cool.
Zoo Tycoon
We've heard that Zoo Tycoon is surprisingly deep for a game called Zoo Tycoon. It might be worth a look.
Forza Motorsport 5
Forza fills the realistic driving simulator niche on Microsoft's platforms, and it does it well. If this is your thing then Forza 5 is probably a system-seller for you.
Skylanders Swap Force
For the kid in all of us, Skylanders requires players to buy physical toys that they can then control in the game world. The newest version features two-part figurines whose top and bottom halves can be switched to swap powers.
Zumba Fitness World Party
If dancing your way to hardbody status is your thing then Zumba Fitness World Party is an obvious buy.
Madden 25
EA Sports didn't skimp on next-gen sports games. Like EA Sports' other Xbox One and PS4 games, Madden NFL 25 is built on the impressive new Ignite engine.
NBA Live 14
Review for NBA Live 14 haven't been great so far. Maybe it's best to stick with…
NBA 2K14
The NBA 2K series stuck around when NBA Live was on hiatus, and it's looking like even with Live back NBA 2K14 might be the better choice.
FIFA 14
If you live in any country other than the US or Canada then you are already playing FIFA 14. But it's prettier on next-gen!
Fighter Within
Ubisoft's other Xbox One launch game (besides Assassin's Creed IV) is a fighting game that only uses Kinect. With no controller option, kicking and punching is sure to be…well, something. It's sure to be something.
Angry Birds Star Wars
If you're not sick of Angry Birds yet, pick up the Star Wars-licensed version on Xbox One for the absurd price of $49.99. Or just play it free on Android. You know, whichever.
Assassin's Creed IV: Black Flag
This swashbuckling Assassin's Creed game launched earlier this month on Xbox 360 and PS3, but if you were waiting for the next-gen version to drop then now's the time to get back into the Animus.
Call of Duty: Ghosts
Again, Ghosts is out on other platforms already, but if you just had to wait for the next-gen version then today's your day.
Battlefield 4
EA DICE's signature war game returns for its fourth entry - and most importantly, the next-gen version features the 64-player battles that have always made the series superior on PC.
Just Dance 2014
The Xbox One version of Just Dance 2014 is probably the best version thanks to the new, more responsive and accurate Kinect sensor.
Don't forget to check out TechRadar's Xbox One review!
Sign up to receive daily breaking news, reviews, opinion, analysis, deals and more from the world of tech.
Michael Rougeau is a former freelance news writer for TechRadar. Studying at Goldsmiths, University of London, and Northeastern University, Michael has bylines at Kotaku, 1UP, G4, Complex Magazine, Digital Trends, GamesRadar, GameSpot, IFC, Animal New York, @Gamer, Inside the Magic, Comic Book Resources, Zap2It, TabTimes, GameZone, Cheat Code Central, Gameshark, Gameranx, The Industry, Debonair Mag, Kombo, and others.
Micheal also spent time as the Games Editor for Playboy.com, and was the managing editor at GameSpot before becoming an Animal Care Manager for Wags and Walks.