10 most exciting Xbox One games Microsoft revealed at E3 2017
Microsoft's most exciting E3 2017 games
Microsoft came to E3, saw and conquered everyone (so far) with Xbox One X, and the most powerful console in the world is bringing upgraded processing power, graphical oomph and the might of the cloud.
A new console must mean new games, and Microsoft hasn't disappointed, with one of the most impressive lineups ever.
We've covered all the big gaming reveals from Microsoft's keynote at E3 2017, including the racing prowess of Forza Motorsport 7, the MMO sea piracy of Sea of Thieves, and the undead open-world of State of Decay 2 and Anthem, the grandest multiplayer game BioWare has ever made. Welcome to the year of Xbox One X...
Assassin's Creed Origins
Leaked beyond belief, but still looking mighty impressive, Ubisoft's big franchise returns with Assassin's Creed Origins.
Set 3,000 years ago in Ancient Egypt, you play Bayek, a roving protector who helps form the beginnings of the Brotherhood. It runs in True 4K on Xbox One X and looks like the most graphical sound AC ever.
Origins is still a third-person affair full of sneaking and climbing, but there's a lot more RPG mechanics at play. Weapons can now be acquired in the field, each with unique stats and buffs.
That customisation also extends to your skills, with Ability Points (earned through levelling up) expanding your skill base. We see Bayek use an eagle to scout a fortress like a drone, as well as firing arrows slow-mo (a la Horizon: Zero Dawn). There's also no minimap – instead there's a compass-like metre. It hits Xbox One X and other next-gen consoles on 27 October 2017.
Sea of Thieves
Revealed in 2015, Rare's open-world MMO pirate sim is almost here, and Sea of Thieves looks good enough to steal running in True 4K on Xbox One X.
Partnering with a team of up to three other players, it's all about working towards a common goal. Sailing a ship requires multiple hands to work, while exploring islands for treasure means one of you will have to be defenceless while you lug treasure chests out of lairs filled with twisting corridors and undead skeletons.
Sea of Thieves is a shared world experience so you'll encounter other players as you explore countless islands and monuments. It's a PvP affair too, so expect to dual with cutlasses and pistols or go head-to-head with another ship crewed by an enemy team.
You can even board enemy ships and steal their treasure - or defend yours against invaders. You can even explore underwater, dodging sharks (and worse) as you loot sunken ships. Sea of Thieves is due in early 2018.
Middle-earth: Shadow of War
The follow-up to the brilliant Middle-earth: Shadow of Mordor, Shadow of War looks to expand everything the first game did - and then some!
Returning malcontent Talion and his Bright Lord alter-ego now possess a new Ring of Power and can use it to convert an entire army of orcs to take on the forces of a returned Sauron.
At the Microsoft show, we got to see Talion scouting out and converting high-level orcs in order to make his army strong enough to assault enemy-controlled fortresses.
The entire world is filled with characters unique to your playthrough, and any enemy can be brought to your side, shamed to decrease their level or empowered to make them stronger. Unique abilities possessed by these characters can also be absorbed temporarily, making sieges a far deeper affair each time. Shadow of War arrives on 10 October, 2017.
Anthem
Following the disappointment that was Mass Effect Andromeda, BioWare is leaving its known universes behind to create a new IP. Say hello to Anthem.
This first-person/third-person sci-fi MMORPG, first teased by EA on Saturday, features an open-world with a city hidden behind a giant wall. On one side thrives a post-apocalyptic community, on the other a land filled with monsters, loot and untold secrets.
You play a Freelancer, a roving mercenary who uses an augmented suit to take on a world of monsters that lies beyond the wall.
These exosuits are called Javelins - they're heavily customisable and come in a variety of types to suit different playstyles and support roles. Oh, and they've got jet packs!
Two have been revealed so far - the fast-moving Ranger and the heavy power of the Colossus. Enemies include the marauding Scars, and the world is filled with dynamic events that unlock brand new missions and experiences.
You can link up with other players in real-time, unlocking weapons and gear with unique stats (much like Destiny). In fact, there's a real Bungie feel here, but that's no bad thing considering how Destiny has changed connected online worlds on consoles. Anthem arrives in 2018.
Metro Exodus
The post-apocalyptic FPS series returns with another romp through the irradiated Russia of Dmitry Glukhovsky's ground-breaking novels.
Once again you play ranger Artyom, who teams up with a group of survivors to flee the shattered ruins of the Moscow Metro and embark on that titular Exodus into the dangerous wilderness of the Motherland.
According to Deep Silver, you'll be able to explore vast, non-linear levels, lose yourself in an immersive, sandbox survival experience and follow a thrilling story-line that spans an entire year in the greatest Metro adventure yet.
The first two Metro games were two of the most underrated survival horror-cum-shooters, so with Xbox One X powering it in 4K that blasted overworld looks gorgeous and full of mutated beasts to hunt and run away from screaming. It arrives in 2018.
Crackdown 3
It's been years in the making - it was even playable at E3 two years ago - but Crackdown 3 is finally ready for release. And in 2017, no less.
The open-world destruction will feature solo gameplay and co-op, with the power to level your character through those all-important orbs scattered across the sandbox.
Destruction is still a huge part of the game, and with devs from the original game on-board, it looks like Crackdown 3 will hark back to the chaotic playground that made Crackdown so essential on Xbox 360.
Arriving on 7 November 2017 as an Xbox One X launch title (as well as being compatible with the rest of the Xbox One family), Crackdown 3's co-operative multiplayer will benefit from the cloud-powered support (that means lots of dynamic destruction and particle effects galore). However, the single-player version won't benefit from that cloud support and is being developed by Sumo Digital.
Ori and the Will of the Wisps
The original Ori and the Blind Forest made Metroidvania-style platforming both beautiful and deadly, and its surprise sequel - Ori and the Will of the Wisps - looks to carry on that charming and utterly addictive mantra.
Microsoft didn't show off any gameplay, but expect the same mixture of platforming and unlockable skills that made Blind Forest such a must-have digital title last year.
The footage we have seen shows the gorgeous-looking sequel will feature the same painted art style that will practically jump out of the screen with 4K support on Xbox One X and that haunting soundtrack that feels emphatically vital to the Ori games. It's an exclusive title to the Xbox One family and Windows 10, but there's no release date quite yet.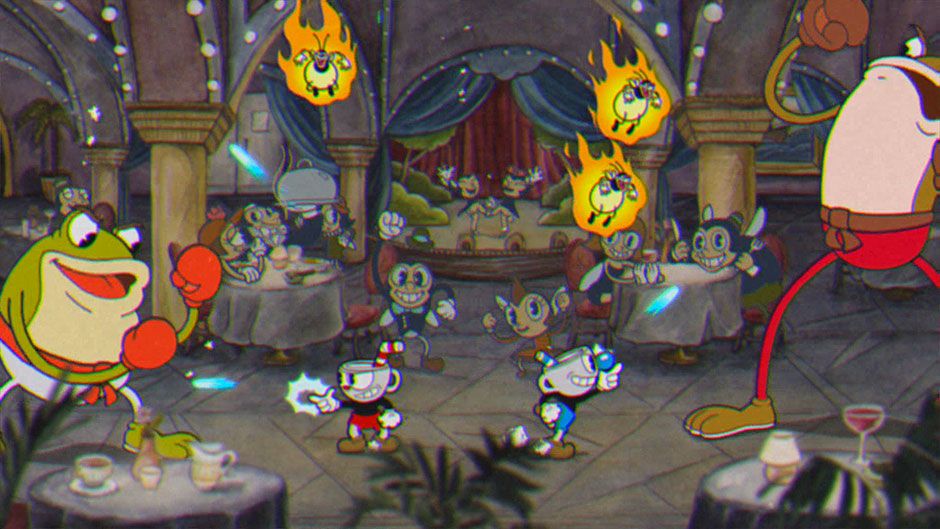 Cuphead
Cuphead, one of the most exciting and unique-looking games we've ever seen, has been one helluva tease over the last few years.
Shown at multiple E3s, this indie platformer kept luring us in with its black and white/Technicolour classic Disney art style then disappearing into silence. Well, Cuphead isn't dead - it's very much alive and coming to Xbox One and Xbox One X exclusively on 29 September.
Cuphead is going to be a run and gun-style affair, with branching levels based around the concept of continuous boss fights that escalate as you push further. As the titular Cuphead, you've got infinite lives to your name so it's all about employing a rogue-like strategy as you juggle weapons and abilities across a vast selection of levels.
Cuphead's 1930s animation look is simply the most unique offering on Xbox One, and we can't wait to play it.
Forza Motorsport 7
We all knew the full fat version of the Forza family was coming, but as the de facto poster boy for Xbox One X and its seriously powerful upgraded specs, the racing simulator looks like it could finally be ready to leave Gran Turismo with a mouthful of its dirt.
Honestly, go back and watch that footage again - Forza Motorsport 7 looks so real you'll probably need a driving licence and insurance just to play it.
Microsoft revealed the game will feature dynamic weather that develops over the course of a race - you'll get puddles of rainwater that increase in size and depth as storm rages above you, while sunlight bursts through as you approach the finish line.
If FM7 is anything like its predecessor, we're expecting an even tighter and responsive handling model.
The game will feature over 700 cars (the biggest garage we've ever seen in a racing game) and will feature an exclusive range of Porsches. There will also be a greater focus on customising your driver, and creating your own online race persona.
State of Decay 2
In a world that's oversaturated with undead media in every form, the original State of Decay managed to offer a cooperative affair that made the impenetrable world of DayZ and the drama of Telltale's The Walking Dead.
Unfortunately, it was as buggy and twitchy as its shuffling enemies, so dev Undead Labs is looking to right those wrongs with State of Decay 2.
Arriving next spring, State of Decay 2 enables you to team up with up to three other players as you're tasked with surviving a zombie apocalypse in the wake of the army abandoning your hometown.
The big focus here, as with the first game, is teamwork and resource hunting. Rather than looking after your own skin the whole time, Undead Labs says you'll need to build a community, so that means finding and helping other survivors. Those resources will enable you to build regues, as well as repair vehicles.
E3 is the world's largest exhibition for the games industry, stuffed full of the latest and greatest games, consoles, and gaming hardware. TechRadar is reporting live from Los Angeles all week to bring you the very latest from the show floor. Head to our dedicated E3 2017 hub to see all the new releases, along with TechRadar's world-class analysis and buying advice about the next year in gaming.