Best Assassin's Creed games in 2023 - every series entry ranked
Best
Contributions from
last updated
What are the best Assassin's Creed games? We've ranked them all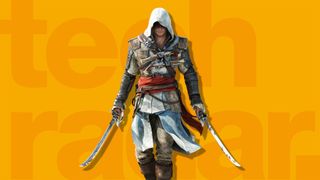 (Image credit: Future/Ubisoft)
The best Assassin's Creed games offer some of the best historical action experience you can get in video games. But they often offer much more than that too: A hero you can't help but root for; lots of intrigue; a beautiful part of the world to discover; a choice of scale or intimate settings; and some of the best stealth or RPG combat going.
To slightly alter the phrase that's attached to the series, 'history is a playground' with Assassin's Creed games and each game will genuinely teach you a bunch from its setting through interactivity. While sneaking up on enemies and shanking them does undoubtedly feel good, it's the way they involve us in history that never seems to get old.
At the clip at which Ubisoft still produces its famous series, we will at some point have been around the world with Assassin's Creed, and from the sound of it, Ubisoft is setting up its own Assassin's Creed Interactive Universe (ACIU - you can have that one for free, Ubisoft) with the launch of its Assassin's Creed Infinity platform, which will include multiplayer games and several codenamed titles.
With almost all the series playable on basically every one of the main current-gen platforms, you should have a handful of the best Assassin's Creed games to potentially play, no matter what you play on. So if you haven't played yet or want to give your favorite another go perhaps our list of the best Assassin's Creed games will inspire you. We have painstakingly ranked every series entry available so far, and while they are all high-quality games, they are also long and life is short, so find out which ones we swear by and which ones we might skip. Let's get into it.
Best Assassin's Creed games
Why you can trust TechRadar We spend hours testing every product or service we review, so you can be sure you're buying the best. Find out more about how we test.
13. Assassin's Creed: Rogue (2014)
Last and kind of least
Reasons to buy
+
Naval battles are great fun
+
Templar theme was a breath of fresh air
Reasons to avoid
-
Technical issues
-
Unoriginal
-
Overly long campaign
Why we love it
While it may be the 'lowliest' entry on our list, we do love Rogue because in Shay it gives us one of the most interesting protagonists of the series, as well as one of the most interesting perspectives.
Alas, poor Rogue. There was plenty of potential in this much-maligned Assassin's Creed game because it finally put the player in the shoes of an enemy Templar instead of a member of the Assassin's guild. Expansion of the naval warfare from Black Flag was also hugely welcome, but some obstacles simply got in the way – namely, game-breaking bugs.
Rogue was truly the game Ubisoft's annual release schedule got the better of, leading to a rushed game that launched with a huge amount of bugs and glitches, ruining immersion and leading plenty of players to ditch the story before it had really got underway (the campaign wasn't overly long, anyway). It was also yet another game in the series running the same engine which was starting to jade fans.
However, Shay is definitely one of the most interesting main characters to grace the series, and the location of the wintry North East Atlantic coast made a nice change too. Still worth a pop in 2023 - and you can even play it on Nintendo Switch now.
12. Assassin's Creed: Unity (2014)
A disappointing union
Reasons to buy
+
Co-op gameplay
+
Countless hours of content
+
Beautiful recreation of Paris
Reasons to avoid
-
Technical issues
-
Smaller than Black Flag's world
-
Story is a let down
Why we love it
Unity, for all its flaws and bugs, still has one of the best settings and city locations in the series. Revolutionary Paris is breathtaking in its detail, lighting, density - and for its ability to offer some of the finest parkour in the series too.
Set during the French Revolution, with the story largely taking place in Paris, Assassin's Creed Unity brought AC firmly back to Europe after many a year in the American colonies or on the Caribbean seas.
Like Rogue – which launched the same year – Unity was plagued by bugs, which was particularly disappointing at the time as it launched with the then-new generation of consoles. As a result, it's had a reputation that's been hard to shake, even if all the patches did largely fix the game afterward. Revisiting it now is as smooth an experience as you'd expect - and it still definitely marks the moment at which the AC games changed their aesthetics. It's a looker alright, and the lighting is sublime.
It also deserves some marks for its introduction of cooperative gameplay, though, allowing up to four players to complete missions together. Now that's unity. And it also fits in nicely with the series on a wider scale, making a neat connection between itself and Rogue.
11. Assassin's Creed: Revelations (2011)
Not the revelation we were hoping for
Reasons to buy
+
Hookblade added verticality
+
Vibrant world to explore
+
Soundtrack is great
Reasons to avoid
-
Unoriginal and stale
-
Main story sucks
-
Desmond's Journey isn't very interesting
Why we love it
One of Revelations' best elements is how well it rounds off Ezio's main storyline. There's an exciting adventure, companionship, a new location, and friends, throwbacks to previous heroes, and we get to enjoy how Ezio processes it as a middle-aged man.
Released just one year after 2010's Brotherhood, Revelations was the first time Ubisoft appeared to be rushing things. It certainly felt familiar, with players filling the shoes of 21st-century protagonist Desmond, the original game's Altaïr avatar, and Ezio from Assassin's Creed II and Brotherhood – and it showed the franchise was in need of a refresh.
One notable addition, though, was the 'hookblade' – a grappling hook attachment to your iconic assassin's blade – that helped elevate the game's verticality and roof-jumping to a whole new (roof) level. It could also be thrown into enemies to pull them in for some good ol' assassinating.
Still, it ties up Ezio's trilogy brilliantly even if he was a Very Middle-Aged Man by this point and the city of Constantinople got the typically-excellent Ubisoft treatment too.
10. Assassin's Creed 3 (2012)
It could have been one of the best
Reasons to buy
+
American Frontier is a welcome change
+
Graphical improvement over previous entries
+
Combat and parkour are fluid
Why we love it
AC 3's setting and its use of the American Revolution as a backdrop is great, while some of its characters also set it apart. The game also begins a series of interesting connections between several games, and in Haytham it has a brilliant double-edged character, who comes complete with an early-game twist.
Ubisoft needed a new setting for the AC game after Revelations, and it certainly made one. Assassin's Creed 3 jumps in time to the American Revolution in the 18th century. Players take on the mantle of Connor, as a half-English, half-Mohawk character navigating colonial America.
With a new Anvil engine, the graphics really got an upgrade, while the American Frontier was a wonderful change from the largely European settings of the previous games that pushed the limits of the open-world franchise even further – with an increase in the use of natural foliage for sneaking and hiding, rather than the largely urban structures we'd grown used to.
Some less-than-inspiring mission design, though, let down what could have been one of the best Assassin's Creed games.
9. Assassin's Creed: Syndicate (2015)
Assassin's Creed goes cockney
Reasons to buy
+
Let you pick a character's gender for first time
+
Grappling hook introduction
+
Beautifully realized setting
Reasons to avoid
-
Technical glitches
-
Repetitive combat
Why we love it
Playing as two Assassin's in Jacob and Evie in Syndicate was a breath of fresh air at the time, and still represents a great feature of Syndicate. Being able to swap between the two makes for different encounters, varied combat, and keeps things interesting throughout the story too.
An Assassin's Creed game set in Old Blighty? Count us in! Syndicate took the action to Victorian London, with all of the cockney accents, wood-paneled pubs, and silly hats you'd hope for. Syndicate also, for the first time, allowed players to pick their avatar's gender, playing as either Jacob or Evie Frye (twin assassins) as they sought to free London from the cruel grip of the Templars – a welcome addition after half-hearted protestations from one Ubisoft developer who offered the brave hypothesis that women were too costly to animate.
Players also got to use a dedicated grappling hook for quickly speeding up multi-story buildings, brass knuckles for brawling in the city's cobbled streets, and horse-drawn carriages for navigating the Victorian-era world. A brilliant and imaginative setting, in a game that – despite its historical nature – showed that Ubisoft was catching up with modern day. As ever, though, some technical glitches held it back from greatness.
8. Assassin's Creed (2007)
The original
Reasons to buy
+
The game that kicked off the series
+
Impressive scope for the time
+
Offered gameplay that held up all the way to today
Reasons to avoid
-
Repetitive missions
-
No freedom in assassinations
Why we love it
As well as having the unique selling point of starting the whole series and introducing all the major points to us, the first Assassin's Creed game has a brilliant setting in the 12th century Holy Land, and also shows the roots of our favourite stealthy action to boot.
The game that started it all. The original Assassin's Creed was truly impressive when it was first released, we hadn't quite seen scope or ambition like it in a video game before. And while the graphics and combat may not hold up today – enemies being incredibly easy to defeat simply by running around them until your health regenerated – it's certainly worthy of its place on this list.
The first Assassin's Creed set up the curious sci-fi framing device of the Animus: a machine for hacking into genetic memories held in the protagonist's (a kidnapped bartender named Desmond) DNA. Its open-world setting in the 12th century Holy Land, with the action jumping between Jerusalem, Acre, and Damascus during the Third Crusade.
Players take on the mantle of Altaïr, an assassin tasked with furthering the cause of their secret order, while gradually learning more about a mysterious artifact called the Apple of Eden, that recurs throughout the franchise.
Other games refined its formula, and others broke it, but 2007's Assassin's Creed is what began our collective fixation with a pickpocketing, parkour, shadow-slinking assassin, and is one of the best Assassin's Creed games for it.
A Viking adventure
Reasons to buy
+
Funniest game in the series
+
Eivor is brilliant protagonist
+
Every hub bursts with life
Reasons to avoid
-
Huge open world can feel sparse
-
Plot never gets you invested
-
Combat can feel messy
Why we love it
Valhalla's brilliant open world setting of 9th-century Britain is a joy to behold, explore, and soak up. There are beautiful landscapes in every direction, and you can also find some excellent settlements, landmarks, and mini-stories in every corner of it.
Much like Origins and Odyssey, 2020's Assassin's Creed: Valhalla saw Ubisoft taking a step away from the explicitly stealthy nature of the earlier games in the series, instead putting you in the well-trodden shoes of a Viking raider intent on pillaging their way through England.
Like Assassin's Creed Odyssey, Valhalla sees you picking between two protagonists, but it's difficult to have a distinct favorite this time around. The open world leaves a strong impression, however, and you've likely never seen the British Isles look quite this beautiful.
Unfortunately, while Valhalla made use of a longer development period than the previous Assassin's Creed games, it did not revolutionize the series. Due to a somewhat lackluster story, it wasn't able to keep up with the very best Assassin's Creed games, despite balancing the line between familiar and innovative new features well. However, it spent a long time on our best PS5 games and best Xbox Series X games lists, and acted as many's PS5 or XSX launch game of choice, too.
6. Assassin's Creed: Origins (2017)
Play as the first-ever assassin
Reasons to buy
+
Lots of historical easter eggs
+
Depth to world, characters and story
+
Fluid combat
Reasons to avoid
-
Buggy
-
Story has some pacing issues
Why we love it
Origins gives us the, well, origin story of the Creed itself, and we love it for it. Ubisoft's first foray into the RPG-ifying of the series worked well too, but seeing the beginnings of the Creed through Bayek's experience is one of the best things about Origins.
After a sensible year off from releasing games – one of Ubisoft's favorite hobbies – players were treated to Assassin's Creed: Origins in 2017.
Playing as a desert nomad in ancient Egypt, under the reign of Pharaoh Ptolemy XIII, you're tasked with pursuing peace and safety for the population around you as its kingdom crumbles – with a truly epic origin story for the first-ever assassins (so don't expect to see any AC entries set before this).
With Cleopatra and Julius Caesar appearing, and lots of historical easter eggs to satisfy anthropological hobbyists, Origins was a brilliant entry that's now earned a spot as a bit of an underrated gem in the series, and the one that started the shift to RPG-style entries too. A brilliant game.
Going back to its roots
Reasons to buy
+
Brought the series back to its roots
+
Excellent stealth that rewards patience
+
Gripping investigations
Reasons to avoid
-
Same dopey enemies
-
Parkour is still a little sticky
Why we love it
Snooping about and finding each clue in a restricted area, tracing each lead, and cracking each case to work toward the climax of each investigation is gripping. Making you feel like part-assassin, part-spy, is one of Mirage's greatest successes.
Assassin's Creed Mirage is the AC game that many fans have been willing into existence over the past 5 years or so. Taking the series back to its stealth-action roots with a focused experience, intriguing protagonist, and densely-filled city, Mirage and the tale of Basim Ibn Is'Haq is a triumph in all that makes Assassin's Creed games brilliant.
Encouraging you to be patient and quiet, deliberate and clever, the missions in Mirage are some of the best assassinations-come-detective cases the series has ever graced us with. Each is gripping and gets more and more mysterious with each clue you discover until the opportune moment to strike at one of Baghdad's members of the Order of the Ancients arises.
The game bucks the trend of the few that came before it by ditching the open-world and going for a focused single-city setting (plus city environs), and it pays off. The city of Baghdad is a superb setting and is brilliantly realized and beautiful, crammed with things to do and discover, and making for a brilliant playground for parkour.
Basim is also one of the most interesting assassin's we've had a in a few games too, blending some of the best traits of some of the most beloved and underrated protagonists from the series. Assassin's Creed Mirage is a fabulous entry in the series and one of the best in years.
4. Assassin's Creed: Brotherhood (2010)
A worthy sequel
Reasons to buy
+
Introduced online multiplayer
+
Varied missions
+
Stunning world
Reasons to avoid
-
Lackluster story
-
Doesn't feel very fresh
Why we love it
Incorporating assassin recruitment and organising them to take on missions in a mini-game in Brotherhood is enormously fun - but not quite as fun as calling on your reinforcements in tricky encounters to see them rush enemies and get you out of holes is truly excellent.
Assassin's Creed Brotherhood was a direct sequel to Assassin's Creed 2, set in the same Renaissance era in Italy, but it felt considerably less fresh than the previous entry – hence we're not ranking quite as highly. However, the way Brotherhood picked up the baton and sprinted with it still makes it one of the best Assassin's Creed games in the series.
The name Brotherhood reveals this game's main selling point: the ability to recruit other assassins and send them on missions to further the Assassins' cause – or summon them into battle to fight alongside you. Who said assassination had to be lonely?
Notably, Brotherhood also introduced the first online multiplayer mode for the series, seeing players sprint and parkour their way across rooftops to try and take each other out.
Assassin's Creed Brotherhood was a first glimpse at the tempo at which Ubisoft could produce great games, but revisiting the same world so soon after seeing it the first time only made sense if you were an Ezio fan through and through. Team Techradar is Team Ezio for good reason, so we say on the whole you shouldn't miss it.