Black Friday is over for another year. The date for Black Friday 2022 is November 25, and we'll reveal our top predictions for next year's best Black Friday deals here shortly: we'll tell you what we expect the biggest offers to be, and where and when to find them. If you're looking to shop for bargains right now, you can see our roundup of the best Christmas sales happening right now.

Black Friday 2021 might be over, but there are still plenty of excellent Black Friday deals around - in some cases prices are actually lower now then they were yesterday. We'll still be seeing these offers for the next day or two, until Cyber Monday deals really start ramping up (although we're seeing lots of these already).
We've been hard at work scouring for the best picks of things that are currently live - laptops, smartwatches, kitchen appliances, smart home systems and more are all catered for.
On top of that, we've also got links to the Black Friday sales pages of Amazon, Walmart, Target, Best Buy, and other retailers, so you can head straight to your favorite store to browse the deals there if you want. Basically, find the deals you want in this comprehensive list, and don't wait to buy them if you definitely know they're for you.

We're constantly updating this page with new Black Friday deals as they go live (and removing deals that have sold out – we did warn you…), so bookmarking this page for the weekend should be worth it.
Black Friday deals: FAQs
When is Black Friday 2022?
When is Black Friday 2022? The official Black Friday date for this year is November 25, 2022. The actual date shifts every year, but the day of the week stays the same: it's always the Friday after Thanksgiving.

At this year's sale, retailers kicked off their Black Friday deals earlier than ever due to concerns around shipping delays and supply issues. We also saw more retailers moving to the competitive arena of online sales, which resulted in more deals to shop on the web.
Where are the best places to find Black Friday deals?
Most online retailers offer Black Friday deals, but it's our job to sort through the thousands of offers to find the very best bargains from the bunch. You'll typically find the best Black Friday deals from big-name retailers like Walmart, Best Buy, and Target, with Amazon leading the pack.

Amazon is a Black Friday favorite, not only because they offer record-low prices but because they offer discounts on a wide variety of categories. So whether you're looking for tech items like laptops, TVs, or AirPods or searching for discounts on clothing, kitchen appliances, or toys - Amazon is likely to offer Black Friday deals on the product you're after.

Other retailers that offer impressive Black Friday deals include Best Buy, Walmart, Target, Dell, Home Depot, Lowe's, and Overstock. It can be overwhelming with so many retailers and promotions, but that's where our deal expertise comes in. We go through every retailer to pick out the very best Black Friday deals so you can make sure you're getting the lowest price available. We also keep a live list of the best Black Friday sales from all the top online retailers, so you can easily jump to the offer you want.

If you don't want to wait till November to shop for Black Friday deals, we've included the current sales from the top online retailers just below.

Amazon: daily deals on tech, home items, clothing, and more
Best Buy: savings on 4K TVs, laptops, and headphones
Dell: save up to $250 on best-selling laptops
Home Depot: save on tools, appliances, furniture, and more
Kohl's: save on clothing, shoes, and accessories for the whole family
Lowe's: appliance deals from Samsung, Whirlpool, and LG starting at $99
Overstock: 70% off furniture, decor, and appliances + free shipping
Target: save on furniture, tech, and clothing for the whole family
Walmart: save on TVs, laptops, kitchen appliances, and more
How do I get the best Black Friday deals in 2022?
Homework really helps. Some retailers up prices from August through to October so they can offer supposedly amazing discounts on Black Friday, so don't be fooled by such moves.
They're particularly prevalent in expensive consumer electronics such as TVs or laptops with product numbers rather than names, with products that were dropped down to a great bargain price suddenly being pushed back to their MSRP again.
It's also a very good idea to be flexible: for example, if you fancy a Samsung UHD TV it's best to think about the features you want rather than a specific model number: the BRV553ABD34-82C-9218-X may not be discounted on Black Friday 2022, but an almost identical set with the specification you want probably will be.
So do your research on what matters and we'll do our best to give you the right comparison needed.
However, don't be fooled into thinking that something that looks like a five star set is the same but cheaper - certain elements (often with regards to screen quality or image processing) won't be as high quality to achieve that lower price point.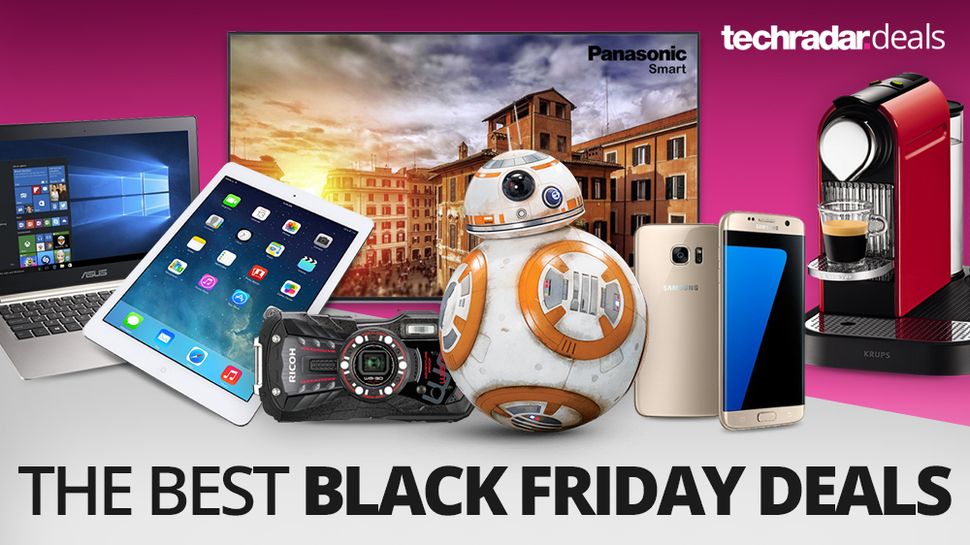 Black Friday deals 2021: our predictions
Black Friday 2021 has continued last year's trend of not just offering discounts but offering discounts on items you'll actually want to buy as retailers jockey for more limited wallets against fierce online competition.
According to Adobe Analytics, 2020 saw a 21% uplift in consumer online spending marking it the second-largest online spending day in U.S. history, coming in behind Cyber Monday 2019.
Last year's biggest Black Friday money makers? According to Adobe, the most popular items included Hot Wheels, Lego sets, AirPods, Apple Watches, Amazon Echo devices, and Samsung TVs.

We're seeing Black Friday 2021 sales event to also offer similar deals on Apple's latest devices, such as Airpods, the latest Apple Watch, and 2021 iPads. We should also see significant discounts on Amazon's own devices as well as deals on this year's hottest toys and kitchen appliances.

Amazon gave us a sneak peek by launching its Epic Deals sale, which according to the retailer, offers "Black Friday-worthy" deals throughout the month of October from categories including tech, appliances, fashion, beauty, toys, and Amazon's own devices. Amazon's sale can give us a preview of what Black Friday deals we can expect in November, and so far, we've seen discounts on AirPods, OLED TVs, robot vacuums, and smart home devices.

Best Buy and Walmart have also joined in on the fun by launching Black Friday deals earlier this month. Both retailers are trying to compete with Amazon by offering steep discounts on 4K TVs, headphones, laptops, toys, appliances, and more. Best Buy is even offering a Black Friday Price Guarantee, which means that any products featured in its early sales will not go any lower in price before Black Friday. If, for some reason, they do, you'll be automatically refunded.
Why is it called Black Friday?
Let's take a history lesson to find how why they call it Black Friday: the first known mention of Black Friday related to this shopping experience was in November 1951, when the journal Factory Management and Maintenance used it to describe people calling in sick the day after Thanksgiving so they could have an extra day off work.
At the same time, US police were using the phrases "Black Friday" and "Black Saturday" to describe the horrendous traffic that occurred at the beginning of the pre-Christmas shopping season.
In 1961, the local government moved to change the shopping season to "Big Friday" and "Big Saturday," but it never caught on. The notion that it was the time when retailers moved 'back into the black' was seen far later and clearly an attempt to bring positivity to the term.
The best Black Friday deals from this year's sale
15. Harmati Electric Standing Desk: $299.99 $199.99 at Amazon
Save $100 - Join the standing desk phenomenon and benefit from a more dynamic way of working with this fairly affordable Harmati standing desk with a motorized adjustable lift system, able to adjust from 28.7" to 45" high. Amazon's Black Friday deal brings the price down to just $199.99.
$25 and under
$50 and under
The best Black Friday deals: TVs
60-85 inch TVs
50-59 inch TVs
32-49 inch TVs
More TV sales
Black Friday deals: laptops and computing
Laptops under $300
Laptop deals between $300-$500
Laptop deals over $500
Gaming laptops
Desktops and gaming PCs
Monitors
The best Black Friday deals: smart home
Smart speakers
Streaming devices
Ring doorbells
Security cameras and systems
Smart displays
Kindle e-readers
More smart home deals
Black Friday deals: headphones and audio
Earbuds
Over-ear headphones
Speakers and soundbars
The best Black Friday deals: tablets
iPads
Amazon Fire tablets
More tablets
The best Black Friday deals: gaming and consoles
Consoles
Games