Despite a few ups and downs with pricing and availability, the Meta Quest 2 is still up there as one of the most accessible and affordable ways to get into virtual reality gaming. And now it's even better value for money, as the latest Meta Quest 2 bundle is now $50 / £50 cheaper for a limited time.
So, you can now pick up the Meta Quest 2 with two free games for $349 / £349 at Meta. The games included alongside the VR headset are sports sim Golf+ and intergalactic sci-fi shooter Space Pirate Trainer DX. Bought separately, these would cost you around $50 / £40, so they're a great pair of freebies.
Save $50 / £50 on the Meta Quest 2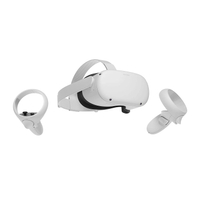 Meta Quest 2 with Golf+ and Space Pirate Trainer DX: was $399 now $349 at Meta
Save $50 on this Meta Quest 2 bundle that features the VR headset and two free games. While the two freebies are not headline titles, they are still excellent showcases for the excellent virtual reality tech. It's also worth snapping up any deals on the Meta Quest 2 as they're so rare outside of major sales events. The same bundle deal is also available at Amazon if you'd prefer to shop there.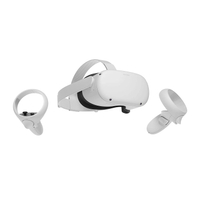 Meta Quest 2 with Golf+ and Space Pirate Trainer DX: was £399 now £349 at Meta
UK folks can also get involved with a £50 saving on the same Meta Quest 2 bundle. It's identical to the one in the US, with the same two free games. With the discount and freebies combined, it represents a solid saving of around £100. Have a voucher or simply want to shop somewhere else? The Meta Quest 2 bundle deal is also in stock at many other major online stores such as Amazon, Currys and Argos.
Is this actually a good Meta Quest 2 deal?
Absolutely. The inclusion of two games is extremely welcome, but it's the flat cash saving on top that makes this such a competitive deal. After recent price hikes, any opportunity to pick up the Meta Quest 2 for anything closer to its previous price is welcome.
The only thing is that, if you were around over the previous Black Friday, you might remember there was a bundle that came with Resident Evil 4 and Beat Saber. That also had a $50 / £50 saving on top as well. That was up there as one of the best Meta Quest 2 deals we've ever seen but it's unlikely to be repeated.
This latest one isn't very far behind at least, even though the two games aren't premium titles like those found in the Black Friday bundle. They're still fun and strong showcases for the VR tech for new players, though. Plus, with the extra $50 / £50 discount on top of the freebies, you get an impressive overall saving.
First up, Golf+ is a fun and natural fit for VR, with a selection of real courses or minigames for you to test your skills on. Meanwhile, Space Pirate Trainer DX is a light first-person shooter that drops you into combat arenas with a blaster and a shield as you hunt down opposing droids.
Overall, then, we still think this is a decent deal on the Meta Quest 2 if you're after the VR headset today. Before you hit the buy button, though, do also take the time to see the latest Meta Quest promo codes that are available for ways to save even more money on the most affordable VR headset out there right now.
Is the Meta Quest 2 worth it?
The Meta Quest 2 is a really cool piece of kit, too. As we concluded in our Meta Quest 2 review, it's a lightweight, comfortable and powerful virtual reality headset that delivers fun and fascinating games and experiences. Ultimately, it's easily one of the best VR headsets you can buy today.
The Meta Quest 2, previously known as the Oculus Quest 2, has actually been cheaper in the past, though. It increased in price by $100 / £100 back in August last year in response to tough economic conditions. That's definitely dented its value-for-money edge, but it's still the most affordable way to get into VR today. Bundles like this help lessen the sting, but it's unlikely we'll see any offers that are as strong as that previous price point - at least outside of Black Friday.
For comparison, you can check out more of today's best VR headset deals below, including the lowest prices right now for the likes of the Valve Index, HTC Vive, and PSVR. Now that PSVR 2 has launched, too, keep that option in mind if you have a PS5 you can pair it with - just know that's even more expensive. You can also stick with us for updates on all the latest PSVR deals.