Meta Quest 2 deals are few and far between, so we're always on the lookout for discounts on the popular VR headset. Especially after a $100 / £100 price hike on the once-affordable device.
The best Meta Quest 2 deals largely spring up over Black Friday and Cyber Monday later in the year. Last year, you could save $50 / £50 and get copies of Beat Saber and Resident Evil 4 VR for free. It helped take the sting off that price jump a little, even though it was technically still more expensive than before.
So, the hunt for any discount is tough but do read through our Meta Quest 2 review to see exactly why we think it's the best VR headset you can buy today. If nothing has tempted you to make a purchase right now, do check back in regularly for all the latest Meta Quest 2 deals.
You can always check out the latest Meta Quest promo codes for ways to save money on the popular VR headset all throughout the year.
You can also browse even more cheap VR headset deals if you'd prefer a more budget option. There's also the release of the PSVR 2 in February 2023 so we'll have an eye on the best PSVR deals for the console owners out there.
The best Meta Quest 2 deals
Meta Quest 2 deals
The standard price of the Meta Quest 2 is $399.99/£399.99 for the 128GB version. You can also choose to increase the available storage in the VR headset up to 256GB and this model will set you back $499.99/£499.99. Both now come with a copy of Beat Saber.
In our view, the cheaper one is the sensible choice for most as that's enough space for between 30-40 games at a time. No matter which one you want, we monitor the price for both Meta Quest 2 headsets to ensure you always get the best deal. Here's where it's available for the cheapest price today.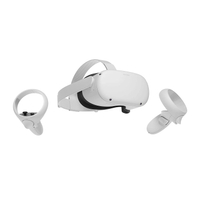 (opens in new tab)
Meta Quest 2 with Golf+ and Space Pirate Trainer DX: from $399 at Meta (opens in new tab)
Buy the VR headset direct from Meta to get two free games in this limited-time bundle that saves you around $50. While not headline titles, these are still excellent showcases for virtual reality tech. And it's worth snapping up any deals on the Meta Quest 2 as they're so rare. The same bundle is also available at Amazon (opens in new tab) if you'd prefer to shop there.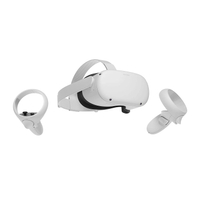 (opens in new tab)
Meta Quest 2 with Golf+ and Space Pirate Trainer DX: from £399.99 at Meta (opens in new tab)
Folks in the UK can also get the latest Meta Quest 2 bundle. Golf+ and Space Pirate Trainer are both available here, representing a saving of £42. It's available directly from Meta with free delivery, or you can find the same offer at Amazon UK (opens in new tab).
Meta Quest 2 accessory deals
There's a decent selection of Meta Quest 2 accessories are available to buy. Some of the official options include a Carrying Case to store and transport the headset, an Elite Strap that provides a more comfortable and secure experience, and Meta Headset Link Cable that allows you to play older Rift VR games on the Quest 2 through your gaming PC.
We've also included some popular Meta Quest 2 accessories that have been made in collaboration with other manufacturers.
Why did the Meta Quest 2 price increase?
At the end of July this year, Meta announced that the price of the Meta Quest 2 would go up by $100 / £100. A substaintaial increase that saw the VR headset jump up to $399 / £399 for the 128GB version and $499 / £499 for the 256GB version.
Why, though? Well, according to Meta, the this price hike was neccessary to combat increasing operational and development costs. Basically, it's the same excuse we've heard from many other products and services such as Netflix and Amazon Prime to justify price increases.
This is in spite of the fact that around 15 million Meta Quest 2 headsets have been sold since launch and over $1 billion has been spent on apps through the Meta Store.
Are the Oculus Quest and Oculus Rift S discontinued?
In April 2021, Facebook announced it would no longer manufacture the Oculus Rift S and instead focus on the wireless Quest experience. Six months before that, the company also discontinued the production of the original Oculus Quest. That means the only VR headset in the range available to buy today is the Meta Quest 2.
In the time since production ceased on the Rift S and original Quest, a number of retailers reduced the price of these older devices to clear any remaining inventory. Checking today, neither are in stock brand new so you're only option is to go second-hand for these devices.
However, given that the Meta Quest 2 is the only one with current support - and that the price is around the same as the discontinued devices - we'd strongly encourage you to go with the latest VR headset instead. It'll be kinder on your wallet and give you a better overall VR experience.
What about the 64GB Oculus Quest 2?
When it was originally known as the Oculus Quest 2 there was an option to buy it with 64GB of storage. This version of the VR headset has since been discontinued and now the basic model comes with 128GB of storage as standard. Better still, this larger capacity Meta Quest 2 is exactly the same price as the smaller one. If you see a 64GB Oculus Quest 2 for sale, then, ignore it and make sure you get the 128GB Meta Quest 2 as you get more room for games, applications and files for the money.
Will there be an Meta Quest 3?
Yes, there will be a Meta Quest 3, but current speculation suggests it will not launch until at least 2023.
In between that, another piece of VR hardware has been announced by Meta that's being developed under the name Project Cambria. Rather than the Meta Quest 3, this looks to be a higher-end VR and AR hybrid that's tied in more closely with Facebook's push towards a 'metaverse'. Not necessarily a bit of kit exclusively for gaming, then, but we'll continue to follow any news right here at TechRadar ahead of its upcoming launch.