Contract vs SIM-free mobile phone deals: which is the prince of price?
Does a regal Galaxy S9 deal make contracts the king?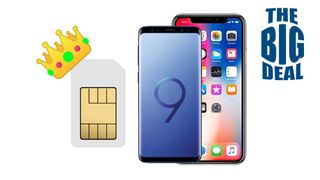 The Big Deal has had plenty to say about the Samsung Galaxy S9 since it was presented to the world with only a little less fanfare than Prince Louis. But prices haven't been cheap since the phone went on sale in mid-March – the S9 is a phone most definitely aimed more towards princes than paupers.
Well, at least it was until last Friday, when Carphone Warehouse-owned Mobiles.co.uk delivered a Galaxy S9 deal on contract that blew the rest out of the proverbial. £23 per month. £180 upfront. 4GB of data and unlimited calls and texts. As deals go that's about as beautiful as a new-born babe.
Perhaps the most outlandish thing about this deal is that over the course of the two-year contract, the total amount of money you'd pay actually equates to a few quid less than the £739 RRP of buying the Galaxy S9 SIM-free outright.
And if you did splash the cash on the phone, you'd then have to pay at least £4 a month for a SIM plan – and for £4 you'd only get the bare minimum of data, text and call allowances, so chances are you'd be paying more, pushing your total spend over 24 months north of £900.
So has going for a contract mobile phone deal overtaken the handset + SIM only as the best-value way to pick up your new smartphone? The Big Deal has taken a look at four other mobile models – young and old, premium and budget – to see which will save you the most cash. We'll tell you the current cheapest contract plan for each, and the cost if you combine an outright purchase with the best equivalent SIM only deal.
iPhone X deals: contract vs SIM-free
Yep, let's start with the daddy (no WIlls, not you). Apple's 10th anniversary device is the most expensive mainstream mobile on the market. But the iPhone X is so damned captivating, with features like Face ID andit's the extraordinary 5.8-inch Super Retina HD display, that it's worth knowing how to shave off the £££s where you can.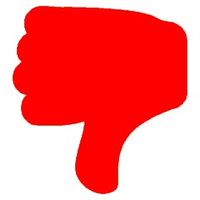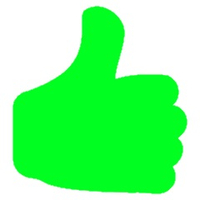 Equivalent handset + SIM only: £1,223 over two years
There's a very tasty £100+ saving to be made here if – and it's a huge 'if' – you have £899 to spend upfront. That's how much you can get an unlocked iPhone X for at Amazon.co.uk at the moment. From there you can grab an 8GB Tesco Mobile SIM only deal for £13.50 per month. This is the route to go on the iPhone X at the moment.

Samsung Galaxy S8 deals: contract vs SIM-free
So we know that the new Samsung on the block – the Galaxy S9 – has got some remarkable prices right now, but what about its princely predecessor? We usually find that going back a generation means you can get an incrementally less advanced smartphone for a much better price. And we still have a lot of love for the Galaxy S8. So should you go contract or SIMO?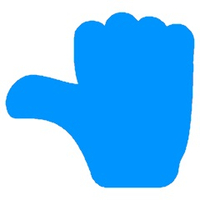 Today's best contract price: £692 over two years
Much like the limited-time S9 deal, Vodafone's 4GB tariff is the place to be for the Galaxy S8. Using our exclusive 10OFF code, you can bring the total price down under the £700 mark. It makes the upfront outlay £140, with monthly bills of £23. Tremendous value.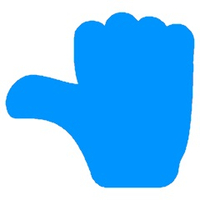 Equivalent handset + SIM only: £699.99 over two years
Trawl the depths of eBay and you eventually trip over this: a brand-new Samsung Galaxy S8 for £459.99. That's a good start. From there you can then add a 5GB per month Vodafone SIM for a tenner each bill. That takes you up to a penny under £700 for the term, so a tiny bit more expensive than contract, but you do get 25% more data – there's very little in this one.

Google Pixel 2 deals: contract vs SIM-free
With its Pixel range of smartphones, Google has really been knocking on the door of the big two, Samsung and Apple. Although it didn't improve hugely on the original, we admire the Google Pixel 2 for its powerful speakers, water-resistant frame and magnificent main camera. It's a tempting pretender to the smartphone crown, but how should you buy it?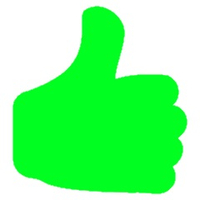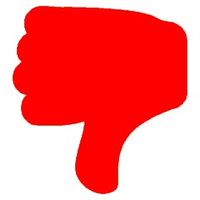 Equivalent handset + SIM only: £989 over two years
Well there's a clear winner here. Contract deals on the perky Pixel 2 are so good at the moment that buying the handset outright and popping in a separate SIM is waaaay pricier. The cheapest you can buy it SIM-free is £629 from Currys, and then Three's £15pm SIM takes it towards a grand for the two-year term – and that's only for 12GB of data, too.

Moto G5 deals: contract vs SIM-free
Don't fancy spending a king's ransom on your new blower? Well we can't say we blame you. The Moto G5 tops our charts of the best cheap phones your budget will allow, and we can't see that changing – at least not until the Moto G6 hits the shelves. Despite the price tag, you still get an attractive metal design, HD display and fingerprint scanner. Very nice.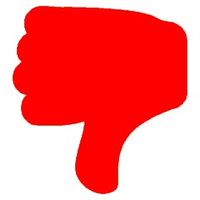 Today's best contract price: £383.76 over two years
On the face of it, this is a pretty attractive offer: £15.99 per month to get the Moto G5 on Plusnet from Direct Mobiles. For that you get 2GB of data, unlimited texts and 1,200 minutes of calls every month. Sounds good, right? Well hold your horses for just one second...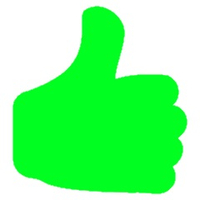 And the crown goes to...
Erm.. .well this is embarrassing. We've heard of a hung parliament, but did a coronation ever end with no clear king or queen?
The truth is that the best option depends entirely on what phone you're buying. On the budget side of the spectrum, it's almost always going to be cheaper to buy the handset and then grab one of our best SIM only deals to put in it.
But, as you can see if you contrast the iPhone X with the Samsung Galaxy S9, there's no formula for which option will be more affordable as you get to more premium devices. And then there's the likes of the Galaxy S8, which is a toss-up either way.
Once you've chosen the handset you want, the best way to make sure you're getting the best value is to stick with TechRadar's bespoke price comparison charts. We have all the information on the best contract deals, cheapest SIM-free prices and those SIMO plans, too. Long live the savings...
If you want to discuss, debate or deliberate any phone deals news and views with The Big Deal, then head over to our @TRDeals twitter feed – you'll also find the latest offers on phones, TVs, consoles, broadband and more tech.
Get daily insight, inspiration and deals in your inbox
Get the hottest deals available in your inbox plus news, reviews, opinion, analysis and more from the TechRadar team.
Adam was formerly the Content Director of Subscriptions and Services at Future, meaning that he oversaw many of the articles TechRadar produces about antivirus software, VPN, TV streaming, broadband and mobile phone contracts - from buying guides and deals news, to industry interest pieces and reviews. Adam has now dusted off his keyboard to write articles for the likes of TechRadar, T3 and Tom's Guide.