Get your hands on the Asus Zenbook Pro 15 and take your creativity with you wherever you go. This spec-heavy device is on sale now on Amazon at $1199.99 (was $1499.99) (opens in new tab) which means you'll be getting a great graphics-intensive piece of kit with $300 off.
The Zenbook Pro 15 comes with an Nvidia GeForce RTX 3050 Ti GPU and a Ryzen 9 5900X CPU to level up your work - whether that's video editing, graphics design, or 3D modeling. That, combined with the touchscreen OLED display, means you'll be able to see every crisp detail and edit, zoom in, or rework with your fingertips to get a responsive and accurate experience.
The device does what it sets out to do incredibly well, looking sleek and stylish while it does so. The design of the laptop is unique but not flashy, it's thin and lightweight and is probably one of the best laptops for creators we've ever reviewed.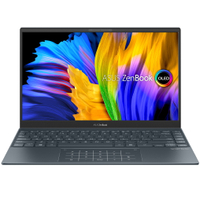 (opens in new tab)
The ASUS ZenBook Pro 15: was $1,499.99 now from $1,199.99 at Amazon
(opens in new tab)The bright and clear OLED touchscreen on the Asus ZenBook Pro 15 makes work and play dazzling. Navigate creative projects with both precision and speed. Make the most of the RTX 3050 Ti GPU with demanding software and mid-range gaming.
The high-end Ryzen processor ensures you're programs run to the best of their capability without hindering your device's performance so you can speed right through your day-to-day tasks. At 15.6 inches diagonally, the laptop is decently sized and has an 88% screen-to-body ratio so you'll have a whole lot of space to craft your creative vision - or just watch a film or two while on your commute or in your downtime.
While we wouldn't really recommend the Zenbook Pro 15 as a gaming device, you will be able to play some low-intensity games on it when you're not creating on it. More casual gaming is the most you might get out of the laptop; think indie games or maybe older, more retro PC games. It will be able to play the latest big titles, but be prepared to dial back the graphical settings a lot.
The ErgoLift hinge tilts the keyboard upwards to a more comfortable and ergonomic angle when the laptop is opened, which makes longer typing sessions a lot more comfortable. Our review of the laptop's 360-degree sibling gave it an impressive four and a half stars, touting it as 'the full package' that 'handles work and play like a boss'. At its asking price the Asus Zenbook Pro 15 is near-perfect for creative work in almost every category and test we put it up against, so we cannot recommend this deal enough!
---