Bust some knowledge with my favorite Quest 3 games and apps of November 2023
Here are my VR software recommendations for this month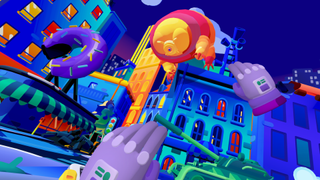 (Image credit: Schell Games)
After taking a few months off because of work travel, holidays, and a truckload of VR and AR adjacent gadget reviews (including the Meta Quest 3 review, Ray-Ban Meta Smart Glasses review, and Xreal Air 2 glasses review), I'm back with a round-up of some of the VR games and apps I've been enjoying.
If you've got a VR headset or are enamored with the best Oculus Quest 2 Black Friday deals, then I hope these monthly round-ups will help you find new favorites among the noise of titles filling Steam and the Quest platform – as well as warn you of titles that are best avoided.
Since my last round-up, I've had the chance to try a fair few pieces of VR software, but I'm highlighting just three of them today: Mondly, Ghostbusters: Rise of the Ghost Lord, and Out of Scale: A Kurzgesagt Adventure. If you're looking for more VR recommendations, check out my guide to the Meta Quest 3 apps you should download first, as well as our list of the best VR games in general.
Mondly: Practice Languages in VR
Over the summer, I traveled with my girlfriend to Belgium. I wanted to brush up on my French ahead of our visit, so I could go against the stereotype that English speakers expect everyone else to understand our language. I used a few apps to help prepare me for the trip. One of those was Mondly, a VR app that aims to give you a more immersive language-learning experience.
For my French practice, I've found its immersive conversations pretty darn helpful. I'm not terrible at French in simple interactions, but I'm not very confident. As soon as someone starts talking to me I freeze up, even though I'm 90% sure I can reply with something coherent. Mondly gave me the chance to chat with human-looking VR avatars in a variety of scenarios – including a taxi driver, hotel staff, and a train ticket inspector – that did help to boost my confidence.
What I found particularly useful was that I could respond however I liked (just like a real conversation), with the app analyzing my pronunciation and the validity of my responses. For example, when asked what my profession is, I couldn't get away with saying "My name is Hamish." While talking, I had the option to see an English translation of what was said to me, as well as three possible responses if I didn't have one of my own. I could also re-listen to what the other person said and hear what I could say to try and get the pronunciation down.
Unfortunately, when I transitioned from practicing French to a language I can't speak a word of – Japanese – Mondly was much less effective.
Immersive conversations were a non-starter, so I opted for a few of the lessons. Despite setting myself at beginner level, I struggled a massive amount. This is because the lessons go from 0 to 100 on a dime.
In one, I was taught some basic words like soup, chef, and kitchen – soup and chef were especially easy as they are pronounced su-pu and she-fu. But then I was tasked with remembering and speaking the phrase "Can I have a tour of your kitchen?" (or, at least, something along those lines). I'd listen to the Japanese over and over, but it just wouldn't stick. When I eventually had a go, I took a few attempts to get it right, at which point I quit the lesson early (I still had more phrases to learn) as I couldn't handle it.
I tried a few other simple lessons and had a similarly tough time.
As part of a regimen of a few apps or for practicing a language you're at least a little familiar with, Mondly VR seems great. But if you're starting to learn a language from scratch, this is not the VR app for you.
Ghostbusters: Rise of the Ghost Lord
October may have been and gone, but with Ghostbusters: Rise of the Ghost Lord, the Halloween season doesn't need to come to an end quite yet. Busting ghosts in this VR game feels fantastic on the Meta Quest 3, and I adore the cartoon-spooky vibe the development team has opted for. Unfortunately, the single-player experience is a little lacking and after a few hours, the missions will start to feel repetitive.
The Ghost Lord has been unleashed on San Francisco, and as a new member of the Ghostbusters, it's your job to undo the havoc it's causing and stop the March of the Malevolent before the city falls.
Despite the dire circumstances, there's a lot of fun to find in this adventure. As you'd hope from a VR Ghostbusters title, busting ghosts is a literal blast. With the headset on and controllers rumbling, it really feels like you're firing your proton pack at an unruly apparition and fighting against it as it tries to free itself from your beam. There's also a good selection of upgrade and customization options for your gear, so you can kit yourself out as your vision of what an ideal Ghostbuster should be.
You won't have to go out on your own either. Much like the Ghostbusters crews we've seen onscreen, this VR experience is best enjoyed as a member of a multiplayer team – either a group of friends or random people you match with. While you can play solo in offline mode – which is how I've played much of the game so far – it's not the best way to experience Rise of the Ghost Lord.
The missions – in particular, the giga trap extractions – feel designed with multiplayer in mind and can be challenging for a single person. You do have a helpful spirit who shows up to lend a hand if you're on your own, but it's mostly there to revive you when you get slimed (knocked out). Perhaps instead of throwing you into a version of the multiplayer experience, the single-player mode could have been a dedicated campaign that paves the way for the multiplayer gameplay if you want to continue playing.
I've also found that things can start to feel a little repetitive after a few hours.
There's a decent variety of missions and locations and I've loved some of the ghost designs – my favorite is the Stay Puft Marshmallow ghost trap that gums up your equipment until you grab the sticky critters off – but despite what an in-game log would have me believe, a lot of the villains feel more similar than different. If the ghosts were a bit more distinct, it would help a lot. A few extra unique minibosses that you build up to battling by completing the simpler missions would have been appreciated too.
There is a lot to love in Rise of the Ghost Lord, however. Over the past couple of weeks, I keep catching myself wanting to jump back in because it looks, feels, and sounds so excellent, and every time I play a couple of missions, then bounce back out when I've had enough.
If you're even a casual Ghostbusters fan like me or looking for a VR game to play with friends, then this is a VR title to keep your eye on, and with the promise of more content in the near future Ghostbusters: Rise of the Ghost Lord could end up going from a fine VR game to a great one.
Out of Scale: A Kurzgesagt Adventure
Kurzgesagt - In a Nutshell is one of my favorite YouTube channels, and Schell Games has made some of my favorite VR titles – including Among Us VR and the I Expect You To Die series. So when I heard the two had worked together to create Out of Scale: A Kurzgesagt Adventure, I was very excited to try it out, and the result did not disappoint.
In this educational app, you will explore the world at different scales – growing to be the size of a mountain or shrinking down to see microbes and atoms in their natural habitat – to undo the chaos caused by a science experiment gone wrong. You'll need to grow your understanding of physics, chemistry, and biology to solve the app's puzzles. You'll also need to keep your eyes peeled for any lost ducks you encounter while you're learning so you can send them home.
The science-focused theme of this adventure is exactly what I'd expect from a Kurzgesagt VR experience, but Out of Scale wouldn't be as enjoyable as it is without borrowing Steve Taylor as its narrator (Taylor narrates the YouTube channel's videos) or perfectly recreating the channel's iconic art style in 3D. Not only is the style a visual delight – finding the perfect balance between approachable cuteness and accuracy – but it makes the app feel like you're part of one of the YouTube videos. You aren't just observing the lesson, you're getting hands-on with it in VR.
This visual and audio excellence helps to dull the more negative aspects of Out of Scale, chiefly that the puzzles are quite simple and the gameplay is not the most engaging at times. It's the VR equivalent of an educational point-and-click adventure.
However, I say this as someone who has studied physics and biology at university and uses Quest headsets frequently. Out of Scale: A Kurzgesagt Adventure feels like it's geared towards a younger audience that's less confident with science and VR than I am and who would likely find the app appropriately challenging.
With the Quest platform dropping its age rating from 13+ to 10+ a few months ago there are likely more younger users and parents looking for VR experiences. For kids with access to a Quest 2 or Quest 3, I'd say this is a must-download VR app if they have any interest in science. As for the adults among you, there's definitely a lot here to love – I had an absolute blast – but if you aren't already a fan of Kurzgesagt you might not find as much enjoyment in Out of Scale as I did.
---
Looking for more recommendations? Check out the VR games and apps I played in June 2023.
Today's best Meta Quest Black Friday deals
US deals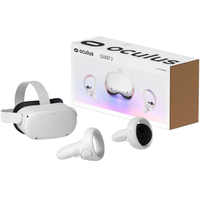 Oculus Quest 2 (128GB): was $299 now $249 at Walmart
Meta's Oculus Quest 2 was, until recently, our favorite VR headset and this Black Friday you can get it for its lowest-ever price of $249. You'll then be able to jump into an incredible selection of VR games and apps available on the Quest platform and finally see how much fun VR can be.
You can also find the same deal at Amazon and Best Buy if you'd rather shop somewhere else.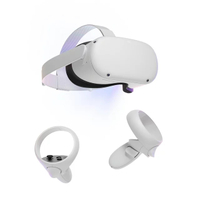 Oculus Quest 2 (256GB): was $349 now $299 at Walmart
If you want to spend a little more this Black Friday you could pick up the Oculus Quest 2 (256GB) model which is $50 off, and at its best price ever. If you plan to use your headset a lot the extra storage might be worthwhile, though most people will be more than fine with the cheaper 128GB model.
You can also find the same deal at Amazon and Best Buy if you'd rather shop somewhere else.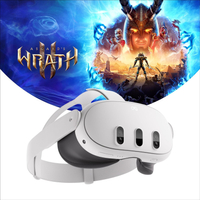 Meta Quest 3: $499 & get a free game at Amazon
The Meta Quest 3 isn't currently discounted, and likely won't be for Black Friday as it's so new, but you can get a free digital copy of Asgard's Wrath 2 when it launches later this year.
If you'd rather not shop at Amazon the same offer is available from Walmart, Best Buy, and Target, as well as others.
UK deals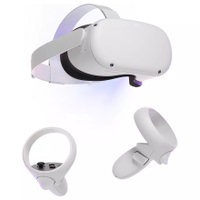 Meta Quest 2 and £50 gift card: was £349.99 now £249 at Argos
If you like to shop at Argos you can get a great deal on a Quest 2 that saves you £50 on the headset and gets you a £50 gift card to spend on whatever you like. This is effectively a £100 saving, so not something to be sniffed at.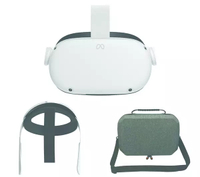 Oculus Quest 2 (128GB), Elite Strap and case: was £389 now £249 at Currys
Currys' bundle deal has just got better. Now you're saving £50 on Meta's Oculus Quest 2 VR headset and getting the official Elite Strap and a carry case for free. This is one of the best deals we've seen this Black Friday, and one you definitely don't want to miss out on.
Preferred partner (What does this mean?)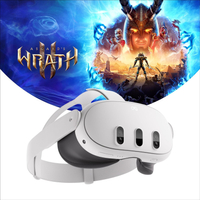 Meta Quest 3: £479.99 & get a free game at Amazon
The Meta Quest 3 only just launched so it was extremely unlikely it would see much of a discount for Black Friday. There is still a deal on though; if you order the headset before January 27, 2024, and activate it before February 9, 2024, you'll get Asgard's Wrath 2 for free when the game releases. If you'd rather shop elsewhere the same deal is available at Very, Currys, and Game among others.
Get daily insight, inspiration and deals in your inbox
Get the hottest deals available in your inbox plus news, reviews, opinion, analysis and more from the TechRadar team.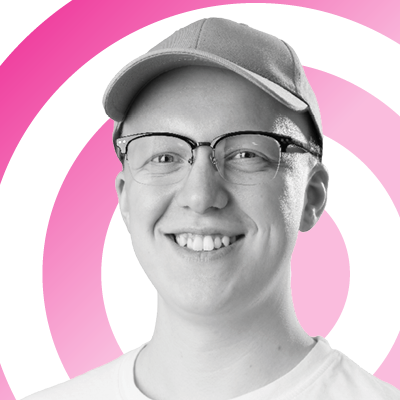 Senior Staff Writer, News
Hamish is a Senior Staff Writer for TechRadar and you'll see his name appearing on articles across nearly every topic on the site from smart home deals to speaker reviews to graphics card news and everything in between. He uses his broad range of knowledge to help explain the latest gadgets and if they're a must-buy or a fad fueled by hype. Though his specialty is writing about everything going on in the world of virtual reality and augmented reality.