The Ray-Ban Meta Smart Glasses are a decent successor to the Ray-Ban Stories, but while their design is impeccable, the camera and audio quality leave something to be desired, and the AI experience is currently rudimentary outside of the US.
Pros
+

Lightweight, fashionable design

+

Handy voice assistant

+

Fun for video capture
Cons
-

12MP camera trumped by most smartphones

-

Weak bass performance

-

Wearable camera may be unsettling for others
Why you can trust TechRadar We spend hours testing every product or service we review, so you can be sure you're buying the best. Find out more about how we test.
The Ray-Ban Meta Smart Glasses are a stylish piece of tech that offer a fair amount of utility, and a general improvement on the original Ray-Ban Stories. Unfortunately, the jack-of-all-trades approach that Meta and Ray-Ban have taken hasn't paid off – no feature feels quite polished enough right now, making the smart specs a tough gadget to recommend to most.
Design wise they're very difficult to fault. The build quality feels high, there are over 150 styles to choose from so you're sure to find a pair that suits your needs, and the charging case is the perfect blend of fashion and function.
Unfortunately, for all of their design successes, I feel the smart glasses leave a lot to be desired in other areas.
The 12MP camera is generally a letdown for photos, though the video content it captures is decent – it's a fun, easy way to capture experiences while still feeling present in the moment rather than at a distance behind a camera. It's just a shame that the glasses are a little too locked into Meta's ecosystem; I'm sure influencers would greatly appreciate the ability to livestream to platforms beyond Facebook and Instagram, but alas that's not currently possible.
The audio is fine but not great. Mid-range and high tones have good clarity, but the speakers are noticeably weak in the bass department (even compared to reasonably priced air-conduction headphones). This leaves many tracks feeling a little empty, and the glasses suck the life from songs heavy on bassier tones.
And while the AI features seem decent so far, they haven't fully rolled out to all regions yet. Meta's conversational AI is still in beta – and only available in the US – and the ability to use the camera to answer questions about your environment hasn't yet been switched on anywhere (and there's no telling when it will be).
We plan to revisit these smart specs in the future, when some software updates have rolled out. For now, we feel you might be better off with your phone, some air-conduction headphones, and a pair of dumb Ray-Ban Wayfarers – the latter two of which you can probably pick up for just less than the Ray-Ban Meta Smart Glasses' asking price of $299 / £299 / AU$449.
Ray-Ban Meta Smart Glasses: Price and availability
If you want to pick up a regular pair of Ray-Ban Meta Smart Glasses in the US, UK or Australia they'll set you back $299 / £299 / AU$449. If you want them to come with Transitions or Polarized lenses this will cost you a little more, at $379 / £379 / AU$539 and $329 / £329 / AU$489 respectively.
Those prices are around twice as much as you should expect to pay for a pair of regular (dumb) Ray-Ban Wayfarers, and the same as what the Ray-Ban Stories cost (the brand's first smart glasses collaboration with Meta).
Ray-Ban Meta Smart Glasses: Design
Sleek stylish design
Over 150 customization options to choose from
Four-hour battery life between charges
Design-wise the Ray-Ban Meta Smart Glasses are nearly perfect – they ooze style, they're comfortable to wear, and they honor what you would expect from glasses that boast Ray-Ban branding.
For a start, I love how customizable they are. When you order a pair you can choose from three frame styles: Wayfarer, Wayfarer Large, or the brand-new Headliner style that's been created specially for this collaboration; five frame colors: matte black, glossy black, transparent black, transparent blue, or transparent orange; and a massive variety of lenses, from clear to shaded to prescription to polarized. All in all there are over 150 different combinations of frames and lenses, so you should be able to find a look that suits you perfectly.
No matter which combination you choose, the glasses have an IPX4 water resistance rating and boast 32GB of storage, which is enough for roughly 500 photos and 100 30-second videos. You'll also get a pair of specs that feel just as easy to wear as a regular pair of glasses. The Wayfarers weigh just 48.6g / 1.71oz (or 50.8g / 1.79oz for the Large frames) and the Headliner frame weighs 49.2g / 1.74oz.
This includes the weight of the frames and lenses, as well as the speaker hidden in each arm, the camera that's next to the left lens and a light that's in a corresponding position next to the right lens, five microphones, an internal battery, and the Snapdragon AR1 Gen 1 chipset that runs the whole show. Meta and Ray-Ban have managed to cram in a surprising amount without making the specs look or feel bulky at all.
I also simply adore the charging case. Instead of the disappointingly bland black case the Ray-Ban Stories came in, these new smart glasses adopt one that looks practically identical to a classic Ray-Ban case, save for a USB-C port on the bottom, a hidden button on the back, and a subtle LED status light on the front clasp.
Beyond looking cool, the case can provide the glasses with an additional 32 hours of use, on top of the four hours of charge the glasses promise to deliver on their own. It only takes 75 minutes for the case to charge the glasses from 0% to full, or you can get to 50% in 22 minutes, which isn't too shabby.
The only gripe I have is that I wish the smart glasses came with multiple lenses – at least two – that you could easily swap between. Ideally, you'd have one pair that's shaded for outdoor adventures in the sun, and another that's clear, for wearing the glasses indoors or when shades aren't appropriate.
The pair I've been testing have typical black shades, and while they're undoubtedly cool, I'm writing this review in October, and in the UK where I'm based it's not really sunglasses weather, from either a style perspective or a practical one. If I could instead use clear lenses I'd have one less reason to keep the glasses in their case rather than wearing them on my face when I go out – perhaps this design choice is intended to encourage you to pick up the Transitions lenses, which go from clear to shaded when you head out into the sun.
Ray-Ban Meta Smart Glasses: Specs
Swipe to scroll horizontally
| Header Cell - Column 0 | Ray-Ban Meta Smart Glasses |
| --- | --- |
| Weight | 48.6g, 50.8g, or 49.2g |
| Camera | 12MP ultra-wide |
| Video recordings | 1440 x 1920 resolution at 30fps |
| Chipset | Qualcomm Snapdragon AR1 Gen 1 |
| Audio | Two open-ear speakers |
| Storage | 32GB |
| Water resistance | IPX4 |
| Battery life | 4 hours |
Ray-Ban Meta Smart Glasses: Camera
12MP isn't enough for good crisp looking pictures
Video recordings are decent and the glasses allow you to get involved
Live streaming through glasses is locked to Meta platforms
As I expected when I saw that the camera boasted only 12 megapixels, the photo quality leaves something to be desired. While there's a slight convenience to being able to take a picture without pulling your phone out, 95% of the time the upgrade to a far crisper 50MP camera (the minimum for practically every mid-range or better smartphone nowadays) is worth the extra few seconds it takes.
Further adding to the camera's woes is that framing a picture is tricky because, unlike with your phone or a traditional camera, you can't see where everything is placed in the shot. If you're just trying to snap a quick pic and don't care too much about the composition then you should be fine, but I frequently found that I could take several snaps with the specs and still not get the shot I wanted.
I should also mention that wearers of hats might want to take them off before taking pictures; I kept my baseball hat on initially when taking test snaps, and found that its bill was poking into every single one, so I had to take it off and reshoot.
Image 1 of 4
When it comes to video, the glasses' quality is more acceptable. The 1080p video recording looks fine on a phone screen, and there's a huge advantage over recording with your phone, in that you can take a more active part in the action you're capturing.
And based on my tests you can get fairly involved – if you're actively shaking your head or getting bumped about then there will be some shake to the video, but in general, I found that the footage looked fairly stable for a camera worn on my face.
The microphones are also pretty good. While they can pick up a fair amount of noise at times, people's voices and music playing nearby come through clearly. Plus, if you listen to the video through the glasses, the speakers will mimic the direction of the recorded audio for a more immersive experience.
The only slight downside is that recordings are limited to a maximum of one minute; – you can also set shorter time limits of 30 or 45s – and when the limit is reached the recording will cut off. This is fine if you want to share the clip on a platform like Instagram Reels, TikTok, or YouTube Shorts, but will be frustrating for people looking to capture longer recordings.
The only way around this restriction is to livestream from the glasses, on which there's no time limit. This is a fun feature for content creators to explore, although I feel the glasses suffer a little from their live-streaming capabilities being locked into the Meta ecosystem. I understand why Meta wants to keep its innovative tech exclusive to its platforms, but this means that creators who have a following on TikTok, YouTube, Twitch, and elsewhere won't be incentivized to give its smart glasses a whirl.
While you're capturing a video or snapping a picture a bright light on the right side of the glasses will automatically illuminate to let people around you know that they're being recorded.
Ray-Ban Meta Smart Glasses: Audio
Good clarity for mid-range and high tones; lacking in the bass department
Open-ear design lets you enjoy music and be aware of your surroundings
Some audio leakage so your music isn't completely private
Considering that the Ray-Ban Meta Smart Glasses are, ultimately, a pair of glasses I've been pleasantly surprised by some aspects of their audio abilities. That said, they're far from perfect, and I think nearly everyone would get more out of a pair of air-conduction headphones like the JBL Soundgear Sense.
When testing the smart specs I noticed that they were great for enjoying audio content that consists of mostly mid-range and high tones. This was particularly noticeable with songs like Vampire; Olivia Rodrigo's soprano singing came through with great clarity, even at higher volumes.
I also appreciated the spatial audio provided by these specs; I felt immersed in the soundscape they created. Plus, the open-ear nature of the glasses' speakers means I can listen to music or a podcast without being cut off from the world, although this design does lead to some audio leakage.
Meta and Ray-Ban's use of directional speakers means your music shouldn't be too annoying to anyone nearby, but if someone is close to you they will be able to hear what you're listening to if you're playing it at a moderate or louder volume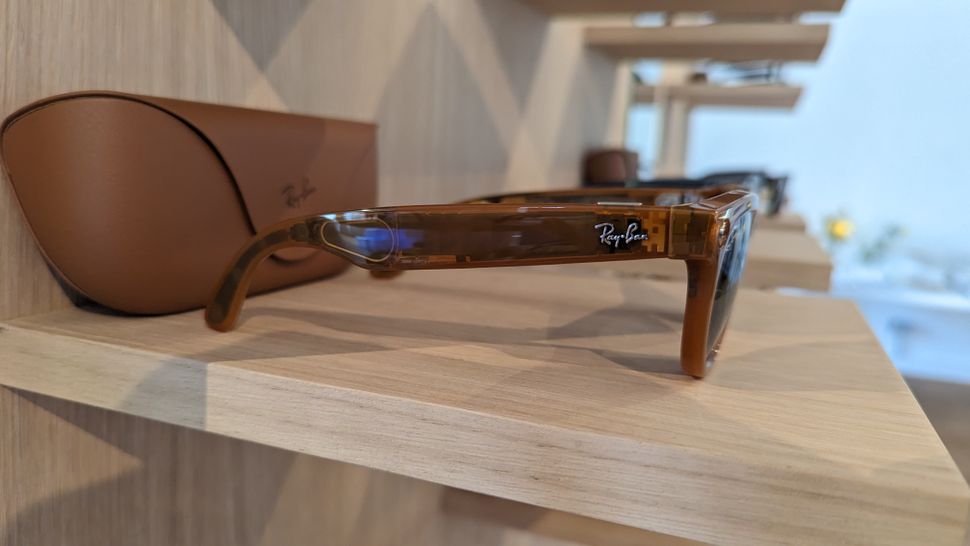 Bass lovers (like me) should avoid these glasses like the plague, though – at least for their audio.
To get a feel for the Ray-Ban Meta Smart Glasses' bass performance I flicked on Glass Animals' Tokyo Drifting. There's a powerful thump that drives the track throughout, and with a capable audio gadget the bass drop at the two-minute mark – and the subsequent controlled explosion of noise – that takes us into Denzel Curry's rap section can't help but make you feel like a contender to be the next world heavyweight champion.
However, listening to the track on these smart glasses, there's very little oomph to the track, or any other bass-heavy tune for that matter, leaving songs that normally keep me pumped during workouts feeling limp.
Even if you aren't a bass-head obsessed with booming beats like those in Tokyo Drifting, the lack of those underlying deep tones means many tunes (such as the aforementioned Vampire) feel a little emptier – incomplete in a way. When I swapped over to more capable headphones, the music felt whole again, and more enjoyable to listen to.
And I'm not comparing these spectacles to something like the Sony WH-1000XM4 from the top of our best headphones list. 'Capable audio gadget' includes the JBL Soundgear Sense headphones, which have a list price of £129.99 (around $165 / AU$255). Not only is their audio quality better, but these air-conduction headphones offer the same sense of awareness as the open-ear design of Ray-Ban Meta Smart Glasses – so you're getting an improved performance, with no compromises (at least in terms of audio).
To end this section on a positive note, I do quite like the feature whereby music or podcasts automatically pause when you take the glasses off and resume when you put them back on. It's a simple and not wholly unique feature, but I appreciate it nonetheless.
Ray-Ban Meta Smart Glasses: AI
Limited capabilities at launch outside of the US
AI generally good at responding to requests accurately
Texting through Messenger is stressful
Lastly, there are the Ray-Ban Meta Smart Glasses' AI capabilities. Unfortunately, while AI was the main focus of Meta's presentation when it launched the glasses at Meta Connect 2023, the current state of the AI I tested on the specs isn't yet all that advanced.
During my testing, I was limited to just a few simple controls – I could instruct the AI to take photos, shoot videos, and call or message people from my phone contacts, Messenger or WhatsApp.
Most of the time the AI understood exactly what I wanted to do – even when I was outside on a slightly windy day, and when there was some background noise. However, I found that sending messages on Messenger – which includes my hundreds of Facebook friends as contacts – was too stressful, as the glasses weren't always certain who I wanted to talk to. I never actually sent a message to the wrong person thankfully (so I didn't have to explain to someone I haven't spoken to since high school that my smart glasses texted them, not me), but when the glasses kept offering to message the wrong people, I stopped asking them to use the app.
If I was based in the US I would have been able to test out Meta's conversational AI, which is still in beta but seems impressive. This feature basically gives you access to a voice-based version of ChatGPT or Bing Chat that you can converse with through the glasses. According to the press release I've been sent, you can ask the AI for advice on gifts, find answers to your burning questions, or ask for a good caption for a picture you've taken using the specs, among other things.
I also wasn't able to test out the most impressive feature Meta announced for the glasses – their ability to scan what you can see and answer questions about the scene or object you're looking at, like a wearable Google Lens. This feature isn't available yet, but it should be coming at some point in the future via an update.
Because of these missing features, I'm overall a little disappointed by the Ray-Ban Meta Smart Glasses' AI capabilities. That said, I do plan to return to this review in the future, once more features have been made available in the UK, as my lukewarm initial reaction might change when more exciting features have rolled out.
Should I buy the Ray-Ban Meta Smart Glasses?
Swipe to scroll horizontally
| Attributes | Notes | Rating |
| --- | --- | --- |
| Design | The Ray-Ban Smart Glasses ooze style and apart from a few minor tweaks I don't think they could be better. | 5/5 |
| Camera | 12MP just isn't enough for cameras nowadays, given that 50MP is standard on most phones. Video capture is good however, the first-person perspective is great for recording and sharing memories. | 3.5/5 |
| Audio | While mid-range and high tones come through clearly, and there's decent spatial audio the bass performance is really lacking and it leaves songs feeling empty. | 3/5 |
| AI | Updates to the system's AI are coming, but outside the US the AI fetaures the glasses offer are rudimentary (and even in the US they're not yet at their full potential). | 3/5 |
Buy them if...
You love stylish tech
The Ray-Ban Meta Smart Glasses are immaculately designed, and are super-stylish wearable tech.
You want a conversational AI assistant with you everywhere you go
While the features haven't rolled out everywhere yet, the conversational AI seems neat. Once it's more widely available, and out of beta, it could be a compelling reason to pick these specs up.
You're a Facebook or Instagram celebrity
If you have a following on Meta's social media platforms, the glasses offer some fun features, like the ability to livestream from the glasses, that you and your followers will appreciate.
Don't buy them if...
You want top-notch audio
The audio quality is fine, but you can get great air-conduction headphones for less that offer significantly better quality sound.
You want a great camera
Video-wise the glasses are fine, but when it comes to stills the 12MP snapper doesn't deliver a high enough quality to replace the phone in your pocket.
You're paranoid about wearable cameras
While Meta has incorporated many privacy and security measures into these specs, it can be a bit weird to consider you're always wearing a camera that can see what you see. If you want ultimate privacy, this won't be the gadget for you.
Also consider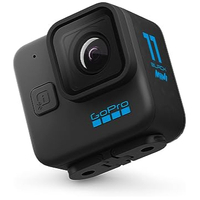 GoPro Hero 11 Black
If you want to record video from a first-person perspective then you might want to pick up one of the best action cameras, like the GoPro Hero 11 Black. Some action cams, including GoPro's, are a little pricey, but they offer fantastic durability and superior image quality.
Read our GoPro Hero 11 Black review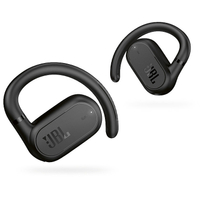 JBL Soundgear Sense
As mentioned in the Audio section of this review, the JBL Soundgear Sense air-conduction headphones offer better audio quality than these smart glasses, in a similar, non-isolating design. You won't get AI controls or a wearable camera, but these headphones are more affordable.
Read our thoughts on the JBL Soundgear Sense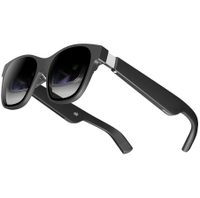 Xreal Air Glasses
This alternative breed of smart glasses won't be for everyone – especially not at $400 (they're currently only available in the US). But the portable screen is neat, and it might help make people around you feel more comfortable, as you aren't walking around with a camera on your face.
Read our Xreal Air review
How we test
To test the Ray-Ban Meta smart glasses I wore them as often as possible, and for long stretches, to get a sense of how comfortable they are to wear and to see if Meta's battery claims match what I experienced in normal use. To test the camera, I took a lot of pictures and videos (a few of which you can see in this review) to see how the quality compared to that of images taken with my Google Pixel 6 smartphone.
When it came to putting the speakers through their paces I made sure to put the glasses through the same suite of tests I use for headphone reviews. I listened to a wide range of tracks from a variety of genres – as well as podcasts and audio from video content – and then described my findings using a few choice tracks that I felt best highlighted the successes or shortcomings of the glasses. I made sure to also play those same tracks on a few pairs of headphones I have lying around – such as my JBL Soundgear Sense and Bose 700s – to see how the glasses stack up against more traditional audio gadgets.
First reviewed October 2023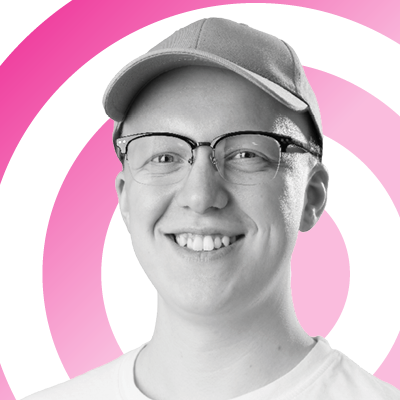 Senior Staff Writer, News
Hamish is a Senior Staff Writer for TechRadar and you'll see his name appearing on articles across nearly every topic on the site from smart home deals to speaker reviews to graphics card news and everything in between. He uses his broad range of knowledge to help explain the latest gadgets and if they're a must-buy or a fad fueled by hype. Though his specialty is writing about everything going on in the world of virtual reality and augmented reality.