Day one of 'Black Friday deals that aren't full Black Friday deals but come on, they are really Black Friday deals' is in full swing - and we've seen some great choices come online.
From Beats headphones to cut-price AirPods to top deals on new TVs, there are many, many different Black Friday sales to pick from already this year.
We're also seeing some top choices from newer sectors for Black Friday, with some immense Instant Pot deals as well as DNA testing on sale - see below for all the best options there.
But are we really saying this is the start of the Black Friday deals? Well, with Thanksgiving so late in the month, retailers are trying to start the sales period early so there's another bite at another paycheck later in the month.
Amazon has made its Black Friday Countdown deals now available, Walmart's Early Access sales are now just, well, Access and Best Buy's Doorbusters have given way to Daily Deals - all in the mix below for you to pick through.
We're still expecting the sales to improve, so if you don't see what you want right now (be it that Black Friday TV deal, or a strong AirPods discount) we'd always recommend that you wait for Black Friday - that's likely to be when the greatest number of sales appear - you should be ready to pull the trigger now and grab a deal if it fits in with your budget.
With Black Friday set to be the biggest ever this year, we're keeping a close eye on all the deals around - as predicted, smartwatches, TVs, laptops and more are all getting strong price drops, and we're rounding up all the best Black Friday deals.
Cyber Monday is also set to be huge, with the same research above suggesting that the remaining sales will be appealing to a number of consumers and worth checking out.
But what about now? Well, with Best Buy's 'Beat the Rush' sale now on, a bundle of retailers are also offering strong discounts ahead of the official Black Friday date. If you're going to be mean and ignore all our hard, deal-scouting work below, then you can - we've rounded up all the early Black Friday sales from other retailers below.
Black Friday deals around the web
Amazon.com: all the Black Friday countdown deals
Adidas.com: Shop the sales on trainers and trainingwear
Belk.com: 75% off a range of daily doorbusters
BestBuy.com: See today's daily deals and a range of savings on tech
Google Store: Top smarthome deals and large sums off Pixel phones
HomeDepot.com: Running daily deal Black Friday savings
JCPenney.com: See the range of pre-Black Friday deals as they appear
Kohls.com: Coupons aplenty for smart home, wearables and home living
Lowes.com: Deals on tools, smart home and... fireplaces?
NewEgg.com: Pre-Black Friday deals see strong deals on top tech
Nike.com: big savings on apparel, trainers and gift cards
Sears.com: hefty savings on TVs, beds, jewellery and appliances
Stage.com: Up to 60% off a huge range of apparel, shoes and furnishings
Target.com: Sneak Peek deals offer loads of Christmas gift ideas
Walmart.com: The early Black Friday sales are live
Our top new Black Friday deals
AirPods deals
Headphones deals
Phones deals
iPad and tablet deals
Smartwatch deals
Laptop deals
PC components deals
Nintendo Switch deals
PS4 deals
TV deals
Smart speaker deals
Home audio deals
Appliances deals
DNA deals
Cameras
When is Black Friday 2019? And what is it?
We'll keep this brief, simply because you probably are well-versed in the history: Black Friday is on November 29 this year, and will once again see the advent of the "doorbuster", the deals that people queue long and hard for.
Some retailers will keep those deals just for in-store offerings, so it's worth keeping an eye out for the Black Friday 2019 ads to appear online, but more often than not the great deals are on offer both online and having to trudge through the crispy snow to snag - we know which way we'd prefer when still stuffed with turkey.
The date this year is closer to Christmas (less than a month before Christmas Day), and that gives you less time to shop online. That may not seem like a big deal today, but you'll have to factor in waiting on the best deals, pouncing on the lowest price, and factoring shipping wait times.
As we've highlighted, Black Friday weekend isn't just a four-day affair, and deals don't necessarily follow the normal pattern of prime products to be unleashed - you can see new TV deals in the small hours of the morning or a brilliant wearable price slash just after the Thanksgiving turkey is prepped, so shoppers need to be more flexible than ever.
The origin of Black Friday: a history lesson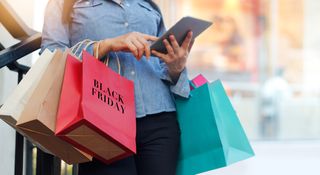 Let's take a Black Friday history lesson: the first known mention of Black Friday related to this shopping experience was in November 1951, when the journal Factory Management and Maintenance used it to describe people calling in sick the day after Thanksgiving so they could have an extra day off work.
At the same time US police were using the phrases "Black Friday" and "Black Saturday" to describe the horrendous traffic that occurred at the beginning of the pre-Christmas shopping season. In 1961 there was a movement from the local government to change the shopping season to "Big Friday" and "Big Saturday", but it clearly never caught on.
Will Black Friday 2019 be different this year?
Black Friday 2019 should continue last year's trend of not just offering discounts, but offering discounts on items you'll actually want to buy. There was some fierce competition between Amazon, Walmart, B&H Photo and Best Buy last year, and that's a good sign headed into Black Friday this year.
Specifically, we're expecting to see big-ticket items like 4KTVs with HDR support – a once expensive proposition, and Apple to offer cheap iPads, which was a big hit last year.
New AirPods in 2019 may see the older models on sale for a better price, while laptops, iPhones and Android smartphones should be at their lowest levels in 2019.
It's not surprise that Apple launches new iPhones in September to discount them (just a little bit) by Black Friday and Cyber Monday. This mostly happens through US carriers and buy one, get one free deals.
Are Black Friday deals real?
Generally speaking, yes - although there are two kinds of deals. The first has been pre-agreed between brands and retailers, so they're not as off-the-cuff as you might expect. The other is sudden price drops, whether that's an algorithm working out the best way to attract users to buy (as brands like Amazon often will) or just the big names price-matching one another, or pushing the price down further as they look to be the big winner. (We saw something similar with iPads in the US).
As with any sales event you'll see a mixture of bargains, discounted end-of-line stock and strange things found in the back of a warehouse somewhere. In 2016, consumer magazine 'Which?' accused retailers of some pretty dodgy behavior.
Where can I find the best Black Friday deals?
As mentioned, you'll find the best options if you bookmark this page right now - there will be deals from the beginning of November, and we'll be bringing you the best of them, those that we think are worth checking out, the second that we see them flash up.
How do I get the best Black Friday deals in 2019?
Homework really helps. Some retailers up prices from August through to October so they can offer supposedly amazing discounts on Black Friday, so don't be fooled by such moves.
They're particularly prevalent in expensive consumer electronics such as TVs or laptops with product numbers rather than names, with products that were dropped down to a great bargain price suddenly being pushed back to their MSRP again.
It's also a very good idea to be flexible: for example, if you fancy a Samsung UHD TV it's best to think about the features you want rather than a specific model number: the BRV553ABD34-82C-9218-X may not be discounted on Black Friday 2019, but an almost identical set with the specification you want probably will be - so do your research on what matters and we'll do our best to give you the right comparison needed.
However, don't be fooled into thinking that something that looks like a five star set is the same but cheaper - certain elements (often with regards to screen quality or image processing) won't be as high quality to achieve that lower price point.
Can I get cashback on Black Friday deals?
Sometimes, yes. Your debit card or credit card may offer cashback on purchases. It's definitely worth looking into, not just for Black Friday 2019 but for any online shopping, when you'll be spending the most online.
Am I protected when I buy on Black Friday?
In general, you should be just as protected as you are when shopping any other time of the year. You'll want to check on return policies and warranty periods, and you should also make sure you're shopping at known retailers you trust. While many deals can seem too good to be true on Black Friday, landing on an unfamiliar website claiming to have a product for pennies on the dollar is a good sign you're in the wrong place.
Remember that using your credit card also can offer a level of protection, so as long as you have the means to pay it back straight away, using this method can give you more peace of mind. Many credit cards can help you contest payments if you never receive a product, and some even offer extended warranties on products beyond the one included from manufacturer or retailer.