Best power banks of 2022 in Australia: the best portable chargers for your gadgets
Mobile device out of juice? Try one of these portable chargers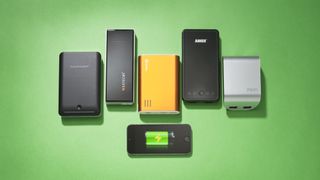 For any tech lover or frequent traveller, a portable charger is a must-have accessory. There are loads of models available, and the latest all support fast charging. For the real road warrior, many power banks will also charge a USB-C laptop.
For best performance, the power bank needs to match your USB fast charge spec. Don't worry though, any non compatible devices simply charge at normal USB speeds. Apple and many Android devices support the USB Power Delivery (PD) protocol (as do most USB-C laptops), while many other devices use QualComm Quick Charge (QC 2.0/3.0). Fortunately most new power banks make it easy and support both PD and QC fast charging. You can also get power banks with built in wireless charging. Keep in mind that PD charging uses USB-C only, while Quick Charge is usually via standard USB ports, though often is also available on USB-C.
We recommend a power bank with at least an 18W output, and a 10,000 mAh (37Wh) capacity. This is a great size to carry with you, and will take a dead phone to full charge twice over. 20,000 mAh power banks start to get too bulky to slip into a pocket, but are often the best value. Laptops on the other hand usually need 45W or more to charge at a reasonable rate. One thing to be aware of is that power banks over 100 Wh (27,000 mAh) need permission from the airline to be taken on board and over 160 Wh (43,000 mAh) is a no go at all.
Keep in mind that fast charging needs a compatible cable (most power banks come with one), and many extra long or older cables will not allow your device to charge at full speed.
How we test
Why you can trust TechRadar We spend hours testing every product or service we review, so you can be sure you're buying the best. Find out more about how we test.
There's plenty of no-name power banks out there with dubious specs, so we make sure to thoroughly test all the power banks recommended here. Our regime involves multiple full discharges of each power bank to test the rated capacity, as well as to see how efficient the electronics are. We also make sure they can properly fast charge at the advertised output for a sustained period of time. To make life easy, we sum up our results into an efficiency score out of 100%. Keep in mind a lower score is not necessarily a bad thing, if the power bank itself is cheaper to compensate, and all our recommended models are great deals in different ways.
Best portable chargers in Australia at a glance
Xiaomi ZMI PowerPack Aura 20K QB822
Romoss 50W PPD20
iMuto Smart Power X6SPD
Kogan 10000mAh 18W PD
Xiaomi ZMI Power Bank Pro QB823
Cygnett ChargeUp Reserve 20K
BlitzWolf BW-P12
1. Xiaomi ZMI PowerPack Aura 20K QB822
Sleek and powerful
Reasons to buy
+
Very affordable
+
27W output
The Mi QB822 is our favourite affordable power bank right now. It's pretty slim and light, has a tough plastic shell, plus a big 20,000 mAh capacity. It outputs 27W using Quick Charge or Power delivery on USB-C, which is a step above the 18W power banks and great for those with more capable devices. It comes with a USB-C cable, has a digital capacity readout, and can be charged via USB-C or MicroUSB. The two USB ports do Quick Charge at 18W, and overall it managed an excellent 88% efficiency rating. What's not to love?
2. Romoss 50W PPD20
Great value
Reasons to buy
+
Power Delivery and Quick Charge
+
50W output
Reasons to avoid
-
Slightly bulky
-
Lower efficiency
A big 20,000 mAh battery for a bargain price makes the Romoss 50W PPD20 one of the best value power banks on the market. It supports both Power Delivery and Quick Charge on the USB-C port, and Quick Charge on the two USB connections. Even better, it will output up to 45W via USB-C, and 50W total, which is enough for many laptops. It charges quickly too (at 45W), so can be topped back up in a hurry. The Romoss power bank tested at a decent for the price 78% efficiency rating. It also has a handy percentage display that shows exactly how much charge is left.
3. iMuto Smart Power X6SPD
High output fast charging
Reasons to buy
+
Great bang for buck
+
Large capacity
Reasons to avoid
-
Large and heavy
-
No Quick Charge
The chunky black and gold shell on the iMuto Smart Power covers an extra large 27,000 mAh (99.9Wh) battery - the biggest you can take on a plane. It only supports PD spec fast charging via the USB-C input/output, but is rated for 45W and can handle topping up a laptop. The dual USB ports don't have any fast charging, but the total output means you can charge multiple devices at once all at full speed. The power bank managed a solid 82% efficiency rating during testing, and had no trouble outputting the full 45W.
4. Kogan 10000mAh 18W PD
Simple and affordable
Reasons to buy
+
Affordable and slim
+
18W PD and QC fast charge
Compact and black with a metal shell, the Kogan 10K power bank is a great basic option. It's quite slim and weighs in at a pocketable 276 grams. With a 10,000 mAh (37Wh) capacity and 18W PD and QC charging, the Kogan power bank is ready for almost all phones. It has dual USB ports, plus an USB-C input/output that handles both PD and QC fast charging. Handily it also has a second Micro USB input, which means you can charge using whatever cable is handy. Our testing gave it a reasonable 77% efficiency rating and it happily sustained 18W fast charging.
5. Xiaomi ZMI Power Bank Pro QB823
Sleek and powerful
Reasons to buy
+
Massive 65W Power Delivery output
+
Excellent efficiency
Reasons to avoid
-
Higher price
-
Overkill for phone charging
The Mi QB823 is a compact, aluminium clad slab of power bank goodness. While not the very cheapest, it is lighter (438 grams) and smaller than many other 20,000 mAh power banks, yet can output an impressive 65W via PD USB-C - enough for most laptops. It also supports up to 45W Quick Charge on USB-C, as well as the two normal USB ports. The QB823 achieved an impressive 94% on our efficiency test, which means more of the available power ends up in your device. If you need high power charging across a range of devices, this is a great choice.
6. Cygnett ChargeUp Reserve 20K
Big power in a small package
Reasons to buy
+
Compact and lightweight
+
18W PD and QC charging
Reasons to avoid
-
Somewhat expensive
-
Limited USB ports
While more expensive for the capacity compared to some of its competition, the Cygnett power bank is one of the smallest and lightest 20,000 mAh (74Wh) models we have tested. The sleek purple plastic shell makes it very easy to slip into a small back, or even a pocket. It weighs a paltry 351 grams and feels not much bigger than most 10,000 mAh models. The power bank outputs and charges at 18W (PD and QC) via USB-C, or provides 18W QC charging using the single normal USB port. It also managed a better than average 85% efficiency, and had zero issues providing sustained fast charging.
7. BlitzWolf BW-P12
Very affordable
Reasons to buy
+
Great bang for buck
+
Slim and light
Reasons to avoid
-
No USB-C cable in box
-
Smaller capacity
Sometimes you just want a dead cheap power bank to chuck in a bag and forget about. Blitzwolf might not be a brand you are familiar with, but the BW-P12 is a capable little 10,000mAh that is both slim and very lightweight. It does Quick Charge and Power Delivery at 18W via USB-C, and just the former via the two USB ports. Handily it charges via Micro USB or USB-C, and has an easy to read digital capacity display. The BW-P12 has a decent 78% efficiency rating, and will happily charge most devices once or twice over.
Portable backup batteries buyer's guide
Capacity: A 5,000mAh is a good starting point to get up to two full recharges from a smartphone, but a larger 10,000mAh model is best for tablets.
Passthrough charging: This handy feature allows you to plug the power bank between your charger and device, and charge both at once.
USB ports: Most larger-capacity models have two ports, which is very important if you need to charge more than one device at a time.
Input charge rate: Typically, 1A or 2A (higher is better), this determines how quickly your power bank can charge itself back up again.
Fast charge: Power banks supporting currents over 1A helps charge your device quicker, and is needed by some power-hungry tablets.
Charger not included: While they all come with a cable, power banks generally need to be plugged into an existing charger or USB port to charge.
Qualcomm quick charge: Only supported by some new phones, this tech allows devices to be charged up to four times faster than normal 5V USB.
Form factor and weight: With many different shapes, some power banks are better suited to use in bags, or being carried around.
Sign up to receive daily breaking news, reviews, opinion, analysis, deals and more from the world of tech.